15 major cities where homebuyers can have the upper hand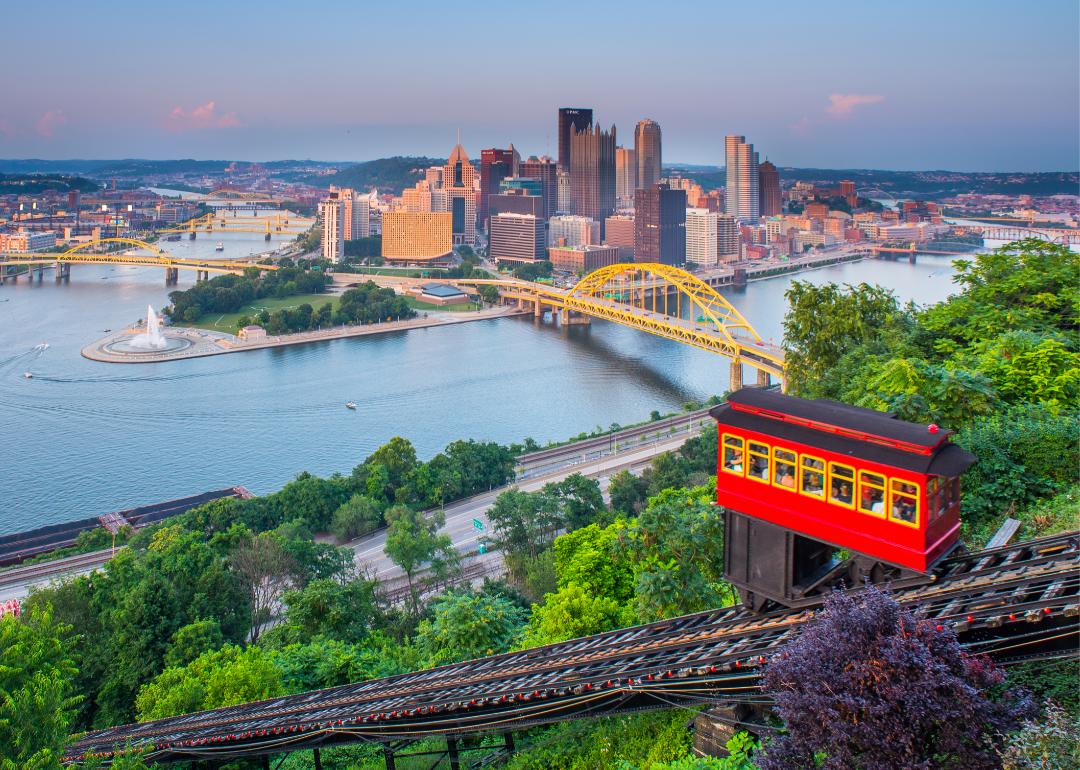 Canva
15 major cities where homebuyers can have the upper hand
A distant view of the Pittsburgh skyline.
In 2022, potential homebuyers saw home prices hit record highs around the country. The median sale price increased 10.2% from 2021, topping out at $386,300.
Although sellers have been able to command these high prices due to high demand and low inventory, there are indications that for 2023, the market could be tipping in the buyer's direction. Higher mortgage rates combined with higher prices have kept many buyers on the sidelines, and affordability has become a bigger issue.
This has caused prices to cool off slightly, with some selling below list price. When a home sells below its list price, that's typically a sign that the seller is not on the same page as market conditions. While there could be issues with a specific house that makes it undesirable, other factors that could cause this gap include more homes for sale—meaning more options for buyers—or prices that are out of step with what people can afford.
Rocket Homes used its listing data to see which cities have the highest share of homes selling below asking price. Cities were ranked on the share of homes that sold below list price between March 2022 and March 2023. In the more than 140 cities analyzed, 38% of homes sold went for below asking price. Many of the cities on this list have experienced construction booms in the last decade. They are also places that skyrocketed in popularity during the pandemic—a sign prices could be normalizing in these markets.
---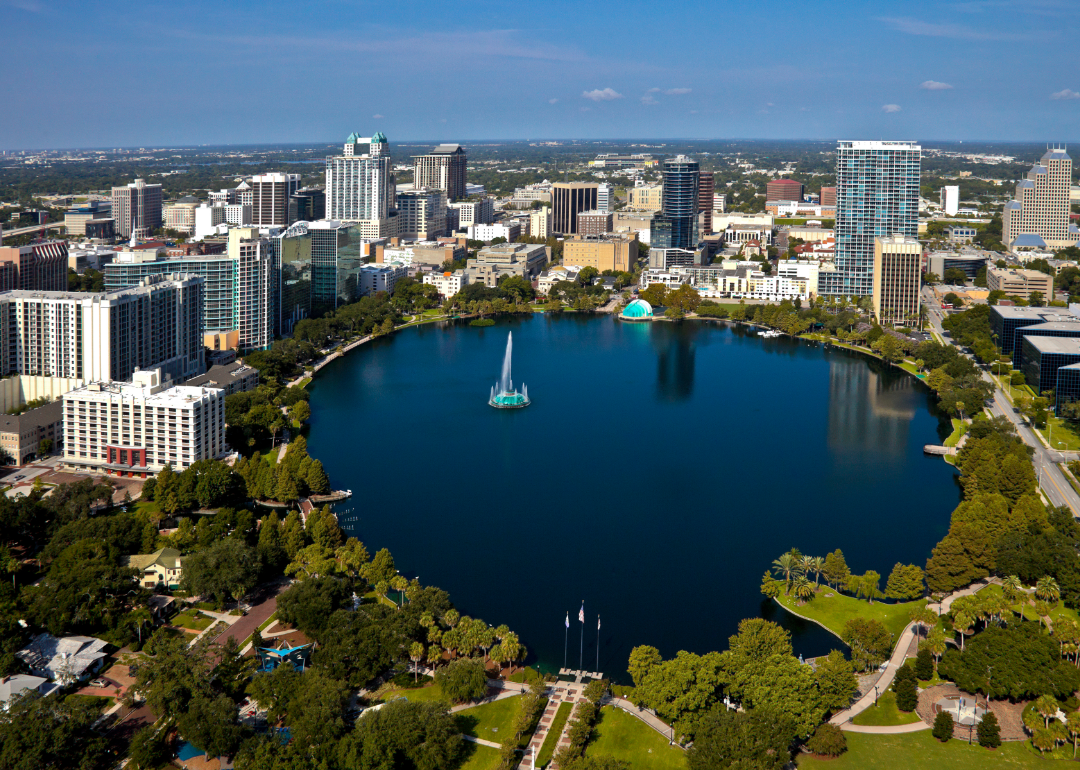 Canva
#15. Orlando, Florida
An aerial view of the Orlando skyline.
– Total homes sold: 5,091
– Share sold under asking price: 50.8%
– Median sale price: $340,015
During 2021 and 2022, investors made up as much as 27% of the homebuying population in Orlando. Led by out-of-town corporations with plenty of cash, they were partially responsible for driving up prices in the market. Now with interest rates rising, which makes borrowing more expensive, they're pulling back from buying up more houses. Higher home insurance costs are also causing more investors to sell their properties. These two factors have helped increase inventory in the city, leading to more price negotiation between buyers and sellers.
---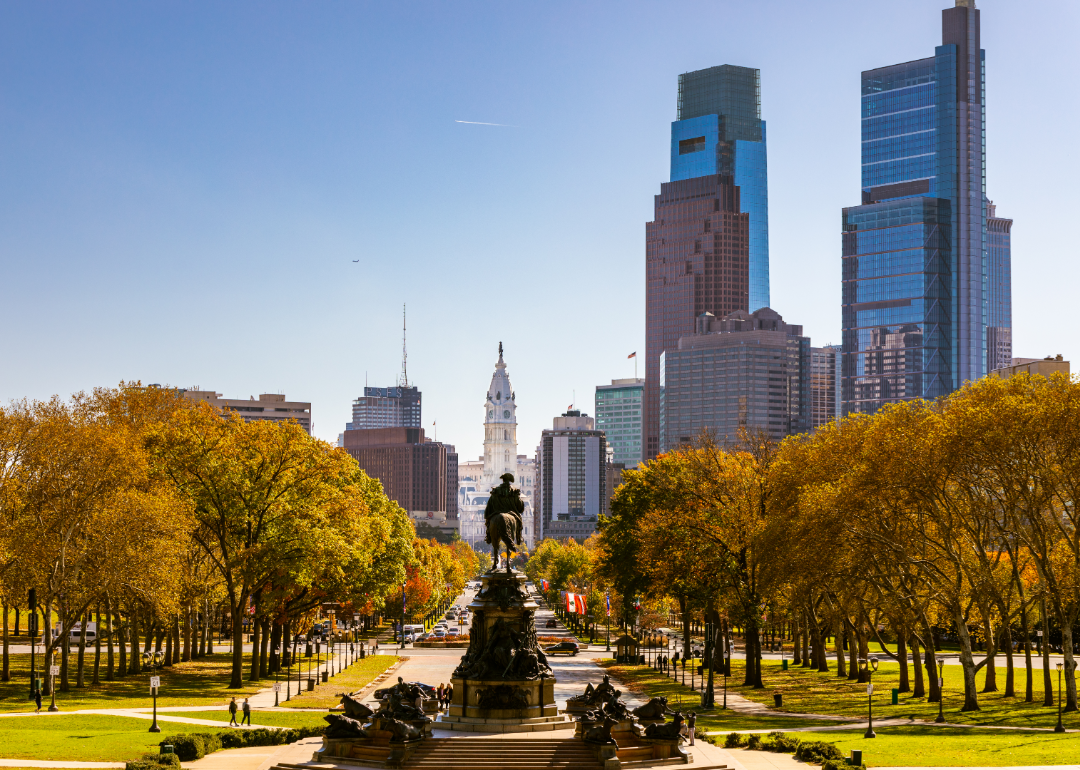 Canva
#14. Philadelphia, Pennsylvania
A city park and skyscrapers in Philadelphia.
– Total homes sold: 7,885
– Share sold under asking price: 51.4%
– Median sale price: $269,645
Even though more inventory is available in Philadelphia, the number of homes sold is on the decline, and houses are sitting on the market longer. In January 2023, inventory increased nearly 15% year over year, and the average length of time it took for a home to sell was 53 days, up seven from 2022.
While prices are still 25% to 30% higher than they were before the pandemic, they are starting to fall. Realtors in the area are advising sellers to look at a shorter time frame of comparable sales when they set their prices and be prepared to negotiate. As housing affordability is an issue in the area, houses on the lower end of the market are still popular with buyers, but homes priced at $1 million and up are languishing. Experts predict that slowing will also happen with homes in the $700,000 to $800,000 range, which should instigate price drops.
---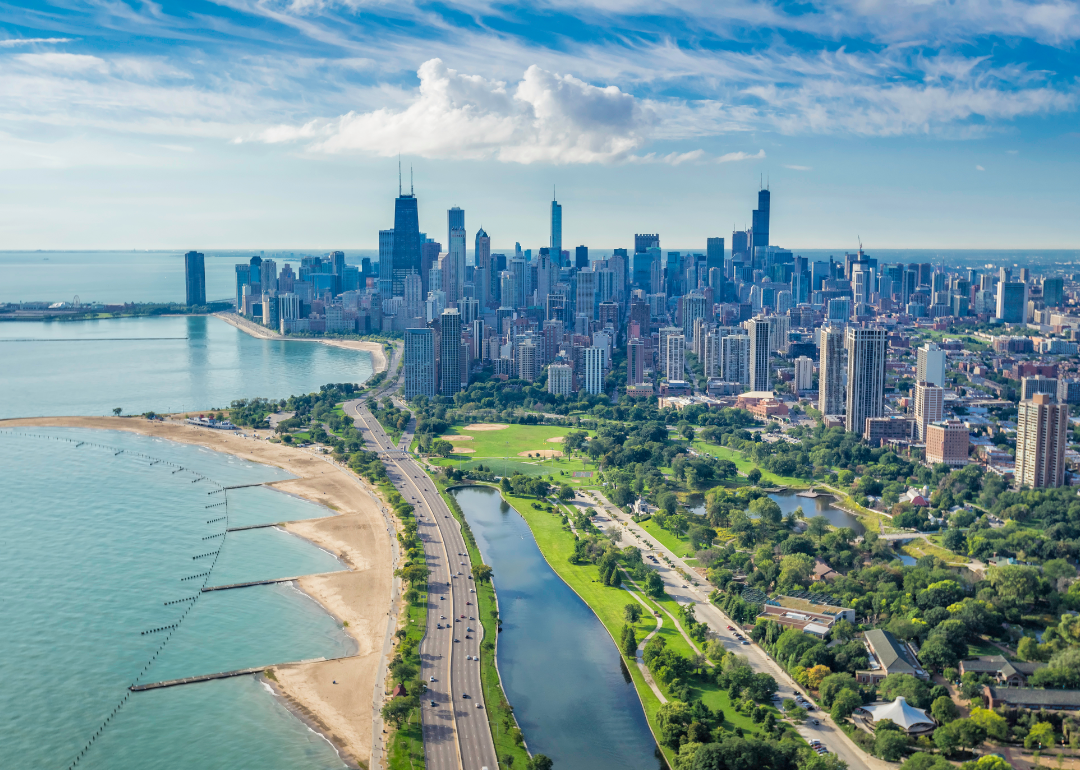 Canva
#13. Chicago, Illinois
A distant view of the Chicago skyline.
– Total homes sold: 27,868
– Share sold under asking price: 51.8%
– Median sale price: $346,878
Sellers in Chicago seem optimistic about the market compared with what's actually happening with home prices in the city. In fall 2022, sellers played it safe, pricing more conservatively in the wake of higher interest rates keeping buyers on the sidelines. As inventory tightened up and buyers adjusted to the idea of having to pay more interest if they wanted a house, they started becoming more active in the marketplace.
Sellers then figured that there would still be enough competition, so they started raising their asking prices—in spring 2023, asking prices were 1.1% above the peak in May 2022. That optimism hasn't translated to the actual sale price. Median prices dropped 3.2% in March 2023 compared to March 2022.
---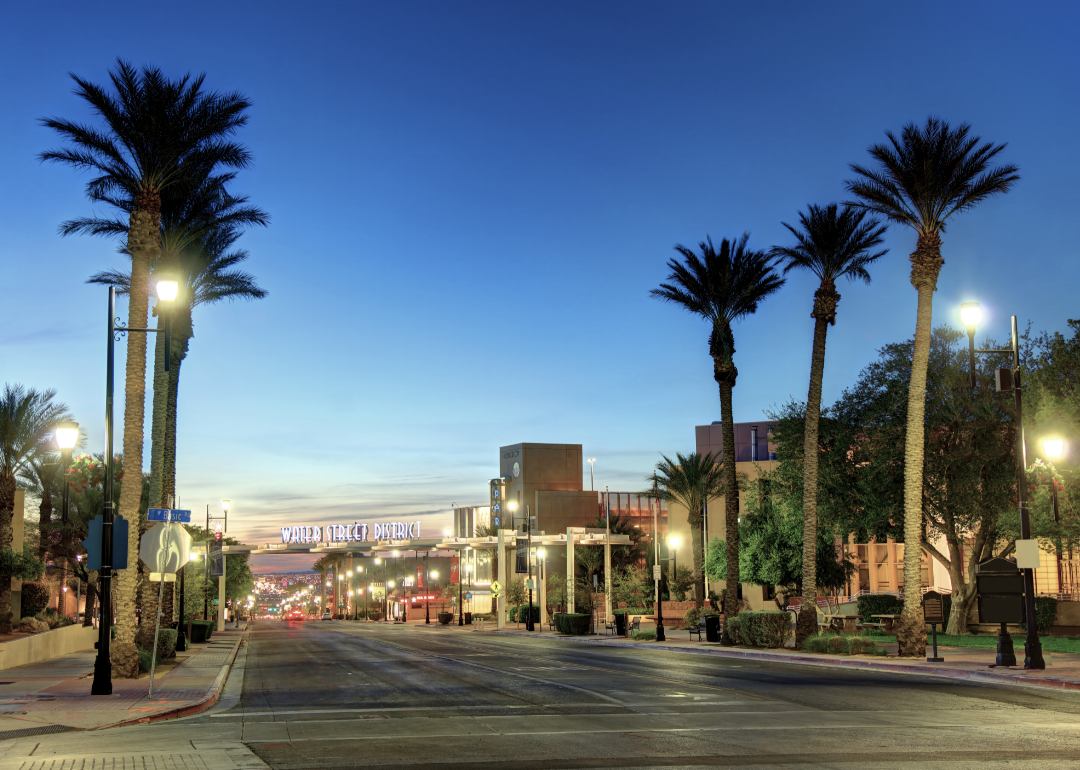 Canva
#12. Henderson, Nevada
A street at night in Henderson, Nevada.
– Total homes sold: 5,055
– Share sold under asking price: 52.0%
– Median sale price: $479,168
Henderson ranks as Nevada's best city to live in, according to House Digest, due to its proximity to Las Vegas, a low crime rate, and a wide variety of recreation options. The housing boom that hit Southern Nevada in 2021 is slowing down in 2023. Rising interest rates are one of the main culprits—as the Federal Reserve raised them, housing inventory grew and sellers cut prices throughout 2022.
Median sales prices fell nearly 12% to $425,000 from May 2022 to March 2023 in the Las Vegas area. Average sale time is also on the rise in Henderson, up 190% year-over-year to 46 days. New construction also continues in Henderson, with a project that will add more town houses to the real estate inventory.
---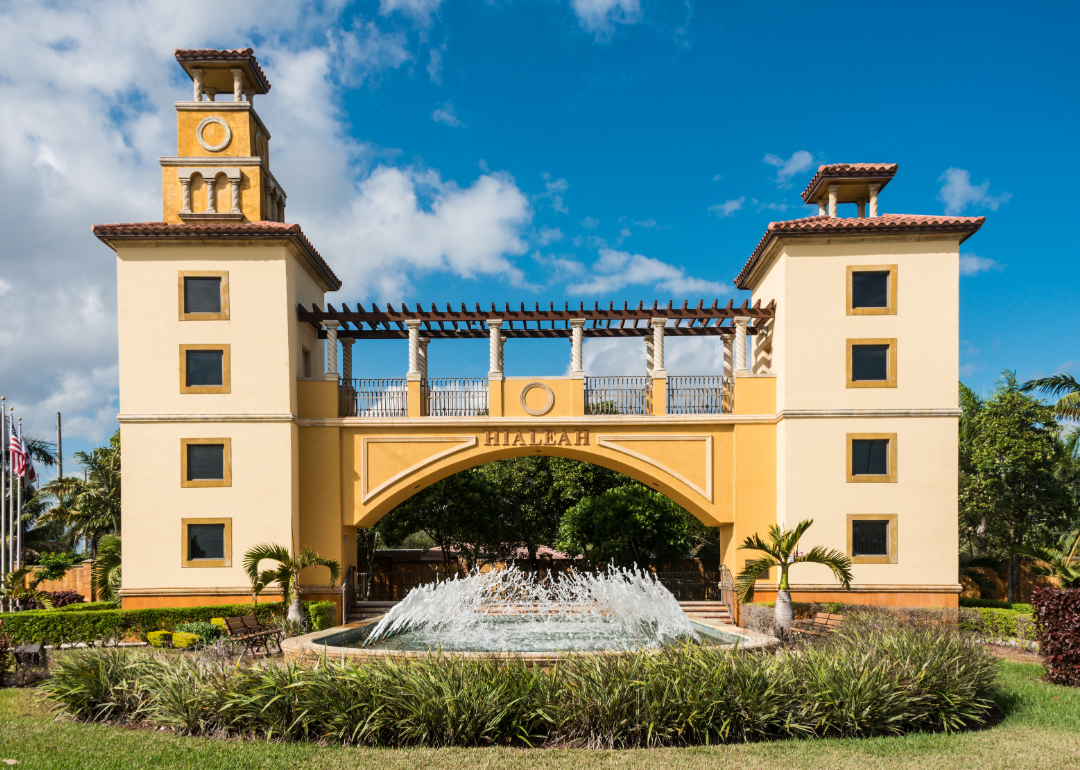 Canva
#11. Hialeah, Florida
Entrance structure to Hialeah, Florida.
– Total homes sold: 1,530
– Share sold under asking price: 52.1%
– Median sale price: $399,826
During the pandemic, homebuyers flocked to southern Florida, and the resulting demand caused prices to skyrocket in many cities, including Hialeah, a suburb of Miami. In August 2022, Hialeah was ranked the fifth least affordable housing market in the country. The city's housing stock is old, with 60% of housing units built between 1950 and 1970. However, real estate developers have been hard at work building new housing to attract a younger generation. Housing inventory is low, but the number of homes sold is also dropping, down 16.8% from March to April 2023. These factors are having an effect on the final price tag, as more buyers are getting concessions from sellers.
---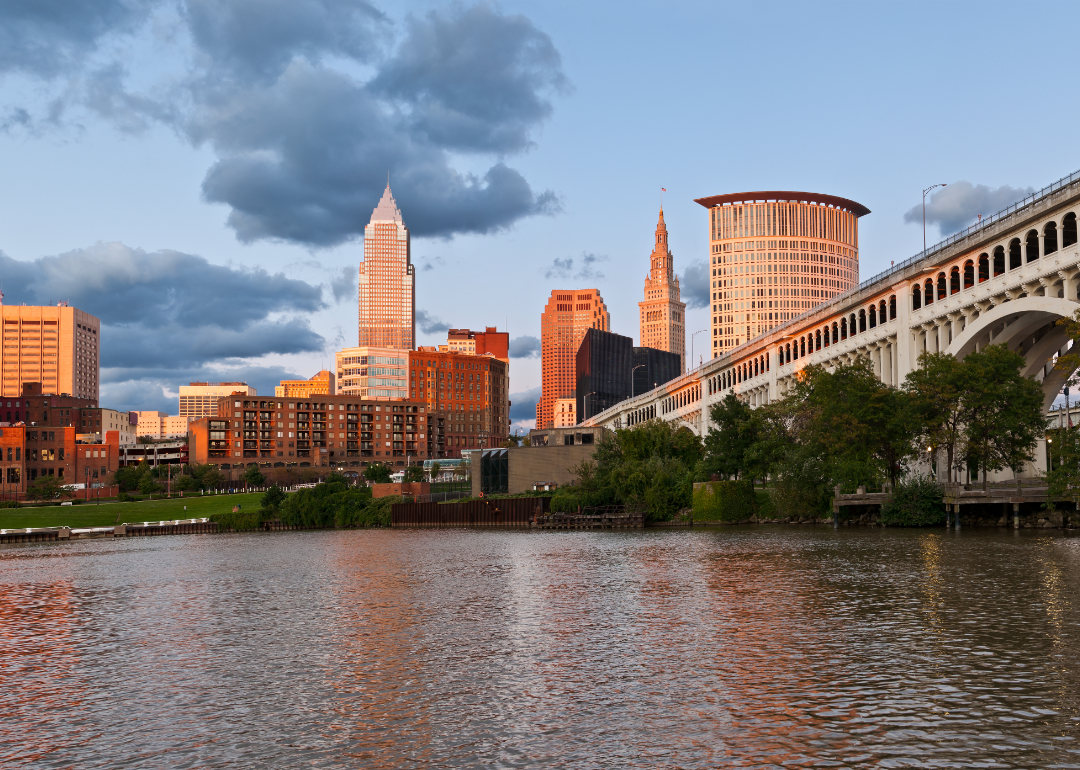 Canva
#10. Cleveland, Ohio
A view of downtown Cleveland from across the water.
– Total homes sold: 5,007
– Share sold under asking price: 52.7%
– Median sale price: $125,000
Homes in Cleveland are sitting on the market just a little bit longer in 2023. As interest rates rose and pushed some buyers out of the market, sellers took longer to adjust their asking prices. Even though it's still a seller's market, houses took an average of 44 days to sell in April 2023, compared to 41 days a year earlier.
Several neighborhoods in the city have declined in population, but have gained housing units, as new construction has appeared in some areas of the city that haven't had new housing for decades. New development is also happening in Cleveland's suburbs. One example is a development of empty-nester homes slated to be built on the former SeaWorld property at Geauga Lake, southeast of the city.
---

Canva
#9. Houston, Texas
An aerial view of downtown Houston.
– Total homes sold: 21,107
– Share sold under asking price: 54.0%
– Median sale price: $329,470
Houston's housing market has shifted abruptly from record sales volume in 2021 to a decline in sales volume in 2022, the first such decline the city's experienced since 2015. Prices are also declining—down 18% year over year in April 2023 and the second decline in as many months in 2023.
Rising mortgage rates are one factor, but homeowners here also face higher taxes and insurance costs. That's caused houses to sit on the market a little longer—39 days in April 2023 versus 31 days the year prior—and has given buyers some leverage in seeking concessions. Buyers looking for newly constructed homes may need to seek out condos or town homes. Overall, new construction permits declined by 10% during 2022, but the amount of single-family home permits dropped drastically while the number of multifamily permits grew.
---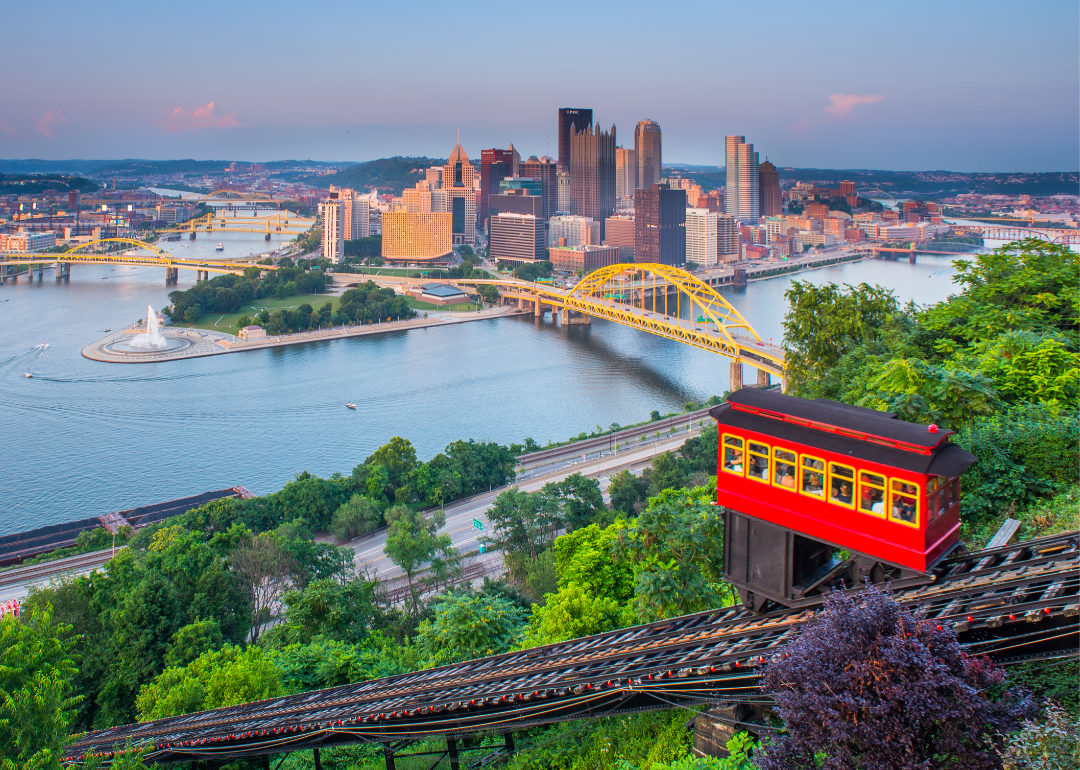 Canva
#8. Pittsburgh, Pennsylvania
A distant view of the Pittsburgh skyline.
– Total homes sold: 3,507
– Share sold under asking price: 54.9%
– Median sale price: $225,313
Realtors in Pittsburgh note the city's real estate market has remained fairly stable, but that doesn't mean prices aren't coming down in some parts of the city. While some neighborhoods have seen price gains in the beginning of 2023 compared to 2022, about 40% of the city and surrounding suburbs have experienced price drops.
Inventory has also been on the rise, up 17% in 2023. Mortgage foreclosures have also been steadily rising since federal pandemic moratoriums expired in mid-2021. In Allegheny County where Pittsburgh is located, 1,068 homes in all price brackets were foreclosed on in 2022, with over half of those coming in the last six months of the year. That trend continued in January 2023, when there were 101 foreclosures, a 55% increase from January 2022.
---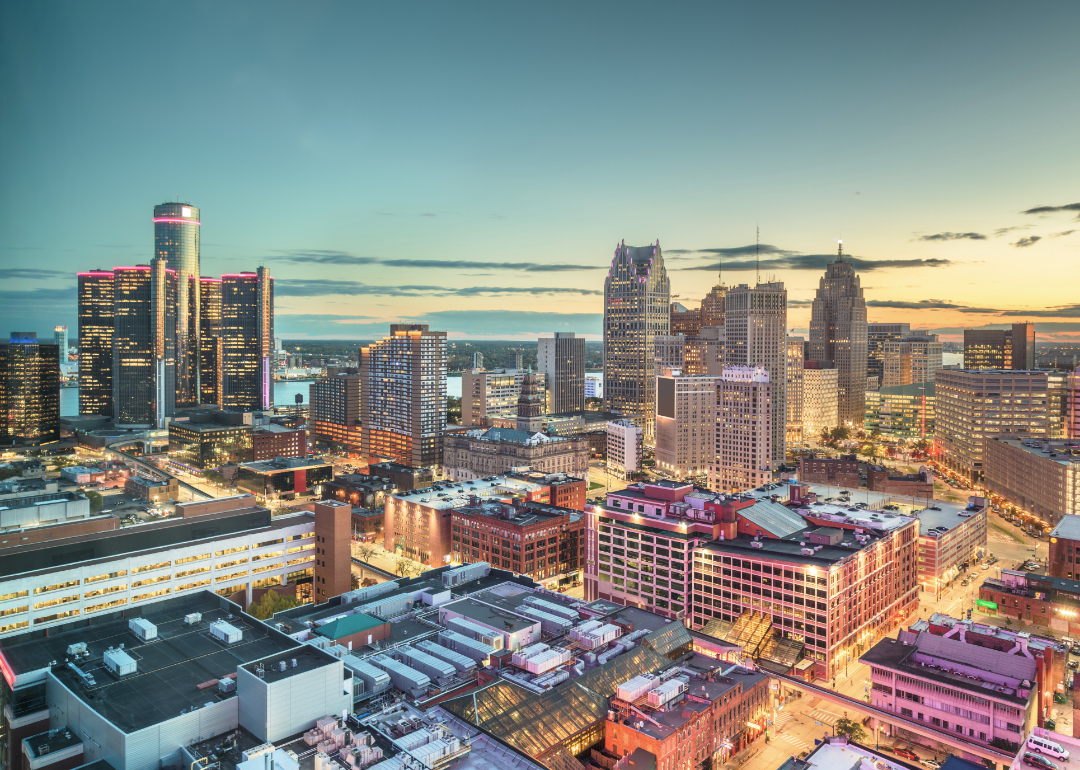 Canva
#7. Detroit, Michigan
An aerial view of Detroit.
– Total homes sold: 4,629
– Share sold under asking price: 56.3%
– Median sale price: $79,999
Inventory is rising in metro Detroit, adding nearly a full month's supply in March 2023 compared to February. Still, the 2.8 months' supply is much lower than the six months of inventory needed to have a balanced market. Sellers are starting to make some concessions in order to attract buyers, but with inventory tight and the pace of new construction slow, they still have leverage.
Buyers are starting to use more creative financing techniques in order to buy that dream home. These include post-closing possession agreements that allow sellers to rent the home until they're able to find their own new house, 2/1 buydown programs that reduce mortgage interest rates for the first two years of the loan, and all-cash guarantees from lenders that allow buyers to make a cash offer for a property and receive a mortgage for it after closing.
---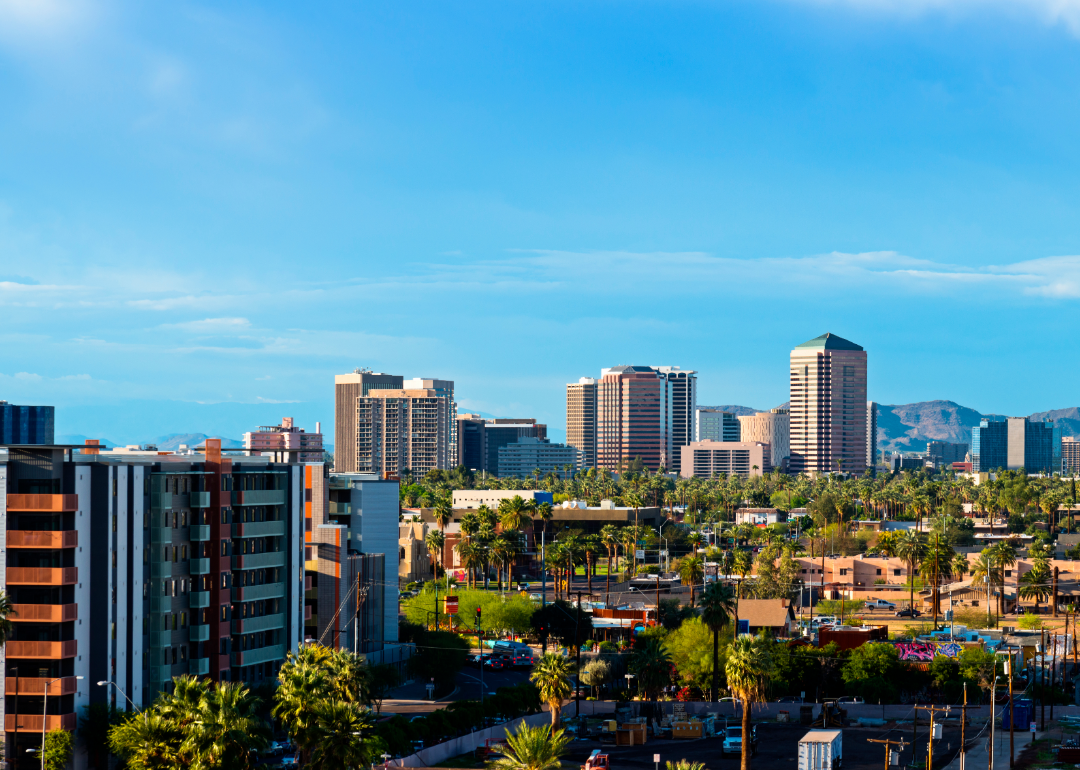 Canva
#6. Scottsdale, Arizona
A distant view of the Scottsdale skyline.
– Total homes sold: 5,500
– Share sold under asking price: 56.7%
– Median sale price: $802,293
Scottsdale was a prime relocation target during the first year of the pandemic, with 68% more people moving to this Phoenix suburb in 2020 versus leaving. Scottsdale trends toward the luxury buyer and has seen some price fluctuations from 2022 to 2023. From May to October 2022, prices for single-family homes dropped by 8%. Comparatively, in April 2023, during the high point of the selling season, median sold prices rose 10.2% to nearly $800,000.
Although prices are experiencing some growth, homes here are sitting on the market much longer—70 days compared to 26 a year prior. More luxury housing is slated for the city—an 81-home development is planned to start construction in fall 2024.
---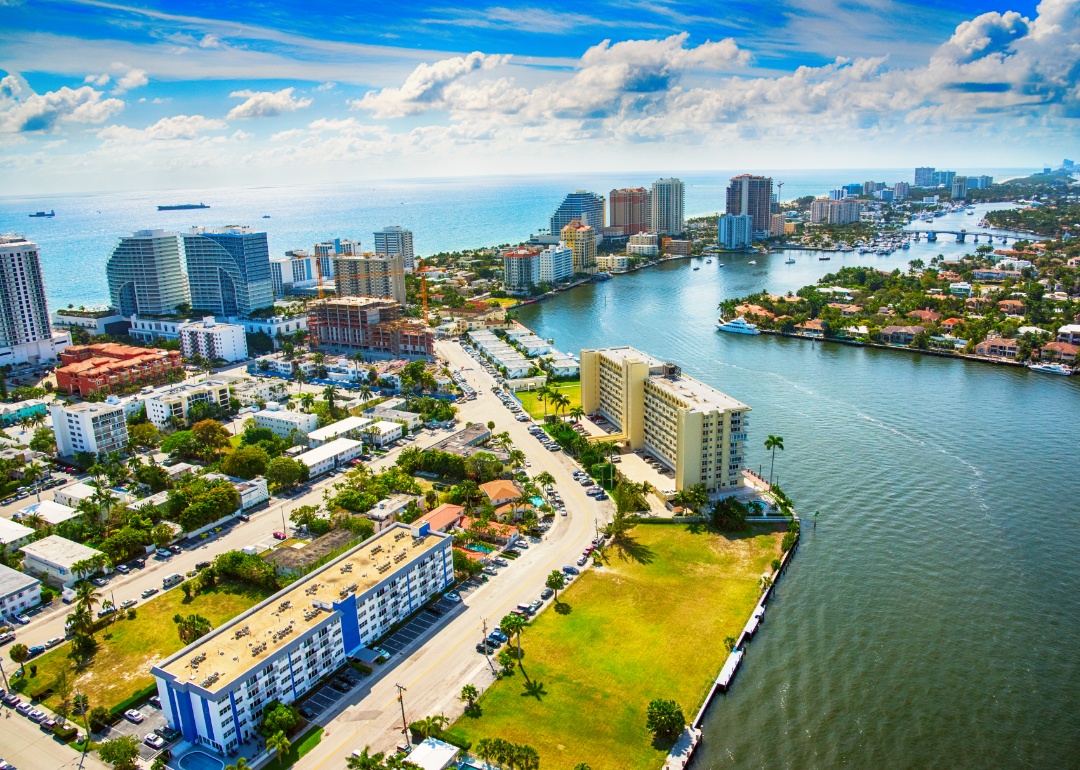 Canva
#5. Fort Lauderdale, Florida
An aerial view of Fort Lauderdale.
– Total homes sold: 1,543
– Share sold under asking price: 57.7%
– Median sale price: $439,856
Home prices are ticking upward in Fort Lauderdale, a once modest city that's transforming into a more high-end urban area. Developers are seeing the potential of the area and are pursuing more luxury projects within the city limits, including six condo buildings downtown. The luxury market is seeing some price declines—at its peak in November 2021, the average sale price for homes over $1 million was $3.5 million, but a year later was just $2.7 million. Severe weather may also have an effect on the housing market—residents who endured a major flood in April 2023 may opt to sell, as damage plus increasing home insurance premiums make home ownership financially difficult.
---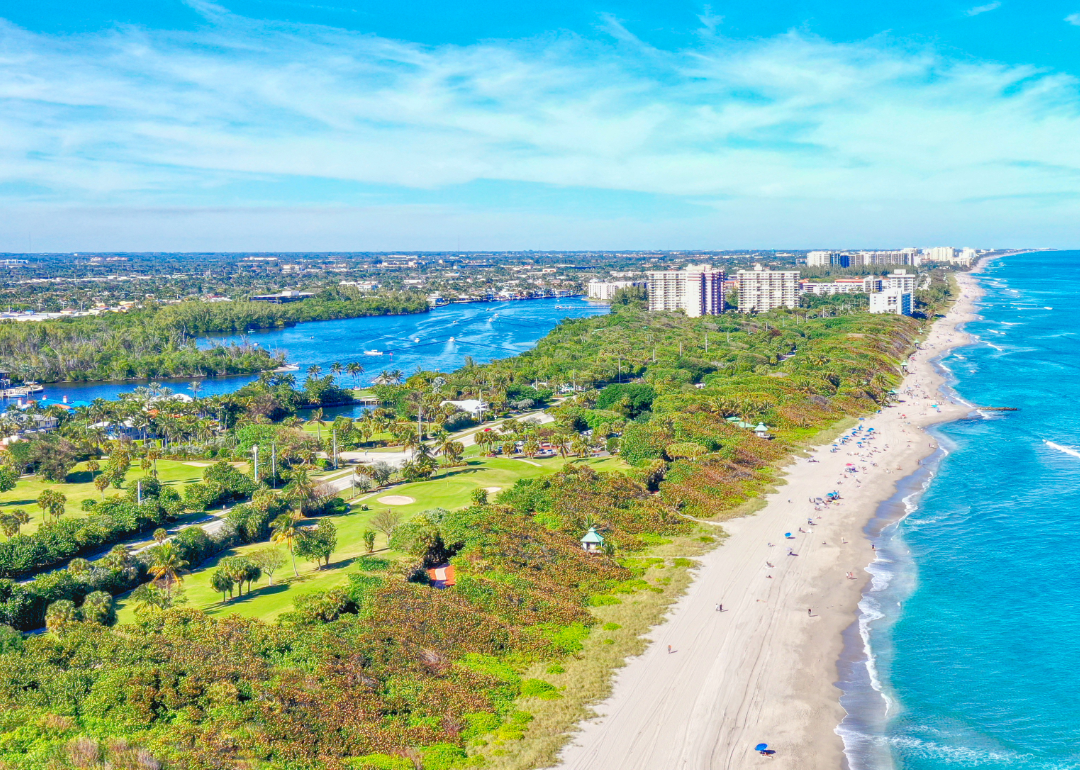 Canva
#4. Hollywood, Florida
A distant view of Hollywood, Florida.
– Total homes sold: 1,746
– Share sold under asking price: 57.8%
– Median sale price: $444,726
Even though median sales prices for homes in Hollywood continue to rise, buyers do have an edge in this Broward County beachside city. Prices may be higher than in 2022, but the number of sales in Hollywood has slowed dramatically in 2023, dropping 26.2% from March to April 2023. It's also taking longer to sell a home here, with an average of 65 days in April 2023 compared to 50 in April 2022. That's proving to be too long for some homeowners, who even vacate the house before it sells. Hollywood has a homeowner vacancy rate of 1.6%, the 6th highest vacancy rate in Florida.
---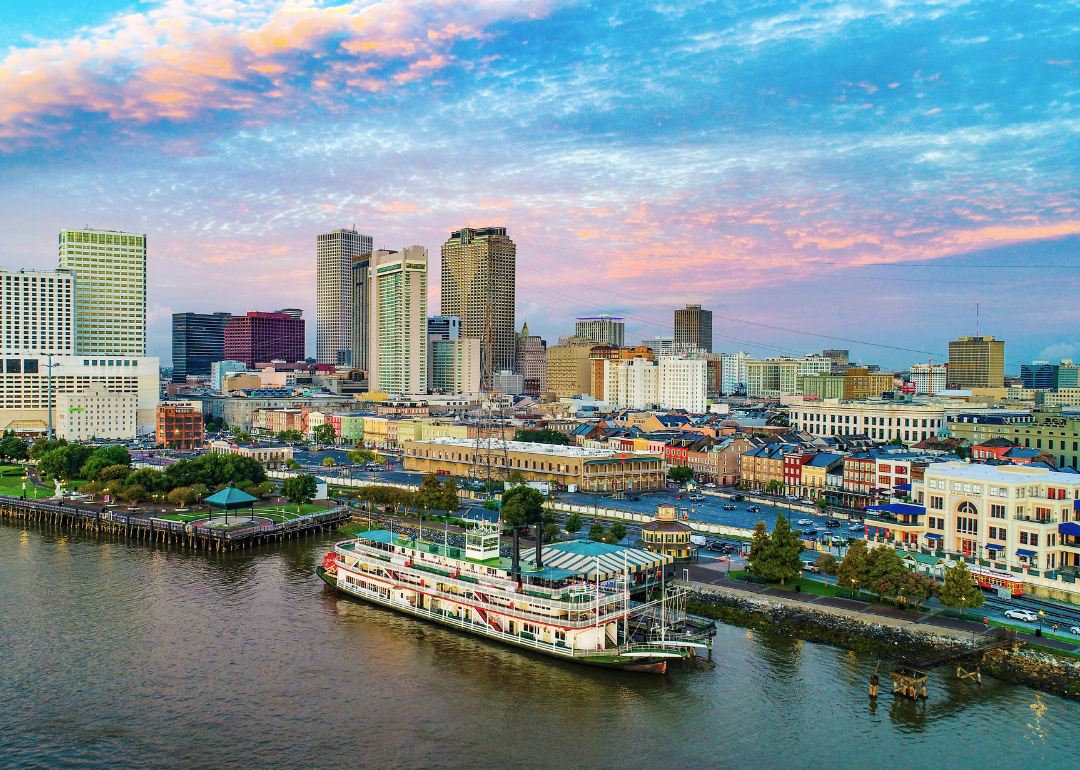 Canva
#3. New Orleans, Louisiana
An aerial view of New Orleans.
– Total homes sold: 4,062
– Share sold under asking price: 57.9%
– Median sale price: $347,601
Buyers have the advantage to ask for more concessions in New Orleans as the market slows down from pandemic-era buying wars that led to 25% increases for average house prices. Inflation and higher interest rates are two of the usual suspects keeping buyers on the sidelines, but insurance prices are also killing deals.
After hurricanes caused serious damage in Louisiana in 2020 and 2021, dozens of insurance companies have left the state. This has caused home insurance policies to skyrocket, leaving some potential buyers unable to afford a home. In April 2023, inventory grew 14.1% month-over-month, and houses are staying on the market longer, up 60.7% year-over-year to an average of 55 days in April 2023.
---

Canva
#2. Miami, Florida
Downtown Miami at night.
– Total homes sold: 10,121
– Share sold under asking price: 59.3%
– Median sale price: $507,218
Miami has been a pandemic relocation destination, with a nearly 60% increase in people moving to the city in 2022 compared to 2019. That growth increased demand for housing, but there are indicators that buyers could have an edge. The amount of inventory increased to 5.8 months' supply at the beginning of 2023, making it a nearly balanced market.
While home prices are rising, sellers have been in the habit of overpricing their homes due to the recent history of high demand. That strategy has backfired a bit—in April 2023, homes were sitting on the market for an average of 61 days, a 19.6% increase from the previous year. That's causing sellers to lower prices from the initial listing in order to find the right buyer.
---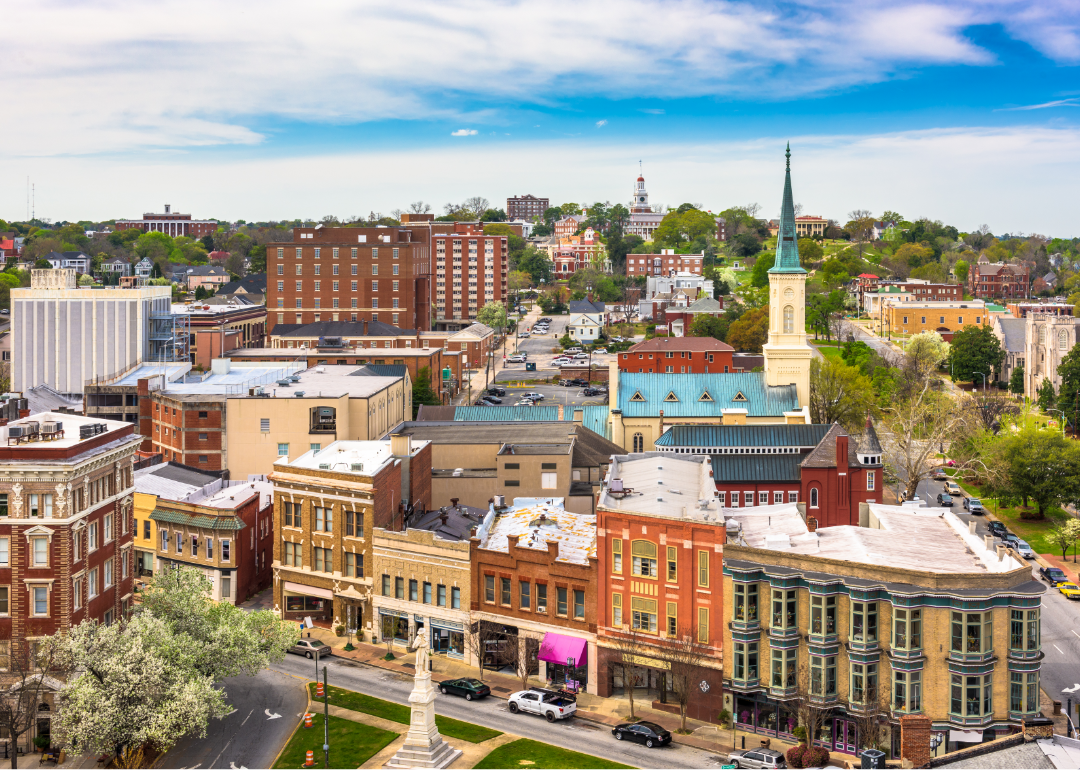 Canva
#1. Macon, Georgia
An aerial view of Macon, Georgia.
– Total homes sold: 676
– Share sold under asking price: 61.5%
– Median sale price: $106,333
The real estate market in central Georgia is primed to see a mild dip due to higher interest rates and mortgage costs. The number of sales fell in 2022, although the 2023 spring buying season saw an 89.1% jump in the number of homes sold in April compared to March, with 121 properties changing hands. Macon still boasts affordability compared to nearby cities, particularly Atlanta, but low local wages can keep some potential buyers on the sidelines. One newer local tax may help with housing affordability. In 2021, voters approved an Other Local Option Sales Tax that rolled back property taxes close to 40%.
Data reporting by Elena Cox. Story editing by Jeff Inglis. Copy editing by Tim Bruns.
This story originally appeared on Rocket Homes and was produced and
distributed in partnership with Stacker Studio.
---