Jeff Bezos prepares for a massive prenup to protect his $138 billion fortune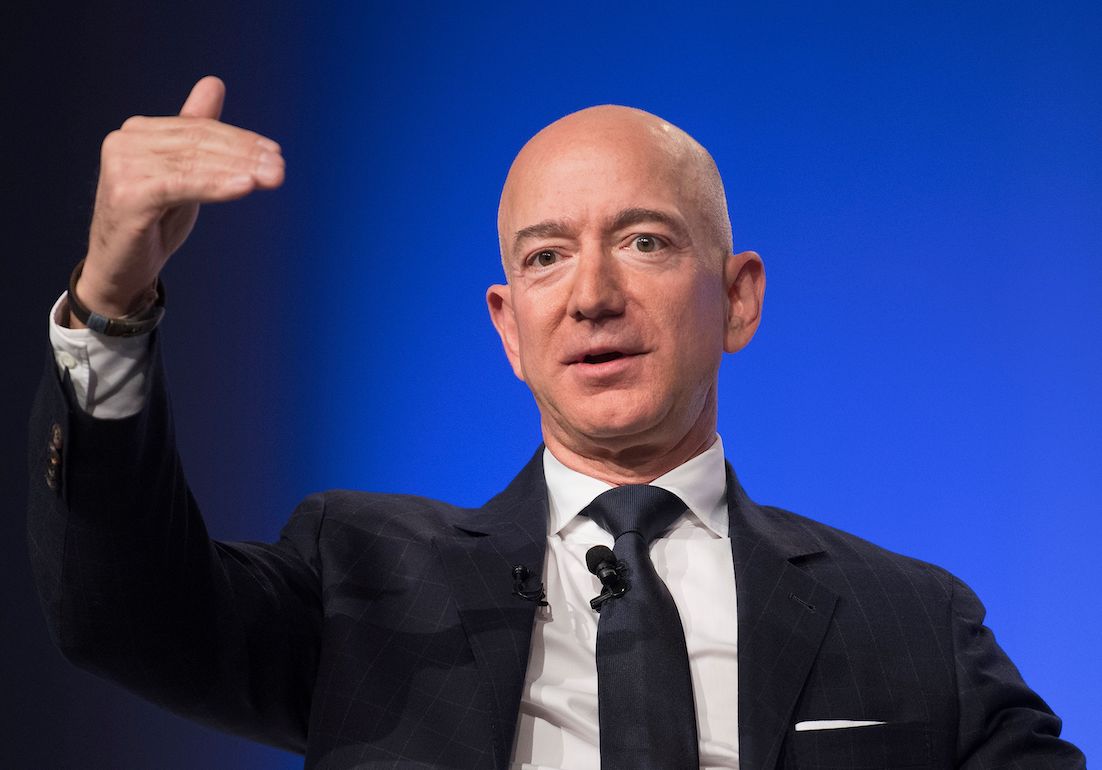 Jim Watson/AFP // Getty Images
Jeff Bezos prepares for a massive prenup to protect his $138 billion fortune
Close-up of Jeff Bezos delivering keynote address.
Jeff Bezos and Lauren Sánchez's engagement has not only brought joy to the couple, but it has also set their attorneys up for a prosperous future. Billionaire groom-to-be Bezos is the richest groom in history, while his fiancée Sánchez is no stranger to success herself.
As reported by Page Six, Bezos and Sánchez sealed their engagement aboard the luxurious $500 million superyacht named the Koru. During a sighting in Cannes, France, the dazzling brunette proudly displayed a breathtaking 20-carat engagement ring worth an estimated $2.5 million.
While Bezos, 59, did not have a prenuptial agreement in place for his previous marriage to MacKenzie Scott, which ultimately cost him $38 billion, Benzinga expects that the Amazon.com founder will take extensive measures to protect his multibillion-dollar fortune as he embarks on his second marriage with Sánchez, 53.
Sánchez, a successful businesswoman in her own right, also has substantial assets to safeguard. The couple already shares joint property assets and philanthropic endeavors, adding to the complexity of their pending nuptial agreement.
Financially, the stakes are undeniably high for this power couple. Bezos's net worth, as estimated by Forbes, stands at $138 billion, securing his position as the third-richest person in the world, trailing behind LVMH CEO Bernard Arnault and Tesla CEO Elon Musk. Despite experiencing a $57 billion drop in his net worth last year because of a decline in Amazon's stock price, Bezos maintains his elite status among the world's wealthiest individuals.
Since its inception in 1997, Amazon has evolved into a global powerhouse, dominating various industries and expanding its services worldwide. The company serves customers in 40 countries, spanning from India to Brazil and across most of Europe. Its reach extends far beyond online retail, with ventures like Amazon Web Services (AWS) providing essential infrastructure for major websites and businesses worldwide.
In 2022, Amazon made a significant move in the entertainment industry by acquiring MGM's extensive entertainment catalog for $8.5 billion. The acquisition included renowned film franchises such as James Bond, along with a vast collection of TV shows. Amazon Prime Video has also entered the sports broadcast market, securing exclusive rights to "Thursday Night Football" and garnering an impressive 15 million viewers for its inaugural game.
Beyond its digital footprint, Amazon boasts a vast physical presence as well. The company operates its own airline, Amazon Air, with a fleet of planes dedicated to delivering packages around the globe. Bezos also owns The Washington Post, a renowned newspaper that holds historical significance and wields considerable influence in Washington D.C.
As for Bezos' real estate ventures, his portfolio is valued at over $500 million. His most notable property is a 10-acre mansion in Beverly Hills, California, purchased from film studio executive David Geffen for $165 million in 2020. He also owns multiple properties in Manhattan, New York, and Washington D.C., including a stunning Georgian-style residence in the capital city's upscale Kalorama neighborhood.
Meanwhile, Sánchez brings her own multimillion-dollar assets to the table. She runs Black Ops Aviation, a company specializing in aerial videos, and has worked with esteemed clients such as ABC News Network, Sony Group Corp. and Netflix Inc. In terms of real estate, Sánchez possesses a substantial $6.2 million home in Washington, acquired following her divorce from talent agent Patrick Whitesell.
The couple's passion for exploration extends to the skies and beyond. In 2000, Bezos founded Blue Origin, a private aerospace company with ambitions of advancing space travel. Recently, Blue Origin has gained profitability through cargo payloads and space tourism flights. Bezos himself embarked on the company's maiden voyage to space in July 2021, fulfilling a lifelong dream.
Bezos is the proud owner of a fleet of private jets, including top-of-the-line models like the Gulfstream G650ER and the Bombardier Global Express. These aircraft grant him the ability to jet around the globe in style and luxury. 
With such substantial personal and joint assets, it is evident that Bezos and Sánchez's impending marriage holds significant financial implications. As they prepare to tie the knot, both parties are expected to take meticulous steps to protect their wealth and ensure a secure future together.
This story was produced by Benzinga and reviewed and distributed by Stacker Media.
---