26 style trends that were popularized by hip-hop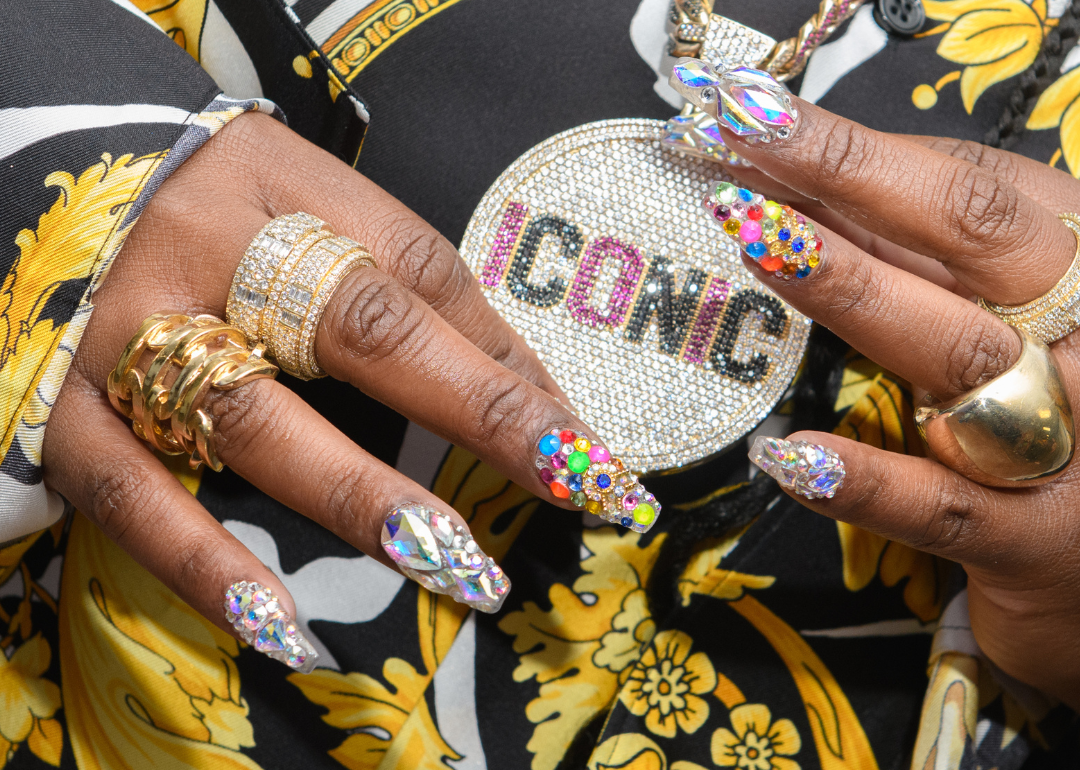 Noam Galai // Getty Images
26 style trends that were popularized by hip-hop
Missy Elliott jewelry and nail detail.
Since its inception in the 1970s, hip-hop has made a mark on culture. One of the main ways is through its impact on style, with hip-hop artists setting trends in clothing, hair, and accessories—all with a dash of swagger and braggadocio.
Who can forget the baggy jeans and oversized shirts from the 1980s and '90s (or its revival by a new generation of artists in the mid-'00s)? Ever since that first back-to-school party held at the Bronx on Aug. 11, 1973, hip-hop has influenced our culture in ways that surpass melodies and lyricism—and its style has evolved beyond these early examples.
"We have all of these different influences coming into hip-hop fashion over the last 50 years, and it's really just a huge range of fashion," said Elizabeth Way, associate curator of costume with the Museum at the Fashion Institute of Technology and the co-curator of the institute's "Fresh, Fly, and Fabulous: Fifty Years of Hip Hop Style" exhibit, in an interview with Stacker.
Over the decades, hip-hop has fused with luxury brands, as seen with Dapper Dan's custom creations and collaborations with Louis Vuitton and Gucci; remixed clothes and given birth to streetwear as we know it, as in the case of the trailblazing trendsetter April Walker; and allowed everyone a chance to be a part a hip-hop scene through affordable, ready-to-wear fashion lines, like Beyoncé and Tina Knowles' House of Deréon.
"Because it's such an impactful cultural force and the music becoming mainstream in popular culture in the 1990s, it's really no surprise that the fashion [of hip-hop] was also going to go mainstream and have a huge impact," Way said.
Stacker compiled a list of 26 style trends that originated or were popularized in hip-hop, citing Way's own words while reviewing the history of hip-hop style trends from the '70s to now.
---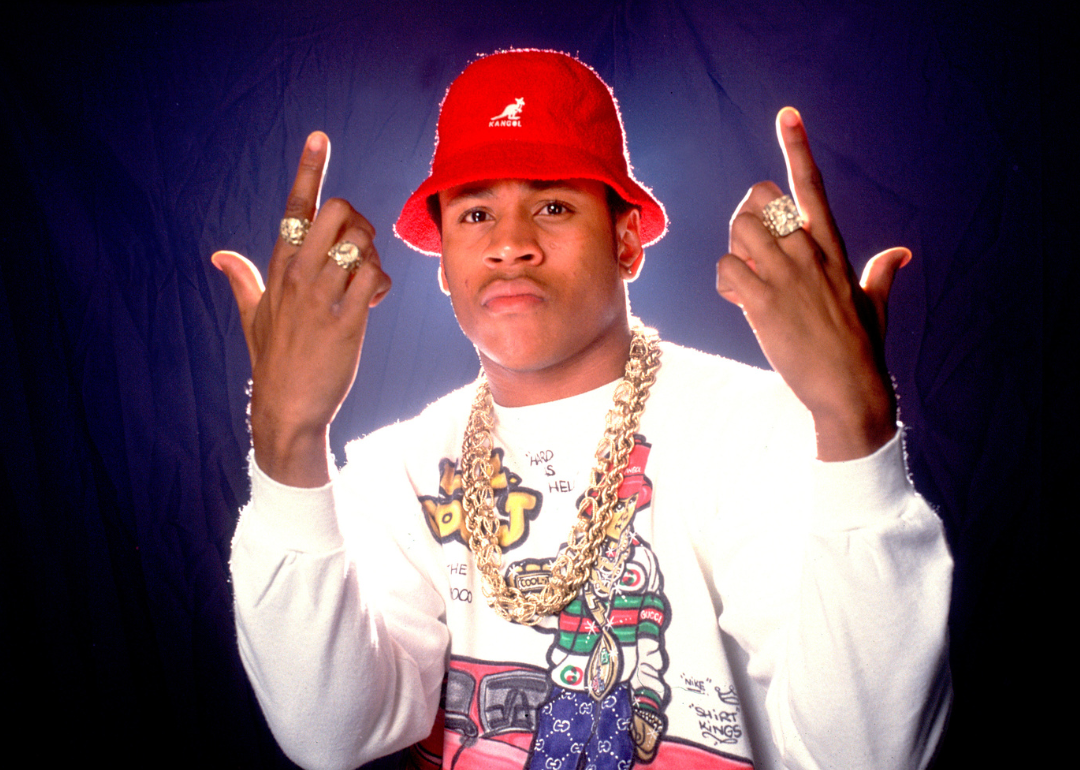 Paul Natkin // Getty Images
Kangol hats
Portrait of LL Cool J.
When we think of '80s hip-hop, bucket hats often come to mind. Big Bank Hank of The Sugarhill Gang was the first to wear a bucket hat in a rap video for the group's 1979 track "Rapper's Delight." Run-D.M.C. has also been known to don the caps, but LL Cool J is credited with bringing the Kangol brand hats to popularity in the late 1980s.
---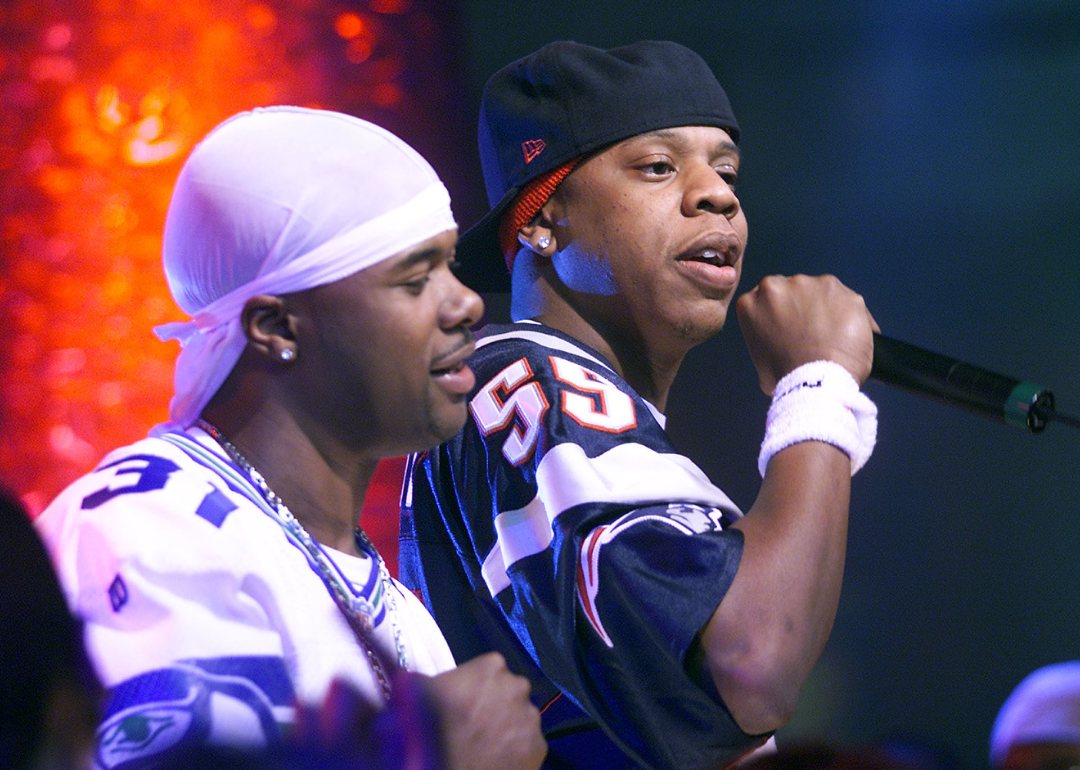 Scott Gries/ImageDirect // Getty Images
Durags
Jay-Z performs with Memphis Bleek at the MTV studios.
Memphis Bleek was known for rocking a cap over his durag in the late '90s and was one of many who opted to showcase his silk cap as a fashion accessory. Functionally, durags are used to preserve and protect hair, but artists shifted their use, making them a staple in fashion throughout the '90s and 2000s. Jay-Z, Nelly, and Cam'ron were early adopters of durags as fashion statements. In 2018, Solange Knowles paired a durag with a halo at the Met Gala. In 2020, Rihanna proudly wore it on the cover of British Vogue, undoubtedly influencing how these head garments are publicly received.
---

Jeff Kravitz/FilmMagic // Getty Images
Cornrows and braids
Snoop Dogg performing onstage.
Braids have long been a staple within Black culture, with hip-hop fashion being one of the avenues for making the protective style mainstream. During the '90s and 2000s, varied styles of braids and cornrows were worn by rappers like Ludacris, Bow Wow, and Snoop Dogg and R&B artists like Alicia Keys and Janet Jackson—from music videos and red carpets. The hairstyles surpassed music, with athletes like Allen Iverson famously getting braided on the bench by his mother mid-game and actresses such as Brandy making the style her own during her "Moesha" days.
---

Raymond Boyd // Getty Images
Hi-top fades
Will Smith, DJ Jazzy Jeff and Ready Rock C pose backstage.
When we think of hip-hop and hair, hi-top fades are one of the first images that come to mind. Big Daddy Kane was the first to rock this look during the rise of rap in the '80s. Since then, the look has moved past hip-hop and made it into popular fashion. Will Smith and Bobby Brown both had long-standing affairs with their fades, which later evolved into the more modern low-cut fades we see today.
---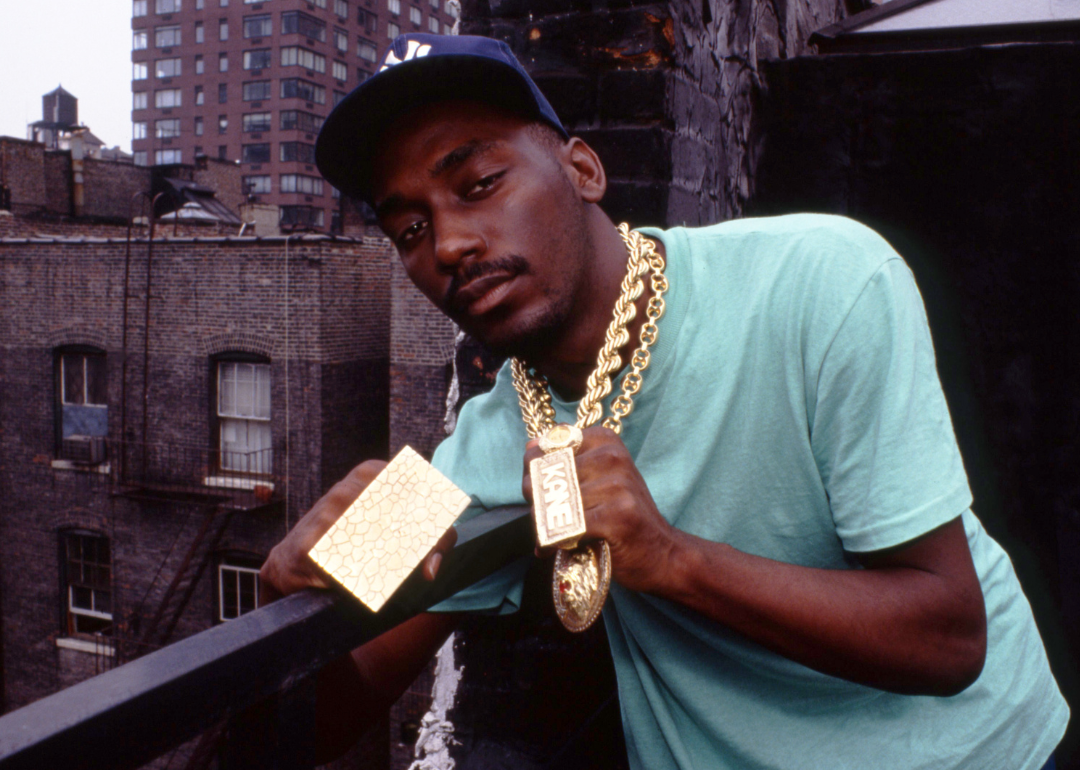 Catherine McGann // Getty Images
Logos, nameplates and 'bling'
Big Daddy Kane poses for a portrait.
Jewelry has always had a vital role in hip-hop fashion, especially those that make a statement. Following Big Daddy Kane's footsteps, 1999 saw B.G. of the Hot Boys bring the term "bling" to dictionaries everywhere. The term, albeit faded into obscurity today, was used to draw attention to the drapes of expensive and ostentatious jewelry, or "bling," rappers often wore to complement their swag.
Speaking of its influence in the genre, Elizabeth Way said: "A very interesting thing to think about more recently is this association with luxury and how it's taken over hip-hop fashion. For example, a nameplate necklace or nameplate ring—kids in the 1970s were having them made at the corner store and with a brass belt buckle. We see those same trends being executed by hip-hop artists today, but they're in diamonds. They're in platinum, they're over the top."
---

David Tonge // Getty Images
Grills
Flava Flav and Chuck D pose for a portrait.
Suriname immigrant Eddie Plein is credited as the first to create gold grills and caps for New York rappers like Flava Flav and Jay-Z in the '80s. Plein took his business south, leading to the trend booming in places like Virginia and Atlanta throughout the '90s. While there was a bit of a dip in the popularity of grills in the mid-2000s—despite inspiring a #1 record by Nelly—rappers like A$AP Rocky have been credited with bringing them back into popularity, paying homage to the hip-hop artists from decades prior.
---

KMazur/WireImage // Getty Images
Tracksuits
Missy Elliott performs at the American Music Awards.
Tracksuits were popular from the '80s to the 2000s, from Missy Elliott's ensembles to fuzzy velour pieces from Juicy Couture. After the rise of the outfits in the '80s (then worn for exercise), artists like Sean "Diddy" Combs and Jay-Z often sported their tracksuits for everyday wear to signal their wealth.
---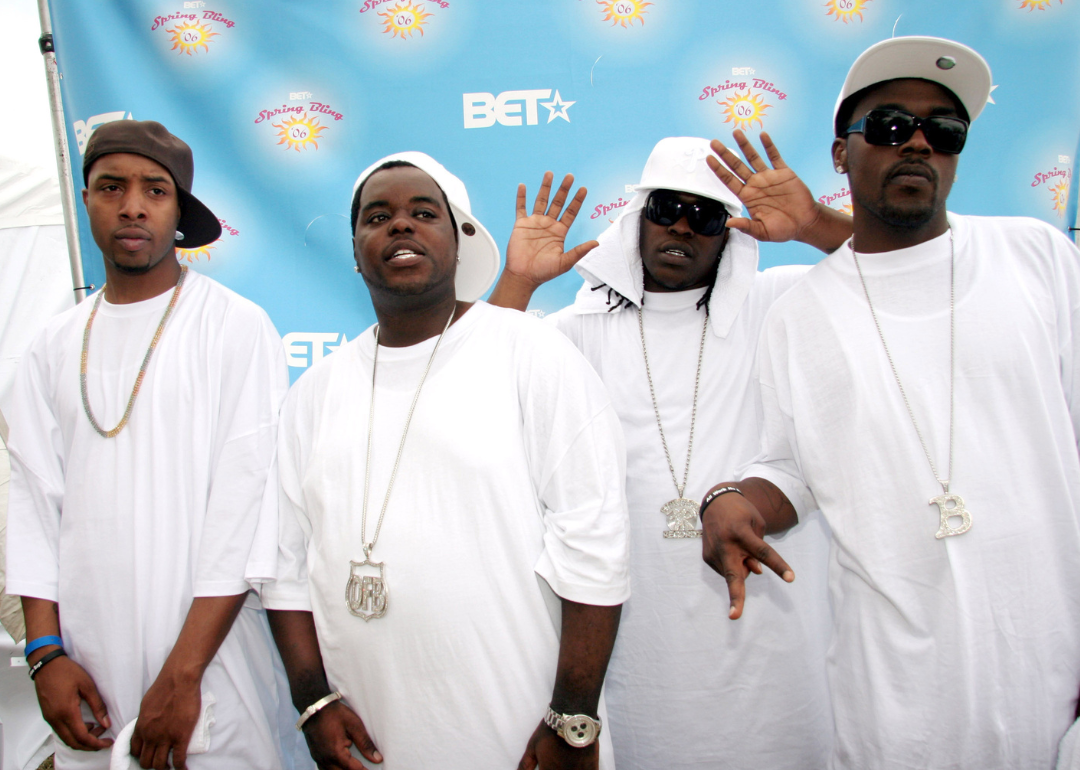 Johnny Nunez/WireImage // Getty Images
Oversized clothes
Dem Franchize Boyz pose at event.
Hip-hop style is known for its oversized clothing—from lengthy tees to baggy jeans to shorts that reach mid-calf. These tees are a great example of the shift from associating the trend with drug dealing to it being a widespread urban clothing staple, particularly after Dem Franchize Boyz made it a regular outfit choice in the early 2000s.
According to Elizabeth Way: "We look at the idea of playing with silhouette, the idea of playing with proportions—these are all things that innovative fashion stylists, designers, and wearers do. In hip-hop, it wasn't recognized that playing with this baggy silhouette—that was so influential in the way people dress—was a fashion innovation."
---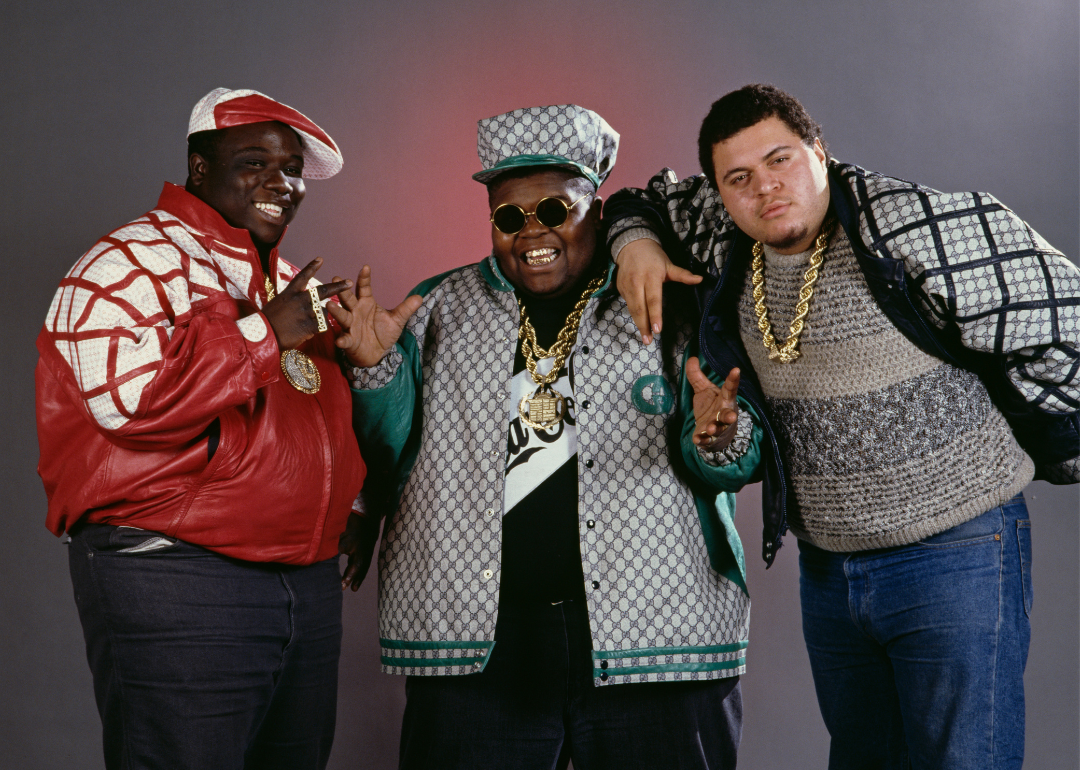 Michael Ochs Archives // Getty Images
Remixed urban and luxury wear
The Fat Boys pose for a studio portrait.
Dapper Dan is known for his role in blending streetwear and high fashion, remixing many luxury brands in the '80s. Though in earlier decades this led to legal action by Fendi for trademark infringement, Dapper Dan's bold move led to the rise of artist-created lines like Sean John by Sean "Diddy" Combs and Wu-Tang Clan's Wu Wear. Instead of waiting for mainstream luxury brands to acknowledge the credibility of hip-hop artists, they paved their own way, making room for the blending of styles and colors down the line.
---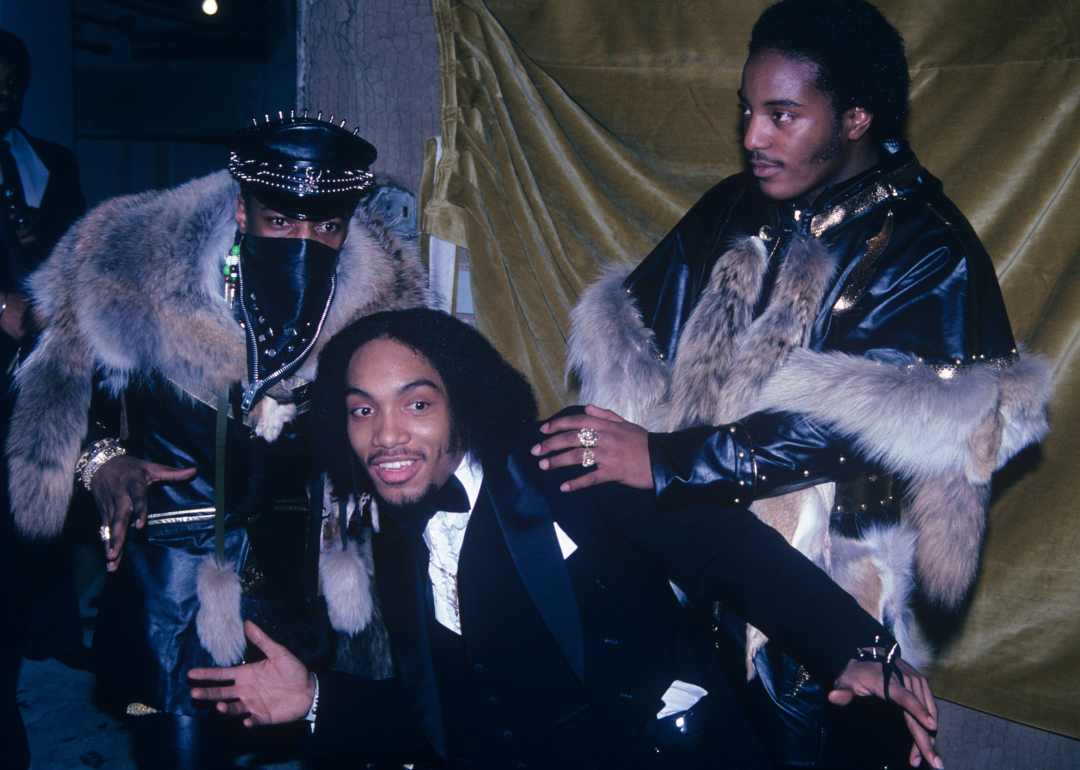 Walter McBride/Corbis via Getty Images
Fur-trimmed jackets, bomber jackets, and puffer coats
Grandmaster Flash and The Furious Five pose for photos.
Dapper Dan is also credited with bringing iconic pieces like puffer coats and fur-lined jackets to the forefront by working with artists like Salt-N-Pepa and Big Daddy Kane. The designer was initially rejected by white-led fashion houses like Gucci, despite the popularity among hip-hop artists. Eventually, Dapper Dan was asked to work alongside Gucci, receiving his overdue widespread notoriety, and continues to influence fashion to date.
---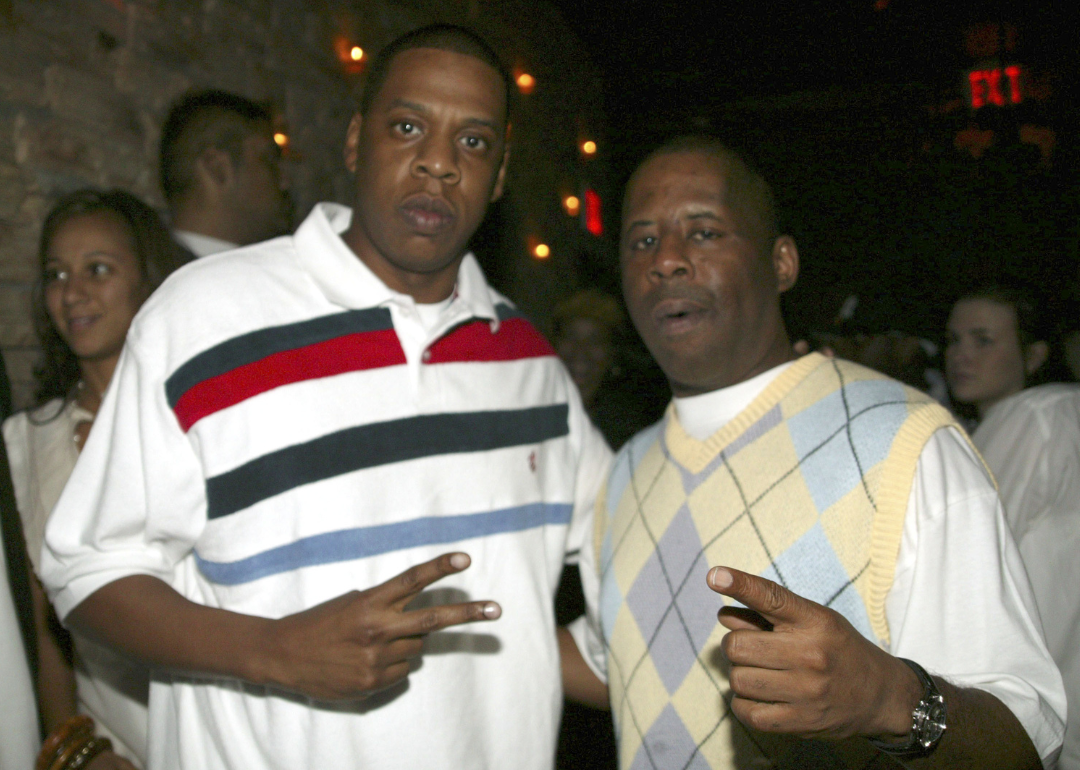 Johnny Nunez/WireImage // Getty Images
Preppy urban wear
Jay-Z and Grand Puba attend event.
In the early 2000s, we saw an uptick of men wearing button-downs and striped collared shirts to emulate the rapper's shift in style. Jay-Z is said to have kicked off this trend of wearing button-down shirts with a fitted cap, blending a more "grown-up" style with the street influence of the baseball cap. This pared-down, less boisterous style made way for artists like OutKast, Kanye West, and Mac Miller in the mid-2000s, when pieces like backpacks and more simple and fitted clothing became trendy in hip-hop fashion.
---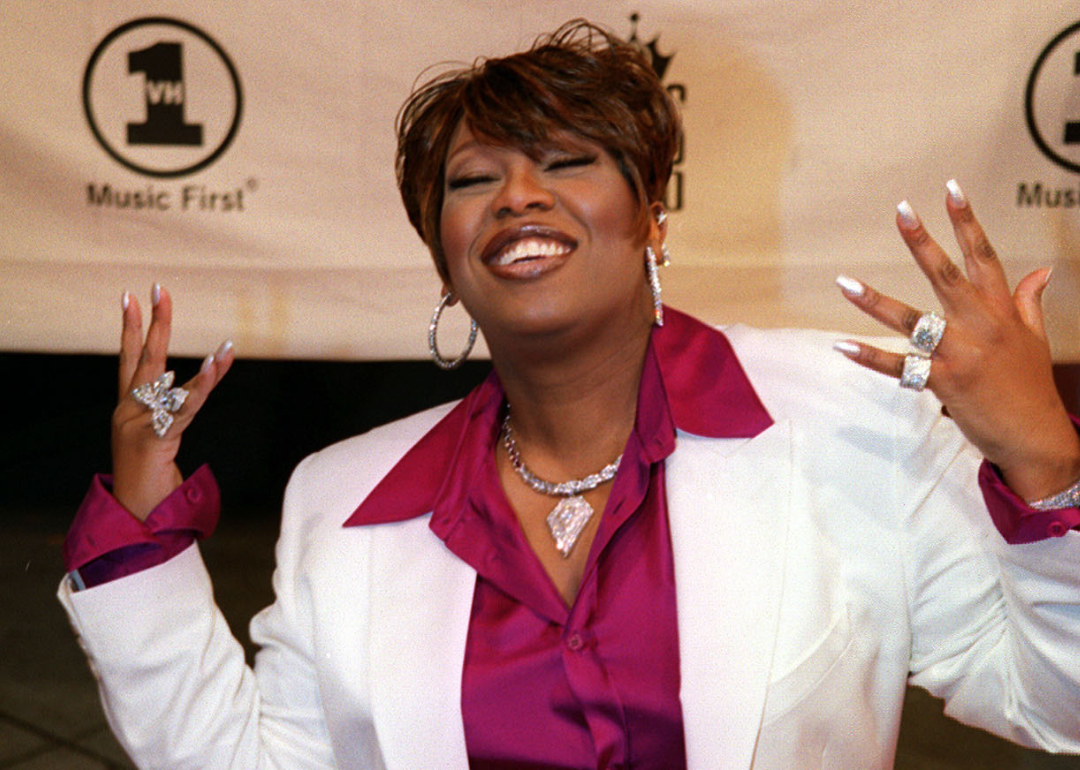 Anthony Harvey – PA Images/PA Images via Getty Images
Acrylic nails
Missy Elliott at the VH1 Diva's 2000.
Since their modern-day adaptation in the 1970s, acrylic nails have long been a staple in Black and brown culture, acting as a show of creativity and individuality. Hip-hop artists like Lil' Kim and Missy Elliott have been known for bringing their personality into their nail designs and rocking jewel- and sparkle-laden tips since the '90s. While highly stylized nails are now a mainstream trend, it's important to remember how Black women like Florence "Flo-Jo" Griffith-Joyner were criticized for wearing long nails in the '80s.
---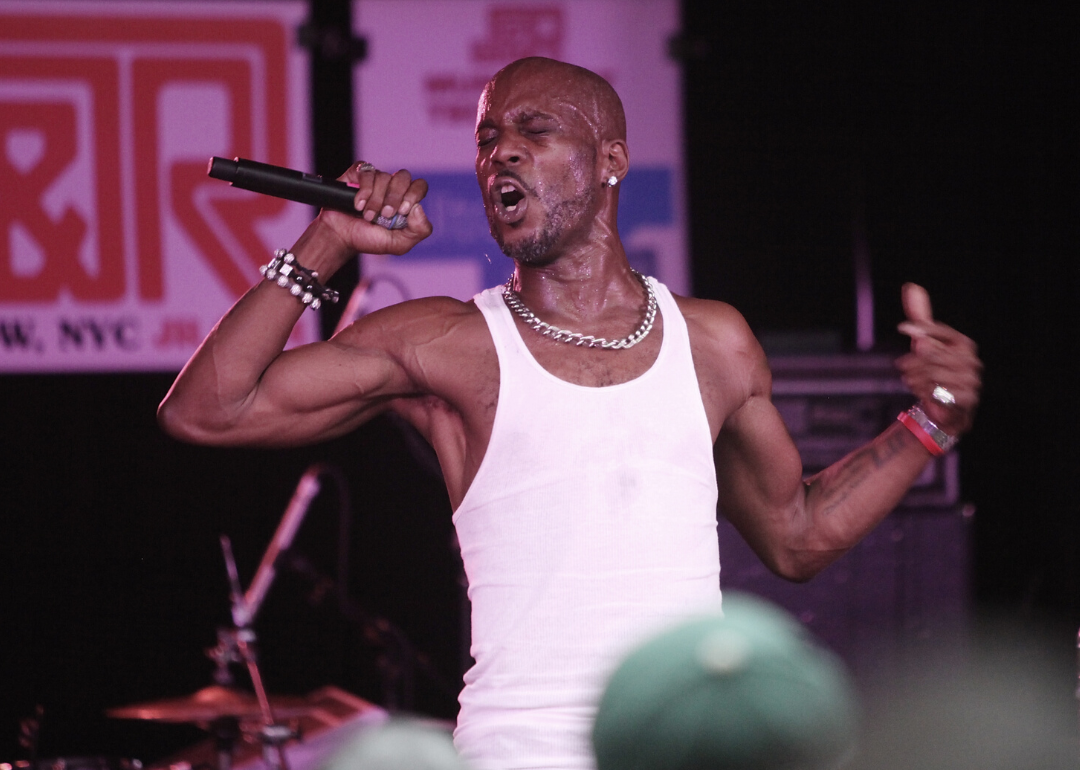 Roger Kisby // Getty Images
White tanks
DMX performs during J&R Music Fest.
Many popular hip-hop-influenced styles included more over-the-top pieces, like oversized silhouettes, big door-knocker earrings, and blinged-out belt buckles. But for some, a more simplistic style felt grungier, so some simple pieces prevailed. This is best noted by the late rapper DMX, who was known for upholding the simplicity of the white tank and baggy jeans throughout the '90s.
---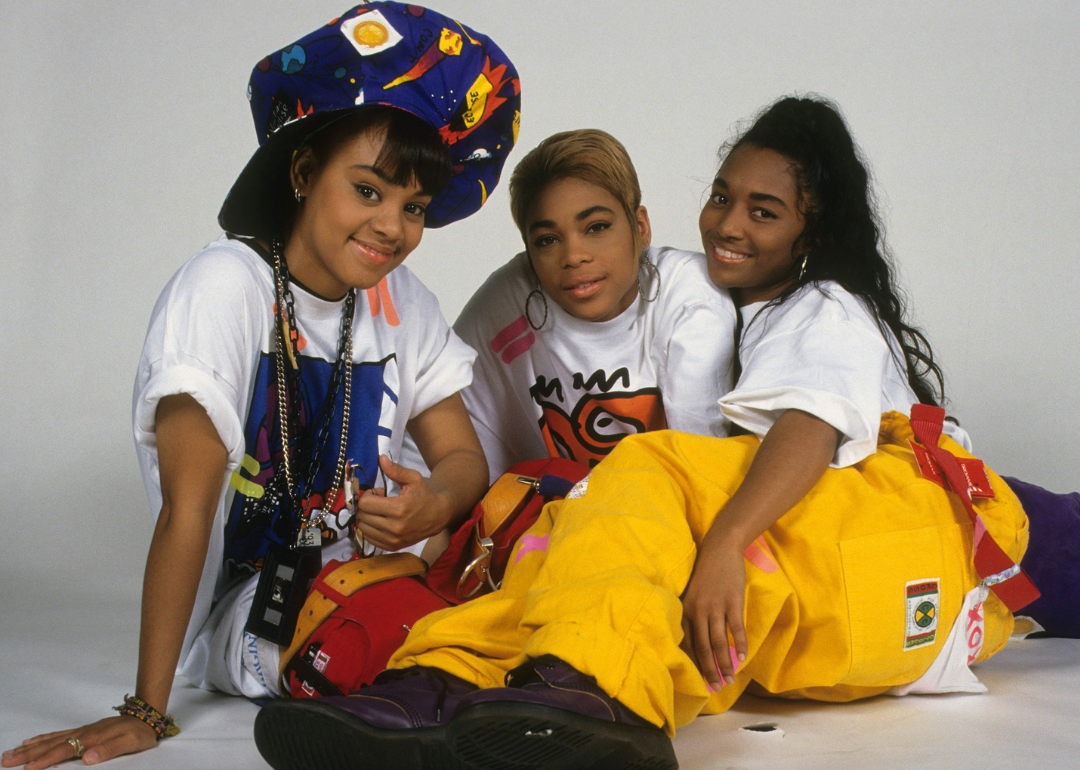 Al Pereira/Michael Ochs Archives // Getty Images
Bright colors and loud graphics
TLC pose for a portrait.
As one of the first streetwear lines, LA-based Cross Colours made its mark across the decades by bringing style staples like tracksuits and jerseys to hip-hop style. In addition to making its once hip-hop artist-centered brand mainstream, founders TJ Walker and Carl Jones intentionally incorporated political and social statements through their graphics and extensive use of primary and secondary color palettes.
---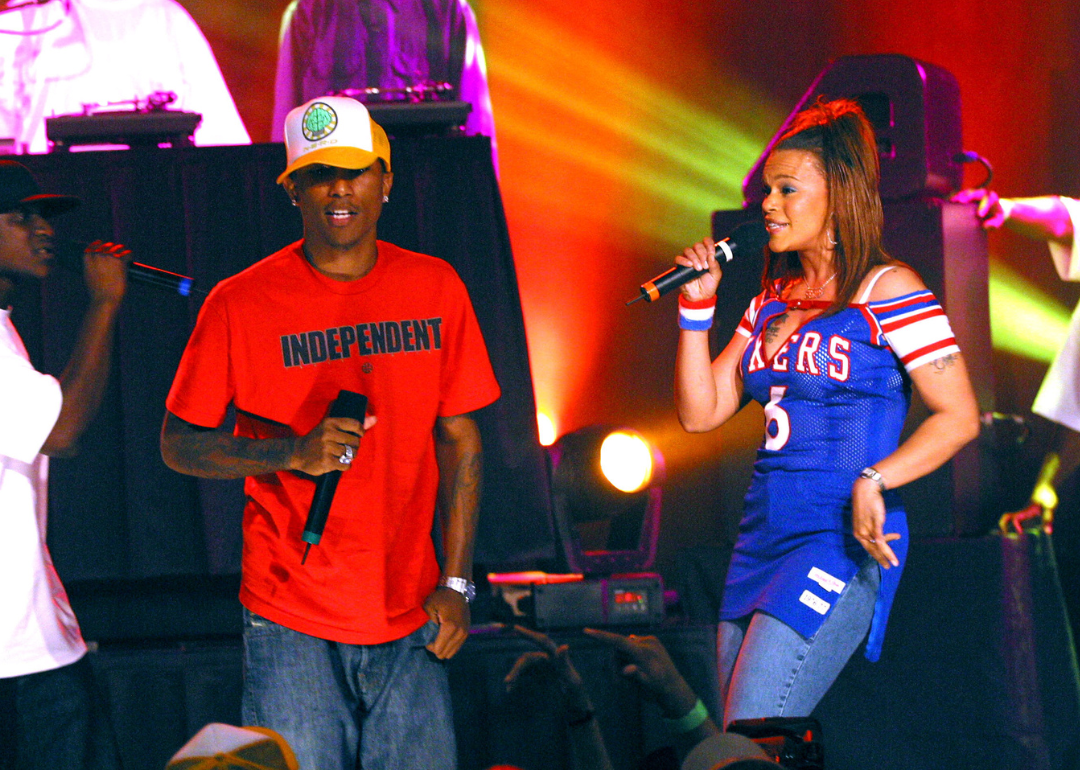 James Devaney/WireImage // Getty Images
California subculture
Pharrell, Faith Evans, and Clipse performing.
West Coast influences in hip-hop style aren't only seen through the implementation of bright colors, elements of skate and surf style are also a nod to the mix of subcultures swirling throughout California. "They're putting all of these things together to create a look that is very unique to LA, even though we have those designers still looking at what's going on in New York and incorporating that as well," Elizabeth Way explained.
This made way for blended styles from artists like Pharrell, who shifted trends by wearing skate brand tees and beanies and using skaters in his music videos.
---

Michael Ochs Archives // Getty Images
Afrocentrism
Salt-N-Pepa pose for a portrait.
In addition to the luxury pieces, Dapper Dan is known for weaving Afrocentric elements into his designs. Artists like Salt-N-Pepa and A Tribe Called Quest will always be remembered for incorporating African prints, kente cloth, and symbols into their fashion, representing their choice to center their roots unabashedly.
---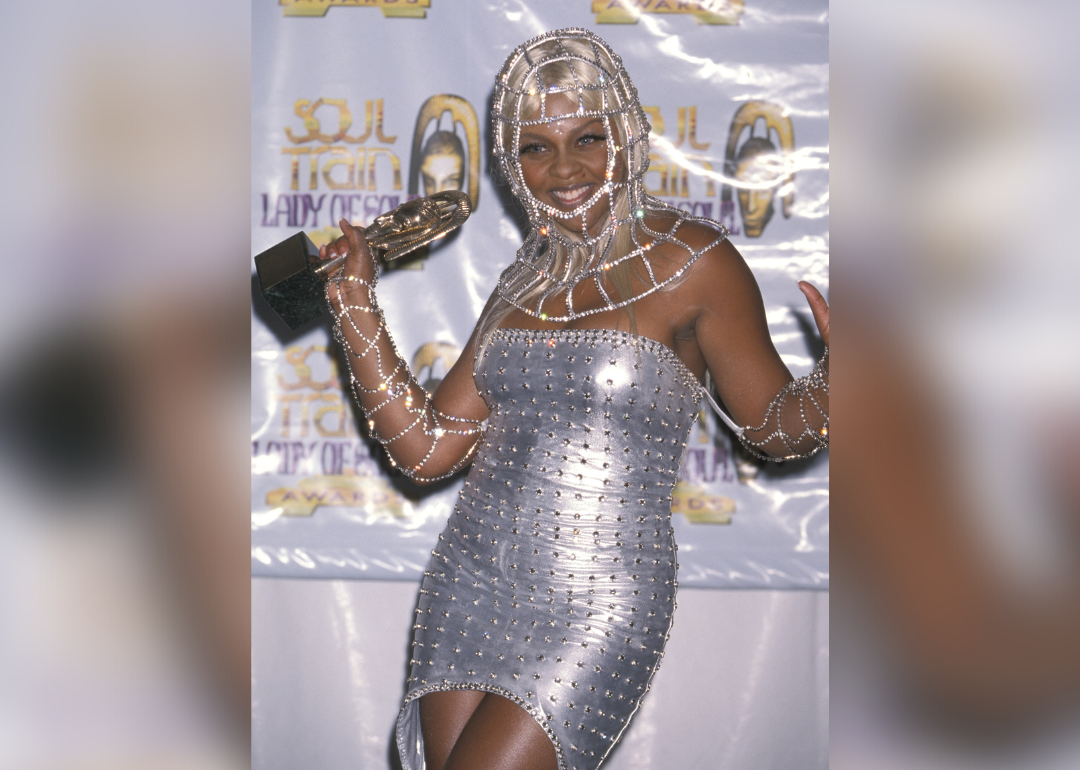 Jim Smeal/Ron Galella Collection via Getty Images
Women-led sensuality and personality
Lil' Kim at the Soul Train Music Awards in 1998.
The '90s and 2000s gave way to several women rappers like Lil' Kim and Foxy Brown embracing their sensuality, ultimately creating space for today's rappers such as Cardi B and Megan Thee Stallion to show their confidence in both their bars and bodies.
"We start to see, especially in the '90s, these rappers with these intense personalities. I think Lil' Kim is a perfect example [of rappers] who are embracing their femininity. Because in hip hop, embracing sexuality or the color pink are rebellious acts for female artists," said Elizabeth Way, adding that, even with rising acceptance of sexuality, the style women rappers wore ranged from masculine to intentionally sensual to more casual and pared down.
---

Al Pereira/Getty Images/Michael Ochs Archives
Androgyny and gender-neutral clothes
MC Lyte with Master Te and K-Rock pose during a video shoot.
Women rappers during the '80s and '90s often wore oversized clothing, removing their bodies from view to gain and keep the respect of their male peers and audiences. Today's emerging popularity of gender-blurring fashion can be connected to these trends from the '80s and '90s alongside the mix of Cali, preppy, and hip-hop fashion with gender-neutral looks largely popularized by hip-hop artists like A$AP Rocky and Lil Nas X.
---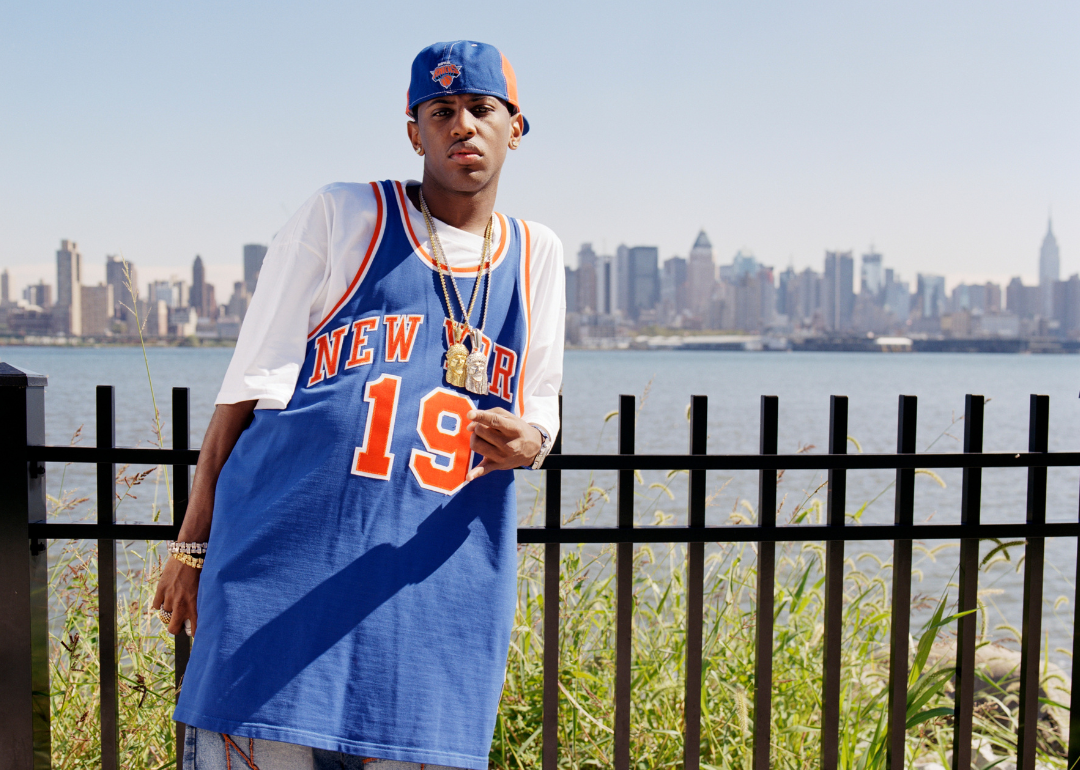 Gregory Bojorquez // Getty Images
Sportswear
Fabolous poses in Hoboken.
Sportswear as a fashion statement was a major aesthetic shift during the emergence of hip-hop-inspired style. This included baseball jackets and sports jerseys, with "throwbacks," or vintage-inspired looks, becoming popular in the early 2000s. Rapper Fabolous is said to have been one of the first to bring this to the public forefront, and many have continued the trend to date.
---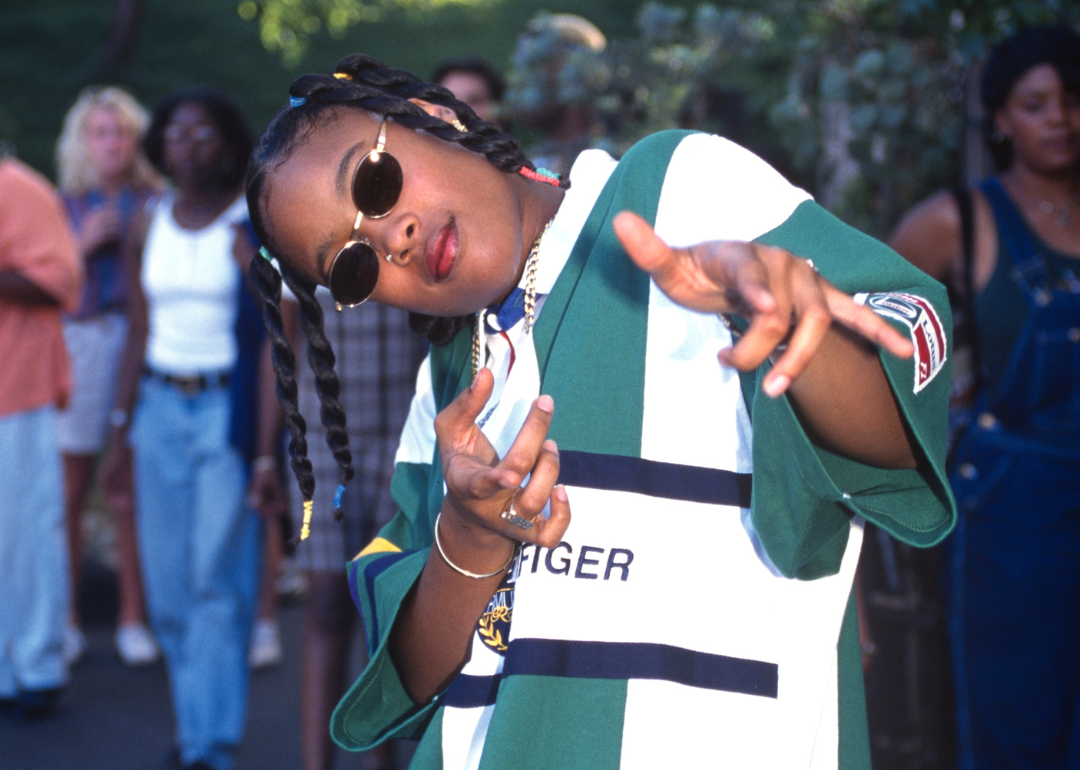 Tim Mosenfelder // Getty Images
Tommy Hilfiger
Da Brat poses at event.
Tommy Hilfiger was already a big name in the '90s, and Grand Puba is said to have introduced the brand to the hip-hop community by rapping about the brand on an episode of "Yo! MTV Raps" with Mary J. Blige. But it wasn't until 1994, when Snoop Dogg wore the brand on "Saturday Night Live," that the brand really took off in hip-hop.
Popular brands shut out Black hip-hop artists during the '80s and '90s, and while some took to paving their own way—from Dapper Dan and Karl Kani to Sean John and Wu Wear—Tommy Hilfiger seized the opportunity to expand his brand and capital.
---

Jeff Fusco // Getty Images
Ralph Lauren
Tariq Trotter of the Roots performs.
Ralph Lauren was already a popular brand in the '90s, especially with the country club set, but it rose even higher in prominence thanks to the Black community through hip-hop. Wu-Tang member Raekwon helped make fashion history in 1994 when he wore the brand's Snow Beach jacket in their music video "Can It Be All So Simple."
"Polo was the sporty, young-guy type of clothing brand. And people wanted it 'cause it cost a decent amount of money, and people with money wore it," Raekwon told GQ. "We just adopted it because of the colors, the flags on it. … All it took was people in the rap game to start talking about it and wear it casually to help the brand climb to a level where they won't even acknowledge it."
---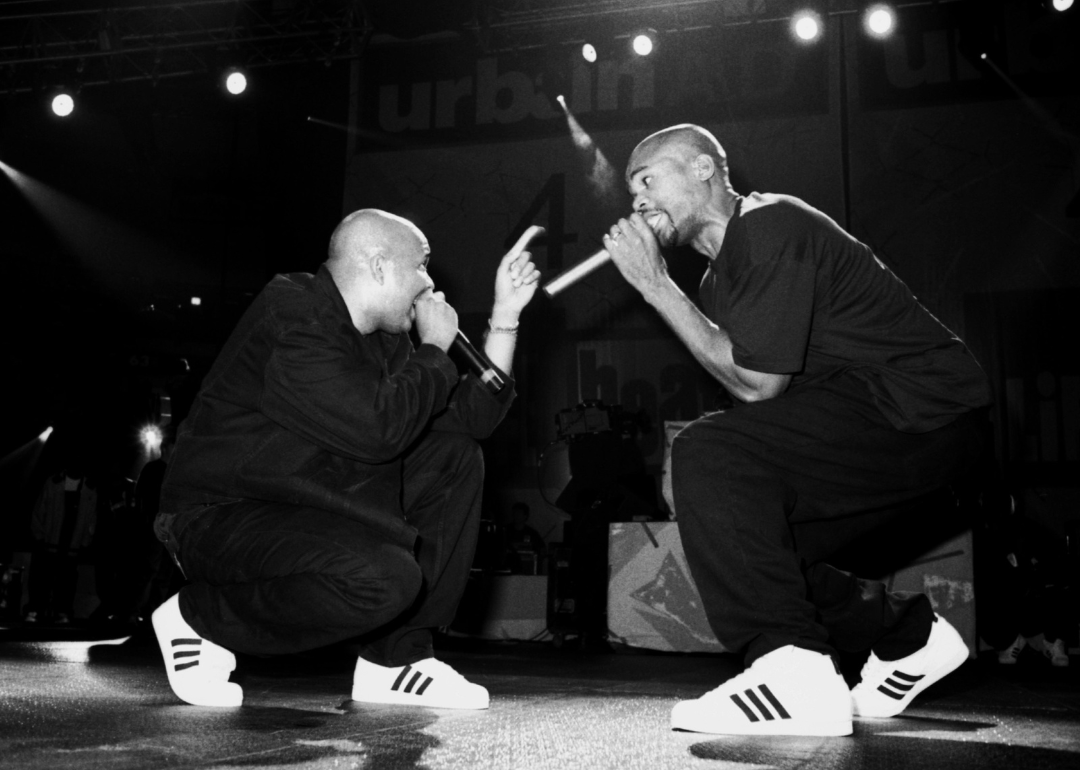 David Corio/Michael Ochs Archives // Getty Images
Adidas
Run DMC performing at Madison Square Garden.
In the 1980s, Run-D.M.C. inked a deal with Adidas. It marked the first collaboration with a major brand for hip-hop, a tradition that has continued and flourished to this day. On Run-D.M.C.'s third album, the group sang an ode to their Adidas: "My Adidas only bring good news / And they are not used as felon shoes."
---

Raymond Boyd // Getty Images
Nike
Rakim of Eric B. & Rakim performs onstage.
In the early days of hip-hop, specific trends could even be pinpointed to certain neighborhoods, according to Elizabeth Way. During their research, The Museum at FIT spoke to Antonio Gray, a fashion retailer in Baltimore, who talked about the popularity of Air Force 1s.
"For a while you could only buy Air Force 1s in Baltimore," Way said. "Nike sold the production to three retailers in the city because they were going to discontinue the Air Force 1. But that drove fashion trends, and kids would go to the skate skating rink and they would match their ensembles to the swish in their Air Force 1s."
To date, Nikes (and other sneaker brands) remain a luxury must-have item for many, with Michael Jordans' eponymous brand continuing to be a style staple in hip-hop since its origination in 1985.
---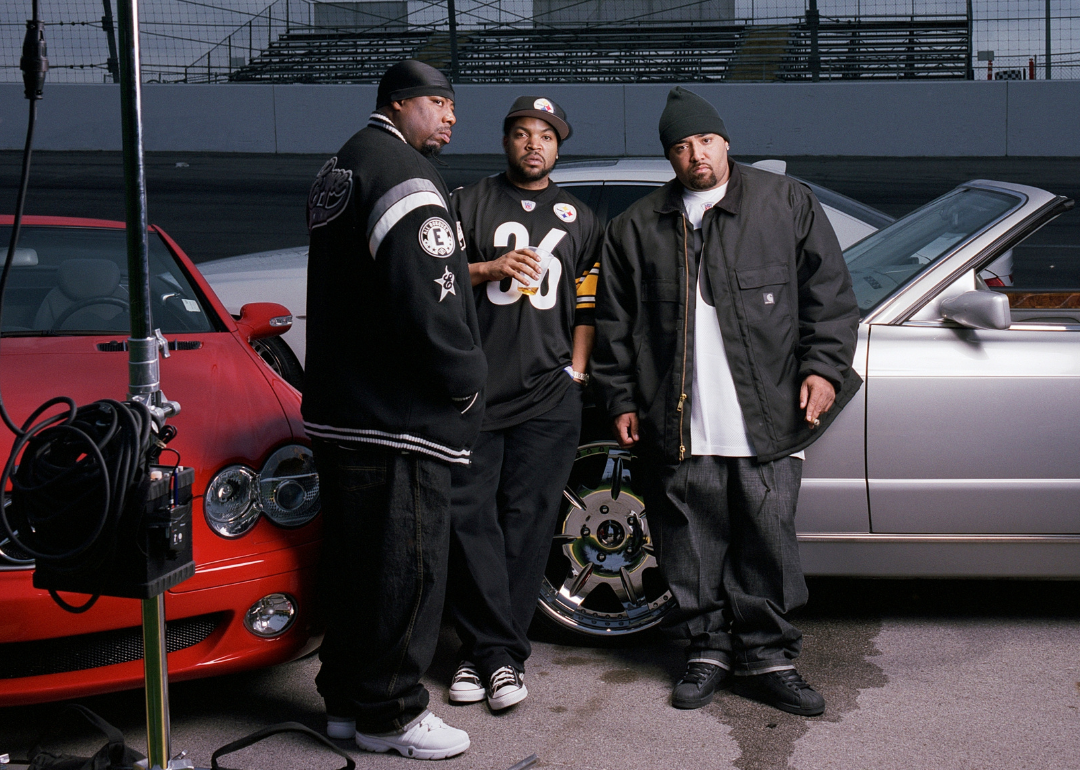 Gregory Bojorquez // Getty Images
Chuck Taylor
Ice Cube and Westside Connection pose for a photo.
The popularity of Chucks became another notable footwear moment in hip-hop history, creating a separation between West Coast and East Coast styles. Jordan and Adidas sneakers were popular in New York, but West Coast rappers like N.W.A leaned into the gritty street feel.
"All the gangbangers wore Chuck Taylors. They were what they made you wear in the prisons and Youth Authority camps," rapper Ice Cube told Spin magazine. "Black Chuck Taylors worked with that raw, hard-core street feel that N.W.A wanted."
---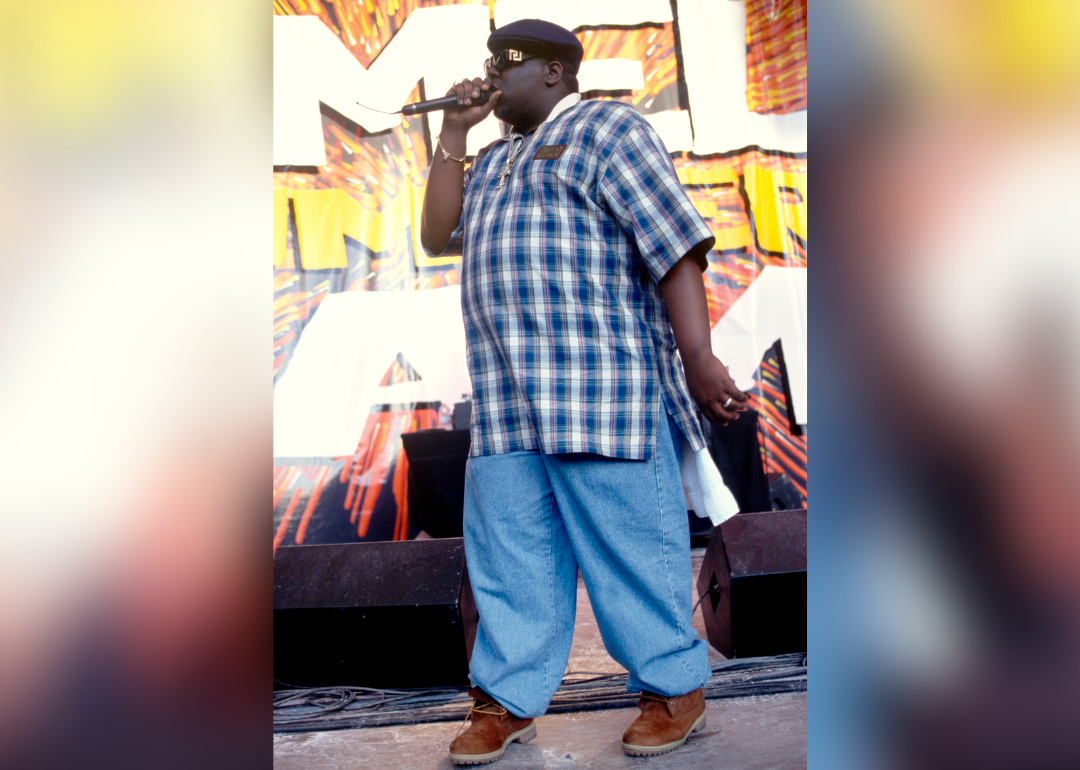 Tim Mosenfelder // Getty Images
Timberland
Notorious B.I.G. performs during KMEL Summer Jam.
Timberland boots and hip-hop are inextricably linked. Artists like Boot Camp Clik were known for their militant style in the '90s, complete with camo prints and butter-colored Timberland boots. Others like Biggie Smalls, Tupac, and Aaliyah wore them in videos, performances, and events.
Timberland, whose boots were created for construction and blue-collar workers, didn't intend to align with rap and hip-hop artists initially. It's said that the boots were first introduced to urban settings for similar reasons—they can withstand cold and rough terrain. Over time, the brand's name appeared in lyrics, and the boots were often worn at concerts.
Despite the company's attempt to distance itself from the Black and urban communities, Timbs have made their way—and remained—within the popular lexicon and fashion through hip-hop.
---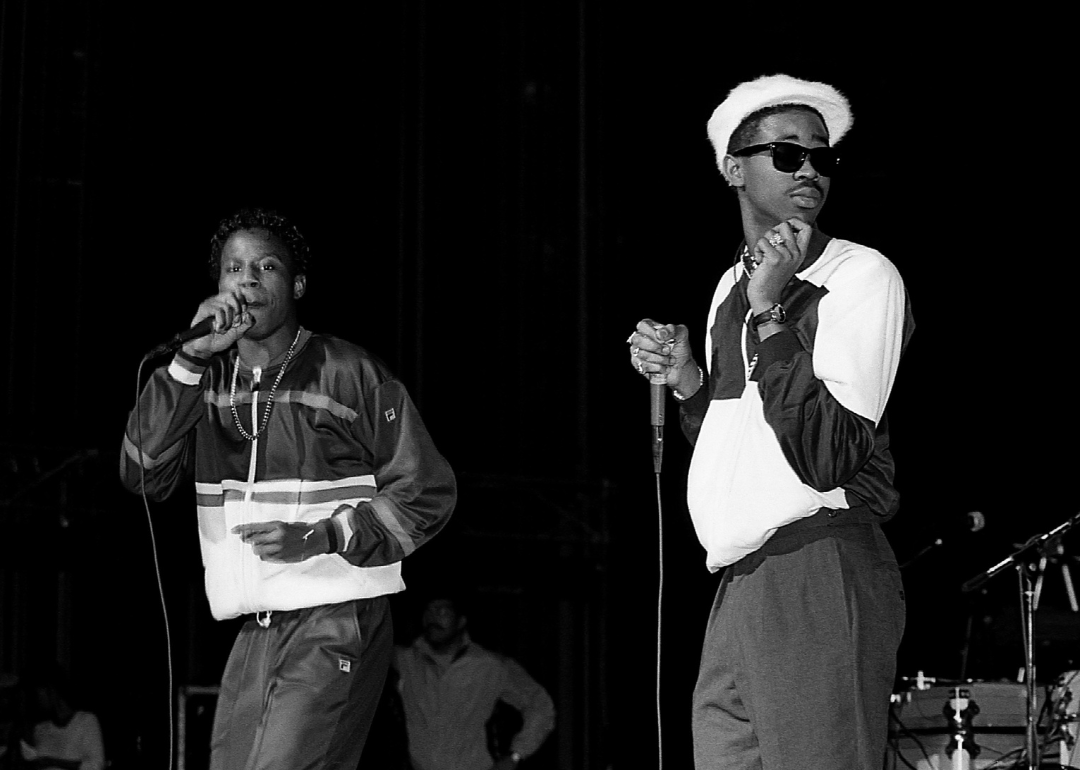 Raymond Boyd // Getty Images
Bally shoes
Doug E. Fresh and Slick Rick perform onstage.
Name-dropping brands within songs is a well-known hip-hop move, but one of the first to do so was Slick Rick in 1985. The rapper mentioned the Bally shoe brand when doing a run-down of his outfit in his classic song with Doug E. Fresh "La Di Da Di" and was seen wearing a pair on the album cover for "The Great Adventures of Slick Rick." Popular in the 1980s, the brand revived in 2019, offering homage to hip-hop for its rise.
Story editing by Carren Jao. Copy editing by Paris Close.
---