25 of the best female hip-hop collaborations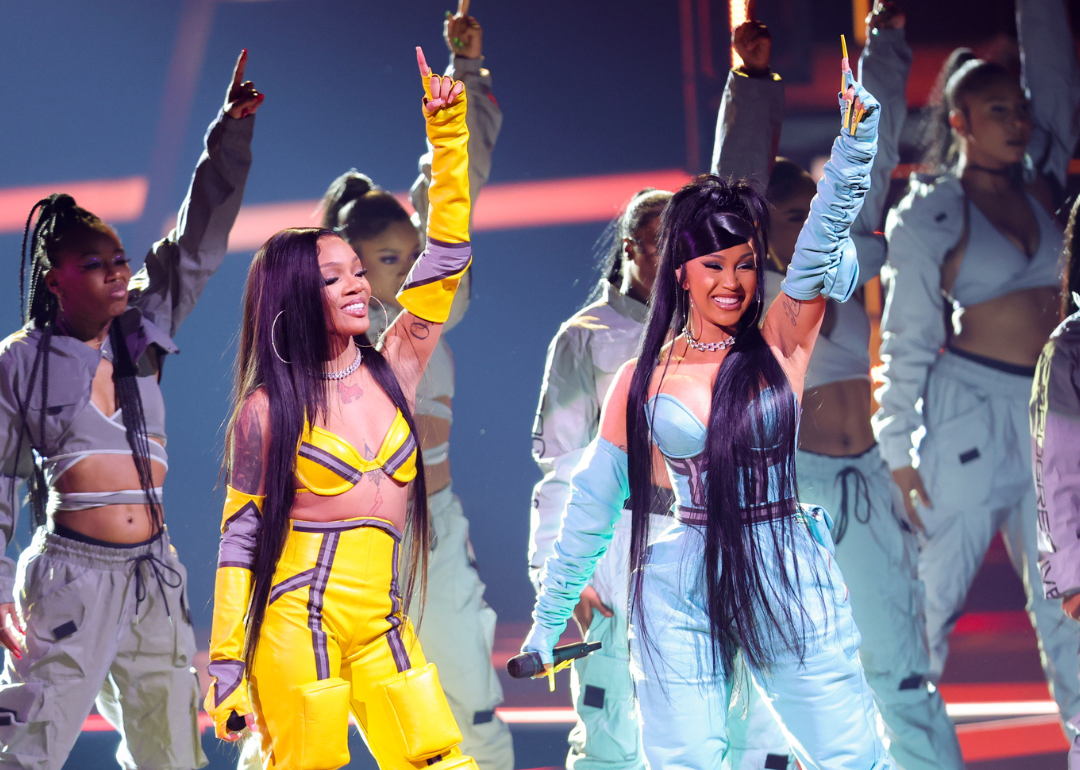 Christopher Polk/Variety via Getty Images
25 of the best female hip-hop collaborations
GloRilla and Cardi B perform onstage at the 2022 American Music Awards.
Doors didn't open easily for women in hip-hop. Female hip-hop artists have been trying to break that glass ceiling since hip-hop was born in 1973. From times when the genre didn't feel big enough for more than one female name to women now dominating the hip-hop and pop charts, female rappers have found their true power in coming together on a track.
Female hip-hop collaborations were a rare find in the early decades of the genre. By the mid- to late '90s, however, the lyrics and voices of two or more women trading bars on the same rap song were well within reach on the radio. Artists like Queen Latifah called for respect and unity and gracefully demanded an end to the misogynoir plaguing the hip-hop industry. Rappers like Missy Elliott and Da Brat exuded unconventional styles with a healthy dose of disdain for the male gaze, while artists like Lil' Kim and Foxy Brown unapologetically played into it. When they came together on a track, it was a showcase of empowering fun as well as lyrical talent.
When pop music got a hold of the power of sprinkling in rap verses on singles in the '90s to early 2000s, rap collaborations trended in a fresh, new direction. Today, female artists have claimed their place in the hip-hop music scene. No longer guests in a space they helped create, female rappers—like Nicki Minaj, Cardi B, Latto, Rico Nasty, Flo Milli, Kaliii, and more—are not shy about making their presence known and even doing it together.
The rap elders are pleased. Veteran emcee Yo-Yo told Revolt in an interview that she's proud to see women advocating for themselves in hip-hop. "I think this generation is more fearless," she said. "They say what they want, and they get it."
If it's a collab the women of rap want to do, they'll get no complaints from fans. Between the hip-hop charts, iTunes streams, and social media views, the people have spoken: All-female rap collaborations are in demand and here to stay.
Stacker used various sources to list 25 of the best female hip-hop collaborations over the past 50 years. Read on to see if your favorite all-female collab made the list.
---

Al Pereira/Michael Ochs Archives // Getty Images
'Sparky's Turn (Roxanne You're Through)' by Sparky D and Roxanne Shanté
Roxanne Shante performs onstage.
Long before Nas was barring Jay-Z out in "Ether" and even before the famed East vs. West Coast rivalry that birthed a multitude of diss tracks, there was the infamous "Roxanne Wars." A rap beef brought about after UTFO released a track entitled "Roxanne, Roxanne" featuring a lyrical track that attacked a "stuck-up Roxanne who paid [them] no mind." A bevy of response records popped up, including this track which was released in January 1985.
---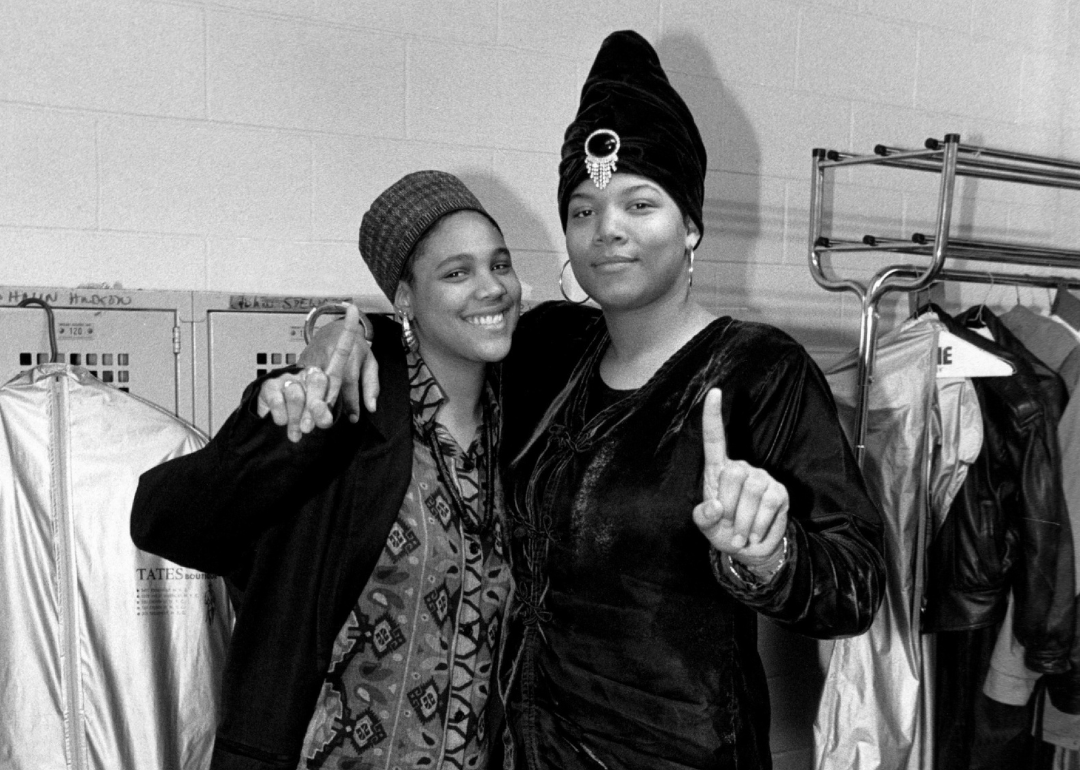 Raymond Boyd // Getty Images
'Ladies First' by Queen Latifah and Monie Love
Queen Latifah and Monie Love poses for photos backstage.
There are queens, and then there's Queen Latifah, who released this anthemic track "Ladies First" in 1989, a single off the album "All Hail the Queen." The song featured a strong brass track, an even stronger feature from Monie Love, and lyrics that reinforced Queen Latifah, who wasn't standing for any of the misogyny that the music industry was known for. In August 2023, Netflix released the new hip-hop documentary "Ladies First" dedicated to the women who paved the way and the women who carry the torch.
---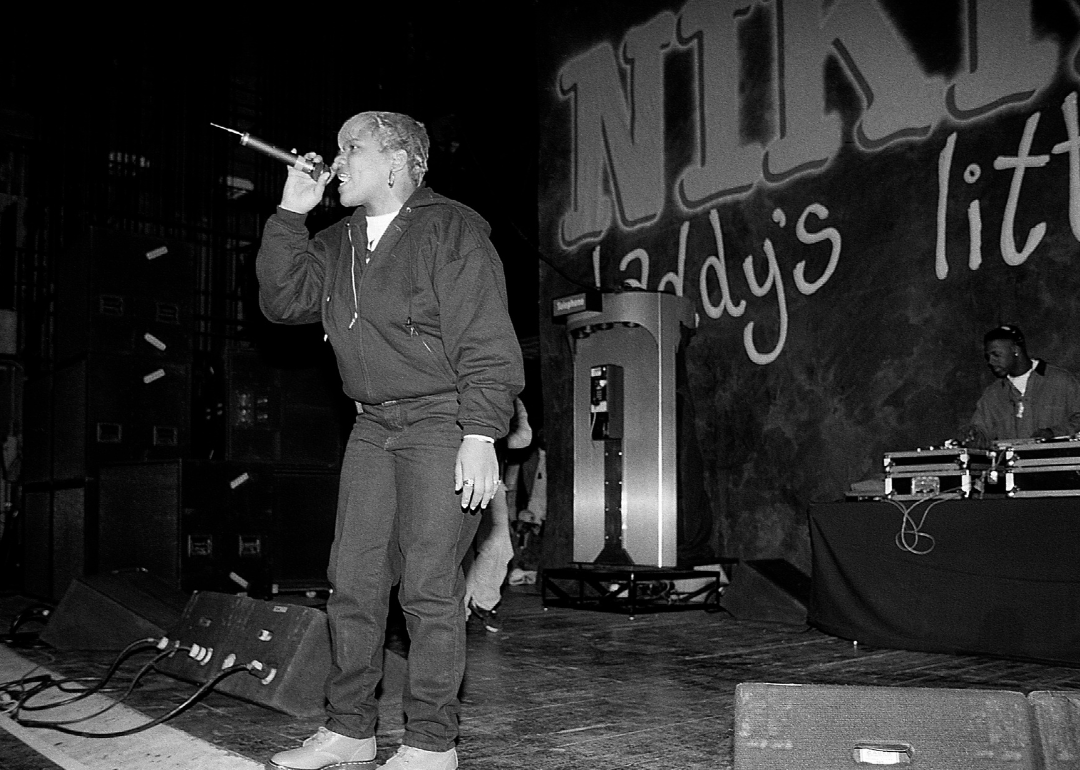 Raymond Boyd // Getty Images
'Six Pack' by Paula Perry, Nikki D, Rah Digga, Heather B., Precious Paris, and Bahamadia
Nikki D performs at the Riviera Theatre.
Paula Perry is an underrated unknown pioneer when it comes to women in hip-hop. Originally mentored under Masta Ace, her debut album "Tales From Fort Knox" seemed destined for greatness. Tracks like "Six Pack" featured all-women artists from Rah Digga to Bahamadia. The beat oozed New York swag with a heavy boom-bap influence, and fierce features offered cutting lyrics bar after bar.
---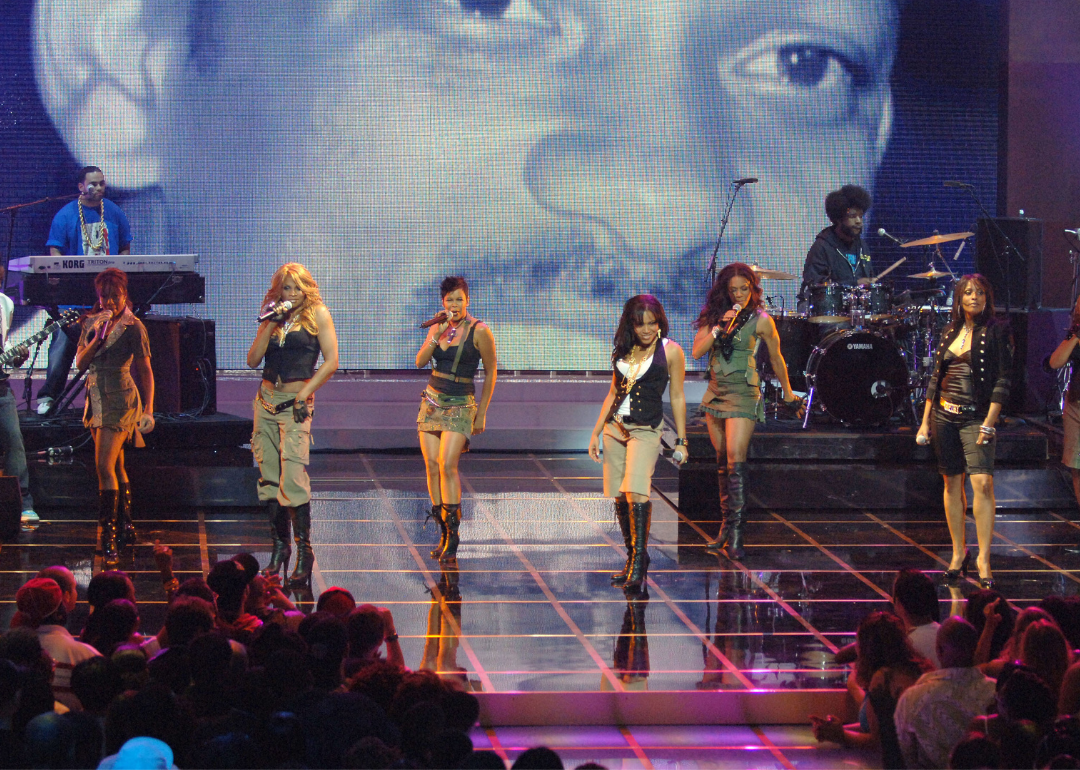 KMazur/WireImage for VH-1 Channel – New York // Getty Images
'Whatta Man' by Salt-N-Pepa and En Vogue
Salt-N-Pepa and En Vogue performing onstage at VH1 Hip Hop Honors.
Released in 1993 as a single off the album "Very Necessary," the song not only gained huge popularity but took home MTV Video Music Awards for Best R&B Video and Best Dance Video. The song was both a catchy and bold statement of empowered sexuality that spoke on women's desires for sex as openly as their male counterparts.
---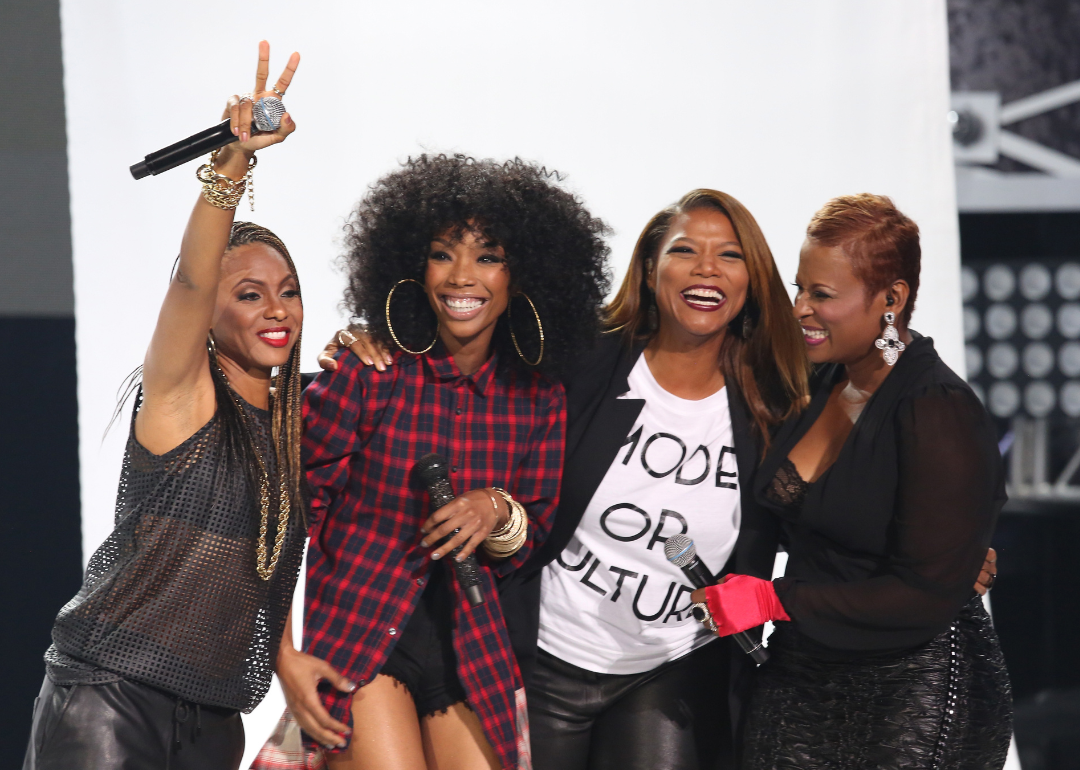 Johnny Nunez/BET // Getty Images for BET
'I Wanna Be Down (Remix)' by Brandy, Queen Latifah, Yo-Yo, and MC Lyte
MC Lyte, Brandy, Queen Latifah, and Yo-Yo perform onstage.
Brandy was on heavy rotation as soon as "I Wanna Be Down" came out in 1994. It was equal parts pop and soul, heavy on the lovey-dovey and sweet. The remix on the other hand transformed the song into a far more sultry, adult version of the song and brought in the veritable Mount Rushmore of women in hip-hop: Queen Latifah, Yo-Yo, and MC Lyte.
---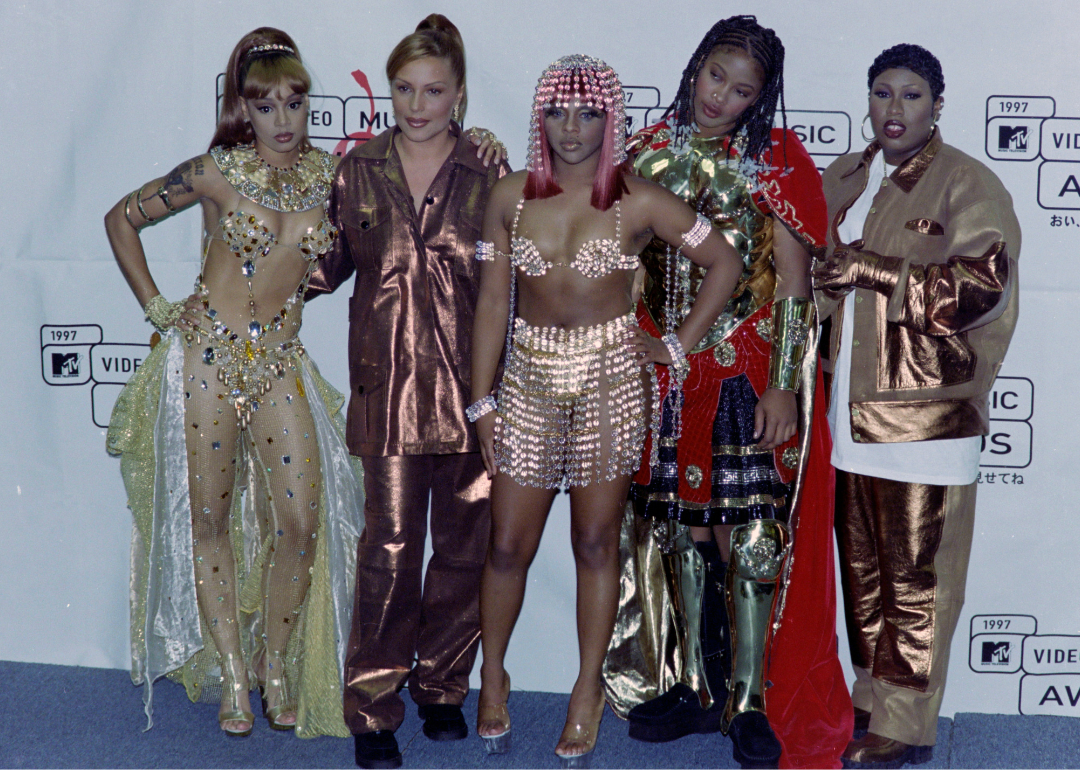 Steve Eichner/WWD/Penske Media via Getty Images
'Not Tonight (Ladies Night Remix)' by Lil' Kim, Missy Elliott, Da Brat, Lisa 'Left Eye' Lopes, Angie Martinez
Lisa Lopes, Angie Martinez, Lil Kim, Da Brat, and Missy Elliott attend the MTV Awards.
It doesn't get much bigger than the roster of the 1997 single "Not Tonight." Not only did the song feature Lisa "Left Eye" Lopes in one of her best features before her untimely death in 2002, but it also managed to bring together some of the top hip-hop artists of the decade to create this all-female helmed anthem. It played on every station that featured hip-hop music around the world, earned a Grammy nomination, and is a mainstay in Friday night out playlists nearly 30 years later.
---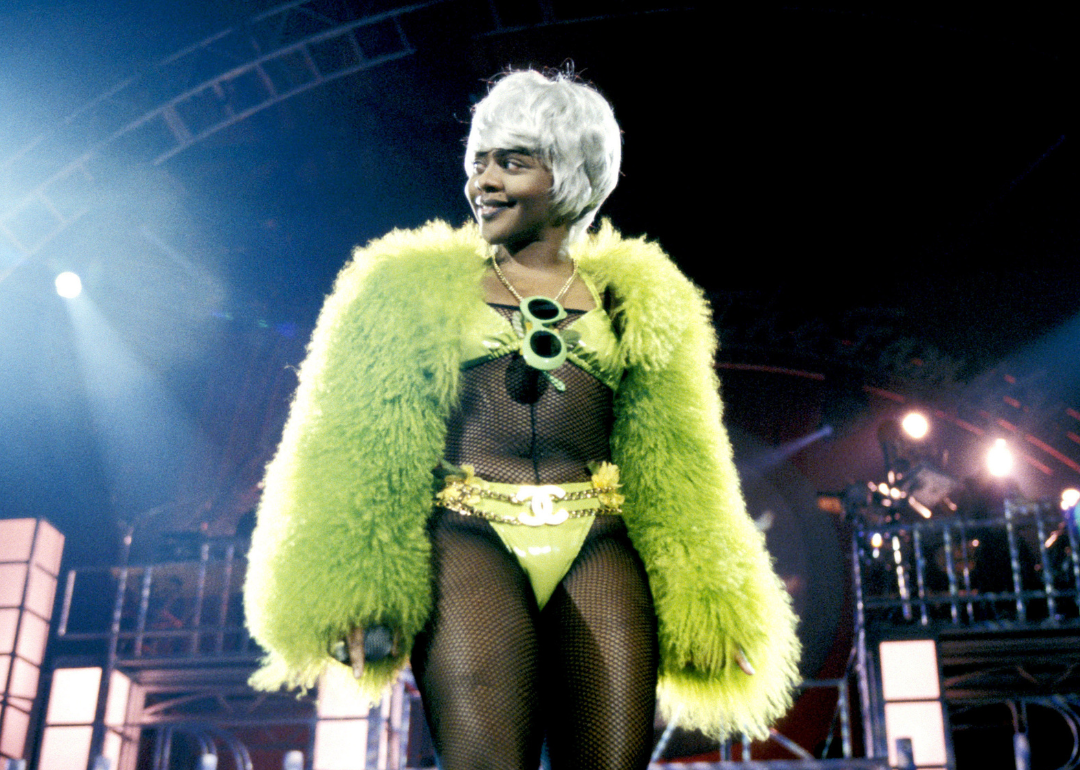 KMazur/WireImage // Getty Images
'Enjoy Yourself' by Lil' Kim and Foxy Brown
Lil' Kim performs onstage.
Sometimes the greatest things are things that never were, and such was the case for the never released 1997 album "Thelma and Louise," a collab project under Bad Boy Records that brought together Lil' Kim and Foxy Brown, two rappers who had fairly public if not vague beef with each other. How the project came to be and why it was never released are both questions without answers to this day. Thanks to Rashad "Ringo" Smith, a former producer for Bad Boy, "Enjoy Yourself" saw the light of day decades later during an interview with Fat Joe.
---

KMazur/WireImage // Getty Images
'Sock It 2 Me' by Missy Elliott and Da Brat
Missy Elliott performs at the American Music Awards.
Missy Elliott is without question one of the most innovative, pioneering, awe-inspiring artists of recent generations—noted in her recent induction as the first female hip-hop artist in the Rock & Roll Hall of Fame. Her music was made all the more poignant, however, because of the many women she collaborated with and lifted up, working with them on such catchy singles as "Sock It 2 Me." The single was one of the four huge hits off the "Supa Dupa Fly" album, made even more popular because of the space-themed music video that accompanied it.
---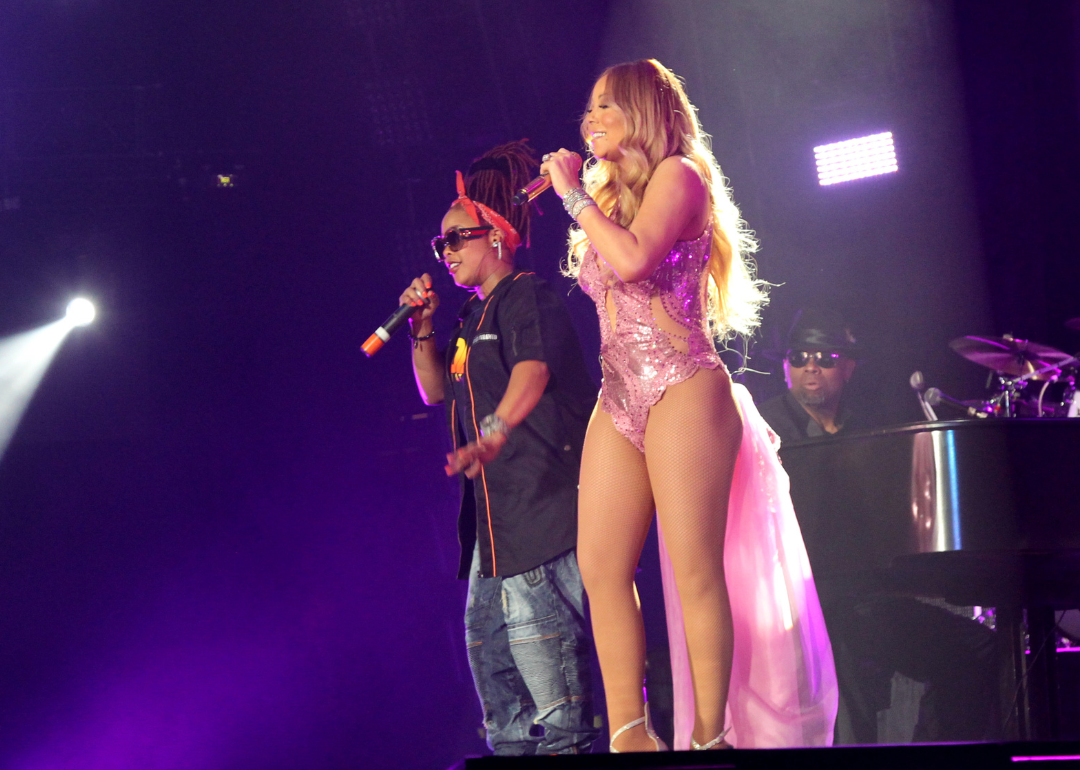 Bennett Raglin // Getty Images for 2016 Essence Festival
'Heartbreaker (Remix)' by Mariah Carey, Da Brat, Missy Elliott
Da Brat and Mariah Carey perform onstage.
Mariah Carey was recently named the top-selling female artist in the U.S. and with singles like "Heartbreaker (Remix)," it's not hard to understand why. Already a smash hit when she released the original with Jay-Z, Carey doubled down on the remix and flipped the narrative from a back-and-forth between lovers to an empowered warning to a wayward lover with the help of Missy Elliott and Da Brat, and DJ Clue on the 1s and 2s. The single was featured on Carey's seventh studio album "Rainbow" in 1999.
---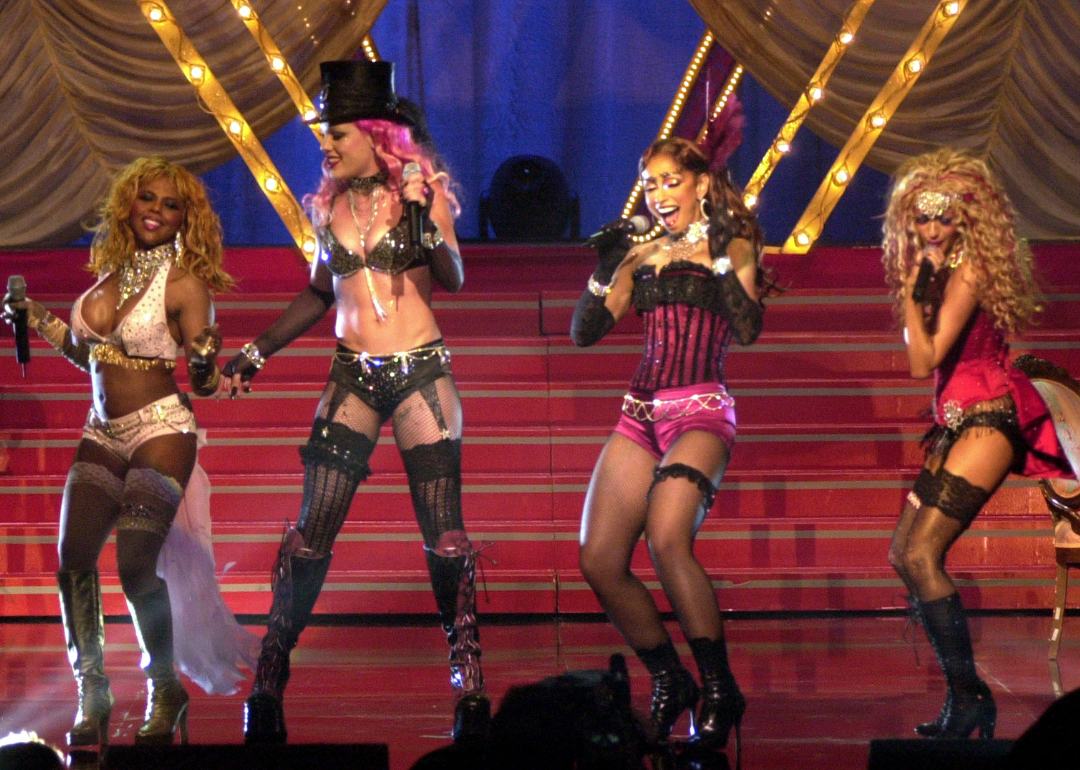 KMazur/WireImage // Getty Images
'Lady Marmalade' by Christina Aguilera, Lil' Kim, Mýa, P!nk, Missy Elliott
Lil' Kim, Pink, Mya, & Christina Aguilera performing at MTV Movie Awards.
Baz Luhrmann is a film director well-known for his larger-than-life productions. When it came to finding the right team of powerhouses to record a song for the soundtrack of his 2001 movie musical "Moulin Rouge!" he stayed on brand by enlisting women from all musical genres and bringing them together for the song originally sung by Patti LaBelle, "Lady Marmalade." The song was released in the spring of 2001 and became so popular that it was a hit months before the movie was released. The song also won a Grammy for Best Pop Collaboration with Vocals.
---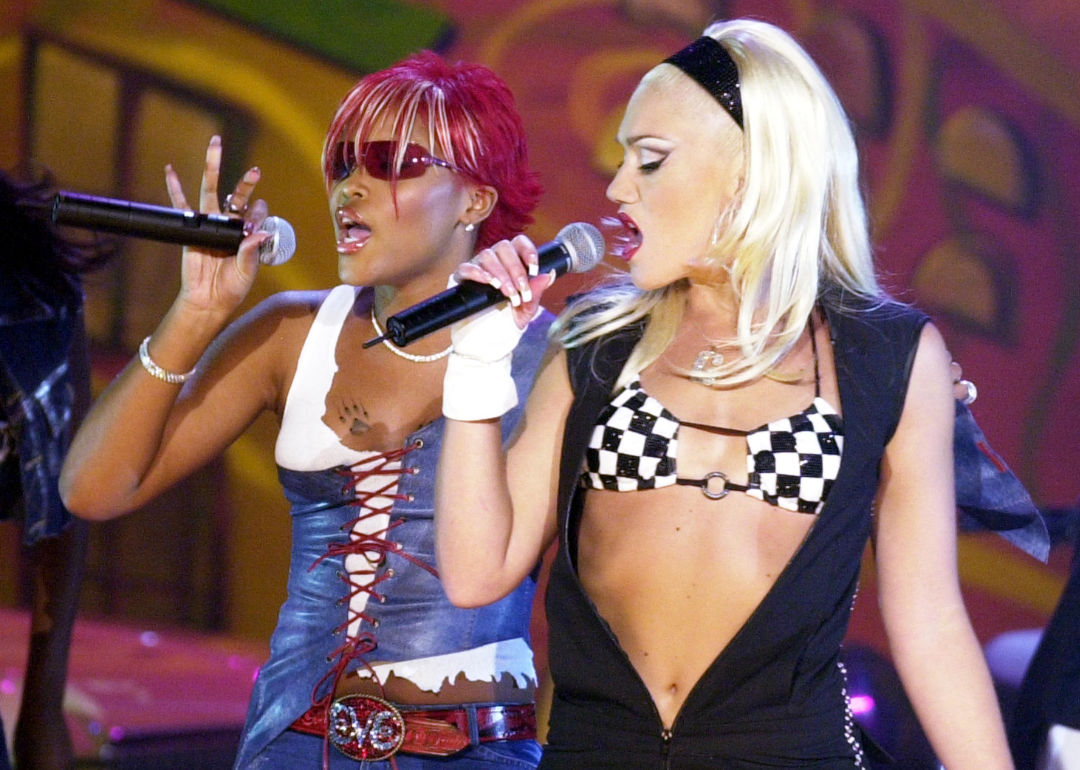 Michael Caulfield/WireImage // Getty Images
'Let Me Blow Ya Mind' by Eve and Gwen Stefani
Eve and Gwen Stefani performing.
Another example of genres coming together to create something everlasting is the dynamic duo of Eve (from Ruff Ryders) and Gwen Stefani (from No Doubt) who came together for this 2001 single "Let Me Blow Ya Mind" off Eve's "Scorpion" album. Produced by Dr. Dre and Scott Storch, which helped to create that seamless combo of East and West Coast influence, the song became Eve's highest charting single with 33 weeks on the Billboard Hot 100 chart and peaking at #2.
---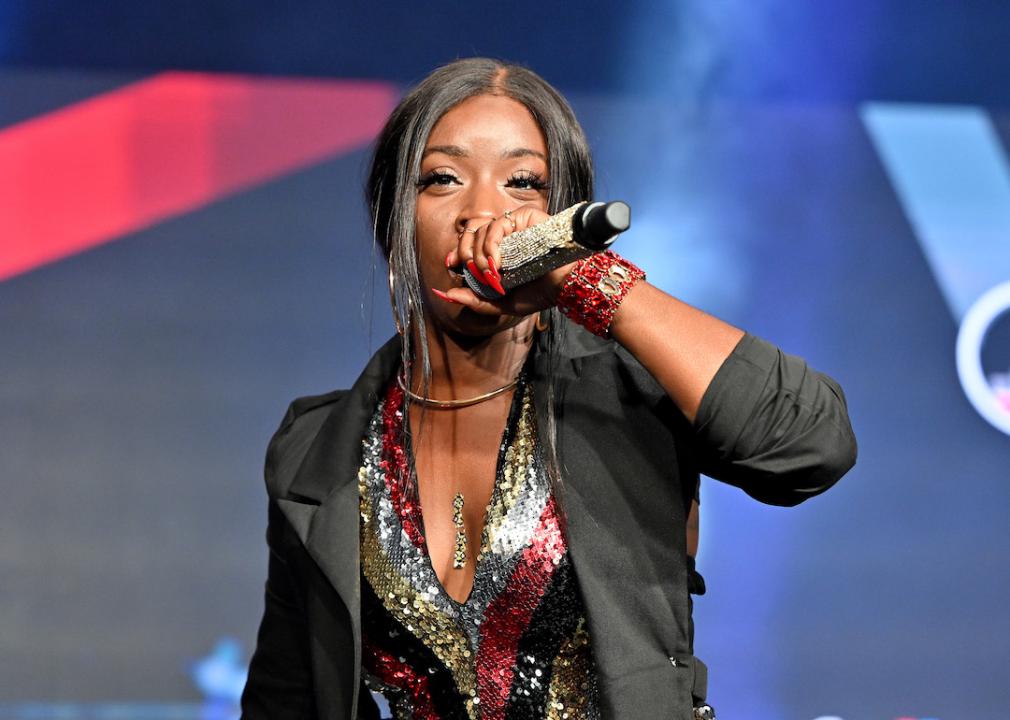 Derek White // Getty Images
'Stilettos (Pumps)' by Crime Mob and Miss Aisha
Princess of Crime Mob performs on stage during TSP Live 2022 at The Hotel at Avalon on June 23, 2022 in Alpharetta, Georgia.
Princess and Miss Aisha walked so future female rappers could run, and they did it all in "Stilettos (Pumps)." Released in 2004, the song acted as a spotlight feature for Princess, a female member of the Atlanta-based Crime Mob crew. The sound of hip-hop was heavily influenced in the '90s and 2000s by the South and the single was released right in the height of the Crunk era.
---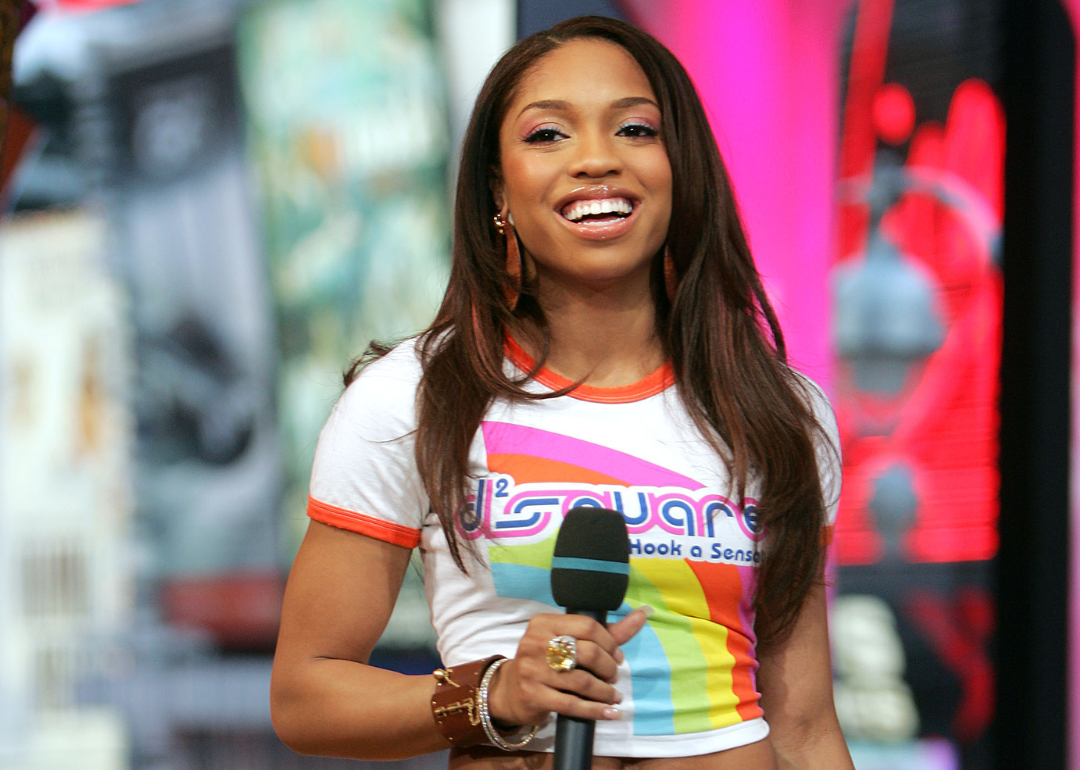 Scott Gries // Getty Images
'Girlfight (Remix)' by Brooke Valentine, Da Brat, Remy Ma, Miss B, Lil Jon
Brooke Valentine appears on MTV's TRL.
Brooke Valentine found herself with an unexpected hit when her single "Girlfight" was released in 2005 and spent 20 weeks on the charts. Unlike quite a few of the songs previously found on this list, the theme of "Girlfight" took a different approach to the idea of female empowerment, with Valentine and featured artists proclaiming that they would defend themselves by any means necessary—even if it meant she would "hit that chick with a bottle."
---

Chris McKay/Getty Images for Live Nation
'B—-y' by Gangsta Boo, Mia X, and La Chat
Gangsta Boo performs onstage.
Gangsta Boo was the only woman in the hip-hop crew Three 6 Mafia out of Memphis. She managed to walk a fine line between holding her own against the men and paving her own way. Her 2014 single "B—-y" featuring Mia X and La Chat was a prime example of walking that line. Lyrically it was gritty and raw while maintaining a female-centered energy throughout.
---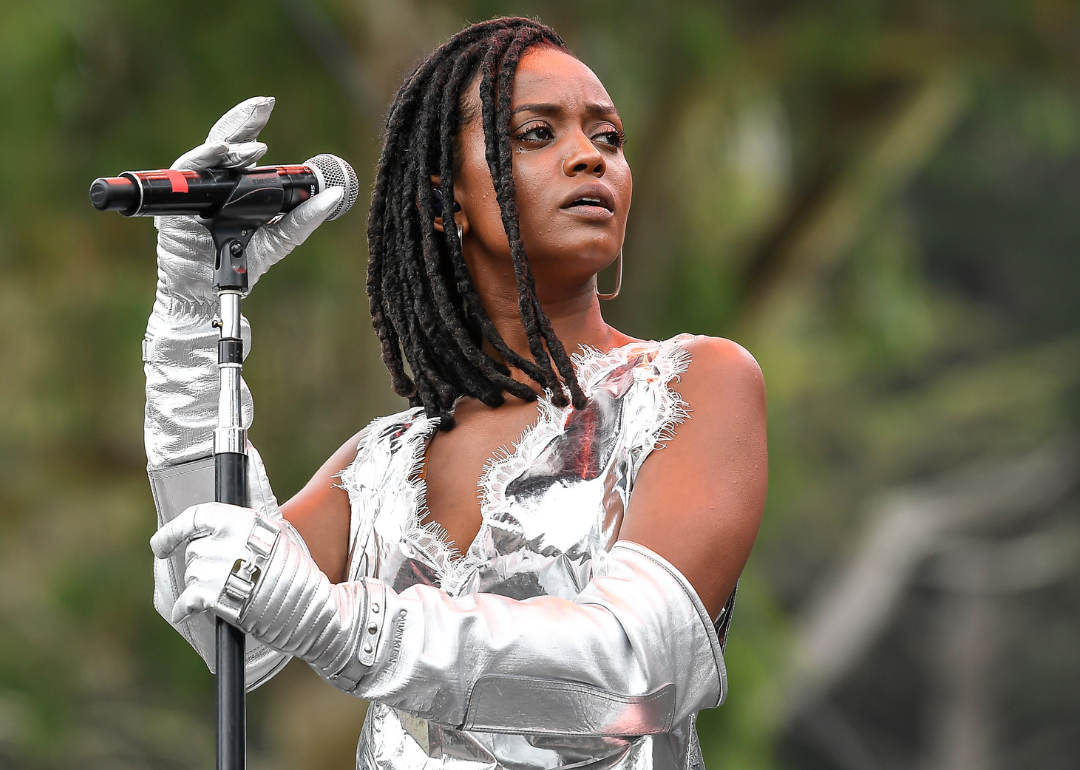 Steve Jennings/WireImage // Getty Images
'LMK (What's Really Good)' by Kelela, Princess Nokia, Junglepussy, CupcakKe, and Ms. Boogie
Kelela performs onstage.
The "LMK Remix" is another one on the list that features a slew of powerhouses, this time on the more up-and-coming end of the spectrum. In 2018, when the song was released, some of the artists might not have been household names but they've since gone on to earn accolades, festival appearances, streams, and more. The song is a mixture of sexy and soulful with just enough attitude to remind listeners who is really in control.
---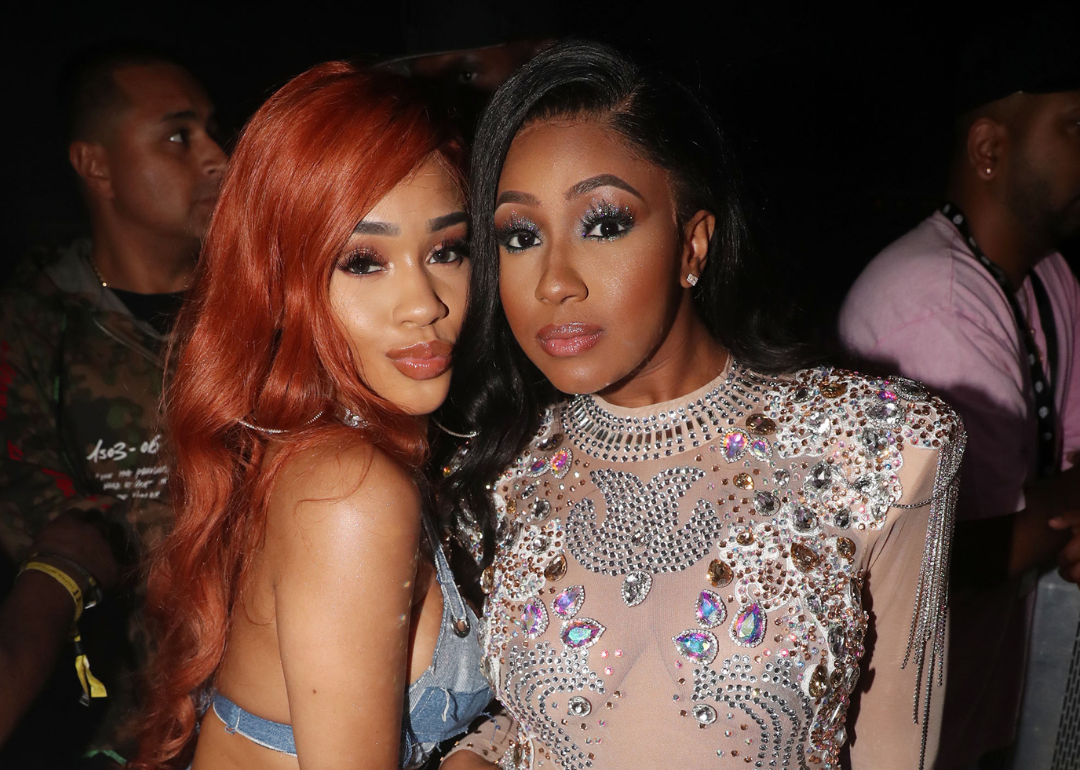 Johnny Nunez/WireImage // Getty Images
'My Type (Remix)' by Saweetie, City Girls, and Jhené Aiko
Saweetie and Yung Miami pose for photos backstage.
You can't make it through a hot girl summer without "My Type" on your playlist, and thanks to the remix with Saweetie, City Girls and Jhené Aiko, you have two different versions to shuffle onto your playlist. The original was Saweetie's first #1 Billboard hit on the Rhythmic Songs chart and while the remix didn't quite do the same numbers it doesn't make it any less enjoyable to listen to.
---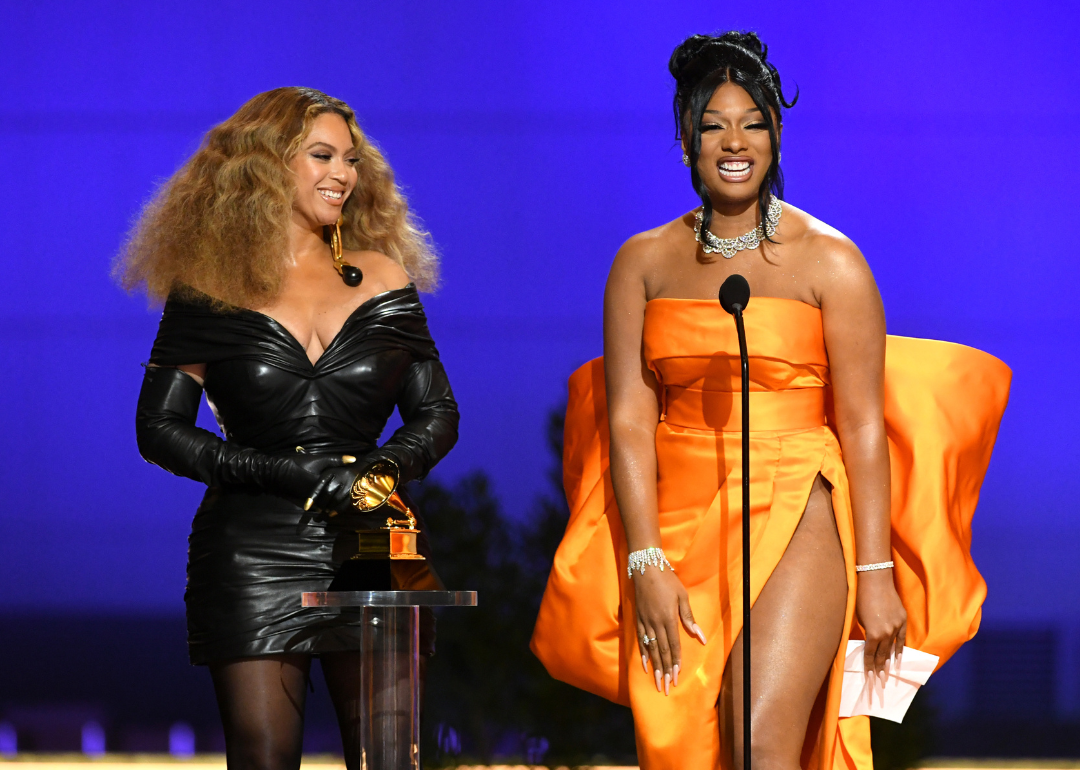 Kevin Winter // Getty Images for The Recording Academy
'Savage Remix' by Megan Thee Stallion Feat. Beyoncé
Beyoncé and Megan Thee Stallion accept Grammy Award for 'Savage'.
Any song with Beyoncé as a feature is usually going to find some form of success, but when you put Queen Bey on the track with Thee Stallion, what you end up with is the "Savage Remix," which found its way onto a number of year-end lists and into the background of countless TikTok dance routine videos when it was released. The song was released in April 2020, when the world was grappling with the COVID-19 pandemic, and all proceeds were donated to Bread of Life's COVID-19 relief fund in Houston.
---

Matt Winkelmeyer // Getty Images for MRC
'Do a B—-' by Kaliii and Rico Nasty
Kaliii performs onstage during 2022 HBCU Gamerfest at Forbes Arena at Morehouse College.
One of the newer songs on our list is Kaliii and Rico Nasty's "Do a B—- Remix" released in 2021. It features a sort of horror-core style, dark and ominous beat that melds perfectly with the vitriolic grit of Rico Nasty's feature. The lyrics are menacing, reminding listeners that it doesn't matter who you are, anyone could get it. Kaliii originally released the "Do a B—-" single to viral success, and it was that success that brought Rico Nasty into the remix.
---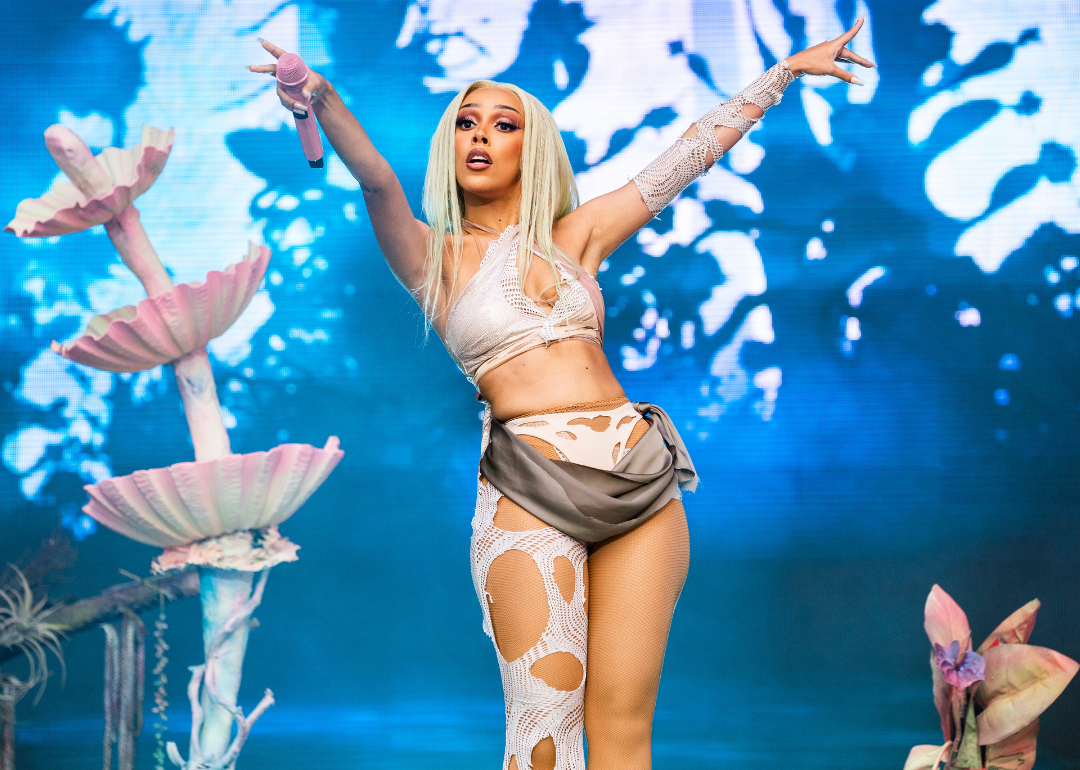 Erika Goldring/WireImage // Getty Images
'Best Friend' by Doja Cat and Saweetie
Doja Cat performs onstage.
Another appearance for Bay Area artist Saweetie on our list and this time she jumped on a track with Doja Cat. The duo created the hit "Best Friend," which was released in 2021. The song was a bubbly anthem with a colorful video that waxed poetic on just how dope our best friends truly are. Both catchy and quirky, it became Saweetie's third top 10 Billboard hit.
---

Christopher Polk/Variety via Getty Images
'Tomorrow 2' by GloRilla and Cardi B
GloRilla and Cardi B perform onstage at the 2022 American Music Awards.
Cardi B and GloRilla were the duo we didn't know we needed until they released "Tomorrow 2," the drill-rap centered single that dropped in 2022. It instantly charted on its release, debuting at #3 on the Billboard's R&B/Hip Hop charts. The song perfectly captures the aesthetic and style that made both Cardi B and GloRilla popular, which was staying true to themselves and where they came from.
---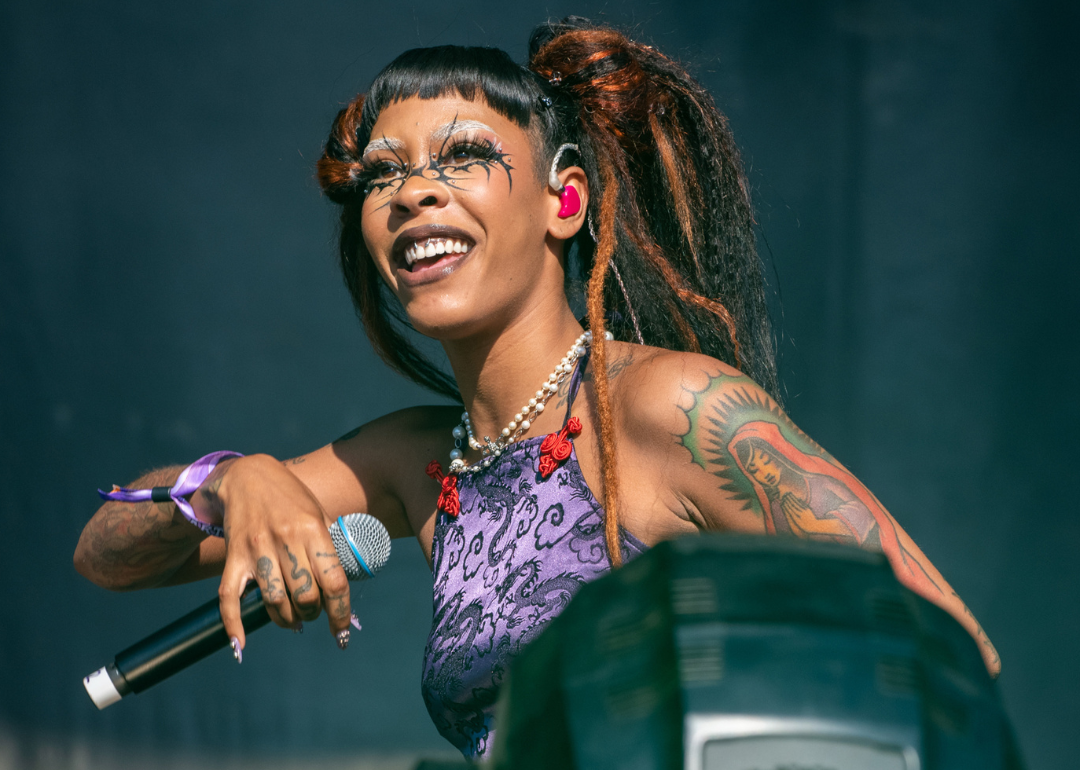 Timothy Hiatt // Getty Images
'Money' by Rico Nasty and Flo Milli
Rico Nasty performs onstage.
Rico Nasty and Flo Milli released "Money" and listeners were immediately taken back to a time when break dancing was everywhere, and break beats were prevalent on the airwaves. It harkens to the early times of hip-hop where disco was heavily sampled, but they combined that vintage feel with an anthemic choral cry of "we want some money!" sprinkled throughout as an earworm. Both artists are known for rocking alternative aesthetics, which were in full effect on the accompanying music video.
---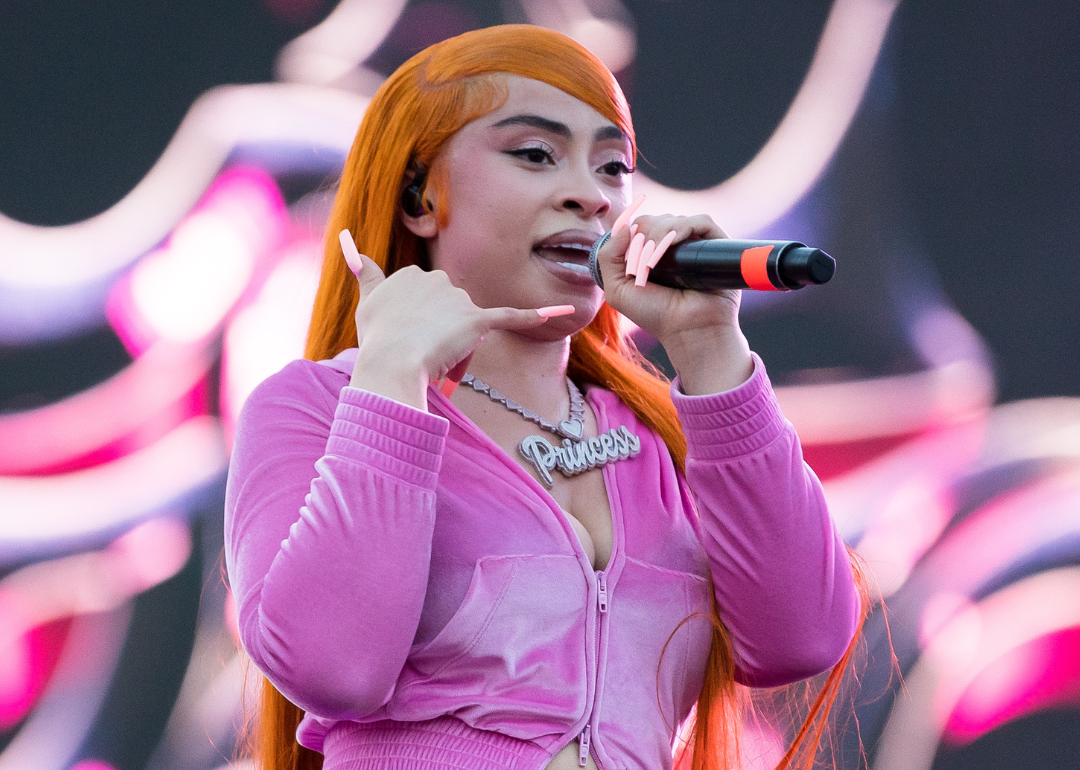 Jason Koerner // Getty Images
'Princess Diana' by Ice Spice and Nicki Minaj
Ice Spice performs onstage.
Both New York-raised rappers who heavily incorporate influences from their borough and their culture, Nicki Minaj and Ice Spice came together this year and took over the Hot Rap Songs chart with "Princess Diana." It is the second single off Ice Spice's album "Like..?" Days after the song's release, the duo also released an EP with versions of the song sped up, slowed down, and extended.
---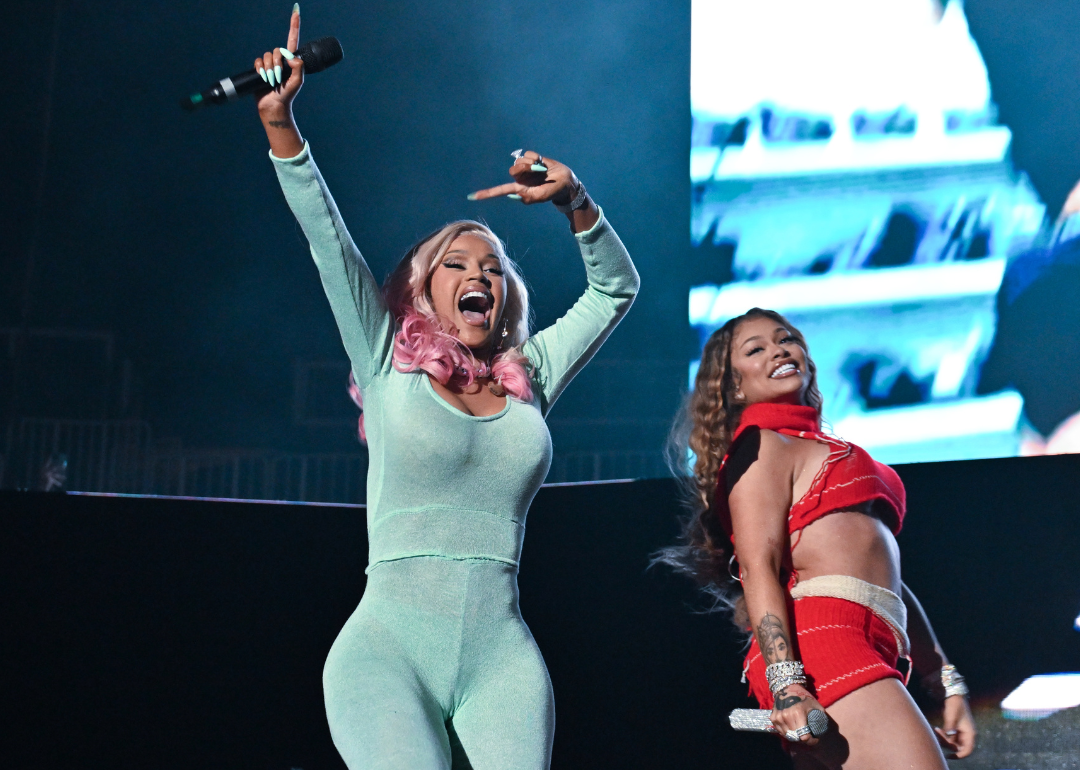 Paras Griffin // Getty Images
'Put It On Da Floor Again' by Latto and Cardi B
Cardi B and Latto perform onstage.
Latto has been heating up the charts since her first release, and she shows no signs of stopping. She started with "Put It On Da Floor," a viral hit that had fans ripping themselves out of plastic bags. A little more than a month later, she followed it up with "Put It On Da Floor Again," featuring Cardi B, marking the duo's first collaboration.
---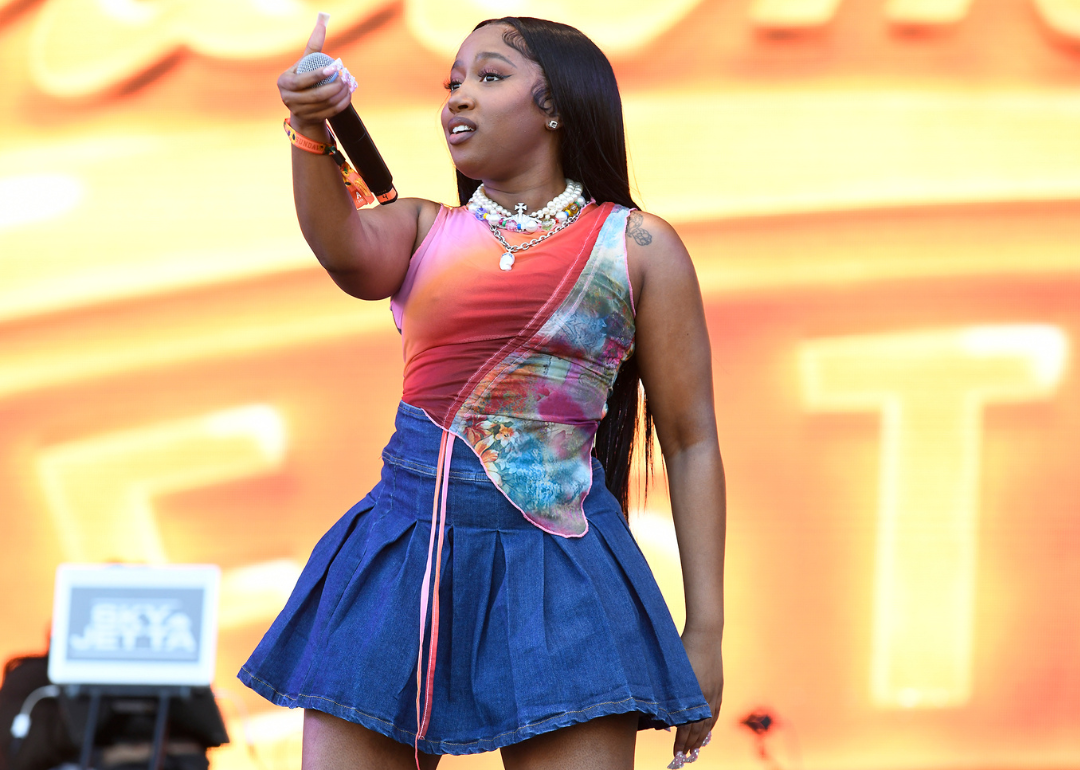 Tim Mosenfelder // Getty Images
'Hey Mickey!' by Baby Tate and Saweetie
Baby Tate performs onstage.
Toni Basil's 1981 classic hit "Hey Mickey" has managed to stay relevant four decades after its release thanks to the 2023 single by Baby Tate and Saweetie. Heavily sampling the original, "Hey Mickey" was a surprise hit even to Baby Tate. The song made its way back onto the airwaves seven years after Baby Tate's release of her version of "Hey Mickey!" thanks to TikTok.
---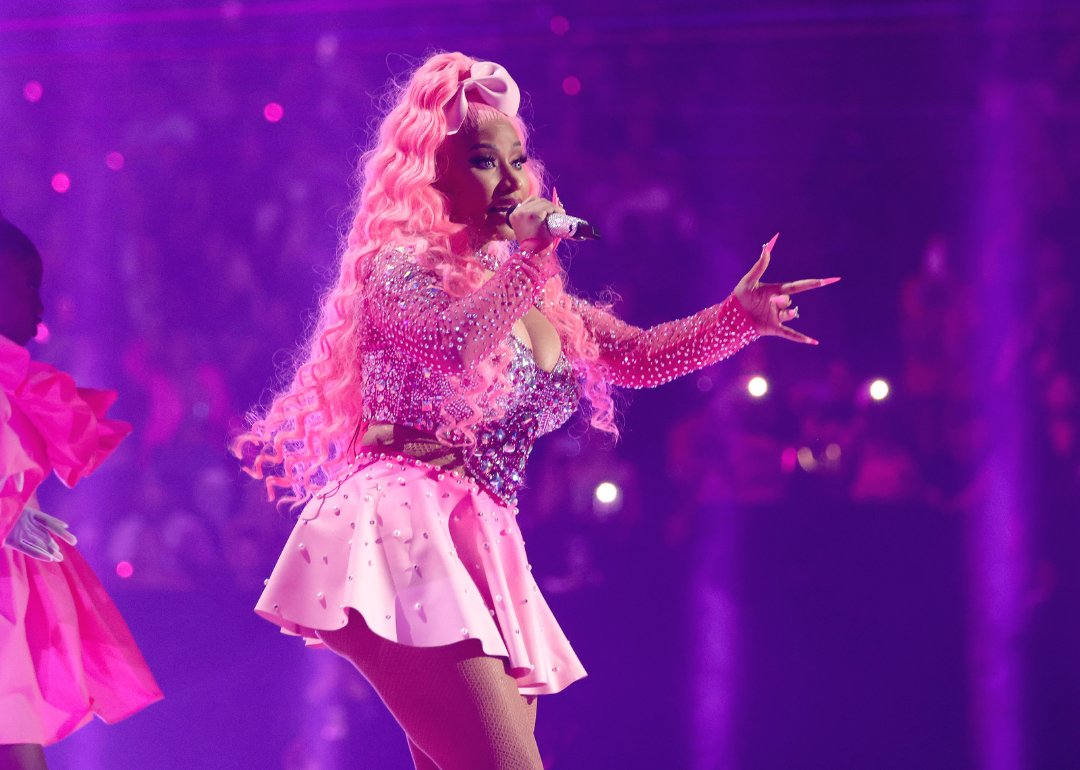 Christopher Polk/Variety via Getty Images
'Barbie World' by Ice Spice and Nicki Minaj
Nicki Minaj onstage during the 2022 MTV Video Music Awards.
The successful Greta Gerwig-helmed "Barbie" movie brought Ice Spice and Nicki Minaj back together for the neon pink-soaked single that sampled the original "Barbie Girl" artists, Aqua. The music video also features custom-made Barbies made in the likeness of the two rappers. The film recently broke records for the biggest opening weekend led by a female director, but it's also breaking streaming records with 19 songs from "The Barbie Album" played 514 million times in the first three weeks following the movie's release.
Story editing by Carren Jao. Copy editing by Tim Bruns.
---