What cars do the stars of "Oppenheimer" drive?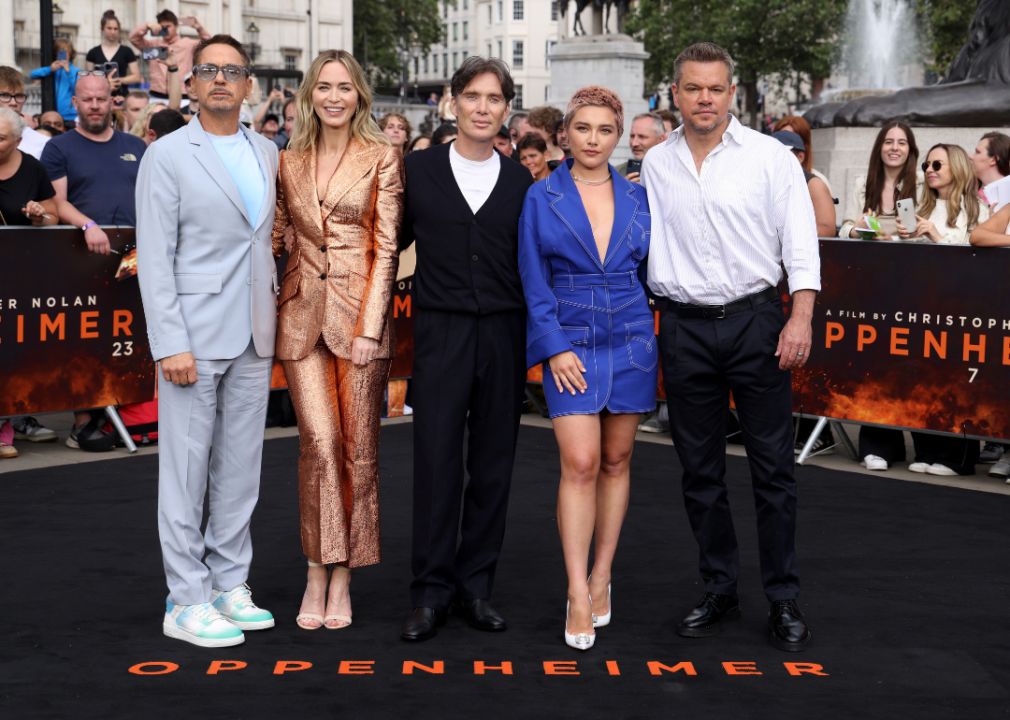 Neil P. Mockford / Getty Images for Universal Pictures
What cars do the stars of "Oppenheimer" drive?
Robert Downey Jr. Emily Blunt, Cillian Murphy, Florence Pugh and Matt Damon attend the London Photocall for Universal Pictures' "Oppenheimer" at Trafalgar Square on July 12, 2023 in London, England.
"Oppenheimer" has been one of the two most-awaited movies (guess the other) of 2023—and is now one of its biggest global successes. Ever since the "Oppenheimer" cast was announced, fans have been excited about the box office battle between the two movies. 
Christopher Nolan, Cillian Murphy, Robert Downey Jr., Matt Damon—the names associated with this movie are endless. All of these renowned artists have some of the best car collections, too. Way.com is here to help you identify the cars driven by the cast of Oppenheimer. 
---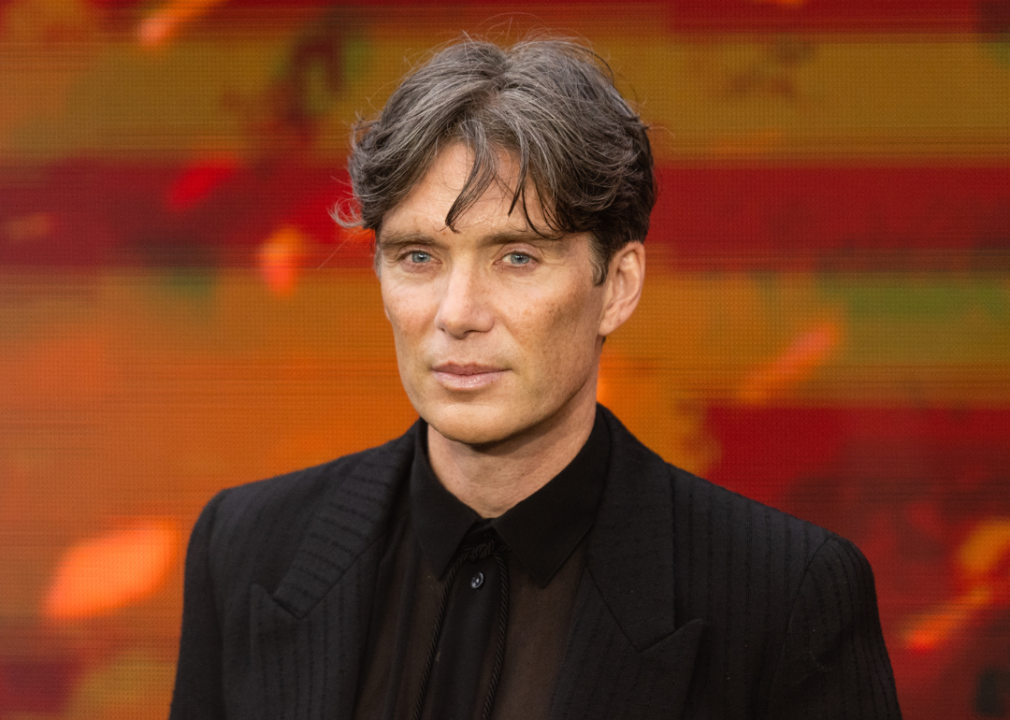 Samir Hussein/WireImage/Getty Images
Cillian Murphy
Cillian Murphy attends the "Oppenheimer" UK Premiere at Odeon Luxe Leicester Square on July 13, 2023 in London, England.
Cillian Murphy is known for his flamboyant characters from the show "Peaky Blinders" and popular roles in "Batman Begins," "28 Days Later," and "Inception." But do you know what cars "Oppenheimer" himself drives? 
The on-screen Oppenheimer owns a Porsche 911, small yet powerful and efficient. The 911 is undoubtedly one of the best cars of all time. It has a unique and quickly recognizable design with a powerful engine behind the rear axle. It is the only true sports car in Cillian's collection. 
He has two Audis in his collection. He has been spotted getting out of his Audi A8L and Audi Q7 on multiple occasions. So yeah! Oppenheimer loves his sedans! Adding to that is the Mercedes-Benz S-Class. A more practical car in Cillian's collection is the Lexus RX 450h.
---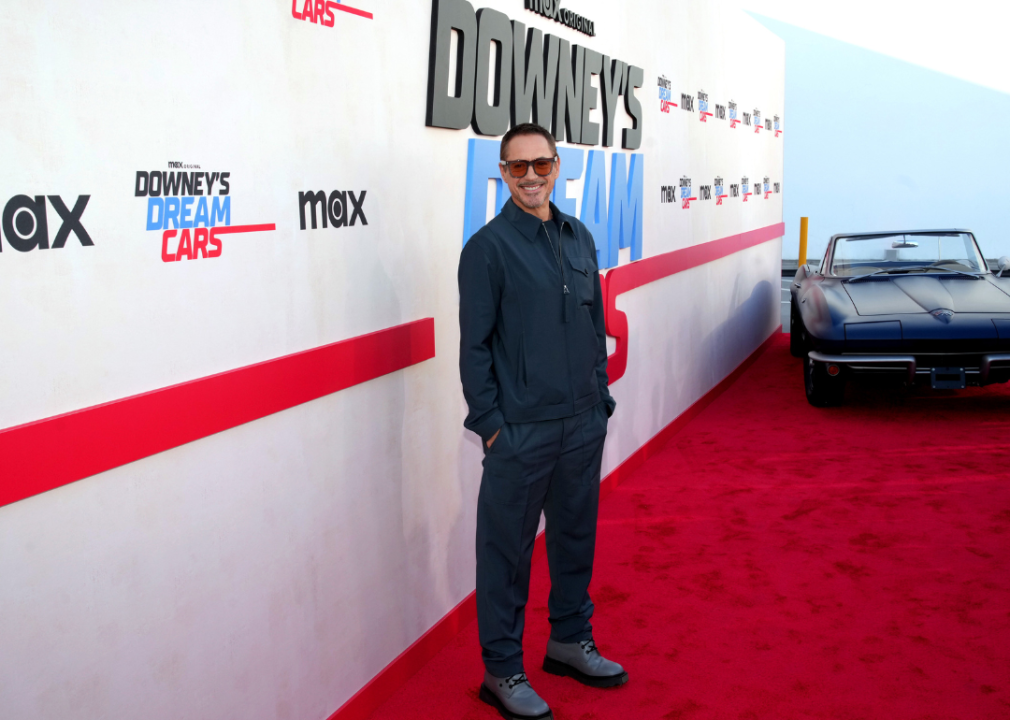 Jeff Kravitz/FilmMagic for Max / Getty Images
Robert Downey Jr.
Robert Downey Jr. attends Max's Downey's Dream Cars Tastemaker Event at Petersen Automotive Museum on June 16, 2023 in Los Angeles, California.
As we know, RDJ, as he is popularly known among fans, loves his cars. He has arguably the best car collection among his fellow "Oppenheimer" cast members, including modern machines and classic cars from the 60s and 70s. 
The MCU superstar has a TV show, "Downey's Dream Cars," where experts will turn six classic cars from his collection eco-friendly. "Downey's Dream Cars" is now streaming on Max.  
He has a varied collection of cars combining modern engineering and classic power. Some of his classics include the 1967 Chevy Corvette Stingray, a 1970 Ford Mustang Boss 302, a 1974 BMW 3.0CS, and the Mercedes-Benz Pagoda. 
On the other hand, since he is the one and only Tony Stark, it is not surprising that his collection includes three Audi R8s, two of which are coupes and the other a 2017 Audi R8 Spyder. Robert also has a few Mercedes, a Ferrari California, a Bentley Continental GT, a Nissan GT-R, and more. 
---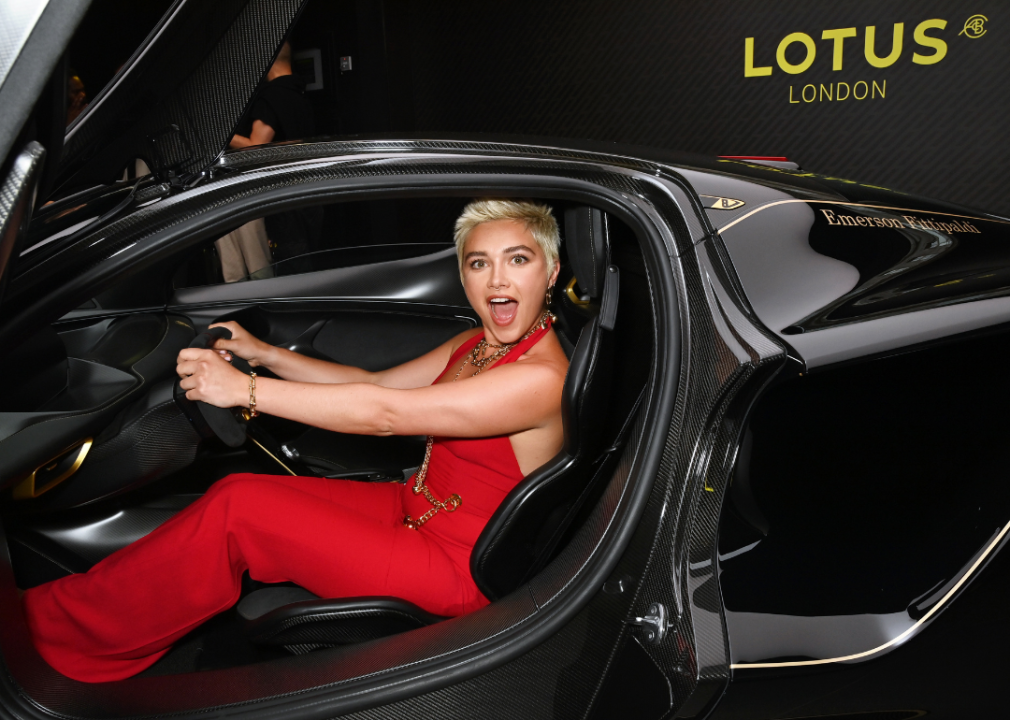 Dave Benett/Getty Images for Lotus
Florence Pugh
Florence Pugh attends the launch of Lotus London, the first flagship in Europe for Lotus cars, on July 27, 2023 in London, England.
Florence Pugh plays the role of Jean Tatlock, the title character's love interest in "Oppenheimer." She is a critically acclaimed actress who was part of films like "Midsommar," "Little Women," and "Black Widow." 
Pugh is yet another British native to join the cast of "Oppenheimer." Her car collection also has a British entry: the expensive Aston Martin Vantage. Also, she joins a few of her fellow cast by owning a Mercedes-Benz S-Class. The Merc S-Class can give the speed boost one wants without compromising the driving experience. She also has an Audi R8 Coupe that also offers racing performance. So, it's safe to say she loves speed and style when it comes to cars.
---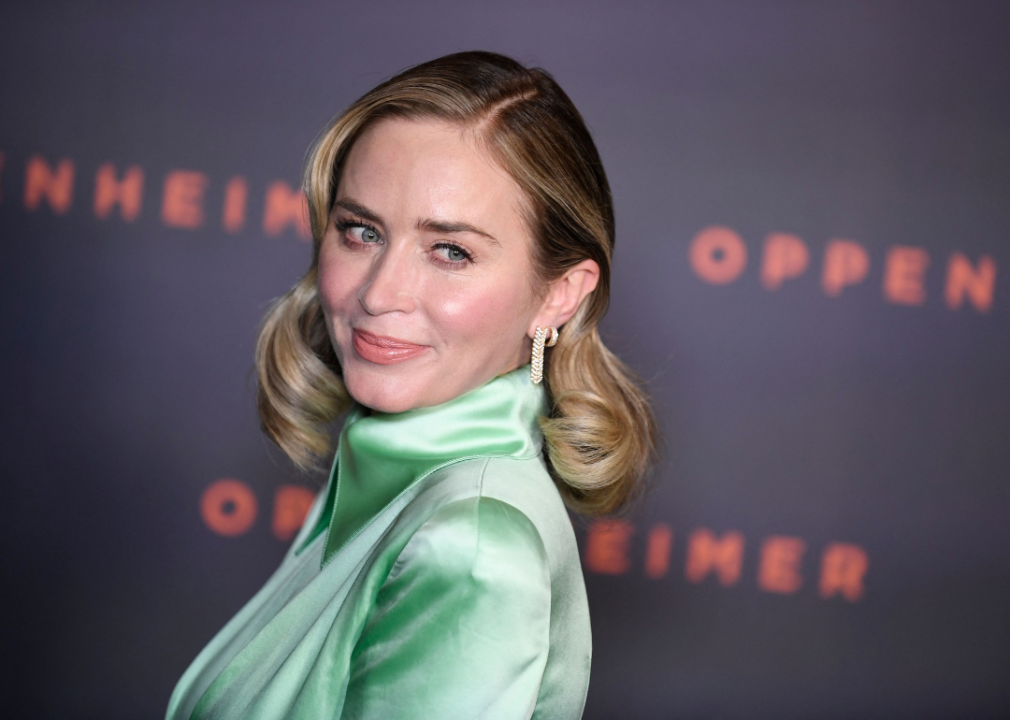 JULIEN DE ROSAAFP via Getty Images
Emily Blunt
British actress Emily Blunt poses upon her arrival for the "Premiere" of the movie "Oppenheimer" at the Grand Rex cinema in Paris on July 11, 2023.
Emily Blunt rose to fame with her roles in "Devil Wears Prada," where she shared screen space with Meryl Streep. In recent years, she has been part of many other projects, including "A Quiet Place" and its sequel, "Edge of Tomorrow," "Jungle Cruise," and "Mary Poppins Returns." 
Emily is part of the "Oppenheimer" cast as the wife of Robert Oppenheimer, Katherine, aka Kitty. She and her real-life husband, John Krasinski, own a few cars, most of which are SUVs. The star couple has two kids, so it's no wonder they have many family cars. 
Some of the popular SUVs in Emily Blunt's car collection include the Cadillac Escalade, Mercedes-Benz GLE, and Audi Q5. The Audi Q5 is a plug-in hybrid that she shares with her husband. A unique entry into her collection is the Alfa Romeo Stelvio, which is yet another SUV that blends luxury and comfort. 
---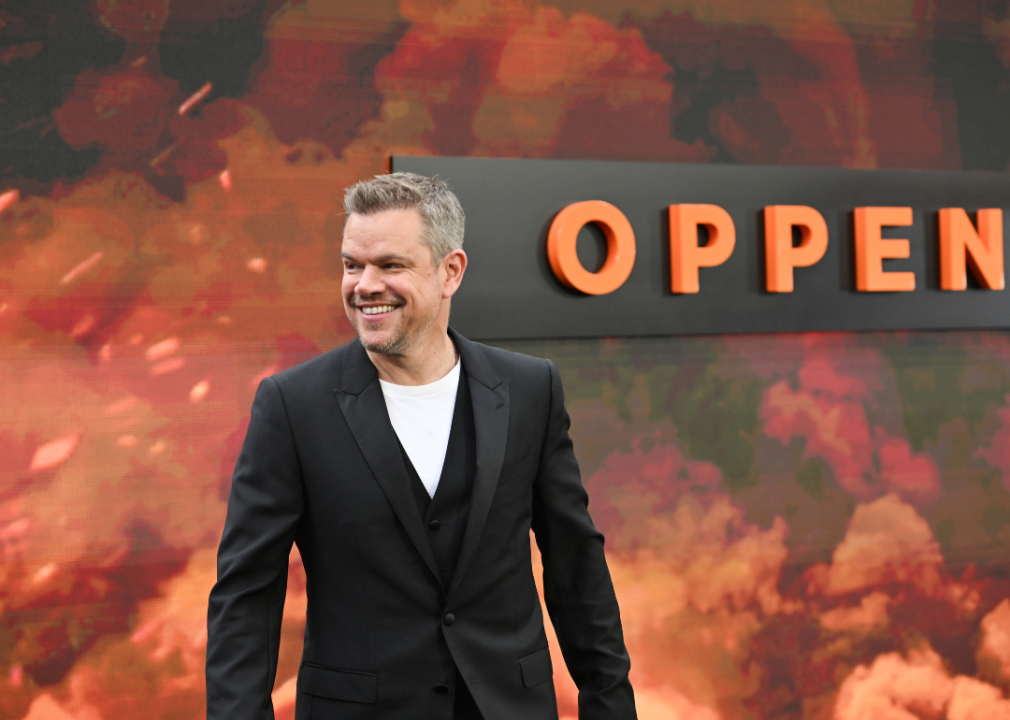 Kate Green/Getty Images for Universal Pictures
Matt Damon
Matt Damon attends the UK Premiere of "Oppenheimer" at Odeon Luxe Leicester Square on July 13, 2023 in London, England.
Damon is undoubtedly one of the most successful actors in modern Hollywood. He has won accolades as an actor, producer, and screenplay writer. The star of the Bourne film series and "Good Will Hunting" leads a humble lifestyle with his contributions to various charities. 
But the man owns some of the best cars compared to most of the "Oppenheimer" cast. He has two Teslas, one of which is a Model S Performance and the other a 2008 Tesla Roadster. Similarly, two Toyotas are also part of his garage. Damon has a Sequoia and a Prius. The Toyota Sequoia is the first SUV in Damon's collection. Later he added a third-generation Cadillac Escalade with a black paint job to his collection.
---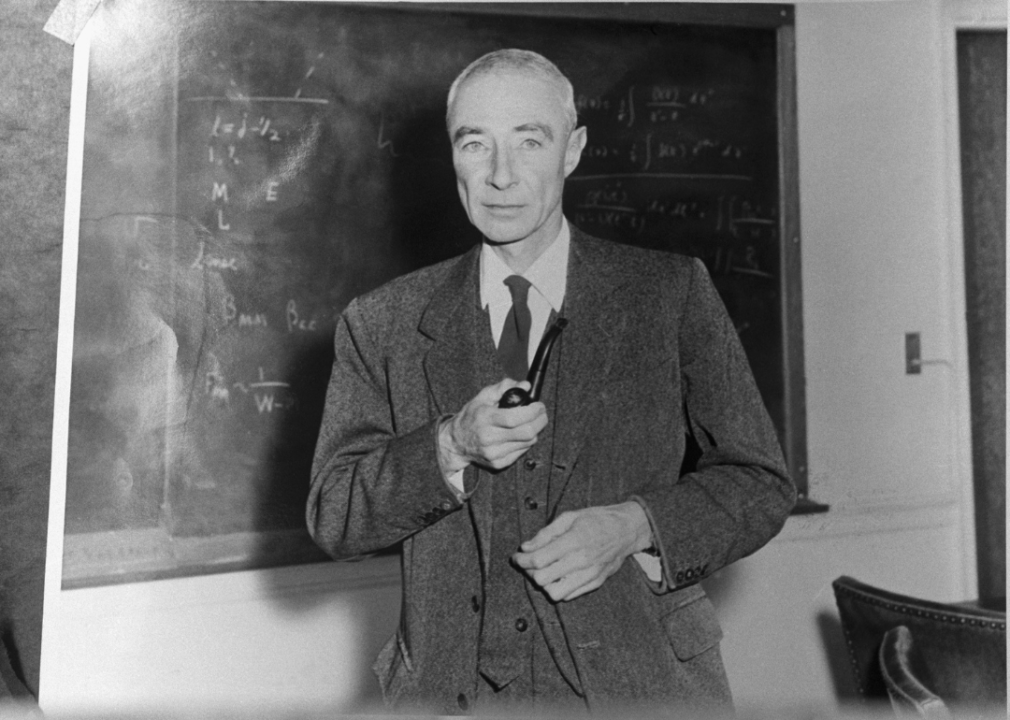 Bettmann / Getty Images
What car did the real Robert Oppenheimer drive?
Robert Oppenheimer (1904-1967), American physicist, Director of the Manhattan project. Undated photograph, standing before blackboard, holding pipe.
According to spsnational.org, the physicist drove a 1929 Chrysler Convertible Coupe. In a photo of him at Perro Caliente, his New Mexico ranch, Oppenheimer is also standing near a 1930 Chrysler 77 Crown Coupe. During the location shoot of "Oppenheimer" at UC Berkeley, there were many cars from the 1940s on set. 
Want to do a bit of digging for yourself into the rest of the cast's car inventory? This expanded cast list can get you going.
"Oppenheimer" Cast
Cillian Murphy as J. Robert Oppenheimer
Emily Blunt as Kitty Oppenheimer
Matt Damon as Leslie Groves
Robert Downey Jr. as Lewis Strauss
Florence Pugh as Jean Tatlock
Josh Hartnett as Ernest Lawrence
Rami Malek as David Hill
Casey Affleck as Boris Pash
Jason Clarke as Roger Robb
Tom Conti as Albert Einstein
Kurt Koehler as Thomas Morgan
Tony Goldwyn as Gordon Gray
Dylan Arnold as Frank Oppenheimer
Jack Quaid as Richard Feynman
John Gowans as Ward Evans
Macon Blair as Lloyd Garrison
James D'Arcy as Patrick Blackett
Kenneth Branagh as Niels Bohr
Harry Groener as Senator McGee
The sources for all car information can be found here.
This story was produced by Way.com and reviewed and distributed by Stacker Media.
---