Parents concerned about photo showing what appears to be El Paso student holding hand-gun in school restroom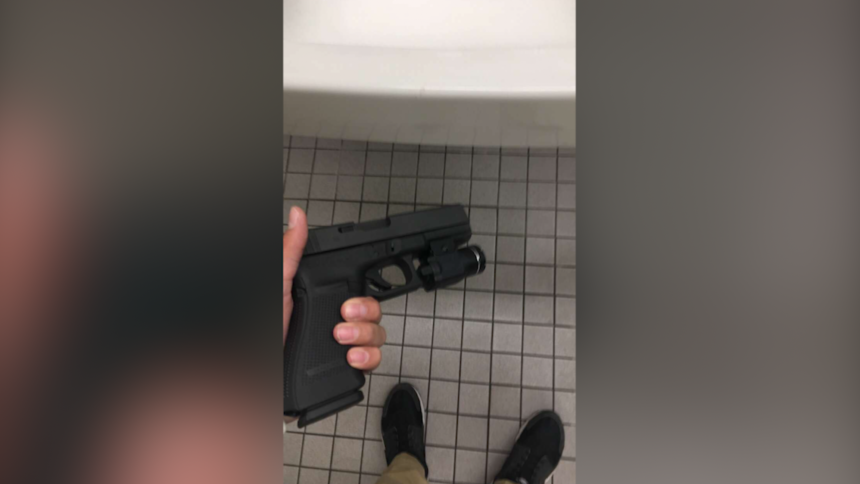 EL PASO, Texas -- A photo of what appears to be an El Paso middle school student holding a gun in a school restroom is circulating on social media, but school district officials aren't saying much.
A viewer, who requested anonymity, told ABC-7 the photo was taken by a student at Nolan Richardson Middle School last week. The photo appears to show someone holding a handgun inside one of the restrooms wearing khaki pants and black tennis shoes.
"It sure looks like the (school's) bathroom," said Erica Cruz, a parent of a student at Nolan Richardson, after viewing the photo.
A spokesman for the El Paso Independent School District told ABC-7 on Wednesday that he could not confirm whether a gun was recently brought onto the school campus.
"EPISD Police has investigated the matter and the (school) district is handling the incident administratively," said Gustavo Reveles, a spokesman for the district. "We can't discuss specific disciplinary action, but the Richardson student has faced punitive action based on the findings of the investigation. The school has been deemed safe and not in eminent danger of violence stemming from this incident."
The viewer who shared the photo with ABC-7 claims there's no accountability from school administrators because they did not inform parents about the incident. Reveles stated he did not know what information, if any, was shared with parents by the school principal. He did say the district typically does not share information regarding student punishments.
Parents that ABC-7 talked with on Wednesday all said they were unaware of the incident. Reveles also could not say if school staff was notified of the incident, but the viewer who shared the photo also provided ABC-7 with what appeared to be an email thread between administrators and faculty - acknowledging the situation and indicating that campus police had addressed the issue.
Cruz said students are required to have clear, small backpacks, so she doesn't understand how a student could manage to bring a gun into school.
She also wants the school district to be transparent: "If everything is OK, then they're supposed to say, 'you know, this is happening, but we're doing something, we're checking,' but if they're not saying something, I think they're hiding."
For its part, Reveles said the school district wants "parents to notify the authorities when they come across these photos and refrain from sharing on social media," because "sharing the photo makes identifying the source of the photo much more difficult for law enforcement."
One sixth-grade student at the school, upon seeing the photo, told ABC-7 that he was shocked.
"It could be fake or it could be a real gun so, I'm just like shocked. Maybe they're trying to keep a low profile or something," said student Tomokazu Wazlavek.
Reveles indicated that any student who brings a gun on school grounds could "face legal charges and could be sent to court-appointed education services."