Texas Tech holds virtual commencement to graduate healthcare workers at time of pandemic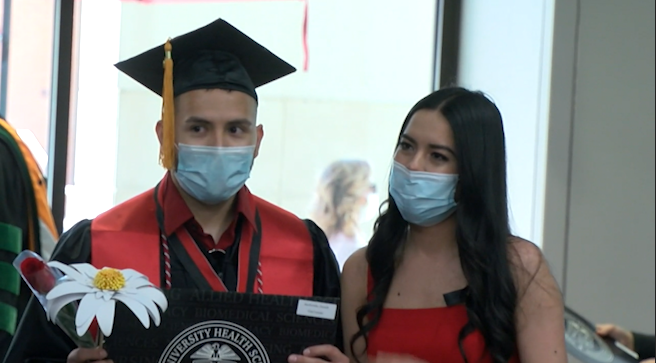 EL PASO, Texas -- El Paso's next generation of healers graduated virtually on Saturday, entering a field where thousands of healthcare workers are battling the pandemic.
"It took ten minutes," said Angel Godfrey, who graduated with her master's degree. "All my other graduations were like two hours. So that's not a bad thing."
The commencement took place online, via Facebook. ABC-7's Erik Elken and Stephanie Valle read the names of graduates out loud. A few hours later, the students were able to receive their diplomas in person and take photos.
Despite having to hear their names read online, the graduates were excited to enter the workforce and serve their communities.
"At the end of the day, I didn't come back to school and I didn't enter this nursing program for a graduation ceremony," said Kimberly Bebon, a new graduate. "I came back to school and I entered the nursing profession so I could make a difference in people's lives and be a nurse."
"With everything going on, Covid-19 families can't be there with their family members," said Briana Casillas. "To know that you have someone who is going to be essentially be their family while they're in the hospital is something that you can't replace."