Graduation milestone for Las Cruces mom and 2 daughters put on hold due to pandemic
LAS CRUCES, New Mexico -- One Las Cruces family was supposed to celebrate not one, but three graduation ceremonies this year.
Stephanie Baca and her two daughters, Leilani and Gabriela Sandoval, were all set to celebrate graduations in May. Stephanie from New Mexico State University and her daughters from The New America High School of Las Cruces.

"Going to school full-time, working full-time and being a mother of 5 children was hard but very well worth it," said Baca.
This past weekend Baca was proud to see her name across the screen celebrating her accomplishment of graduating from NMSU with a Bachelor's of Applied Studies and a Minor in Public Health.
"I think just the fact that I was actually finished with school was a plus," said Baca.
She is the first in her family to accomplish this achievement, and although seeing her name on screen at home wasn't the way she planned on celebrating this accomplishment, she was still proud of the example she was able to set for her daughters.
"To me it wasn't a huge deal to not be able to walk as it was for my two girls," said Baca.
Leilani and Gabriela were both looking forward to walking down the aisle and getting handed their High School diploma, but when both high school seniors got news that their senior year was being cut short due to COVID-19, they were crushed.
"I was mad because senior year was supposed to be the year that everyone remembers the most in high school and we were cut short so it wasn't fair. We didn't get to experience a lot of things that other people did," said Leilani.
2020 was the year that Baca and her two senior daughters were supposed to celebrate the milestone of having two generations of graduates in one family. Although both high school seniors were not able to finish off their senior year the way they had hoped to, they're still hopeful that their graduation walk across the stage will still happen.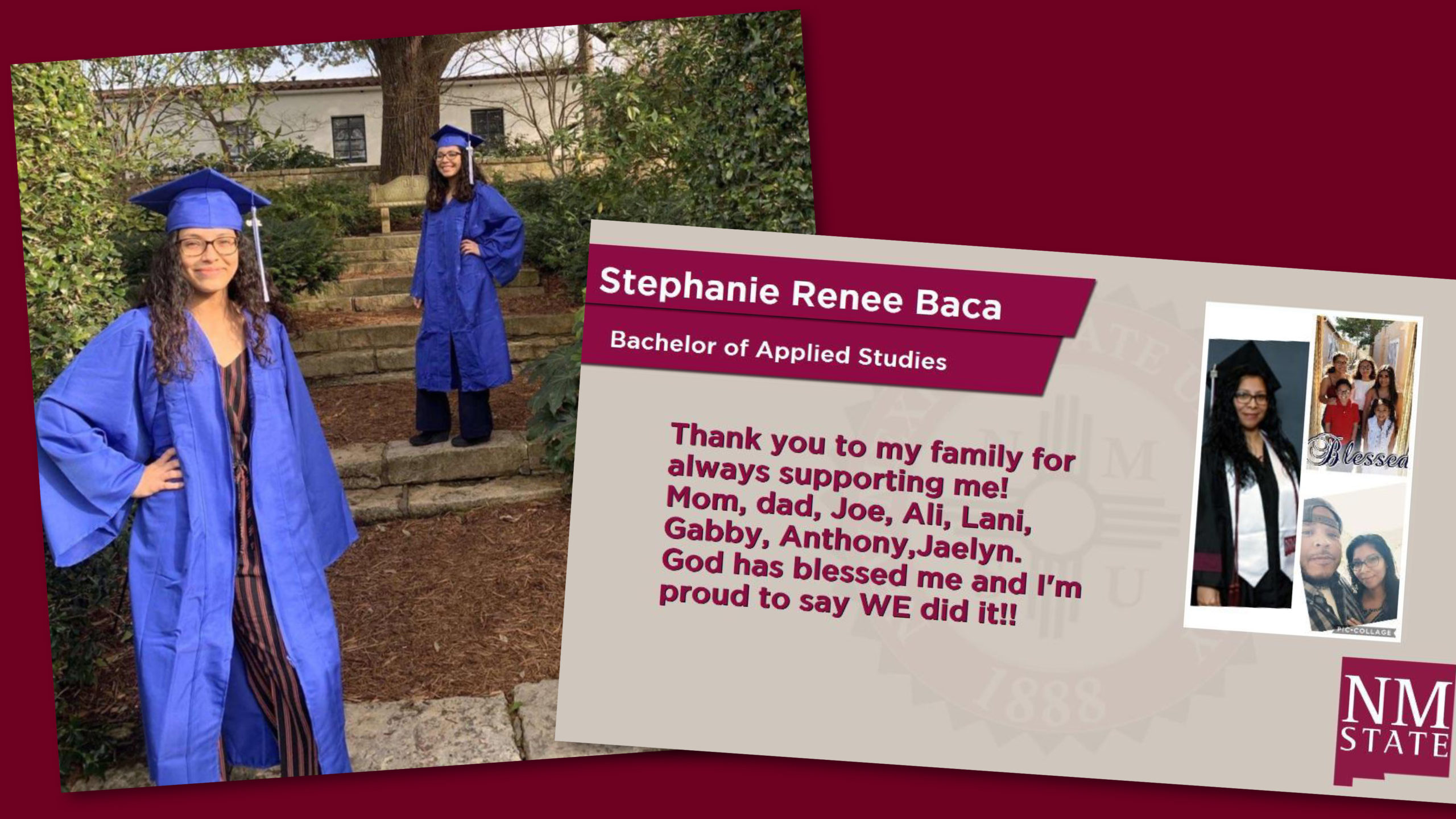 "We're still hopeful that we will be having a ceremony. We've talked to the school and they said that they're also hopeful that they'll have a ceremony for us too," said Leilani.
All three graduates are still proud of their accomplishments and they hope that this pandemic does not discourage other graduates from celebrating their achievements.
"A message that we have to all the other graduates is congratulations. We did it and just keep moving forward," said Gabriela.
Both Leilani and Gabriela plan on attending Dona Ana Community College to follow in their mom's footsteps of becoming a college graduate.