The story behind the Buffalo Soldier statue at Fort Bliss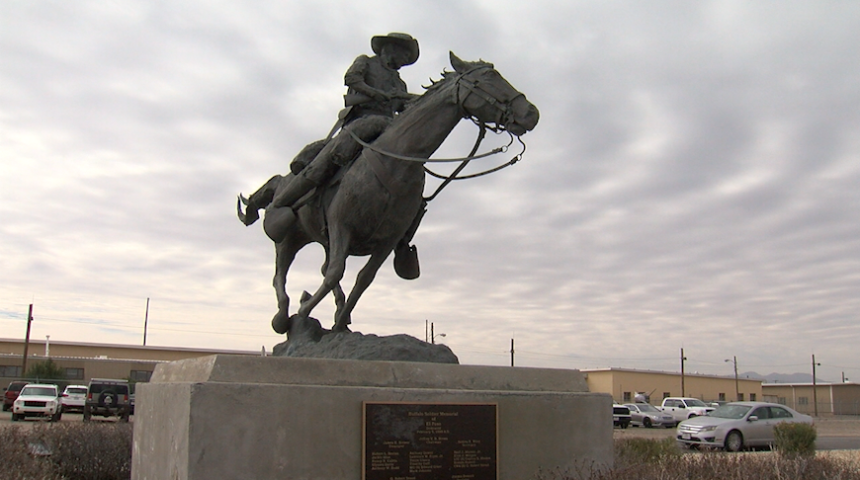 EL PASO, Texas (KVIA) -- Ulysses Davis now lives hundreds of miles away from El Paso.
But his legacy will live on forever.
The former Fort Bliss soldier dedicated his free time in the late 1990s and early 2000s to teaching people about the buffalo soldiers.
Buffalo soldiers were African-American troops who served after the Civil War on the Western Frontier.
Local Historian Bernie Sargent said there were regiments of buffalo soldiers based out of El Paso, and they would be used to quell uprisings or other problems that would arise.
"I didn't know anything about the buffalo soldier when I was in school," Davis said.
It wasn't until later in life that Davis saw pictures of buffalo soldiers. That piqued his interest.
"A black man on a horse? I can relate to that," Davis said. "What I did was I studied up on the history of the buffalo soldier. I pieced together a uniform."
Davis came up with an educational routine. He was invited to rodeos and Borderland schools.
"I wanted to get on national TV. I want the world to know about the buffalo soldier," Davis said. "In the time I grew up, we wasn't taught that in school, man."
The bronze statue is based on the painting by Bob Snead titled "The Errand of Corporal Ross."
The painting was inspired by a real soldier, Corp. John Ross, Troop I of the 9th U.S. Cavalry, riding on horseback, rifle in hand, against the Mescalero Apache Indians during the Guadalupe Campaign, according to the Texas Historical Commission.
Snead, a prolific artist and cartoonist, is best known for his western scenes and motifs especially focusing on African-American Buffalo soldiers and other western African-American subjects.
He served 30 years in the military, according to his website.
Davis and his beloved horse, Mercedes, served as inspiration for sculptor Bob Snead who created the buffalo soldier statue that was erected at Fort Bliss.
"They made an actual cast on my face to go on that statue, and man i was on cloud nine," he said.
Davis has since retired and now lives in New Braunfels, Texas with his wife. He was in an ATV accident years ago and suffered a traumatic brain injury.
He admits he often has difficulty remembering things, but one thing he'll never forget is the joy he experienced when he taught people about an important part of our history.
"It was an honor to do it, to have my face go down in history on that statue,: Davis said.