Fun at-home tornado in a jar experiment to do with your kids during the virus outbreak from ABC-7 StormTRACK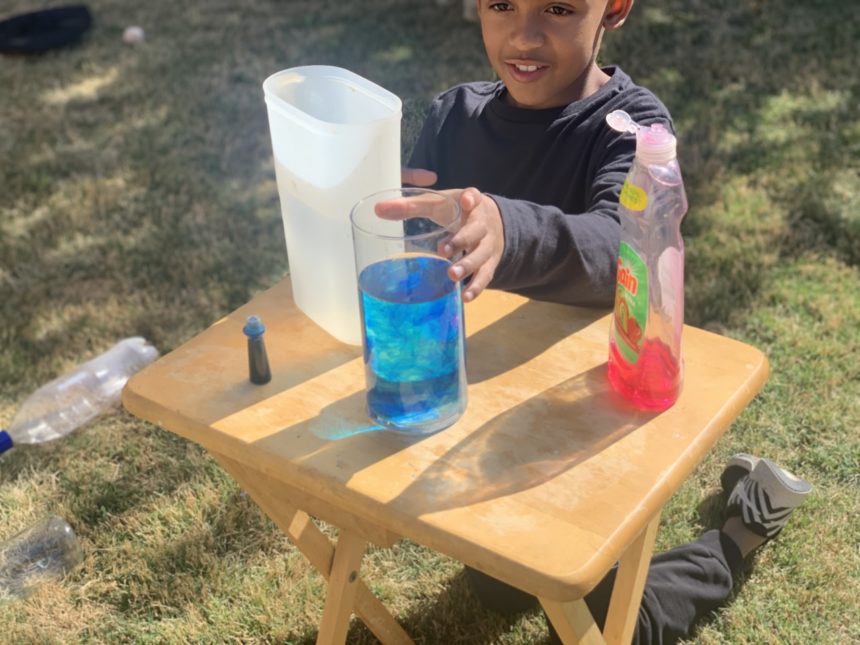 A fun simple science experiment you can try at home and one of my favorites, it's always a hit when I visit local schools. This is the tornado in a jar experiment. Although tornadoes happen in the air, Your kids will create the vortex in the water. You can see how the air that swirls in a circular pattern can create a funnel.
In this experiment, you will make a vortex that looks like a real tornado! While real tornadoes happen in the air, the vortex you make in this activity is in water. Both air and water are fluids. That means that they move in similar ways.
* Tall jar
* Food coloring (if you'd like, not a requirement)
* Vinegar
* Dish soap
* Water
* Glitter
Combine 1 teaspoon of vinegar, 1 teaspoon of dish soap, and 1 teaspoon of glitter in a jar 3/4 full of water. My son added a few drops (just a few or you won't be able to see the tornado) of blue food coloring to the mason jar. Secure the lid on tightly and give the jar a swirling motion to create your tornado.
Why is this happening?
As you twist the jar, the water inside up against the glass is pulled along due to its friction again the glass walls. Ultimately both the glass jar and the fluid are spinning as you rotate the jar. When you stop rotating the jar, the fluid inside keeps rotating. A mini twister can be seen for just a few seconds when the fluid slows down and the inner fluids continue to spin rapidly. Trust me you'll want to try it again and again!
You can also try this option:
You can purchase a Tornado Tube connector to attach two bottles.
*Tornado Tube- I purchased mine from Amazon. (https://amzn.to/3bJhYjI)
*Fill one of the plastic soda bottles 3/4 full with water.
*Swirl the liquid in the bottle to create a tornado-like funnel as the water moves from the upper to the lower bottle.
*It's best to use small plastic soda bottles (16 or 20 oz).
Enjoy!
Click here to find out how real tornados form: https://www.noaa.gov/education/resource-collections/weather-atmosphere-education-resources/tornadoes
Tornado Safety:
https://www.weather.gov/safety/tornado
🧫: If you have any fun STEAM experiments send them my way. We can bounce some ideas off of each other with fun videos and pictures https://kvia.com/share/. 🤗