'An amazing facility': Spaceport hosts racing enthusiasts at land speed racing event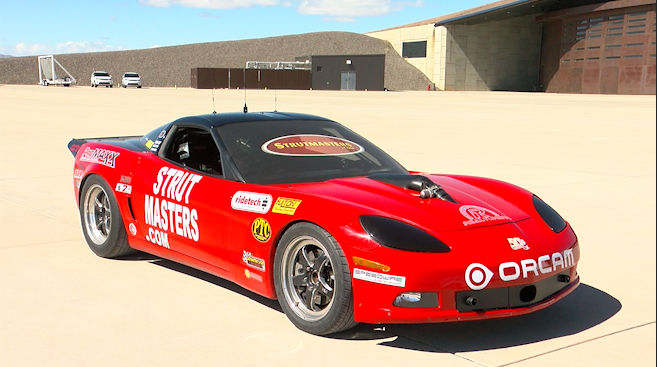 TRUTH OR CONSEQUENCES, New Mexico -- Spaceport America invited dozens of racing enthusiasts Sunday, attracting business to Doña Ana and Sierra counties.
Spaceport America, an FAA-licensed launch complex along with East Coast Timing Association, held the Spaceport Invitational, a land speed racing event that was closed to the public.
"It's not like drag racing, it's not how quick am I, it is literally how fast can I go," said ECTA President Steve Strupp.
ECTA typically hosts open meets in Blytheville, Arkansas. Strupp told ABC-7 he had heard about Spaceport America after helping a colleague of his onsite the facility. "I told them (about) the organization I owned and (Spaceport said), 'we would love to do something,' so I seized the opportunity and we did it."
"There's a lot of places in the country that were not able to do this because it's an active runway or the runways aren't long enough," said Aaron Brown, one of the racers at the invitational.
"For them to open up their facility up for us, to be able to come here and do this as a sport we love, it's great," Brown said.
Racers told ABC-7 that the Spaceport's track is the smoothest they've ever raced on. "Hands down, this is the best piece of concrete in the United States to do this on," Strupp said.
A total of 22 teams competed in the invitational attracting business to Las Cruces and Truth or Consequences. Organizers and racers said the community in New Mexico has been extremely welcoming.
"The people in Las Cruces, several businesses have helped us in any way they can," Strupp said.
"I've never been around more welcoming people in my life," said Dan Parker, a blind racer.
Parker, who lost his sight after a tragic car accident, uses an a certain GPS system built into his car that helps him track where the car is going and how to control it.
"The end goal is to become the world's fastest blind man with a goal of 210 mph," Parker said.
Comedian Jay Leno was at the Spaceport facility filming a piece for his show 'Jay Leno's Garage' on CNBC featuring Parker and his story. Leno told ABC-7 he's never seen anything like the Spaceport facility before.
"People don't know this is here, it's really exciting," Leno said. "This is really an amazing facility."
ECTA plans to host an open meet soon to the public at Spaceport which could hopefully draw more revenue to local businesses in the near future.
To learn more about ECTA, click here.