The most common undergraduate degrees awarded in Texas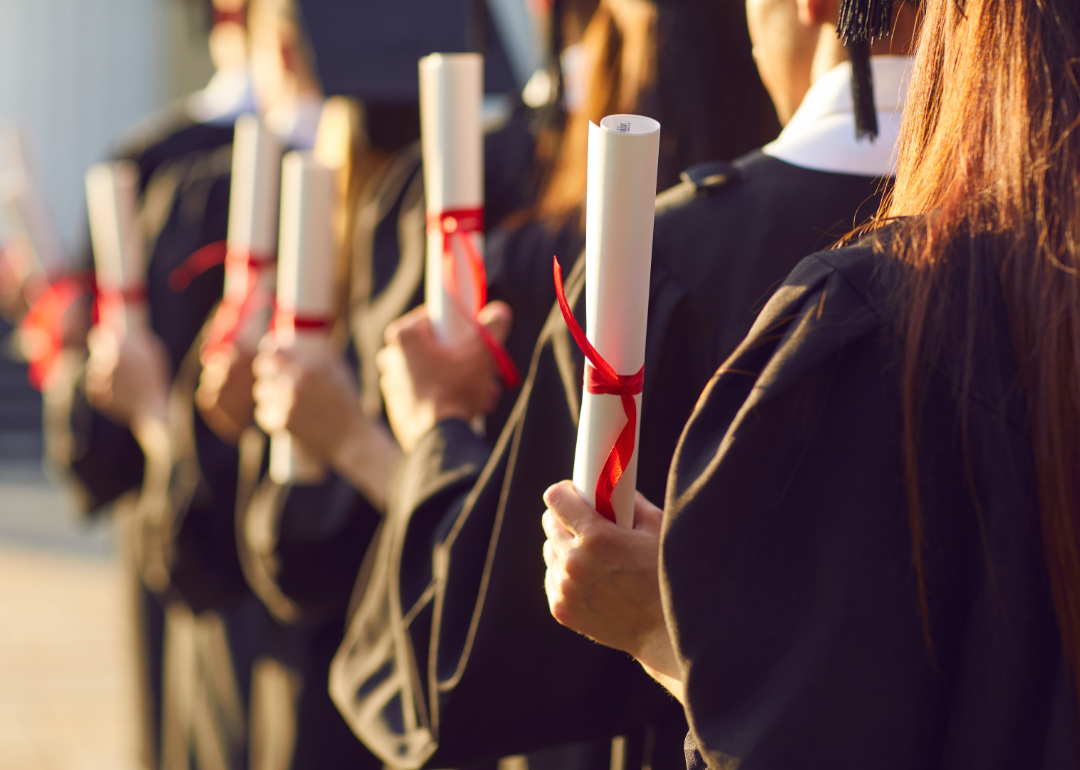 Canva
The most common undergraduate degrees awarded in Texas
For those who choose to attend college, deciding on where to study—and which field of study to pursue—can be impactful. Each year, about 3 million undergraduate degrees are granted and 2 million of them are bachelor's degrees. According to the National Center for Education Statistics, the top three degree programs for the period 2009-2010 through 2019-2020 were business, health programs, and social sciences/history, with psychology, biological/biomedical sciences, and engineering not far behind.
Wage variation among fields can vary to an astounding degree. As reported by Stacker in March 2023, "On a national level, those who study nuclear engineering technologies or become technicians in that field have the highest median earnings three years after graduation at $107,804, followed by the fields of biomathematics, bioinformatics, and computational biology ($98,074)." This same report showed that, in some states, graduates in various liberal arts fields—such as English literature, music, and even education—see earnings as little as one-third of those of engineering grads.
Nonetheless, the disparity in potential future earnings does not necessarily detract from the popularity of such degrees. Best Universities compiled data from the Department of Education on the average number of students graduating from a particular undergraduate program in each state in the 2017 and 2018 school years which is the most recent data available. Income data is calculated as median earnings three years after graduation.
#25. Communication and Media Studies
– Total undergraduate students: 3,243 (1.2%)
– Median earnings: $38,075
#24. Computer/Information Technology Administration and Management
– Total undergraduate students: 3,371 (1.2%)
– Median earnings: $37,212
#23. Culinary Arts and Related Services
– Total undergraduate students: 3,506 (1.3%)
– Median earnings: $24,845
#22. Teacher Education and Professional Development, Specific Levels and Methods
– Total undergraduate students: 3,820 (1.4%)
– Median earnings: $37,182
#21. Dental Support Services and Allied Professions
– Total undergraduate students: 3,927 (1.4%)
– Median earnings: $26,846
#20. Marketing
– Total undergraduate students: 4,141 (1.5%)
– Median earnings: $45,793
#19. Finance and Financial Management Services
– Total undergraduate students: 4,442 (1.6%)
– Median earnings: $53,312
#18. Health and Physical Education/Fitness
– Total undergraduate students: 5,992 (2.2%)
– Median earnings: $38,008
#17. Allied Health Diagnostic, Intervention, and Treatment Professions
– Total undergraduate students: 6,905 (2.5%)
– Median earnings: $46,404
#16. Computer and Information Sciences, General
– Total undergraduate students: 7,150 (2.6%)
– Median earnings: $45,901
#15. Practical Nursing, Vocational Nursing and Nursing Assistants
– Total undergraduate students: 7,177 (2.6%)
– Median earnings: $37,736
#14. Biology, General
– Total undergraduate students: 7,539 (2.7%)
– Median earnings: $34,637
#13. Psychology, General
– Total undergraduate students: 8,074 (2.9%)
– Median earnings: $33,496
#12. Accounting and Related Services
– Total undergraduate students: 8,126 (3.0%)
– Median earnings: $45,387
#11. Precision Metal Working
– Total undergraduate students: 8,658 (3.2%)
– Median earnings: $33,666
#10. Vehicle Maintenance and Repair Technologies
– Total undergraduate students: 8,704 (3.2%)
– Median earnings: $36,656
#9. Business/Commerce, General
– Total undergraduate students: 9,229 (3.4%)
– Median earnings: $45,613
#8. Multi/Interdisciplinary Studies, Other
– Total undergraduate students: 9,772 (3.6%)
– Median earnings: $43,079
#7. Cosmetology and Related Personal Grooming Services
– Total undergraduate students: 9,983 (3.6%)
– Median earnings: $14,406
#6. Health and Medical Administrative Services
– Total undergraduate students: 11,310 (4.1%)
– Median earnings: $27,662
#5. Criminal Justice and Corrections
– Total undergraduate students: 12,595 (4.6%)
– Median earnings: $36,209
#4. Allied Health and Medical Assisting Services
– Total undergraduate students: 17,902 (6.5%)
– Median earnings: $26,074
#3. Business Administration, Management and Operations
– Total undergraduate students: 29,011 (10.6%)
– Median earnings: $42,014
#2. Registered Nursing, Nursing Administration, Nursing Research and Clinical Nursing
– Total undergraduate students: 32,560 (11.9%)
– Median earnings: $65,536
#1. Liberal Arts and Sciences, General Studies and Humanities
– Total undergraduate students: 47,467 (17.3%)
– Median earnings: $32,109
---