Car fire along I-10 east at Trans-mountain, disrupts evening commute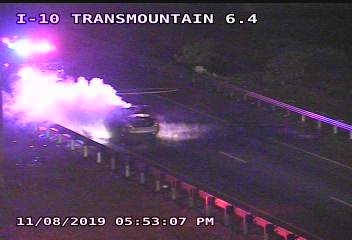 EL PASO, Texas -- A car crashed and caught fire along Interstate 10 eastbound near the Trans-mountain Road ramp on Friday evening, resulting in traffic being detoured through the area for a couple hours.
The burning car was on the left shoulder of the road as firefighters worked to put out the flames around 6 p.m.; there was no word on whether any injuries occurred.
As of 6:20 p.m., officers said all lanes were closed and a detour was in place, with traffic backed up to Los Mochis.
By 8 p.m., police said the wreckage was cleared and reopened the highway.
To check current traffic conditions anytime, visit kvia.com/traffic.
I-10 East @ Transmountain, collision, final, all lanes now open, no backup.

— @EPPOLICETRAFFIC (@eppolicetraffic) November 9, 2019
I-10 East @ Transmountain, collision, update 2, all lanes closed, follow detour, backup to Los Mochis, clearing time 2 hrs.

— @EPPOLICETRAFFIC (@eppolicetraffic) November 9, 2019
I-10 East @ Transmountain, collision, left lane closed, minor backup, clearing time 1 hr.

— @EPPOLICETRAFFIC (@eppolicetraffic) November 9, 2019