Border agent kills man in Sunland Park shootout while investigating 'possible illegal border crossing'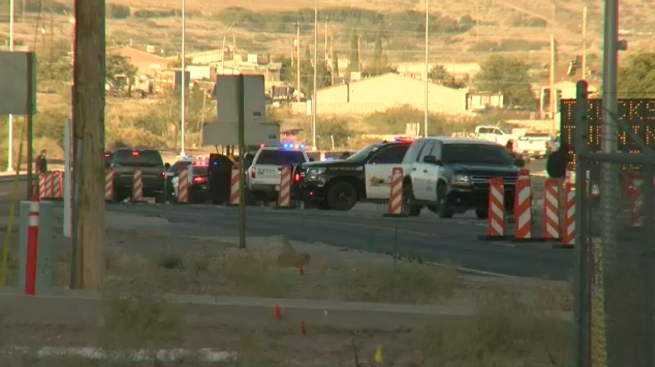 SUNLAND PARK, New Mexico -- A U.S. Border Patrol agent shot and killed a man during a shootout in Sunland Park on Monday morning following word of a potential illegal border crossing by a small group.
It happened about 6 a.m. in the 1200 block of McNutt Road. Authorities blocked off the shooting scene, closing the road and stretching crime tape between patrol vehicles. An auto shop and a car dealership on either side of the street were also closed as authorities investigated.
McNutt Road between Racetrack Drive and Sunland Park Drive was finally reopened to traffic shortly after 6 p.m.
A statement from Border Patrol officials said the shooting happened after agents "encountered" a group of four people and one of them reportedly pulled out a gun and shot at an agent.
The agency did not say what led up to that encounter, but New Mexico State Police indicated two border agents investigating a "possible illegal border crossing" ended up in a foot chase moments before shots were fired.
"During the encounter, the subject produced a firearm and shot at the agent. The agent returned fire striking the subject," the Border Patrol statement said.
The armed man died a short time after the shooting at a hospital in the area. The two agents, who are assigned to the Santa Teresa Border Patrol station, were not injured.
Authorities didn't release the identity, or other information, about the man who was killed.
A Border Patrol spokesman said the three other people in the group were arrested, but it was unclear what charges they faced.
The FBI was also investigating the incident, which is standard practice when a federal officer is involved in a line of duty shooting. FBI officials did not immediately comment on the case.
A spokesman for the U.S. Attorney's Office for the District of New Mexico said it was in touch with the FBI about the shooting probe but offered no further details.