7 common types of anti-transgender legislation that have passed or failed in the last 10 years

Kevin Dietsch // Getty Images
7 common types of anti-transgender legislation that have passed or failed in the last 10 years
A student athlete speaks at a press conference at the U.S. Capitol. The sign on the podium says # Let Kids Play.
On March 2, 2023, Tennessee passed a law criminalizing drag performances—the first of its kind since anti-crossdressing laws were introduced in the mid-1800s.
Drag shows, a fixture of the queer ballroom scene starting in the 1920s, have ballooned in popularity in recent decades, entering the mainstream via films like 1990's "Paris is Burning" and shows like "RuPaul's Drag Race."
Tennessee frames its new crackdown on drag as a measure to protect children from witnessing "sexually explicit performances." The stance has drawn criticism for targeting a medium that plays with gender in highly performative ways, but also how it could impact the safety of transgender, nonbinary, intersex, and gender nonconforming Tennesseans or visitors to the state.
The law's language, which vaguely prohibits "male or female impersonators" from performing publicly, leaves so much room for interpretation—to the point that some are worried trans and genderqueer individuals might be targeted.
Tennessee is not alone in proposing anti-drag legislation—at least 14 other states have proposed similar laws. And legislation targeting drag performers barely scratches the surface of the spate of anti-transgender laws that have emerged in legislatures nationwide—over 420 bills as of March 21, 2023.
Similar to the anti-drag bills, many of the proposed laws across states bear a striking resemblance to each other, targeting the same rights and using almost identical language. To break down these legislative patterns, Stacker investigated seven common types of anti-transgender bills that have passed or failed in the last 10 years using data from the ACLU. Some of the bills tracked fall into multiple categories. ACLU last updated its data on March 21, 2023.
You may also like: Where US military aid is being spent, ranked
---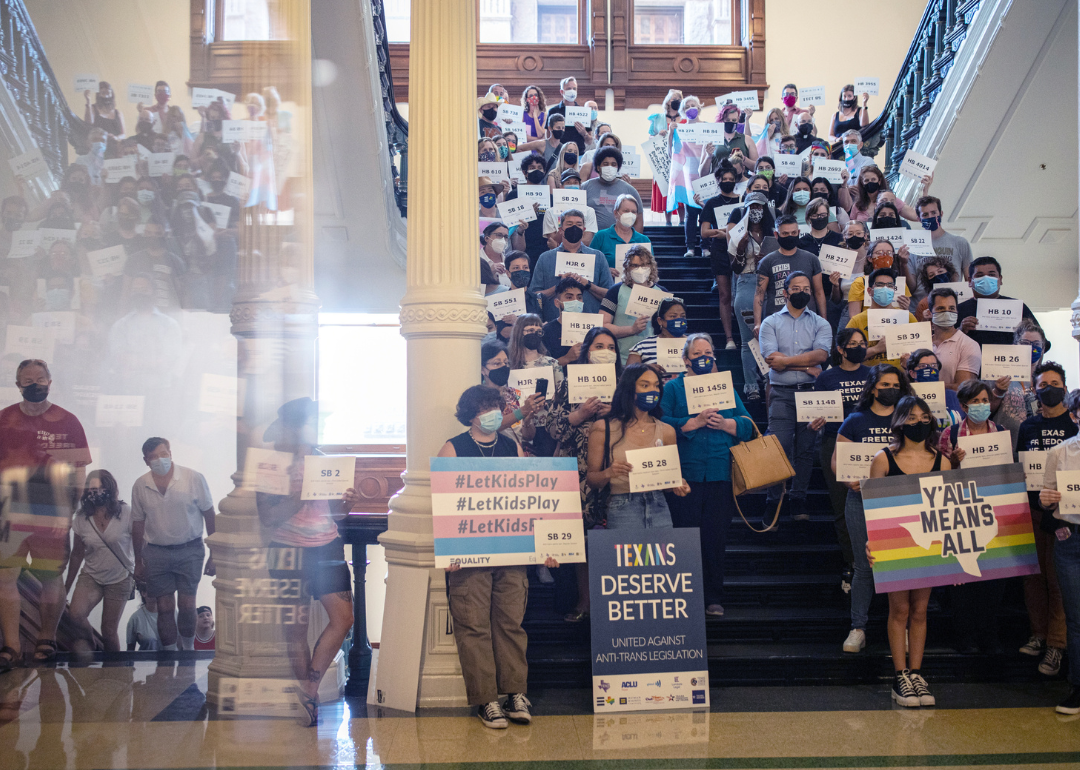 Tamir Kalifa // Getty Images
Schools and education
LGBTQ rights supporters gather at the Texas State Capitol.
– Number of bills during 2023 legislative session: 205
Legislation limiting the rights of trans students in schools has swept state legislatures, becoming the most common type in the country.
These bills cover a wide swath of school activities and domains, ranging from student athletics to classrooms and curricula. In 19 states, anti-trans bills passed over the last several years have banned trans kids' participation in school sports, requiring that students compete on teams that match their sex assigned at birth rather than their gender identity.
Some proposed bills, like one passed by the Ohio Senate in 2022, have gone even further, mandating an examination of kids' "internal and external reproductive anatomy," not just for openly trans students, but for anyone whose gender was in question. The Ohio House shot down the bill in late 2022.
Other types of school-related anti-transgender legislation require teachers to out their students to parents, regardless of whether or not their situation at home is safe. Still others, like the "Don't Say Gay" laws passed in Florida and several other states, censor teachers and curricula, preventing them from discussing LGBTQ+ history and figures.
Human rights organizations, including the ACLU and Human Rights Campaign, as well as health care providers, have raised alarms about these laws, warning that they adversely impact transgender students physically and psychologically.
---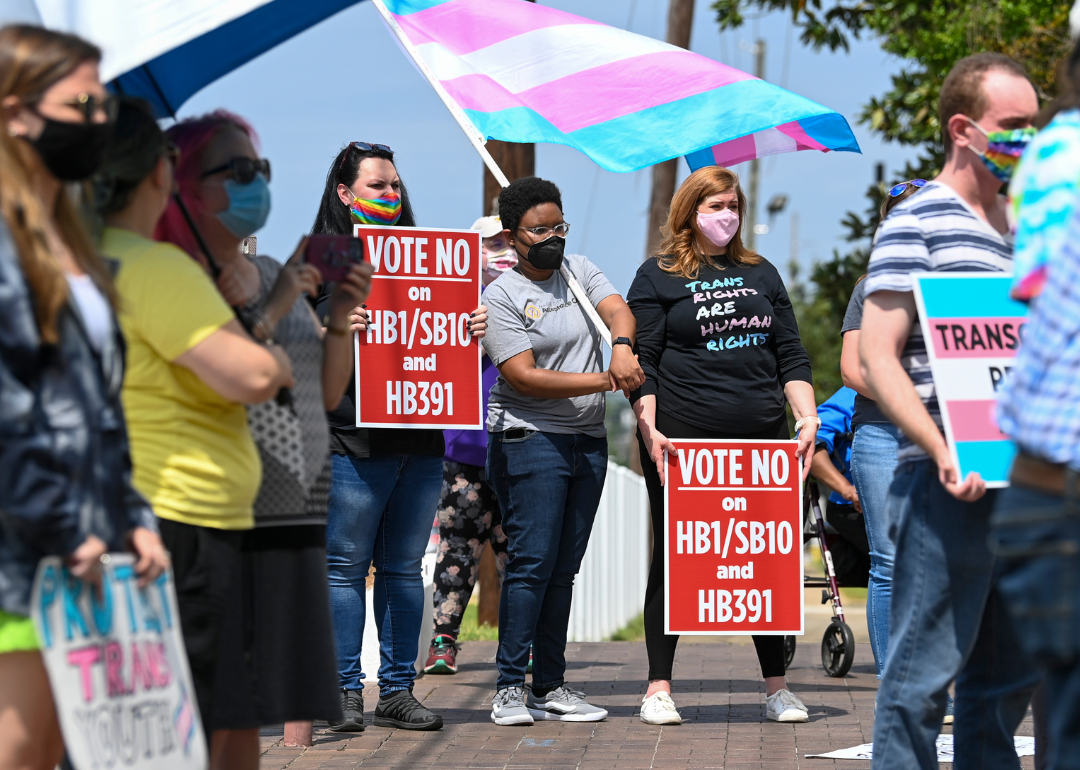 Julie Bennett // Getty Images
Health care
Opponents of several bills targeting transgender youth at Alabama State House.
– Number of bills during 2023 legislative session: 116
Anti-transgender health care laws limit or outright ban gender-affirming medical care both for young people and adults, and almost always disproportionately impact low-income trans and nonbinary people.
One way in which some states use anti-trans health care laws to target poorer trans people is by limiting or banning insurers—including Medicaid—from covering gender-affirming health care like hormone therapy, surgery, and fertility services. Despite Medicaid's federally guaranteed sex and gender discrimination protections, very few states mandate the coverage of all gender-affirming health care services under Medicaid. In Texas and Alabama, no gender-affirming services are covered.
Other anti-trans health care laws specifically target trans youth by banning gender-affirming care for minors. In Utah, Arkansas, and Alabama, bans on gender-affirming care have already passed, and similar bills have been proposed in many other state legislatures. Some bills go so far as to open health care providers to potential lawsuits or even criminal charges for giving gender-affirming care to young people.
Anti-trans health care bills continue to crop up in states across the country, despite overwhelming evidence from the nation's leading medical and scientific organizations that gender-affirming care is medically necessary, safe, and beneficial to trans and nonbinary people.
---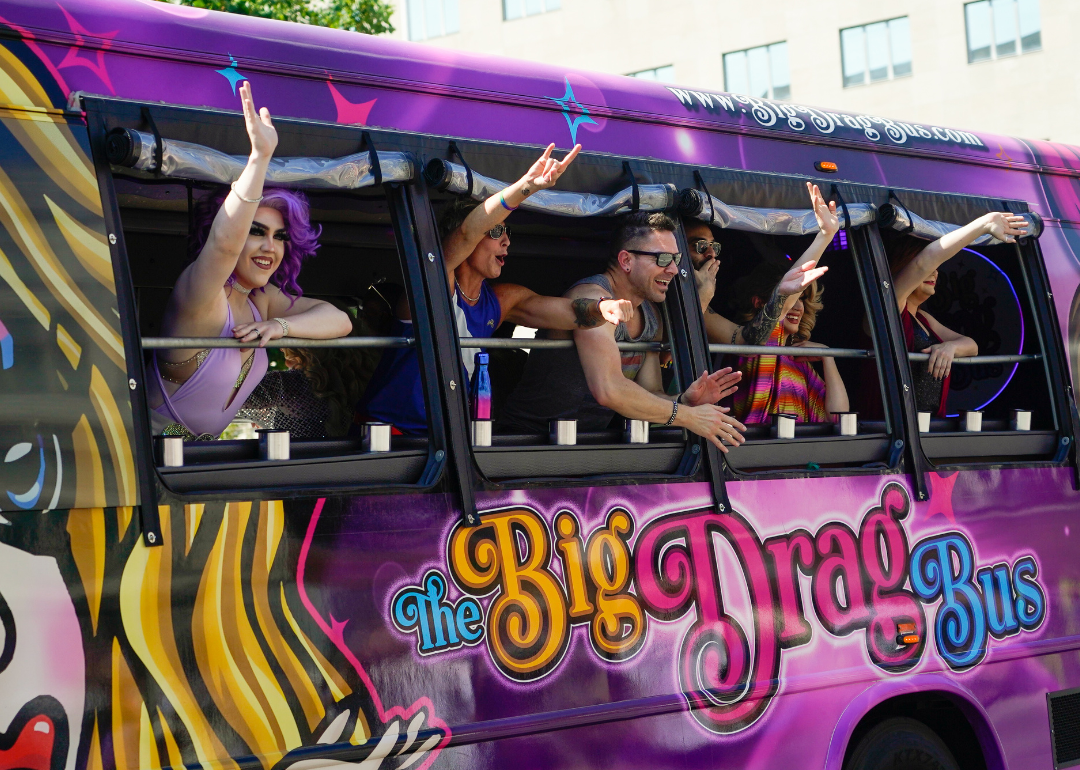 Mickey Bernal // /Getty Images
Free speech and expression
Drag performers waving out the windows of The Big Drag Bus at the Nashville Pride parade.
– Number of bills during 2023 legislative session: 41
Many of the dozens of anti-trans bills limiting free speech and expression introduced over the past two years target drag performers and shows. The bills call them "adult cabaret performances" and use language that relegates drag to categories including obscenity and pornography, and even erotic performance—language that suggests exposure to drag is dangerous for minors.
While these laws directly threaten drag performers, the vagueness of the language used has made it unclear whether people who appear to be gender nonconforming while in public will also be at risk of prosecution. The ACLU of Tennessee's Henry Seaton called the Tennessee drag ban a "subtle and sinister way to further criminalize just being trans."
Anti-trans legislation that curtails free speech and expression also includes bans on or censorship of books or other materials that deal with transgender or LGBTQ+ subject matter. Bills that would ban schools and public libraries from offering books with themes exploring nonheterosexual orientation and gender identity have been proposed in states including Indiana, Mississippi, Iowa, and Missouri. So far, most of these bills have failed to pass.
---

Stephen Zenner/SOPA Images/LightRocket via Getty Images
Civil rights
Transgender rights advocates holding a pride flag outside the Ohio Statehouse.
– Number of bills during 2023 legislative session: 32
Legislation attempting to protect religious freedom at the expense of LGBTQ+ civil rights is hardly unprecedented. Over the past decade, dozens of bills have been introduced that seek to use loopholes—including religious expression—in established anti-discrimination laws to deny LGBTQ+ people services, rights, and freedoms. These have included the issuance of marriage licenses—even after the Supreme Court ruled in favor of LGBTQ+ marriage—and matters regarding business owners, adoption and foster care agencies, and access to health services.
More recently, anti-trans bills targeting civil rights have reemerged, using similar logic to allow businesses, employers, and even medical providers to turn away LGBTQ+ people based on religious or "moral" beliefs.
Lawmakers in Iowa, Idaho, Missouri, and many more states, have proposed bills offering protection for health care providers and facilities, including therapists and counselors. These bills would allow medical professionals to turn away people seeking help if their religious or moral beliefs do not align.
The text of Iowa's proposed bill SF 297, which essentially codifies discrimination by health care providers, reads, "It is the public policy of the state to protect the religious beliefs and moral convictions of healthcare providers as a necessary prerequisite to healthcare providers acting in good faith to fulfill their professional obligation to do no harm."
Some states have gone one step further. A bill that passed the Tennessee Senate would define sex assigned at birth as "biological" and "immutable," a definition that could cost the state over $1 billion in federal education funding since it conflicts with federal nondiscrimination laws. If enacted, the bill would exclude trans, nonbinary, intersex, and other members of the LGBTQ+ community from state-level civil rights protections.
---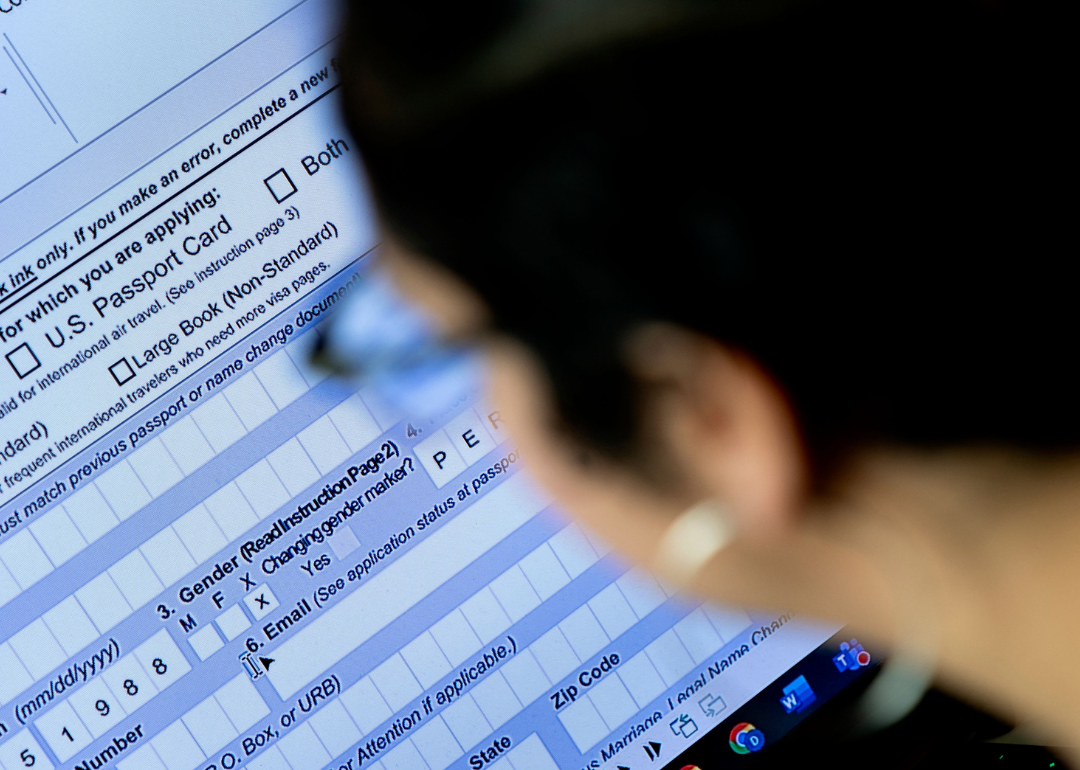 STEFANI REYNOLDS/AFP via Getty Images
Accurate IDs
Close up on a passport application with an X gender marker.
– Number of bills during 2023 legislative session: 15
As of March 21, 2023, there are 13 proposed bills active in state legislatures that would ban the modification of gender markers on government-issued IDs and records, including driver's licenses and birth certificates. These bills make it so that trans, nonbinary, and intersex people cannot change their gender markers to match their gender identity, which can put them at risk of harassment or violence by outing them to whoever is examining their IDs.
The impact of this type of legislation is particularly troubling when considering that situations in which personal identification is scrutinized are often already vulnerable: in interactions with police and other law enforcement, when voting, and while traveling.
Already, the ramifications of incorrect identification have been observed in the disenfranchisement of transgender voters in the 35 states that have voter ID laws in place. Over recent years, there have been reports of harassment or public challenge of trans and nonbinary voters with IDs that did not match their gender expression or name, effectively intimidating these individuals into staying home and removing their agency to cast a ballot. Incorrect identification can also further endanger trans and nonbinary people during encounters with law enforcement, a significant issue when considering that transgender and other LGBTQ+ people are already disproportionately stopped by police.
There is a precedent for courts throwing out gender marker modification bans. In 2020, a federal court overturned a similar ban in Idaho. The court stated the ban "denies transgender individuals a meaningful process for changing the sex listed on their birth certificate."
You may also like: Interstate highways with the most fatalities
---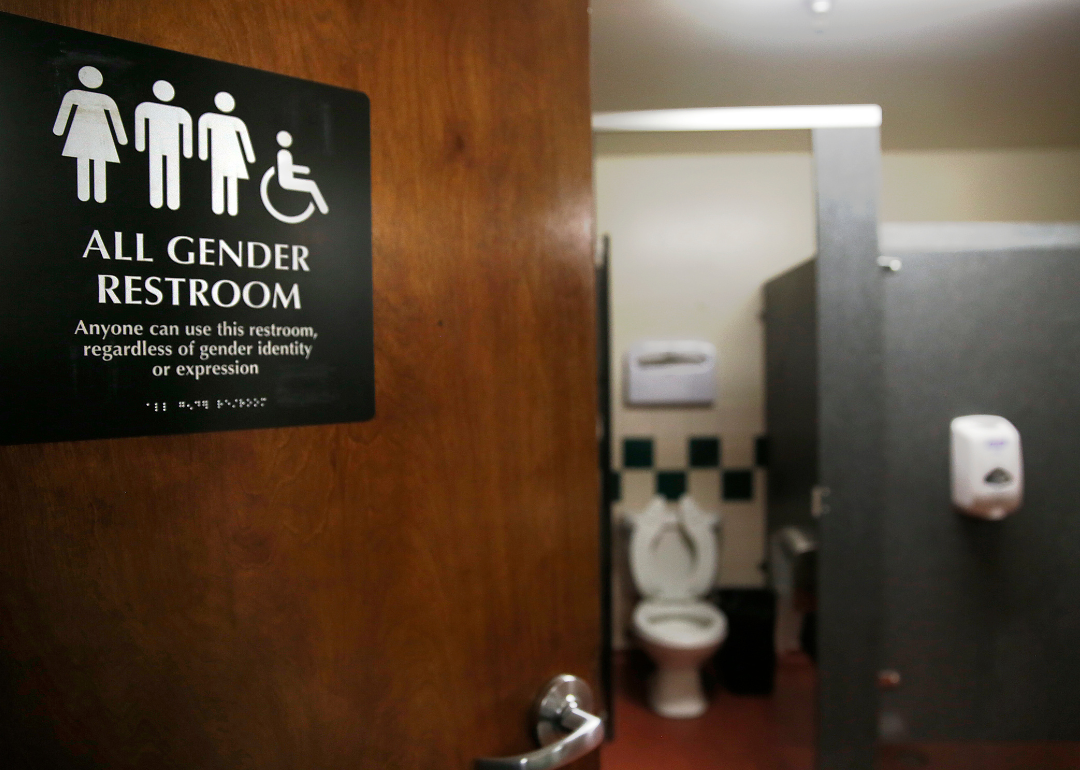 Liz Hafalia/The San Francisco Chronicle via Getty Images
Public accommodations
All gender restroom sign.
– Number of bills during 2023 legislative session: 8
Anti-trans public accommodations bills make spaces like bathrooms, locker rooms, shelters, and other public places inhospitable for use by transgender and nonbinary people. "Bathroom bills" surged in popularity in 2016, mirroring North Carolina's passage of House Bill 2 that same year, which made it illegal for trans and nonbinary people to use restrooms and locker rooms aligned with their gender identity.
Proposed bathroom bills have seen a resurgence in early 2023 in state legislatures, including Indiana, Arkansas, North Dakota, and Florida. Much of the legislation introduced uses language like "sexual indecency" to describe a person using a bathroom of the "opposite sex," and revolves around the so-called danger of children being in bathrooms or other public accommodations with people of a different assigned sex.
In addition to targeting trans, nonbinary, intersex, and gender nonconforming people, this could impact cisgender parents accompanying children of different genders into restrooms.
Many proposed bills allow people to file criminal charges against those using a bathroom different from their assigned sex at birth. In North Dakota, the jurisdiction of its proposed legislation extends far beyond bathrooms and locker rooms. It also includes shower rooms in state universities, correctional facilities, and even domestic abuse shelters.
---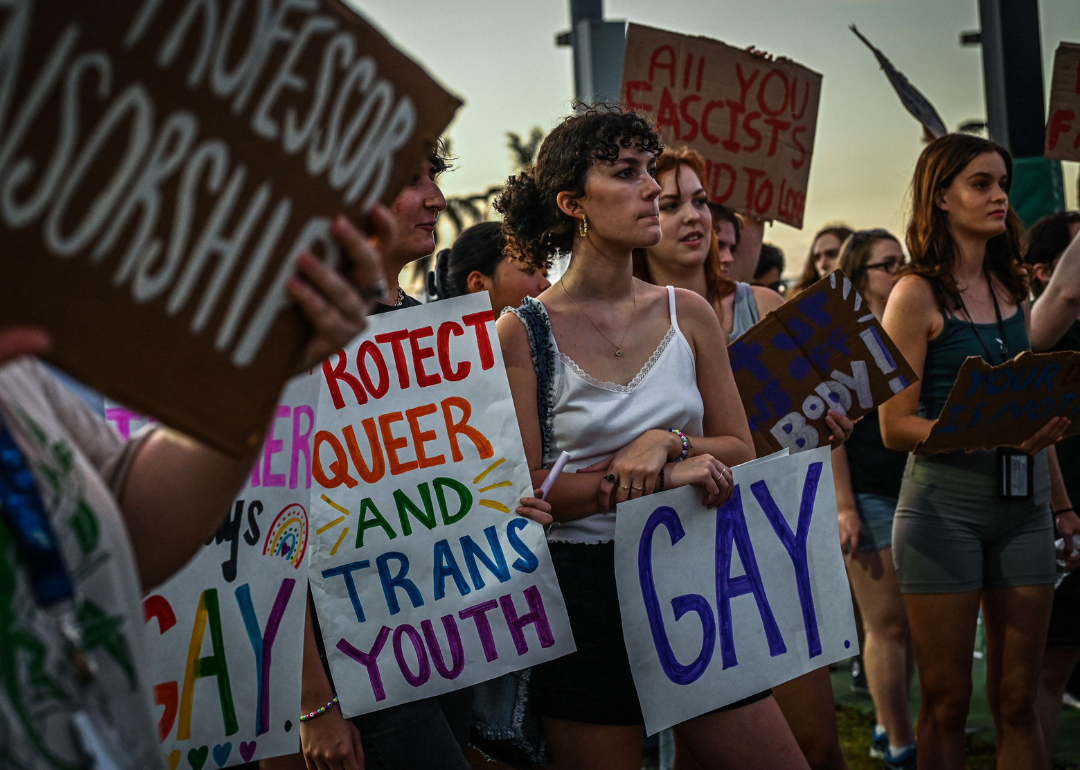 GIORGIO VIERA/AFP via Getty Images
Other anti-LGBTQ+ bills
LGBTQ rights supporters protest against Florida Governor Ron DeSantis.
– Number of bills during 2023 legislative session: 54
Other types of bills impacting trans and LGBTQ+ rights have also seen a surge, particularly in conservative states. They range from bans on marriage to control of state funds for inclusivity efforts.
In Iowa, House File 616 was introduced in March 2023, which would prohibit the state's board of regents from using funds on diversity, equity, and inclusion initiatives in higher education. The bill specifies public colleges and universities in the state cannot officially promote viewpoints that reference concepts, including "unconscious or implicit bias, cultural appropriation, allyship, transgender ideology, microaggressions, group marginalization, anti-racism, systemic oppression, social justice, intersectionality, neo-pronouns, heteronormativity, disparate impact, gender theory, racial privilege, [and] sexual privilege."
In Florida, a controversial bill that would redefine defamation laws has been criticized by many as a grave threat to free speech and an attack on the press and others who are critical of politicians and other public figures.
The bill challenges long-held precedents around defamation to make it so public figures accusing the anyone of defamation would no longer need to prove the accused acted with malice—and would presume statements from anonymous or unnamed sources to be false. Critics of the bill fear those who speak out about LGBTQ+ rights infringement in the state will likely be targeted by defamation suits.
---