Online college enrollment is on the rise: What brings students to virtual campuses?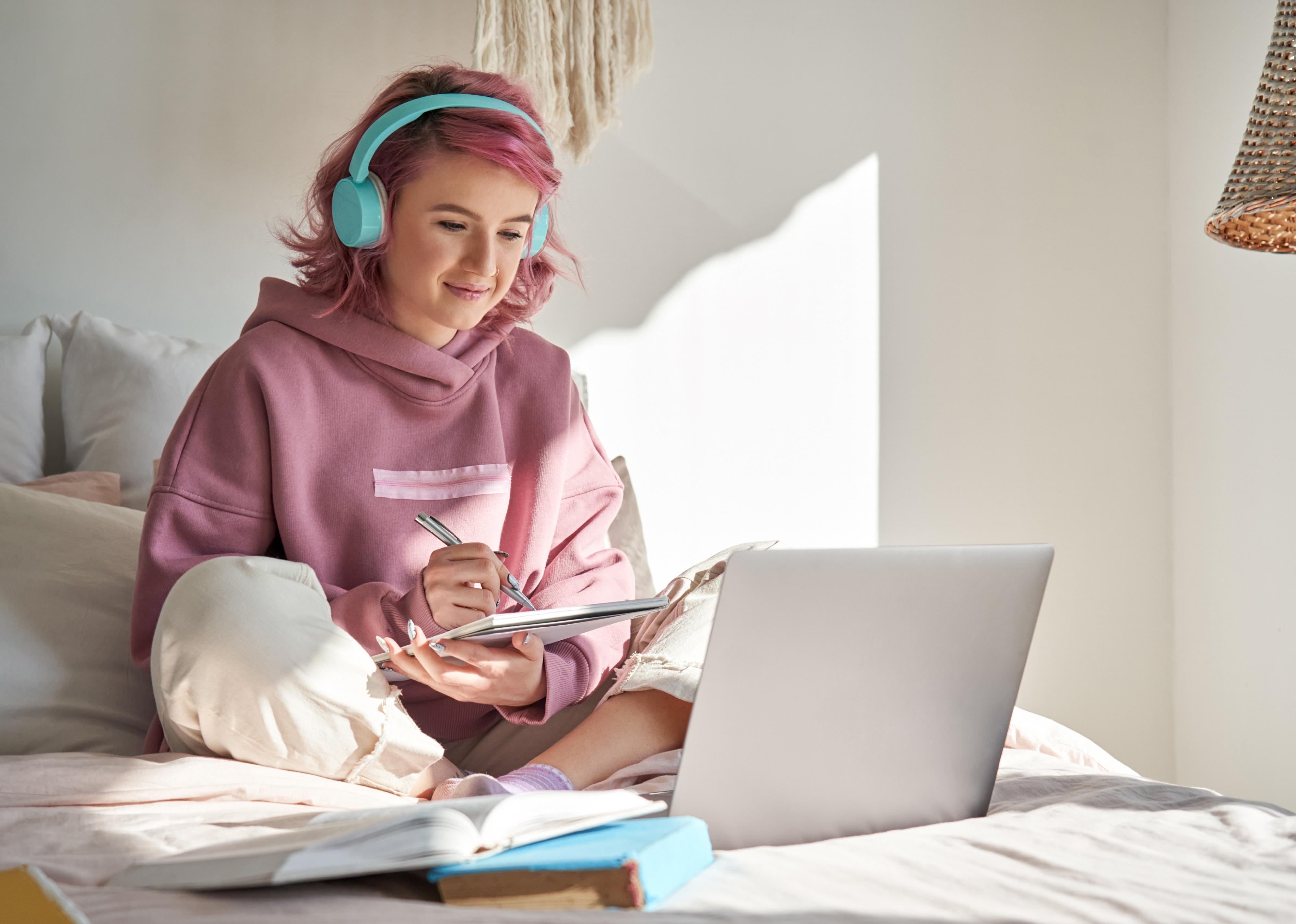 Ground Picture // Shutterstock
Online college enrollment is on the rise: What brings students to virtual campuses?
Student with pink hair with headphones takes notes while watching online webinar.
Going away to college isn't for everyone—an increasing number of students are opting to earn their degrees online. When colleges had to shift to online learning during the COVID-19 pandemic, many students found they benefited more from online classes versus a traditional classroom setting. By 2021, over half of undergraduate and graduate students were enrolled in at least some distance education courses, according to the National Center for Education Statistics.
When students opt for online—or distance—education, they use technology to take their classes. Most online learning programs are delivered via the internet using either audio conferencing or videoconferencing tools. Classes can be synchronous, where the professor and entire class are online, or asynchronous, where students watch pre-recorded lectures and do classwork on their own schedules. Some schools offer hybrid learning, a mix of in-person and online classes.
Before the pandemic, online learning programs were typically for people going back to school to augment or change their career or pursuing a graduate degree to enhance their career while they work. That attitude is shifting as students juggle learning with jobs, family responsibilities, and commutes. In California, 4 in 5 community college classes were in person before the pandemic. By 2021, just 1 in 4 were in person, while 65% were online, according to the California Community Colleges Chancellor's Office.
Younger students are also opting for online classes. EducationDynamics found in 2023 that the largest share of students pursuing undergraduate or graduate degrees online is 35 or younger. That said, 35% of students pursuing online undergraduate degrees are between 19 and 23, and 42% of online graduate students are between 30 and 35.
Will online learning become the preferred way of earning a college degree? EDsmart used data from the NCES and research from EducationDynamics to explore why participation in online classes is on the rise among undergraduate and graduate students.
---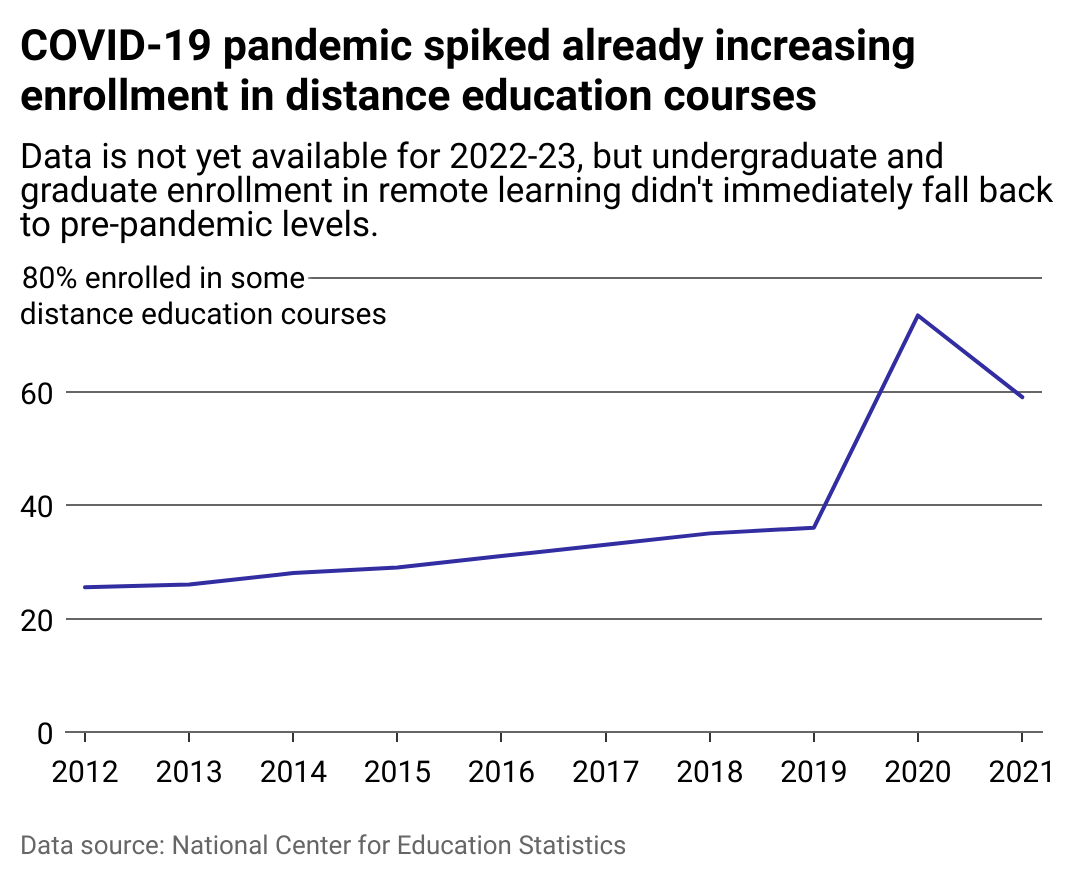 EDsmart
Remote learning was already on the rise before COVID-19
Line chart showing COVID-19 pandemic spiked already increasing enrollment in distance education courses. Data is not yet available for 2022-23, but undergraduate and graduate enrollment in remote learning didn't immediately fall back to pre-pandemic levels.
Prior to the pandemic, education technology, or "edtech," was already on the rise as companies made it easier to deliver online programs. Between 2017 and 2021, investment in the edtech sector grew from $1 billion to $8 billion, according to McKinsey. During the early days of the pandemic, lockdowns caused schools to shift to online learning, but even in the fall of 2020, many private and public schools still opted to offer remote options for public health reasons.
In 2021, online learning enrollment dropped as more schools brought back in-person classes, although many still had hybrid or remote programs. Because 2022 data is not yet available, it's too soon to tell whether most students continued taking some classes online or if the numbers of online learners fell back to pre-pandemic levels.
---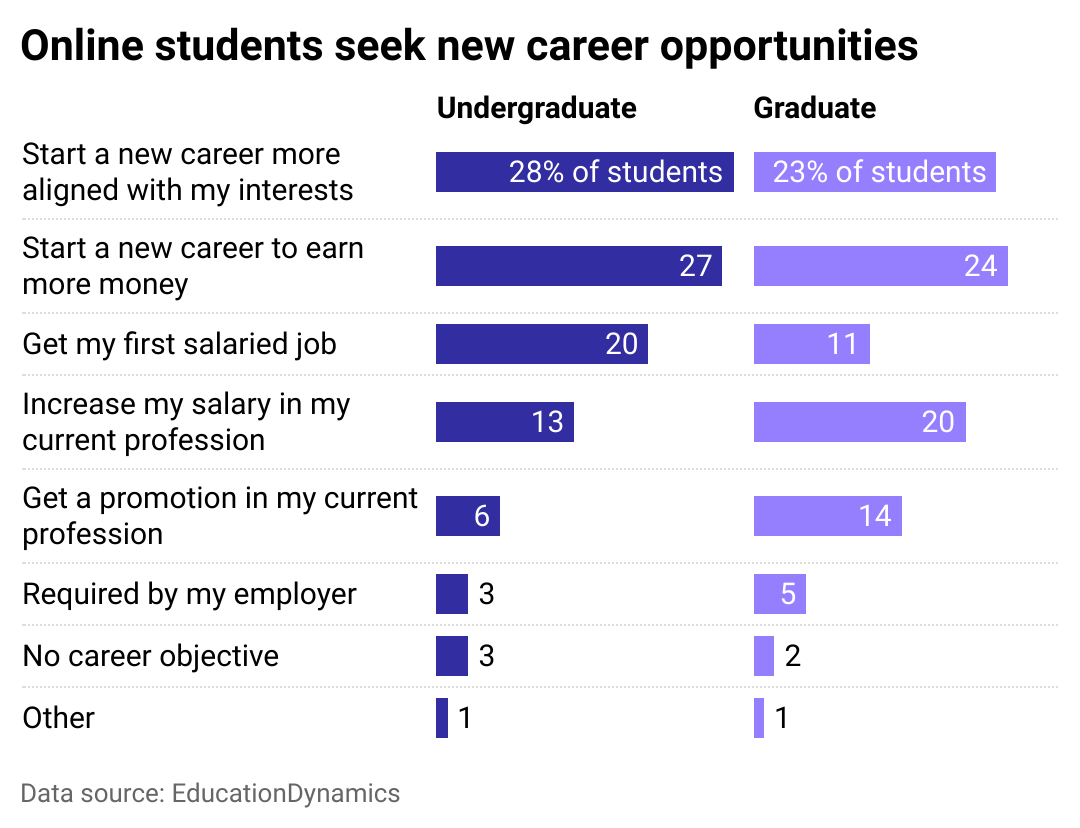 EDsmart
New career opportunities are on most online students' minds
Split bar chart showing leading career-oriented reasons for attending online school among graduate and undergraduate students. About a quarter wish to start a new career.
Many students opt for online learning to earn a degree while managing a busy life, and they're used to the demands of higher education. According to EducationDynamics, most online students have previous college experience, with 3 in 5 returning to school within two years. Career changes are a big reason to return to school—4 in 5 online students already have part- or full-time jobs and typically opt for programs in business, healthcare, and information technology to help them find better career opportunities.
Flexibility is also a key factor for students who choose online programs. It may be no surprise then that 3 in 5 undergraduates and nearly just as many graduate students (57%) also prefer asynchronous online learning programs.
Story editing by Jeff Inglis. Copy editing by Paris Close. Photo selection by Clarese Moller.
This story originally appeared on EDsmart and was produced and
distributed in partnership with Stacker Studio.
---