Opioid prescriptions are down from a decade ago, but regional disparities remain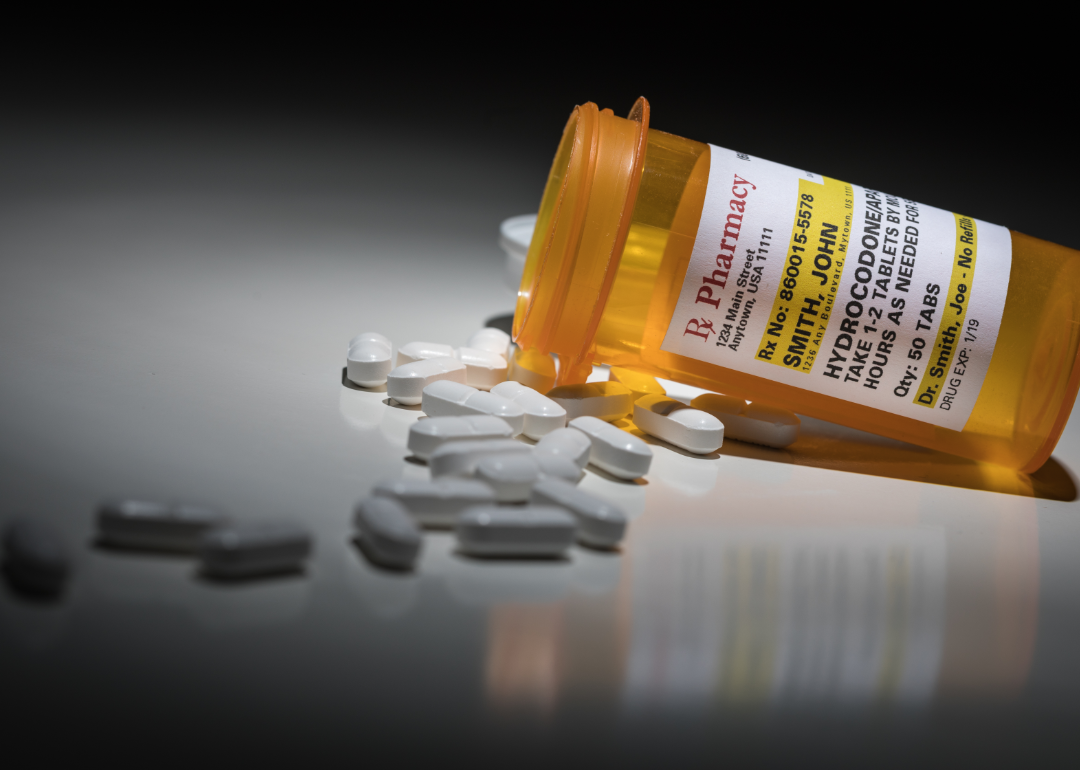 Canva
Opioid prescriptions are down from a decade ago, but regional disparities remain
A prescription bottle for Hydrocodone on its side with pills spilling out.
When Purdue Pharma first began sales of OxyContin in the late 1990s, it was advertised as relief for cancer patients and people with chronic pain. Aggressive marketing fueled the drug's popularity, along with that of other opioid pain management drugs on the market. But as the company touted OxyContin to physicians, it downplayed the drug's addictiveness, according to confidential Justice Department reports obtained by news organizations, leading to widespread use that has fueled an opioid epidemic across the U.S.
More than 645,000 people have died from opioid-related overdoses between 1999 and 2021, according to the Centers for Disease Control and Prevention. Provisional data shows just under 80,000 people died in 2022 alone.
Opioid prescriptions have decreased dramatically over the past decade as physicians and public health officials learned about the dangers of OxyContin and other opioids prescribed for pain management. In 2020, the most recent year with data available, the national opioid dispense rate reached 43.3 per 100 people, the lowest rate ever recorded. 
A 2022 study funded by the National Institute on Drug Abuse found that counties with higher dispensing rates had more cases of opioid misuse and dependence. The study suggested that reducing prescriptions at the local level can lower a community's rate of opioid abuse or misuse.
Other studies, however, have suggested that decreasing prescriptions may have fueled a new phase of the opioid epidemic: the rise of synthetics like fentanyl. In 2020, synthetics accounted for 82% of all opioid deaths.
Using data from the CDC, Ophelia explored the state of prescription opioid dispense rates across the U.S. amid a national record low. It's also important to note that, as awareness has grown about the dangers of dispensing opioid prescription painkillers, more health care professionals are also prescribing medications like suboxone–which contains buprenorphine and naloxone—for the treatment of addiction and opioid use disorders. While suboxone is also an opioid medication, it works differently than typical opioid painkillers, blocking the effects of more powerful and addictive opioids to deter intentional misuse.
---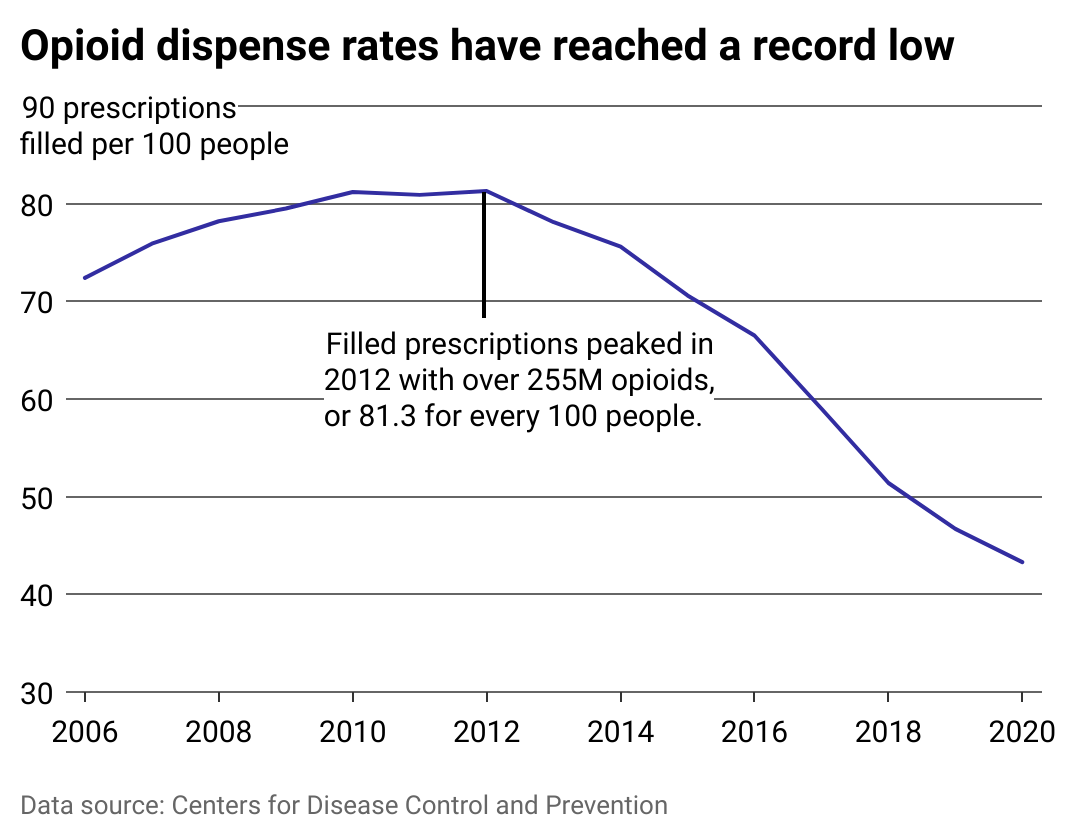 Ophelia
Dispense rates are now at a record low
Line chart showing opioid dispense rates have reached a record low. Dispenses peaked in 2012 with over 255 million opioids, or 81.3 for every 100 people.
While opioid prescriptions for pain management have fallen, the scale of opioid misuse and overdoses has accelerated in recent years. Overdose deaths from prescription drugs began to plateau in the 2010s, but waves of deaths from illegally sold heroin and synthetic opioids followed.
As physicians have become more cautious about prescribing opioids for pain, their efforts to treat opioid addiction and misuse have grown. An analysis from Kaiser Family Foundation found that prescriptions for medications treating opioid use disorder and reversing overdoses doubled between 2016 and 2019.
The Consolidated Appropriations Act, passed in 2022, is a federal law expected to further support these efforts by expanding the number of providers allowed to prescribe medications such as Suboxone for treating opioid use disorder, improving insurance coverage for such medications, and doling out grants to states most affected by opioid addiction.
---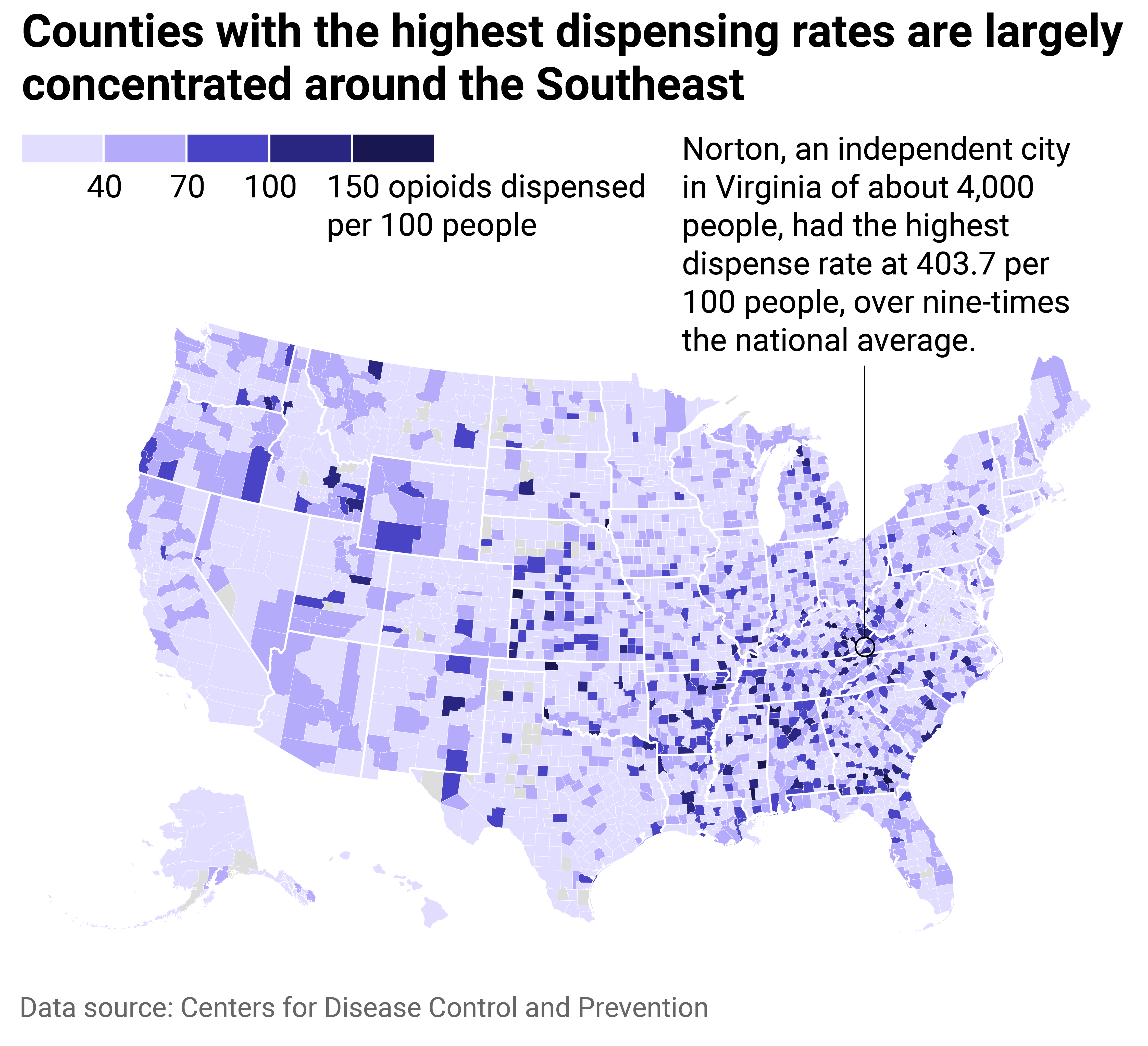 Ophelia
Some counties are significantly above the national average
County Map showing counties with the highest dispensing rates are largely concentrated around Southeast.
Predominantly white towns and small cities often see the highest rates of opioid prescriptions, according to the CDC. These regions also tend to have more physicians per capita, more uninsured people, and a higher prevalence of diabetes, disabilities, and arthritis. 
All 50 states have implemented prescription drug monitoring programs that track patient prescription history so physicians can identify patients who are potentially at risk of misusing opioid medication. However, research has shown the effectiveness of such programs is mixed and physicians should provide patients with treatments to wean dependence rather than just avoiding opioid prescriptions.
However, even as prescriptions of addiction recovery medications increase, a shortage of physicians certified to treat any addiction remains, especially in the regions most affected by the opioid epidemic.
Data reporting by Emma Rubin. Story editing by Jeff Inglis. Copy editing by Tim Bruns. 
This story originally appeared on Ophelia and was produced and
distributed in partnership with Stacker Studio.
---