About 1,500 gather for 'A Voice Against Crime' Walk in El Paso's Lower Valley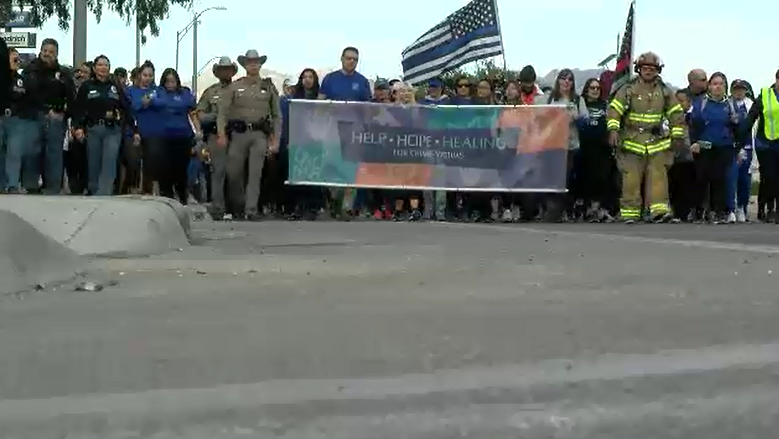 EL PASO, Texas -- About 1,500 people gathered for the 13th annual "A Voice against Crime" Walk hosted by El Paso County District Attorney Jamie Esparza on Sunday.
The 5-mile walk is a somber reminder of the pain so many local families have been through. It started at Ascarate Park and ended at the Crime Victims' Memorial in the Lower Valley.
Whether the violent crime was of a domestic kind or random, people who attended honored and remember those lives lost.
"Nobody should have to go through this," said Charlotte Taylor, a mother who lost her daughter to a violent crime.
In 2019, her daughter Jennifer was allegedly shot and killed by her daughter's husband. "It helps to share some of the feelings and here what other people are also going through," Taylor said.
Another person who attended is Jessica Miller, the niece of Robert Narro. Narro was a El Paso code compliance officer who was struck and killed back in 2014. She said while the walk is painful, it brings her family together to remember the life her uncle lived.
"We feel the love and the unity of all the other families that have experienced this kind of loss and we just feel the hope," Miller said.
The walk is a bittersweet moment for Esparza.
"This is an important walk its important to us to make sure the voice of the victim is heard in the community and especially in our court room," Esparza said. "It is hard but its a story that has to be told. What we know is that these victims are survivors. They hurt but they have to move forward," he added.
Taylor and Miller both agree that walks like the one held Sunday help ease the pain. "You see that you're not the only one going through it," Taylor said.