How sustainable is your company? 8 things to look for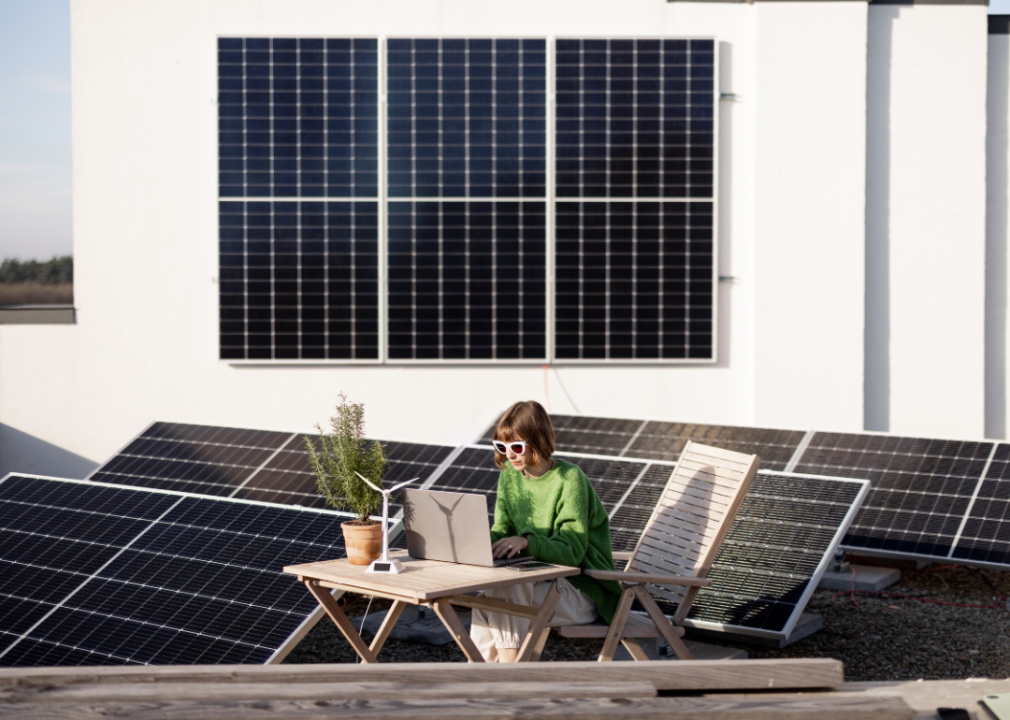 Canva
How sustainable is your company? 8 things to look for
A woman working on a laptop on a rooftop covered in solar panels.
These days, going green isn't just good for the environment; it's good for business too.
Not only can it save companies money on operational costs and utilities, but it can attract talent. Nearly 7 in 10 workers are more willing to apply for and accept a job offer at a company they consider environmentally sustainable, according to a 2021 IBM survey. Almost half of workers would even take a lower salary to work for a company they view as environmentally sustainable and socially responsible.
It should come as no surprise, then, that the demand for green office buildings is on the rise in major cities across the globe as employers look to attract top talent. Four major U.S. cities—Chicago, Houston, New York, and San Francisco—already have more than 40% of their office space certified green, per a report from real estate company Savills.
While it's easier to track energy efficiency in these new certified green office buildings, there are still upgrades for older buildings that can make a difference in limiting their environmental impact.
Some practices might mirror what employees would do at home, like recycling bins next to trash receptacles. But others that may be larger scale or less easy to spot, like what kinds of windows are installed and how quickly water flows from the faucets.
To help identify whether a company prioritizes sustainability in its workplace, Firmspace compiled a list of eight things you can look for to determine whether it is striding toward sustainability.
---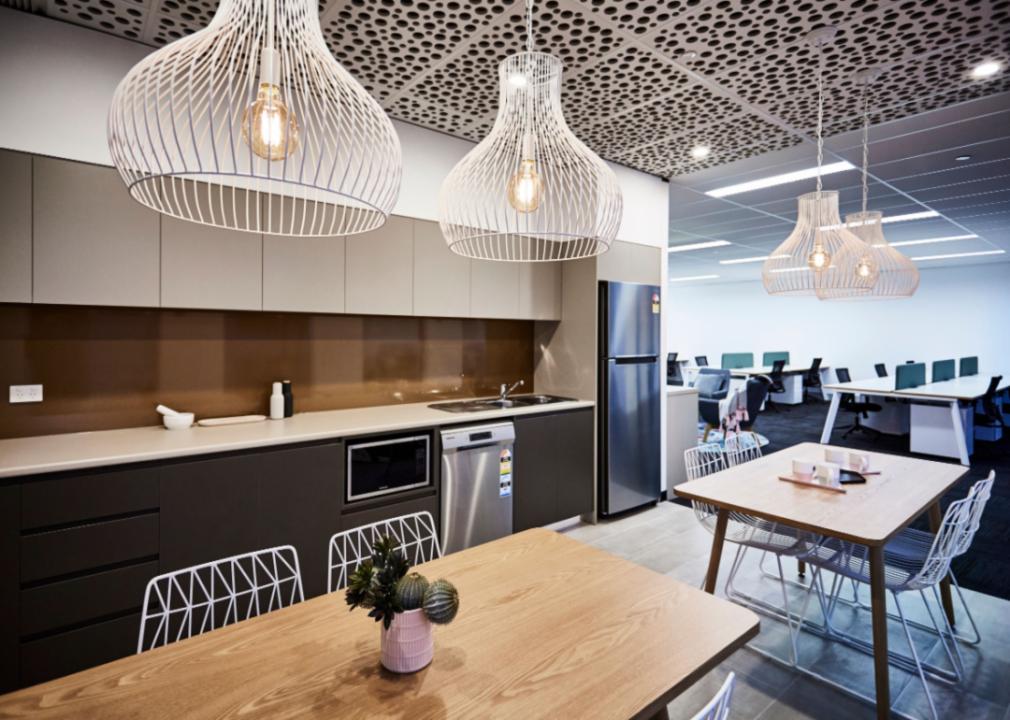 PhotoMavenStock // Shutterstock
Energy-efficient appliances
A modern office kitchen.
Energy-efficient appliances are typically designated with an Energy Star label, symbolizing that they meet the requirements of the Environmental Protection Agency. Various office equipment—computers, photocopiers, and even vending machines—can qualify. The Energy Star program has prevented 4 billion metric tons of emissions from entering the atmosphere since its inception in 1992.
---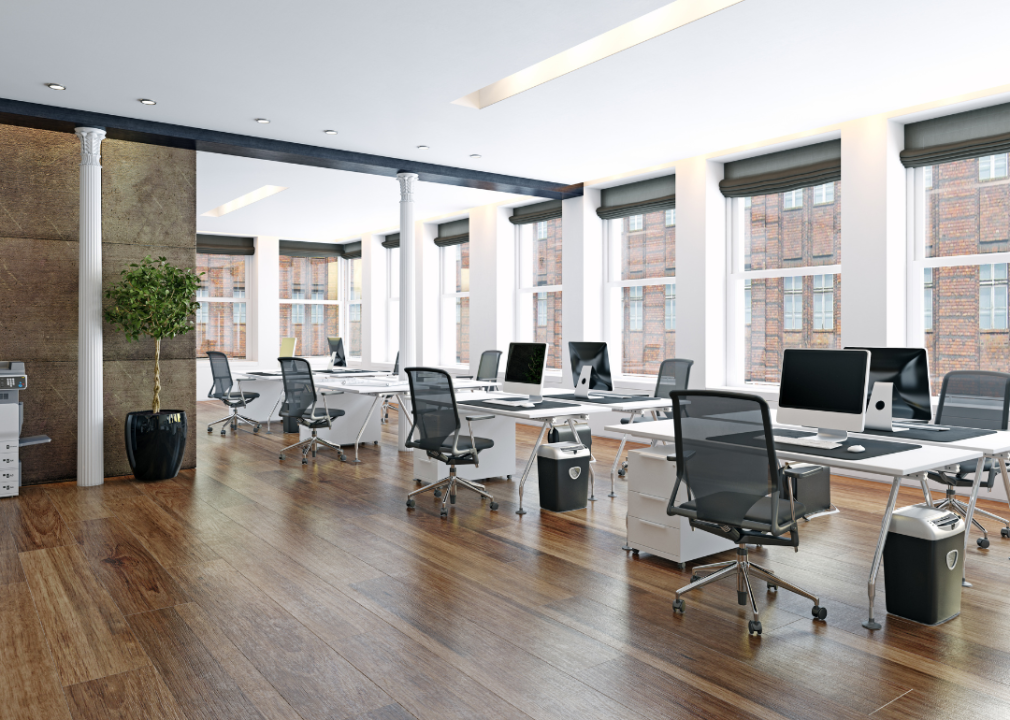 Canva
Windows
A modern office with large windows.
Energy-efficient windows can also carry an Energy Star label. Better windows could lead to a drop of 1.7% in the country's annual energy use and 1.9% in carbon dioxide emissions by 2050, according to the Department of Energy. In the summer, awnings and shades on windows can keep an office cooler and reduce the need for air conditioning.
The DOE reports commercial buildings account for 35% of electricity consumed in the U.S., so any widespread cuts could be significant.
---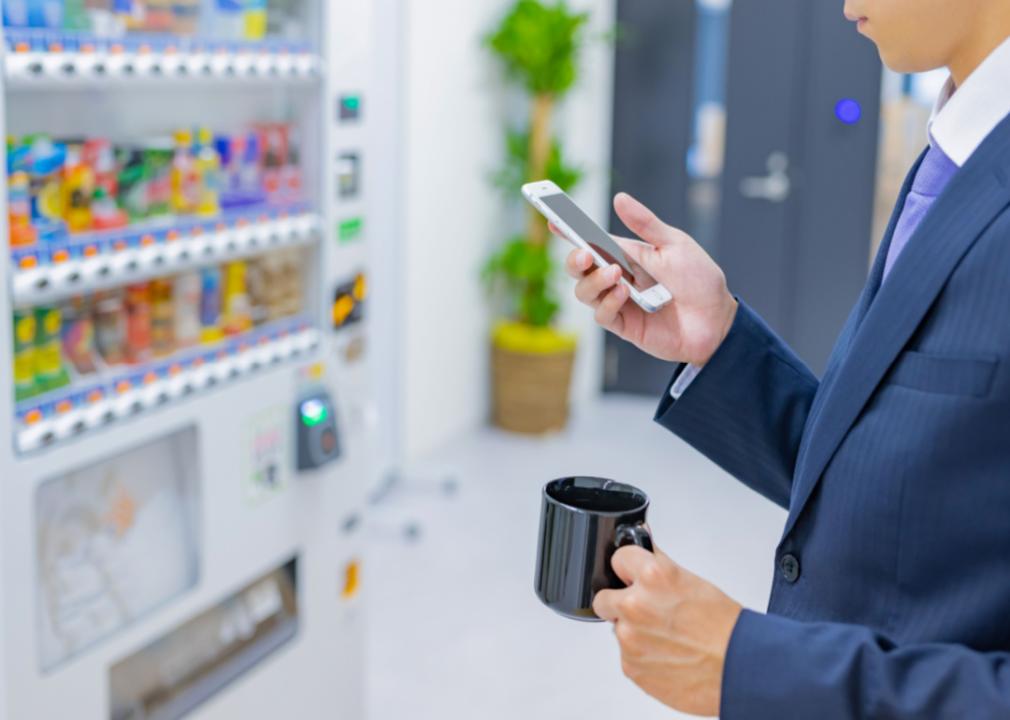 Princess_Anmitsu // Shutterstock
Kitchen supplies
A person holding a cup of coffee in an office break room with snacks in the background.
Keeping a shared kitchen well-stocked—whether it's just utensils and coffee or added perks like snacks and fruit—can add up to a lot.
Buying coffee, tea, sugar, creamer, and snacks in bulk rather than individually wrapped can reduce packaging and deliveries. Reusable plates, bowls, cups, mugs, and utensils save on single-use plastics. Workplaces can also encourage drinking filtered tap water instead of bottled water, which can have an outsized impact on natural resources.
---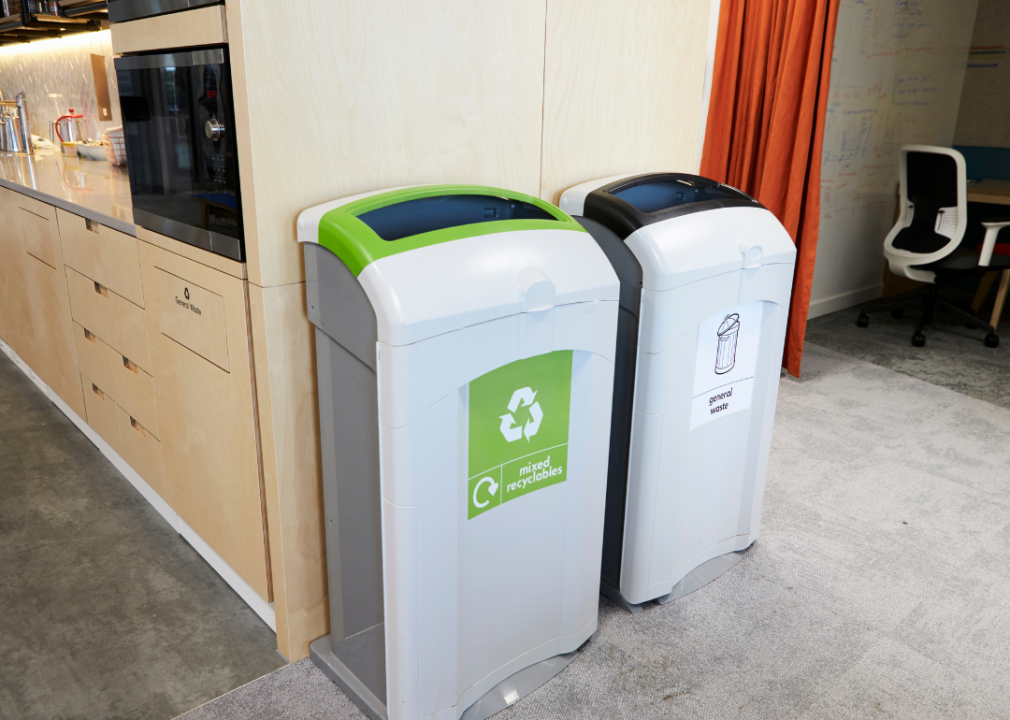 Canva
Recycling
Recycling and trash bins in a modern office.
Does the office have recycling bins wherever there are trash containers? Are they marked with what can and cannot be recycled? The easier it is to recycle, the greater the chances of participation.
Offices are notorious for having a stockpile of broken or outdated computers, monitors, conference phones, cords, mice, printers, and other electronic devices. Check if there is an e-waste program that recycles or donates old equipment.
---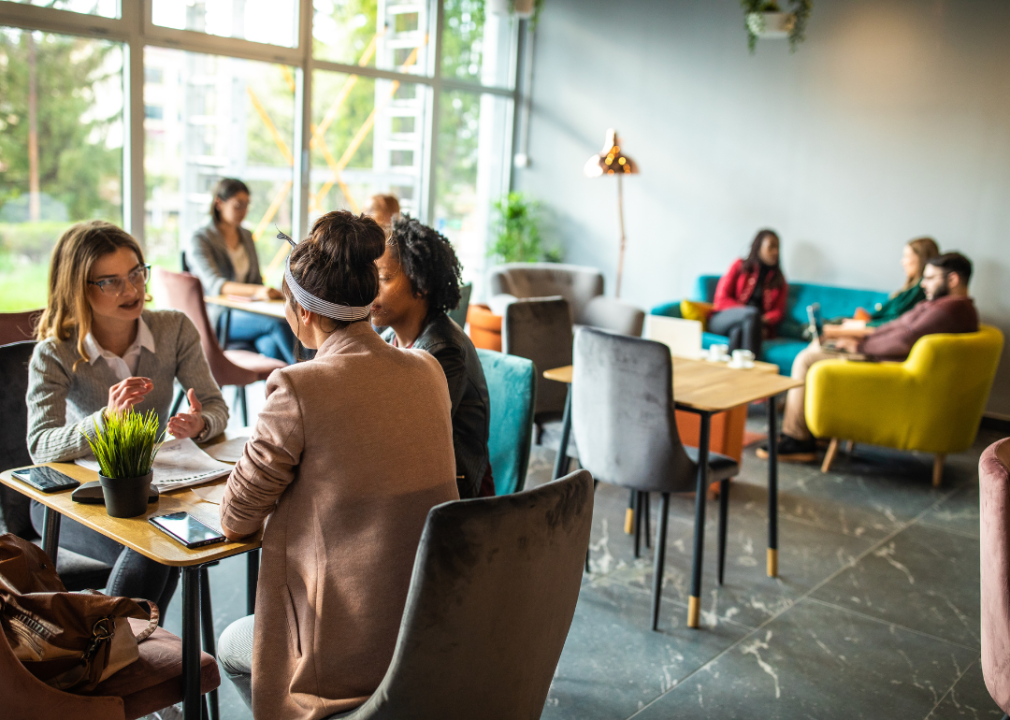 Canva
Employee sustainability team
Co-workers meeting in colorful chairs in an open room with big windows.
Are decisions impacting employee well-being and physical workspaces only left to upper-level management?
An employee sustainability team is a good sign employees are encouraged to participate and invest in improving their workplace. It can not only allow workers to identify green initiatives and propose them to leadership, but it can also make those initiatives everyone's responsibility.
Once employees take ownership of a company's sustainability, they're more likely to successfully engage in their workplace.
---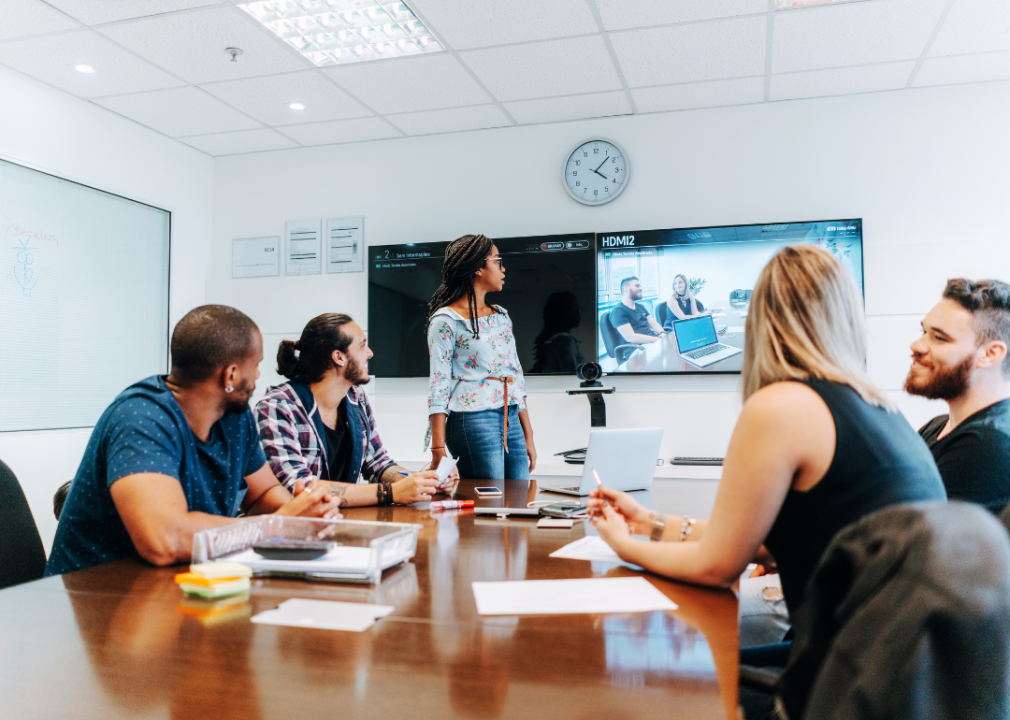 Canva
Reducing paper by going digital
People around a conference table looking at a screen.
Now that many documents don't need to be printed, employees can share notes via Google Drive or send memos by email. Meeting agendas, financial reports, and presentation decks can be displayed on a shared screen instead of printed out. Software programs can analyze an office's use of printers and suggest alternatives.
---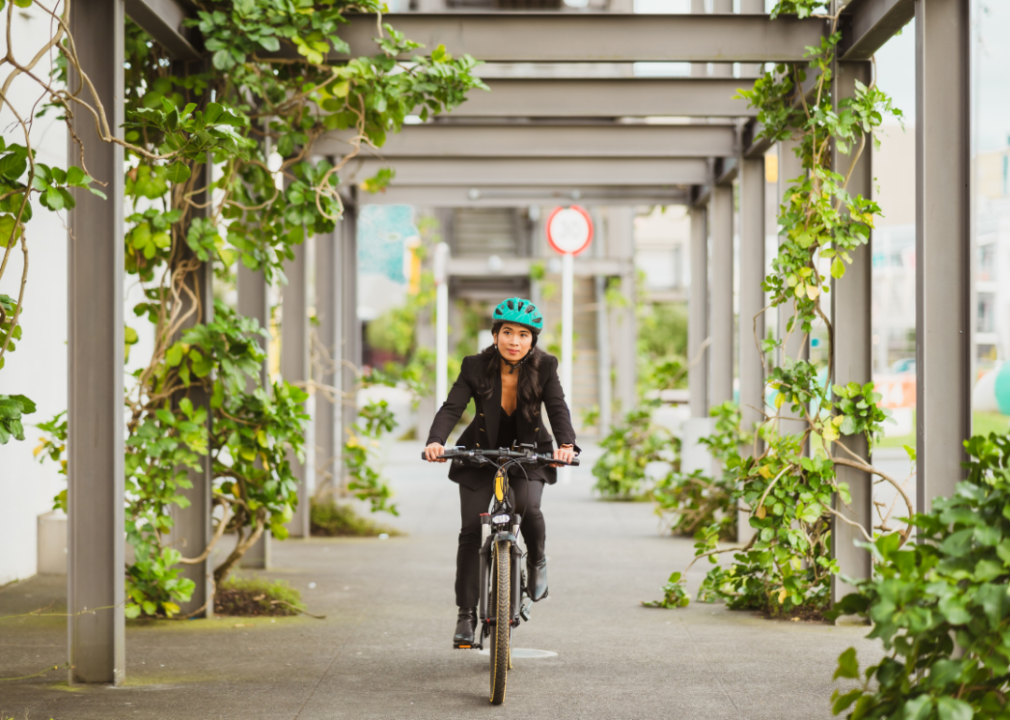 Canva
Better commuting
A woman riding an e-bike to work.
There are several ways companies can help employees lessen the impact their commutes have on the environment. They can provide channels for employees to connect about carpooling, offer discounted or subsidized public transit passes, or install bike racks in secure areas. Another idea could be installing charging stations for employees using electric vehicles.
---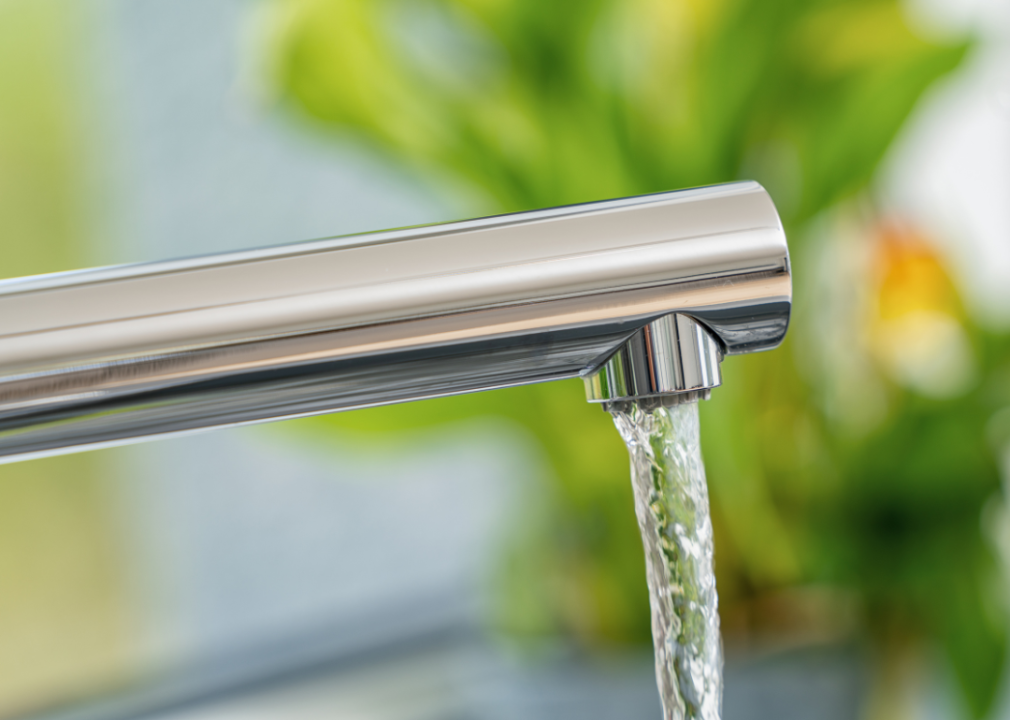 Canva
Water usage
A water faucet.
High-efficiency faucets and toilets can save companies money on their water bills while helping save the environment. The Federal Energy Management Program reports that "toilets and urinals can account for nearly one-third of a building's water consumption." Older toilets can use up to 7 gallons of water per flush, the EPA reports, while WaterSense-labeled toilets use no more than 1.28 gallons per flush.
Story editing by Ashleigh Graf. Copy editing by Paris Close. Photo selection by Lacy Kerrick.
This story originally appeared on Firmspace and was produced and
distributed in partnership with Stacker Studio.
---