Keeping your child safe from online dangers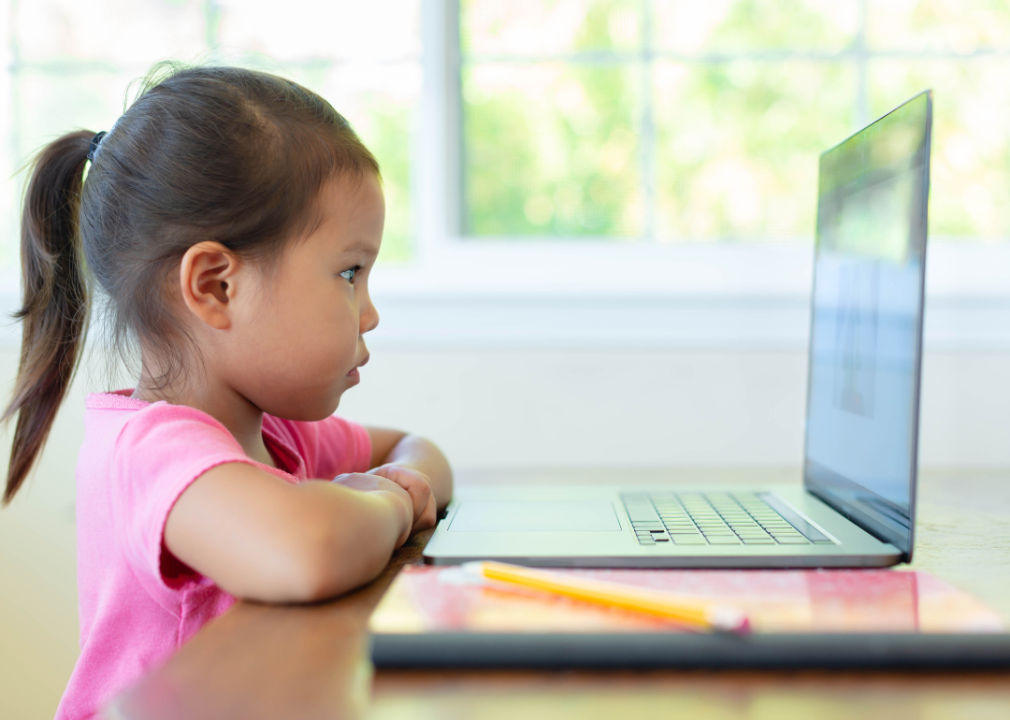 Canva
Keeping your child safe from online dangers
A young girl sits in front of a laptop
In many ways, digital devices are a godsend for busy parents stretched thin by work and other day-to-day duties. Screen time can be the perfect way to keep their children occupied for a moment or longer to finish something, whether it's fixing dinner, doing laundry, or checking email.
But, beware. No matter what device kids may be using, many are engaged in online games involving others as players. Would-be fraudsters see this personal interaction as a golden opportunity to steal personal data.
TD Bank outlines some important online safety tips that parents can use to help keep your children and whole household safe from scammers.
Educate yourself
Online games can be a nice way to keep kids entertained, and maybe even learn something. But it's important to not only know what apps your kids are downloading but to understand them as well, especially their privacy settings.
Are there adult and kid modes, or specific privacy settings to enable? Is there a way for an outside party to contact your child through this app or game? Be particularly cautious of apps that allow for private and direct messaging. Most online scams involve a sense of urgency coupled with a need to act quickly.
Getting to know the app or game is the first step to keeping your kids safe. One example is to set up family-sharing on tablets; this way anything your children download or try to buy has to be approved by a parent first.
For more advice, check out Tips for Protecting Kids Online from the U.S. Federal Trade Commission (FTC) and use that phrase to search the web for more resources.
Educate your child
Apps and games are key ways that online predators target kids, so understanding what your kids are downloading is crucial. Email scams are popular too, and that's an area that affects teens and adults alike.
Online safety tips for children are most effective when presented as real-life examples. Tell your children not to communicate with strangers online, same as they shouldn't outside your home.
Teach them to come to you immediately with any concerns. For teens, you could show them the strange email you received, and point out the ways it doesn't add up for you: the poor grammar; the unofficial-looking email address it came from; and the urgent request that you act immediately.
Monitor your child's online activities
You might consider installing parental control tools to keep tabs on your children's online activities. Watch out for behavior changes: If your child starts talking about a new online friend or hesitates to show you their device, they may be engaging with online fraudsters.
Never respond to emotional pleas from strangers for quick action. According to the FTC, more than $2.3 billion of the losses reported in 2021 were due to imposter scams which almost always involve emotional appeals for quick action.
Good password hygiene is also crucial. Choose different passwords for every online account, ensuring they are not easy to guess, and change them periodically. Password managers are a great option. Avoid writing down passwords and never share them with others.
What to do if your child becomes a victim
If you receive mail for your child, credit card statements, or anything from the IRS addressed to them, chances are your child's identity has been stolen. It's time to take immediate action:
Call all the major credit bureaus and get credit reports for your child's name, then ask to speak with their fraud department and explain your situation and freeze your child's accounts.
Any incident involving their Social Security number should be reported to the Social Security Administration. Any IRS correspondence should prompt a call to the IRS.
If you've received bills in your child's name, contact the companies who sent them and ask for their fraud departments to explain the situation.
Be sure to file reports with your local police department and the FTC as well.
Be aware that many apps and games developed for children offer an ability to talk in real-time with anyone who happens to be there—this opens up the very real possibility that the person on the other end may be a scammer. Many online hangouts have become fraudster playgrounds. Educating yourself and your kids, employing these online safety tips for children, and staying updated on fraud prevention are all crucial to keeping them safe.
This story was produced by TD Bank and reviewed and distributed by Stacker Media.
---