5 statistics to know about the growing vegan community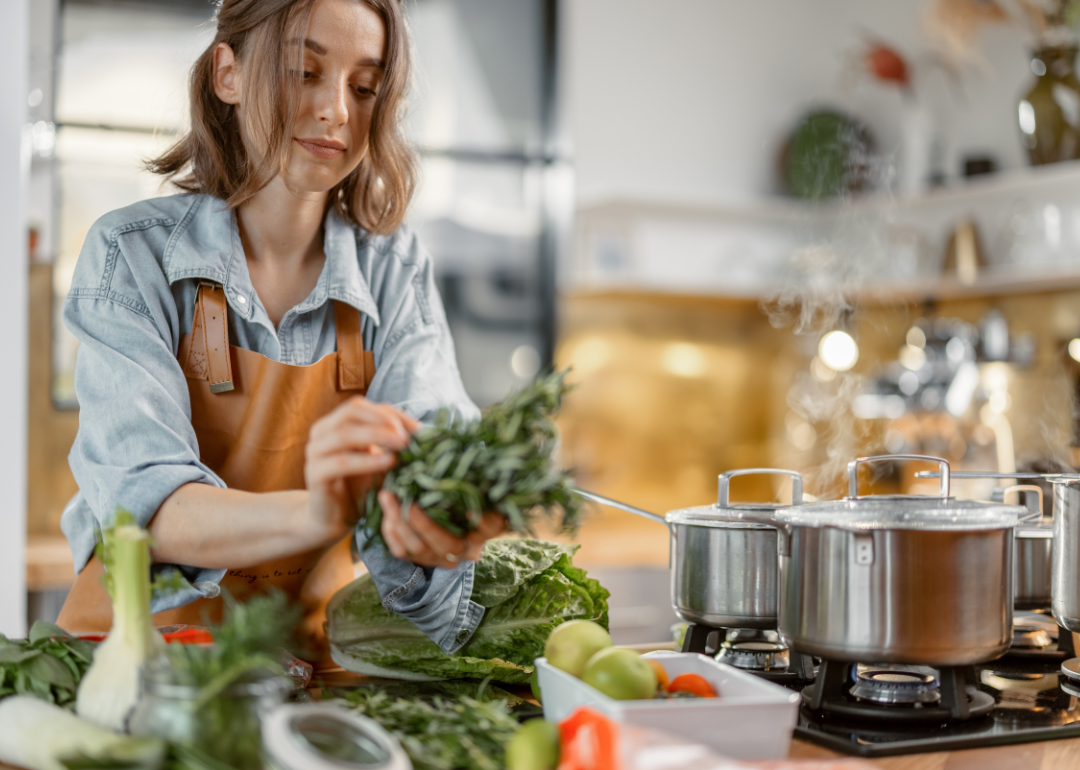 RossHelen // Shutterstock
5 statistics to know about the growing vegan community
Woman cooking healthy meal in kitchen.
Not so long ago, vegans and veganism were more likely to be the butt of a joke than a topic of serious discussion. Animal products were considered so essential to a healthy American diet that cutting out or even limiting meat or eggs was thought of as ludicrous or fringe. However, recent data shows Americans are thinking more positively about plant-based diets, and many are choosing to embrace vegan lifestyles in a myriad of ways.
People choose to go vegan for various reasons. Still, in general terms, personal health, animal welfare, and mitigating the meat industry's impact on the environment are the top motivators for the vegan-curious.
So what forces have changed these reasons from marginal to mainstream?
For starters, Americans are showing a growing interest in learning where their food comes from. Increased demand for information about food provenance—its origins and detailed understanding of its processing and production—has increased awareness about some of the unfortunate and controversial realities of meat production. Documentaries such as "Food, Inc.," "Fed Up" and "Hungry for Change" have exposed many practices within the food industry—from evidence of animal cruelty to lax hygiene standards that have caused food recalls due to the threat of disease or infection—that growing numbers of consumers find unacceptable.
Furthermore, the rise of social media has allowed vegan influencers, professional athletes, and celebrities to destigmatize and share the benefits of plant-based diets and lifestyles. As the narrative around food production has evolved, many Americans are seeing veganism and plant-based lifestyles as more aligned with their values. Such changing attitudes are directly affecting not only lifestyle choices and health but economic factors as well. And with some food industry analysts voicing concerns that meat is not sustainable, the value of plant-based alternatives continues to grow in the public consciousness.
To get a complete picture of how cultural attitudes toward veganism are changing, its impact, and what the future may hold for those choosing to go meatless, Thistle compiled a list of essential statistics about the vegan community using various news sources.
---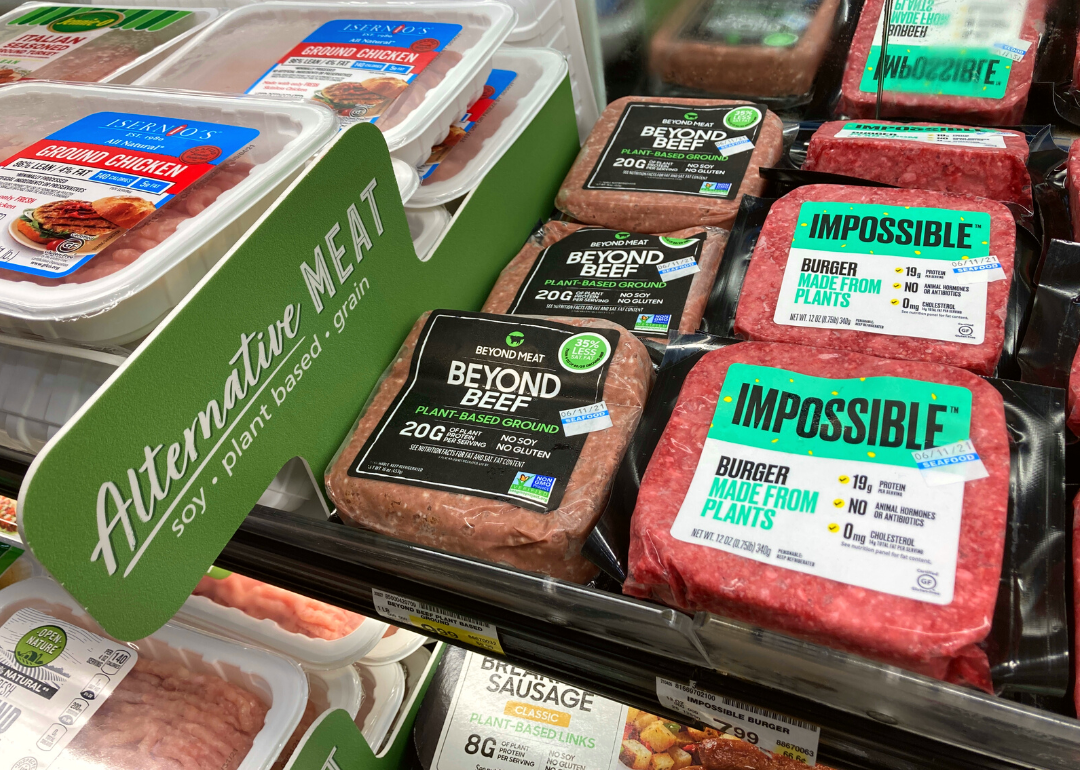 Michael Vi // Shutterstock
Plant-based meat and dairy alternative sales are projected to reach $162 billion by 2030
Beyond Meat and Impossible Foods burgers in supermarket.
Many Americans aren't committing to a full vegetarian or vegan diet but simply want to eat less meat.
In the last few years, nearly every food outlet from supermarkets to fast-food chains began cashing in on this growing consumer base of "flexitarians." The Food Institute estimates that 15% of American consumers are currently flexitarian; among those ages 24-39, that number rockets up to 47%, indicating that the market for plant-based alternatives is particularly attractive to younger adults.
Vegetarianism has generally been considered a trend among white consumers. One of the reasons for this is the perceived increased cost associated with eschewing meat for plant-based alternatives. As a result, such lifestyles are considered the domain of the upper-to-middle class. The reality, however, is that vegetarians and vegans spend, on average, around $750 less per year on food than their carnivorous counterparts.
What's more, even though plant-based lifestyles are perceived as most closely associated with white behavior, the data tells a different story. Nonwhite Americans report reducing their meat intake at higher rates than white Americans. Survey data from Danone North America found that 55% of Black Americans, 61% of Hispanic/Latino Americans, and 71% of Asian Americans were likely to swap animal products for plant-based products, compared to the national average of 49%. Although people from these groups may not identify as strictly vegan, they are shaping consumer trends toward plant-based eating.
---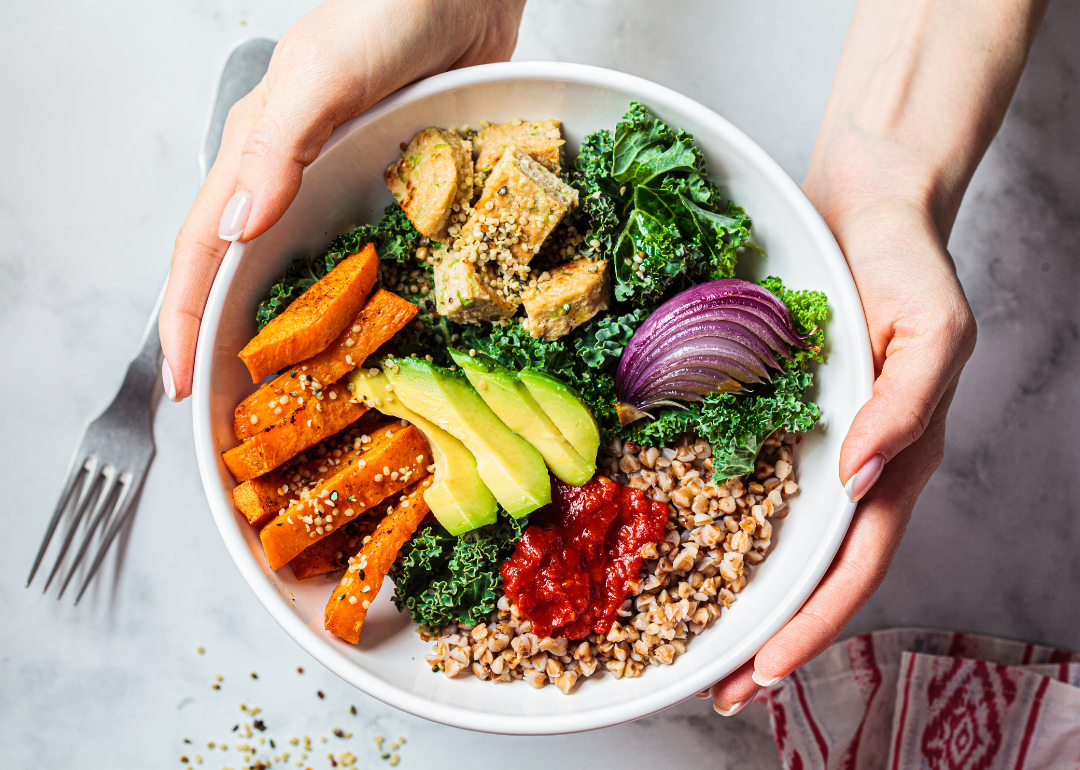 Nina Firsova // Shutterstock
In the US alone, the plant-based food market was worth $8 billion in 2022
Hands holding vegan lunch salad.
The plant-based food market is more than just veggie burgers: Among the products that have experienced the most sales growth since 2019 are plant-based eggs, seafood, creamer, and protein powders. Even as post-COVID-19-pandemic inflation ushered in rising prices for food and many Americans were forced to cut back on spending, plant-based food products proved increasingly ingrained in American diets.
While the perception that plant-based foods offer a healthy, ethical alternative to more traditional meat-based diets is certainly a significant driver of market growth, perhaps the most important influence on whether a consumer chooses a plant-based product over its animal-based counterpart is taste.
Research from market intelligence agency Mintel found that taste is the main reason adults choose plant-based alternatives—outranking health, dietary concerns, and even animal welfare. The rapid development of plant-based products designed to imitate the taste and texture of animal-based products is the key underlying factor to the global market growth expected in the coming decades.
---

Canva
Vegan orders on Grubhub rose by 17% in the first half of 2021
Person ordering from a food delivery service.
According to Grubhub's 2021 "State of the Plate" report, the top cities for vegans who use the food-delivery app are Los Angeles; New York City; and Portland, Oregon. Some of the most popular vegan options people ordered include plant-based sausage wraps, barbecue cauliflower wings, and mushroom and tofu broth ramen.
It is also becoming increasingly clear across the food service industry that plant-based is here to stay, and many restaurants—independents and franchises alike—are getting behind it with their menu offerings.  According to the Plant Based Foods Association, fast-casual restaurants are most likely to offer these options, with nearly 2 in 3 on board—twice the ratio of fine-dining restaurants. Six in 10 restaurant operators see plant-based products as a long-term change for their industry, according to PBFA findings.
Whether ordering on Grubhub or at a fancy restaurant, Americans are expecting to see vegan options—and the food industry is listening.
---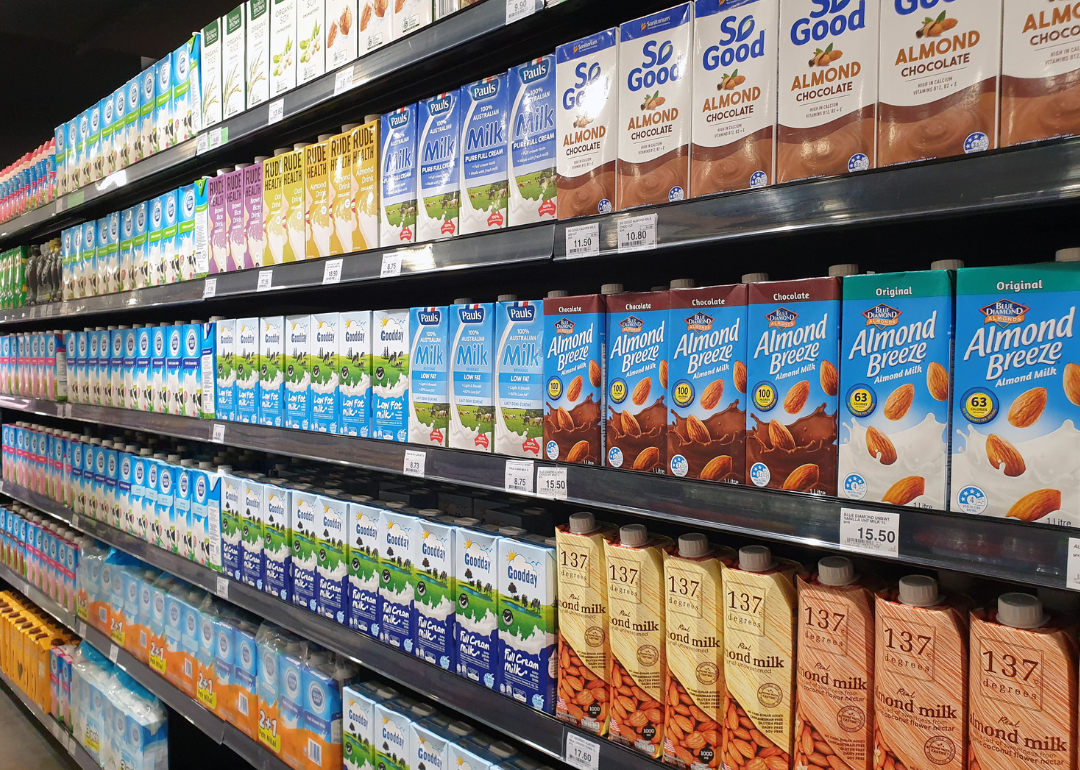 TY Lim // Shutterstock
2 in 5 US households purchased some form of plant-based milk in 2022
Plant based milk aisle in supermarket.
Plant-based milk is one of the fastest-growing sectors in the plant-based food industry. Concerns about modern dairy farming stand out as a key factor for these consumer choices. Among dairy farming's most controversial practices are artificial impregnation—which requires antibiotics and growth hormones—and cruel indoor living conditions for some animals that do not afford them ample access to sunlight or fresh air. Additionally, while dairy products are a good source of calcium, there is increasing evidence that their fat content contributes to Type 2 diabetes, heart disease, and some forms of cancer.
Plant-based milk is available in numerous formulations and flavors—from almond and rice milks to those made with soy, oat, and even peanuts (which, incidentally, one can make at home). The nutritional content and environmental impact vary, but the sector continues to grow with more alternatives for consumers who wish to swap out dairy milk for a product that meets their dietary needs and ethical standards.
---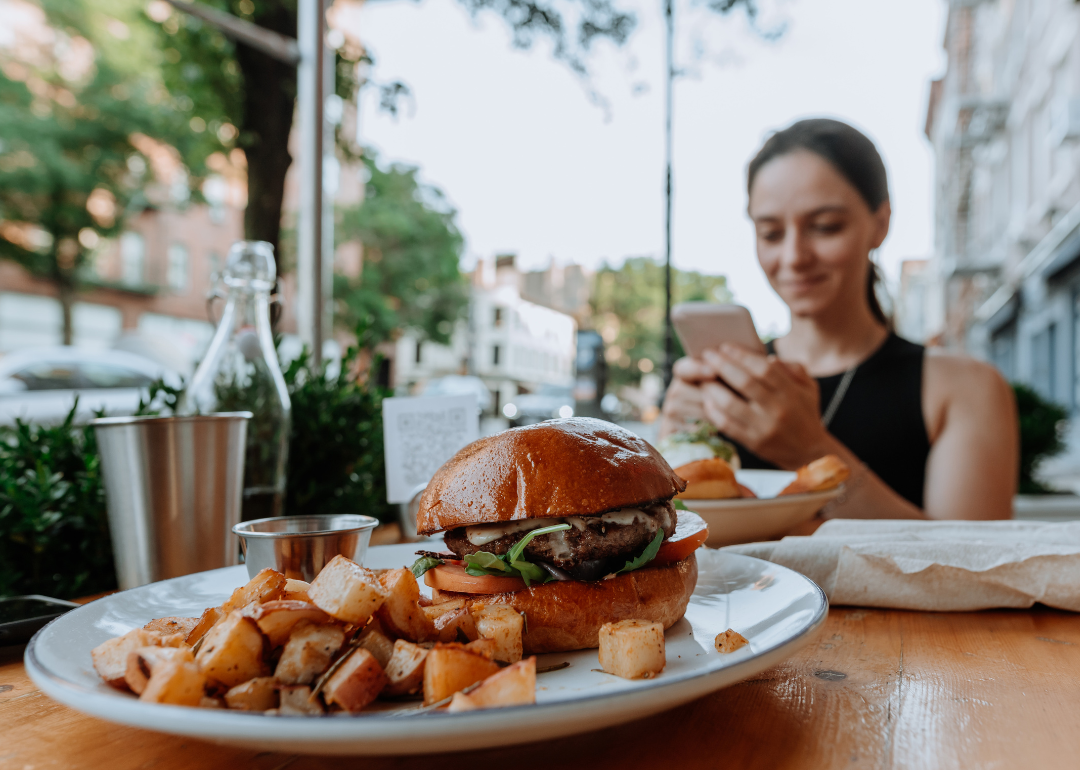 Canva
7 in 10 Americans said they had tried some form of plant-based meat alternatives in 2021
Plate with vegan burger in outdoor cafe.
Consumer research reveals some important qualities of this growing consumer base: Most consumers purchasing plant-based meat also purchase animal products and expect to find all these products in the same place. Of the 75% of consumers who have tasted plant-based meat, 90% are willing to try it again, according to data accumulated by the Good Food Institute.
Many Americans get the opportunity to try plant-based meat at their favorite fast-food joint. Burger King led the way with the Impossible Burger in 2019, and McDonald's and Taco Bell both partnered with Beyond Meat Inc. shortly after. Although the McPlant was discontinued due to low sales in 2022, the story doesn't end there. Beyond recently partnered with Panda Express, which has 2,300 locations across the U.S., to offer Beyond Orange Chicken, a plant-based variation of the chain's most popular item.
Data reporting by Emilia Ruzicka. Story editing by Brian Budzynski. Copy editing by Paris Close. Photo selection by Elizabeth Ciano.
This story originally appeared on Thistle and was produced and
distributed in partnership with Stacker Studio.
---