Ruptured wastewater main leaking onto Sunland Park near I-10 blamed on old pipes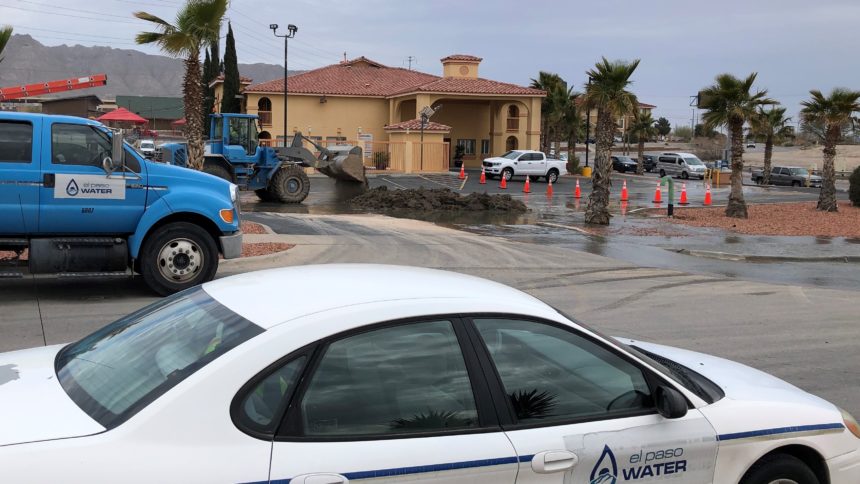 EL PASO, Texas --- A ruptured wastewater main on Sunland Park between Interstate 10 and Doniphan caused traffic issues Monday afternoon and evening, but El Paso Water officials said there were no service outages.
The broken main was believed to have been leaking wastewater for hours before officials publicly acknowledged it in a tweet just before 4 p.m.
"It is a really large main for wastewater, it's about 24 inches so its going to take a little bit of time (to fix)," said Carlos Briano, a spokesman for El Paso Water.
Drivers were being asked to avoid the area as lane closures were taking place to allow for repairs, but El Paso Water said no wastewater service was affected by the ruptured main.
Officials said this type of main break it is not uncommon given the age of the pipes.
"Mains do break, nationwide it's about 9 to 12 a week. Luckily in El Paso we are averaging about two or three, Briano explained. "There's a lot of infrastructure that people are not aware of when they open their faucets or when they use the shower."
EPWater is responding to a ruptured wastewater main on Sunland Park between I-10 and Doniphan. No wastewater service is affected, but we are asking drivers to avoid the area. Lane closures to be expected, check for updates here. @txdotelp

— El Paso Water (@EPWater) March 2, 2020