Pete Buttigieg ends his presidential campaign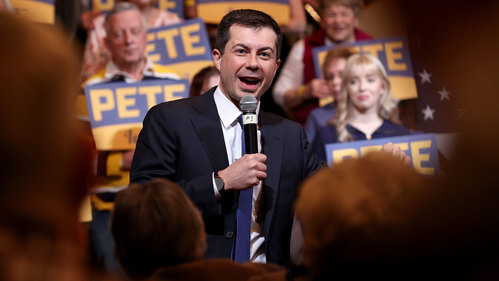 SOUTH BEND, Indiana  — Pete Buttigieg is ending his race for the Democratic presidential nomination, a campaign aide confirmed Sunday afternoon directly to ABC-7.
The aide said Buttigieg would fly home to Indiana, where he would address supporters about his decision to end his campaign.
"The truth is the path has narrowed to a close for our candidacy if not for our cause," Buttigieg would later say in a speech in South Bend on Sunday night. "We must recognize that at this point in the race, the best way to keep faith with those goals and ideals is to step aside and help bring our party and country together."
The decision by Buttigieg, the 38-year-old former mayor of South Bend, comes just days before Super Tuesday voting in Texas and elsewhere and one day after his poor showing the South Carolina primary.
Buttigieg rose to the field's top tier but failed to notch enough wins in the critical early states necessary to keep his bid moving forward.
The millennial Afghan War veteran defied expectations in a field of better-known candidates for months while becoming the first openly gay top contender for a major party nomination.
"Mayor Pete" burst onto the scene with a blitz of national media a year ago and impressive fundraising. He leaned hard into a next-generation message of urgency on pressing issues while preaching a message of hope and inclusion.
But Buttigieg's campaign struggled to nationalize its operation after success in Iowa and New Hampshire. The former mayor's struggles to win over voters of color, a key base to the Democratic Party, proved insurmountable in Nevada and South Carolina, two states where Buttigieg finished significantly behind the race's front-runners.
And the mayor's lack of momentum heading into Super Tuesday sunk the upstart campaign.
The mayor's top advisers believed that a win in Iowa could provide Buttigieg with enough momentum to turn in strong performances in both New Hampshire and Nevada. That success, they believed, would be followed by a fundraising boost, allowing them to nationalize the campaign by the time Super Tuesday rolled around in early March.
That strategy, however, ran into numerous issues and never materialized.
But longtime and well-known Democratic Party strategist David Axelrod said "the Pete Buttigieg story isn't over."
"He's 38 years old," Axelrod said. "He's vaulted himself into the national conversation. He obviously has work to do on some things that -- some weaknesses we've seen in this election -- but whenever there is a conversation again about Democratic candidates, he'll be in that conversation. And that's a remarkable achievement, given where he started a year ago."