'We've been treated like sh*t': Gretchen Wilson on police body cam video during Las Cruces hotel eviction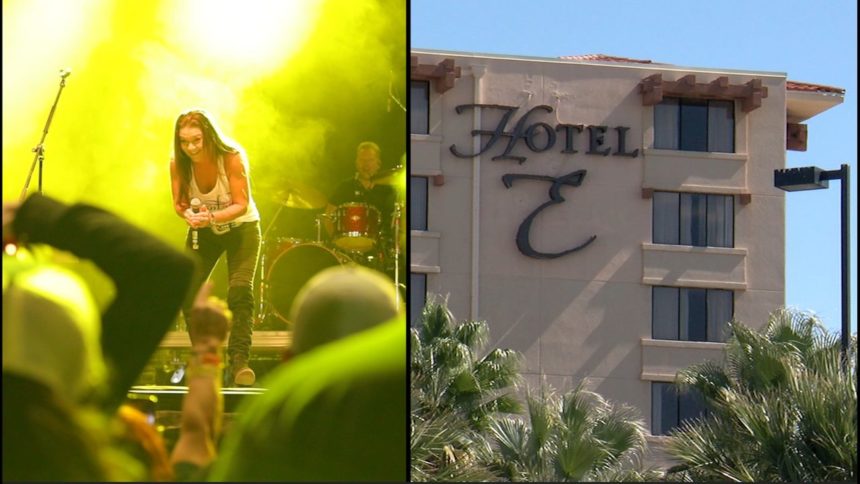 LAS CRUCES, New Mexico -- ABC-7 has obtained police body cam video from the night country music superstar Gretchen Wilson, whose hit song "Here for the Party" features the lyrics "and I ain't leaving till they throw me out," was ousted from the Hotel Encanto in Las Cruces.
Police knocked on the door of the Grammy Award-winning artist's room after hotel staff requested that officers remove her around 3:30 a.m. two Sundays ago due to multiple noise complaints.
Wilson, who had performed at the 7th annual Las Cruces Country Music Festival, answered the door in her bath robe along with her fiancee who was wearing even less.
"We don't even have a TV on, we were very quiet," said the superstar.
Wilson felt that the hotel was trying to retaliate against her after she asked for room service and was denied.
Frustrated, Wilson said, "I'm a celebrity playing a show here tonight, when I called for room service they told me they couldn't do it because they were at full capacity. They were like just come to restaurant, and I was like, I can't just come to the restaurant everyone is going to be looking for me."
According to Wilson, she and her group needed to catch a plane in a few hours at 6:30 a.m. and were confused on what to do as officers waited for her to get dressed.
Wilson kept insisting she wasn't being loud.
"I didn't do anything wrong! I don't know what's going on," she said. "I don't know who's mad or what's going on?"
After collecting her things and getting ready to leave, you can hear a hotel staffer seemingly reverse course.
"Just to let you know I just talked to the manager, and he said you guys can actually stay," the hotel employee said.
Wilson responded, "We're not going to stay. We are not, We have been treated like S@#$ since we have been here."
The she exclaimed to police: "You're a law enforcement officer and you got your story f!@@#$$ wrong here tonight!"
ABC-7 reached out to Wilson's publicist who forwarded along a statement from Wilson.
"I played my heart out for the fans in Las Cruces on the night in question. I was in bed when the police arrived. There had been no party, no music and not even a TV making noise when I was asked to leave," the statement said. "I was exhausted and upset just like anyone would be in this situation."
Neither Hotel Encanto management nor their corporate ownership, Heritage Hotels & Resorts, responded to ABC-7's inquires for comment about the newly revealed police body cam video.
Associated Press archives show Wilson was arrested in Aug. 2018 at a Connecticut airport after what was described as a disturbance on an incoming flight. She was charged with breach of peace.