Frank Sinatra: The life story you may not know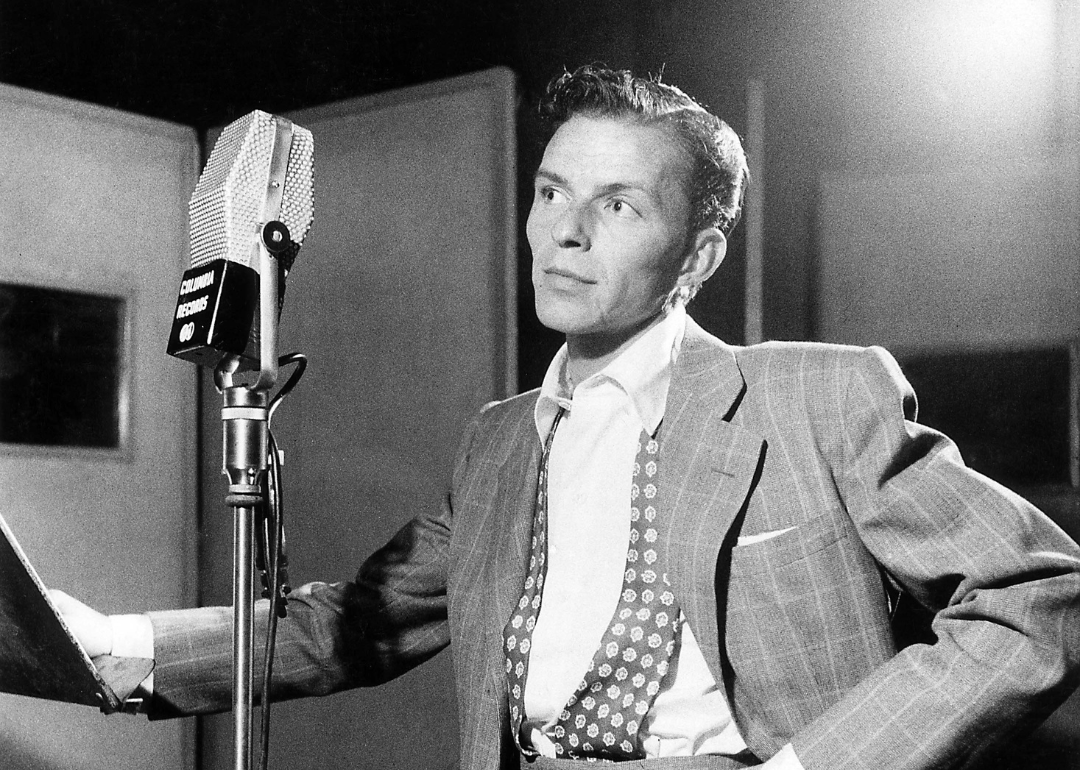 William Gottlieb/Redferns // Getty Images
Frank Sinatra: The life story you may not know
Frank Sinatra in a recording studio in 1947.
With a voice likened to "worn velveteen," Frank Sinatra is one of the most influential figures of the 20th century. His 60-year singing career paved the way for everything from how singers use microphones to the emergence of fan culture and pop superstardom as we know it today, so it's easy to forget what else Sinatra was: an Oscar-winning actor with 74 film credits under his belt; the owner of his own record label; a frequent friend of presidents and other influential figures; and a man with a dossier-like FBI file documenting ties to the mafia, extortion and racketeering charges, and more.
Sinatra's legacy is as complex and full of contradictions as the man himself was. He is remembered for bringing pop music into the realm of high culture and for infusing a kind of intimacy and emotionality into his songs that was new to many audiences of the time. He is also remembered by many as a power-hungry bully who was easily angered and known to be violent. His tumultuous relationships with women were often fodder for headlines and public speculation, as were his public friendships with mob bosses and mafiosos. He was, and is, remembered as an icon of American pop culture whose influence is still potent today.
To commemorate the career and personal life of one of America's most legendary artists, Stacker compiled a list of 25 things about Frank Sinatra's life you may not know, drawing from news accounts, biographies, magazine interviews, and music databases.
---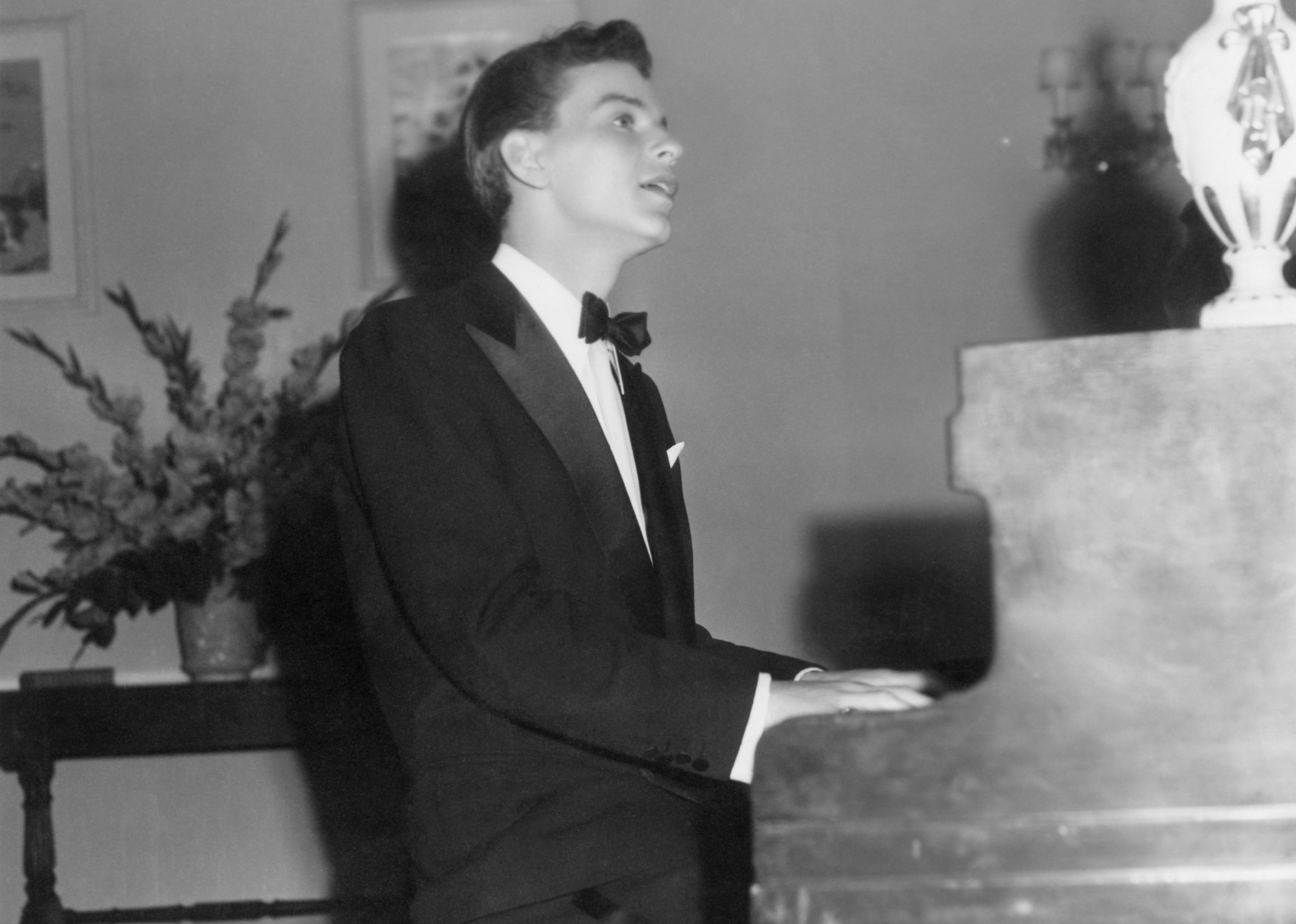 Bettmann // Getty Images
1915: Born in Hoboken
Frank Sinatra in "Higher and Higher."
The only child born to Italian and Sicilian immigrants in Hoboken, New Jersey, Sinatra weighed 13 pounds and had to be delivered using forceps due to being breech. He was reportedly mistaken for stillborn until his grandmother poured cold water over the baby and slapped his back. The marks from the forceps remained on his face for the rest of his life, prompting the nickname "Scarface" from his teenage peers.
---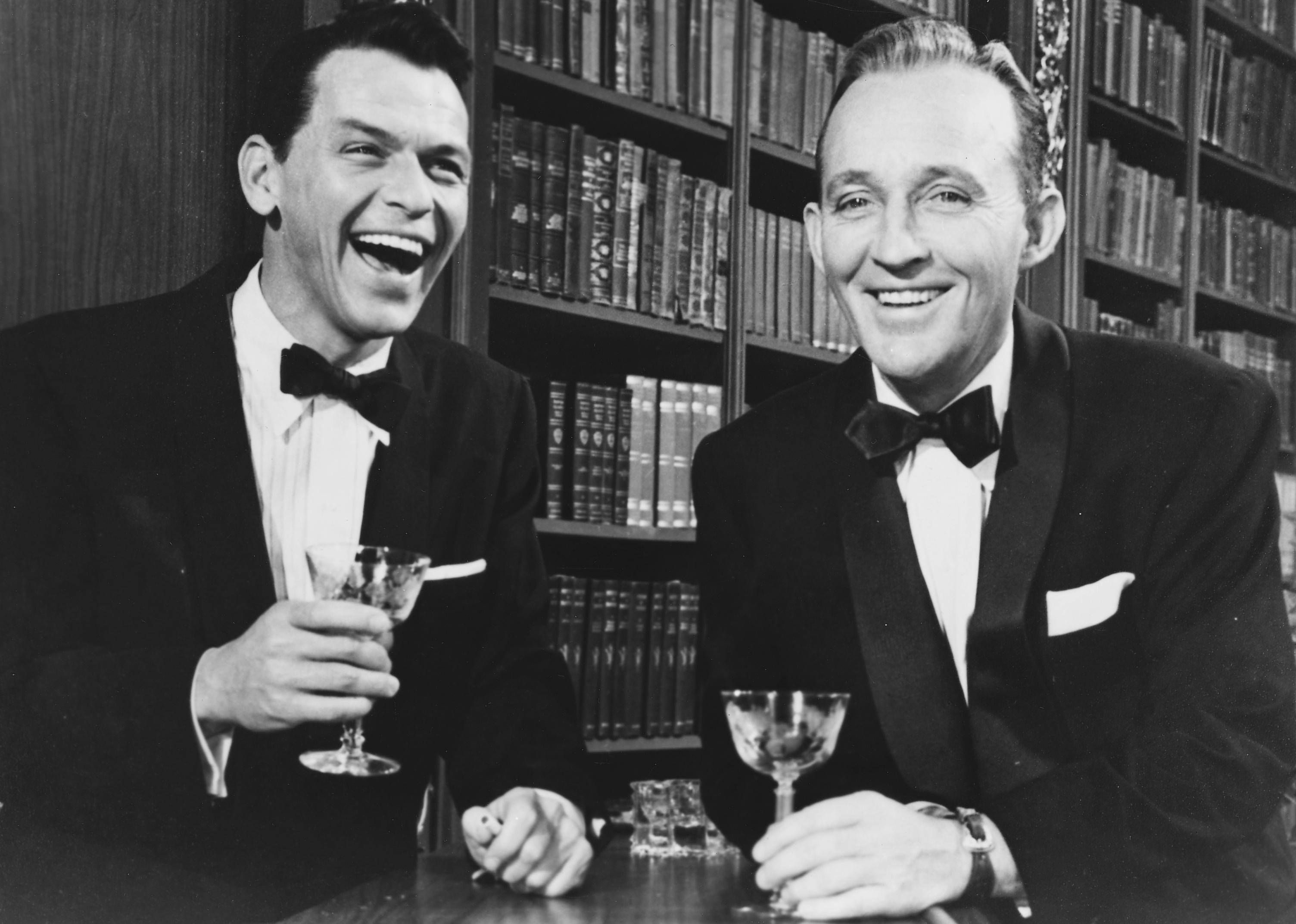 Silver Screen Collection // Getty Images
1931: Bing Crosby inspires a career in music
Frank Sinatra and Bing Crosby in 'High Society'.
According to legend, a teenage Sinatra saw Bing Crosby, the iconic singer and actor whom he'd idolized as a child, perform in concert or a film in the early '30s—from there, he decided he wanted to pursue music seriously. His mother allowed him to drop out of high school to begin his singing career, and she even helped him find work as he struck out on his path.
---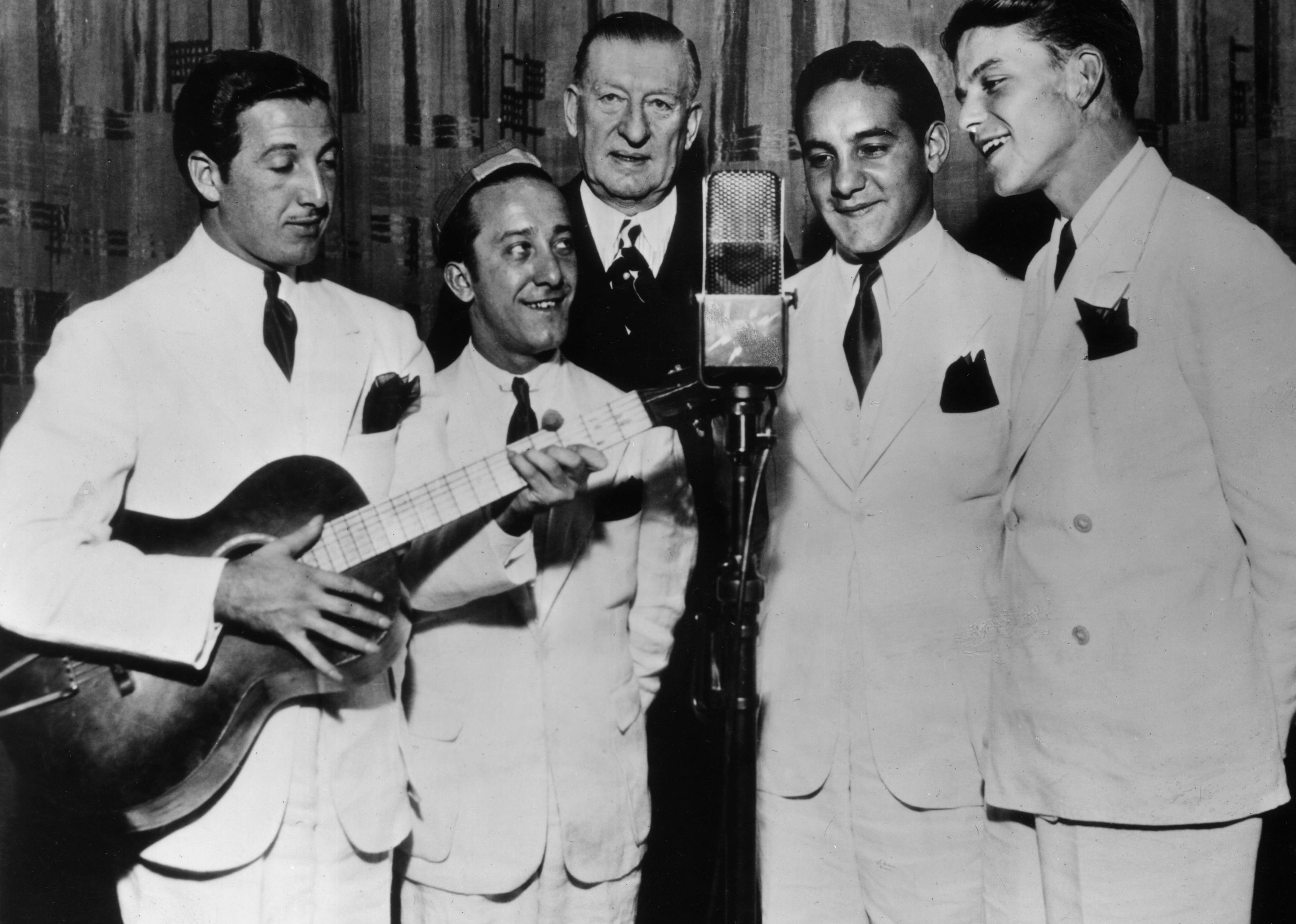 CBS Photo Archive // Getty Images
1935: Early work
Frank Sinatra singing with The Hoboken Four on 'The Amateur Hour ' radio show.
Young Sinatra joined an existing Hoboken-based trio called the Three Flashes, and the group became known as the Hoboken Four in 1935. After performing together for a while, Sinatra left to pursue his own gigs.
He got a job as a singing waiter at a club called the Rustic Cabin, a gig that would prove pivotal since it broadcasted to a local radio station. It was through these radio broadcasts Sinatra captured the attention of famous trumpeter and big-band leader Harry James.
In 1939, Sinatra joined the band and began performing and recording on a larger stage than ever before.
---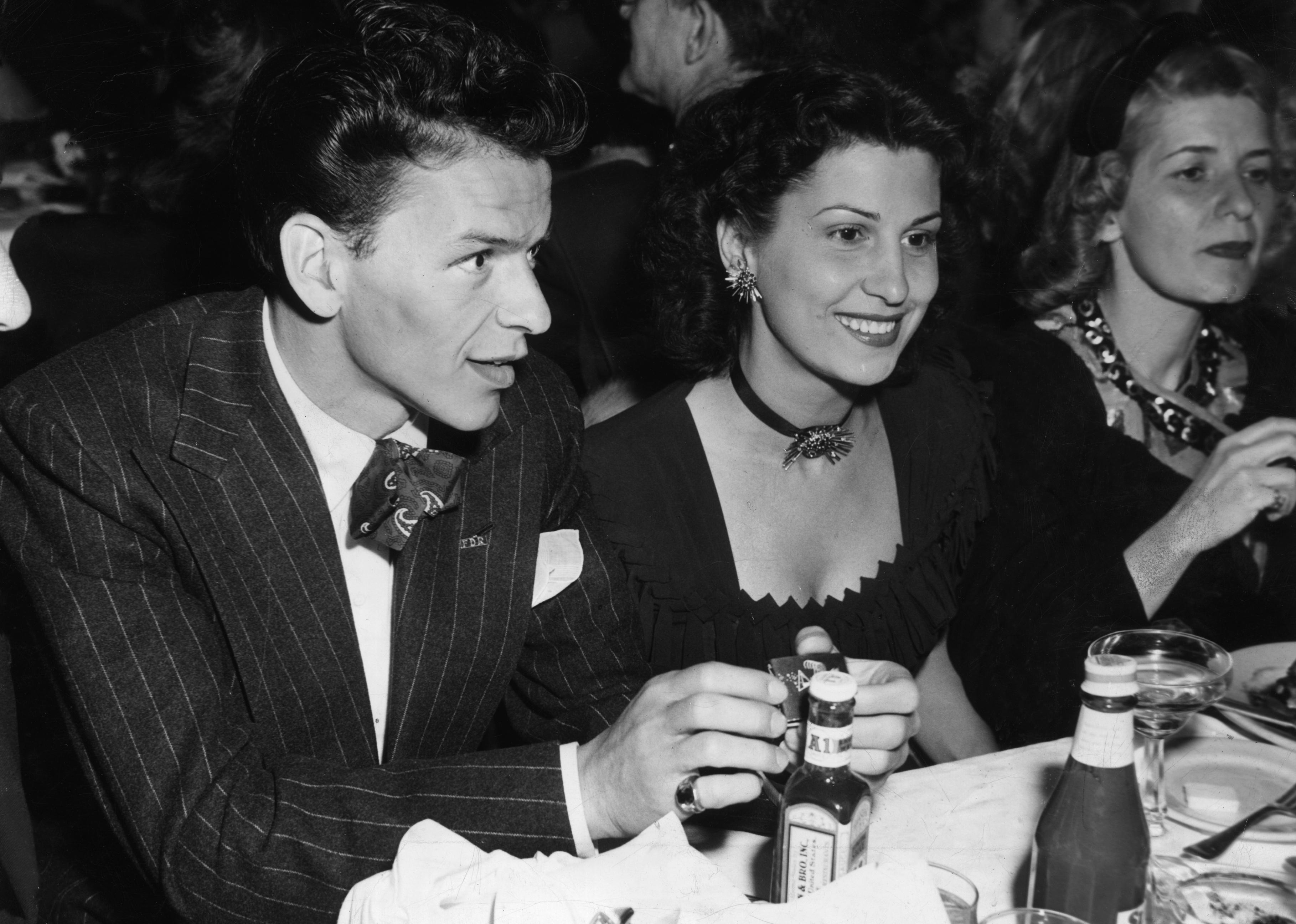 Hulton Archive // Getty Images
1939: Marries childhood sweetheart
Frank Sinatra sitting at a table in a nightclub next to his first wife, Nancy Barbato.
That same year, Sinatra married Nancy Barbato, his high school sweetheart. They moved in together in New Jersey and lived modestly at first, neither bringing in much money. Once Sinatra became a part of Harry James' band, the two traveled together for performances.
---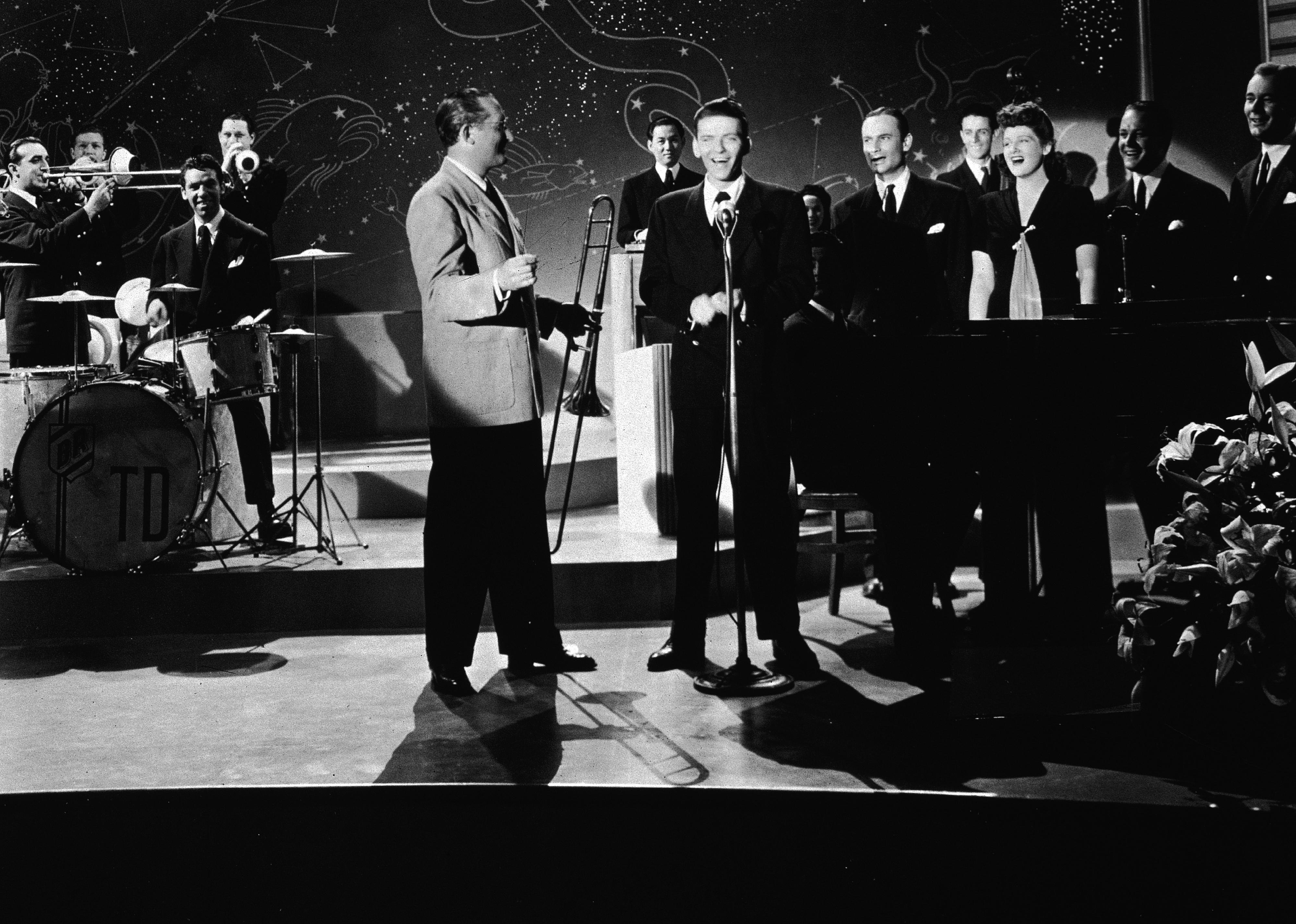 MGM Studios // Getty Images
1940: Joins Tommy Dorsey's band
Frank Sinatra performs with the Tommy Dorsey Orchestra in a still from the film, 'Ship Ahoy'.
Sinatra's tenure with Harry James' band was short-lived, as he soon jumped ship to join Tommy Dorsey's much more popular big band. The move was an important moment for the evolution of Sinatra's vocal style, which was heavily influenced by his study of Dorsey's musicality and trombone playing.
During the two years Sinatra was with the band, he paid close attention to Dorsey's long phrasing and where and when he paused for breath. Sinatra even took up swimming to improve his breath control, eventually allowing him to sing long, unbroken phrases.
---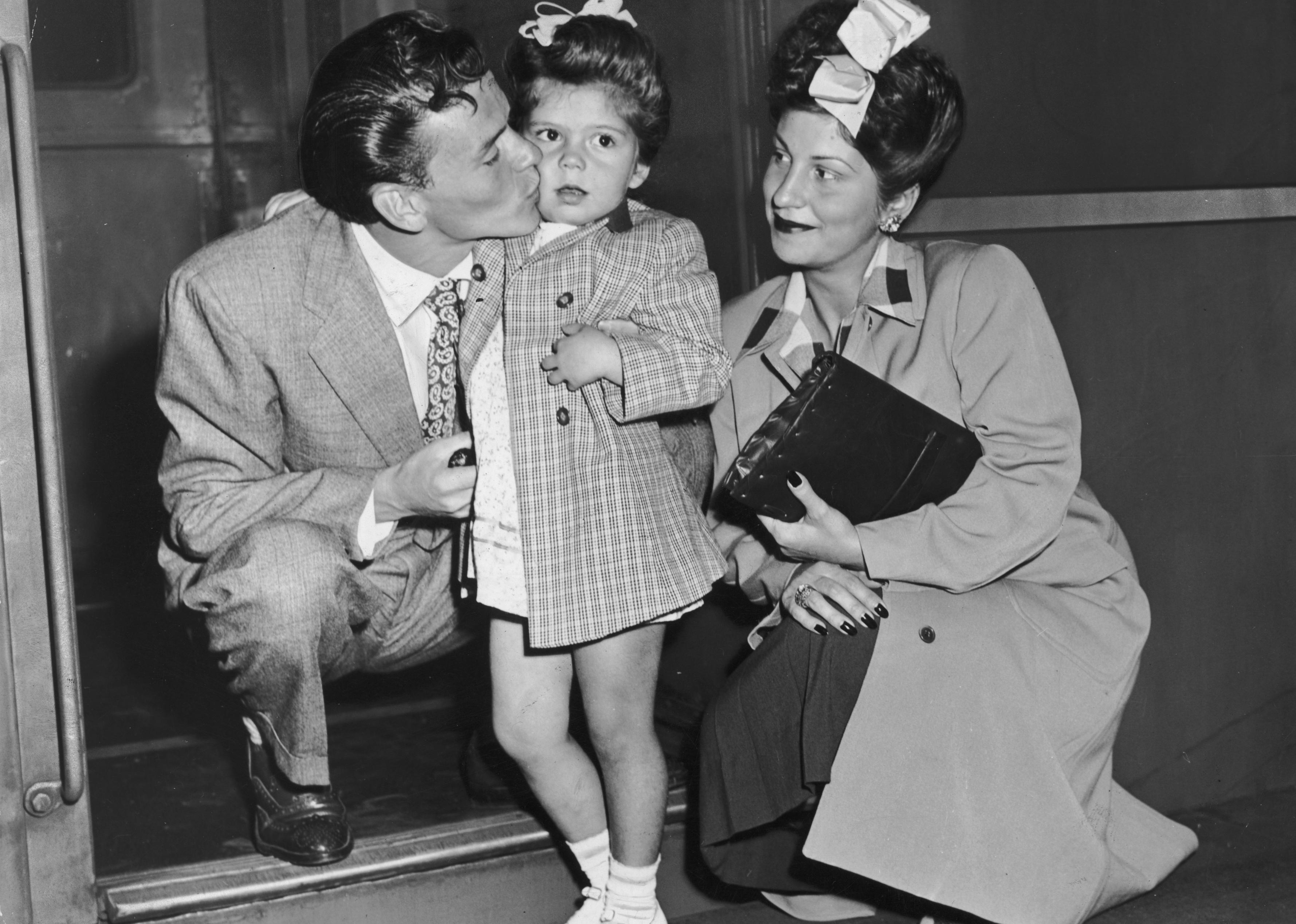 Hulton Archive // Getty Images
1940: Nancy is born
Frank Sinatra crouches to kiss his daughter, Nancy Jr. while his wife watches at a train platform.
Nancy and Frank had their first child, Nancy Jr., in 1940, followed by Frank Jr. in 1944 and Christina in 1948. Sinatra was frequently absent as a father and husband as his career ramped up throughout the '40s, and rumors of his infidelity made headlines when he was away from home.
---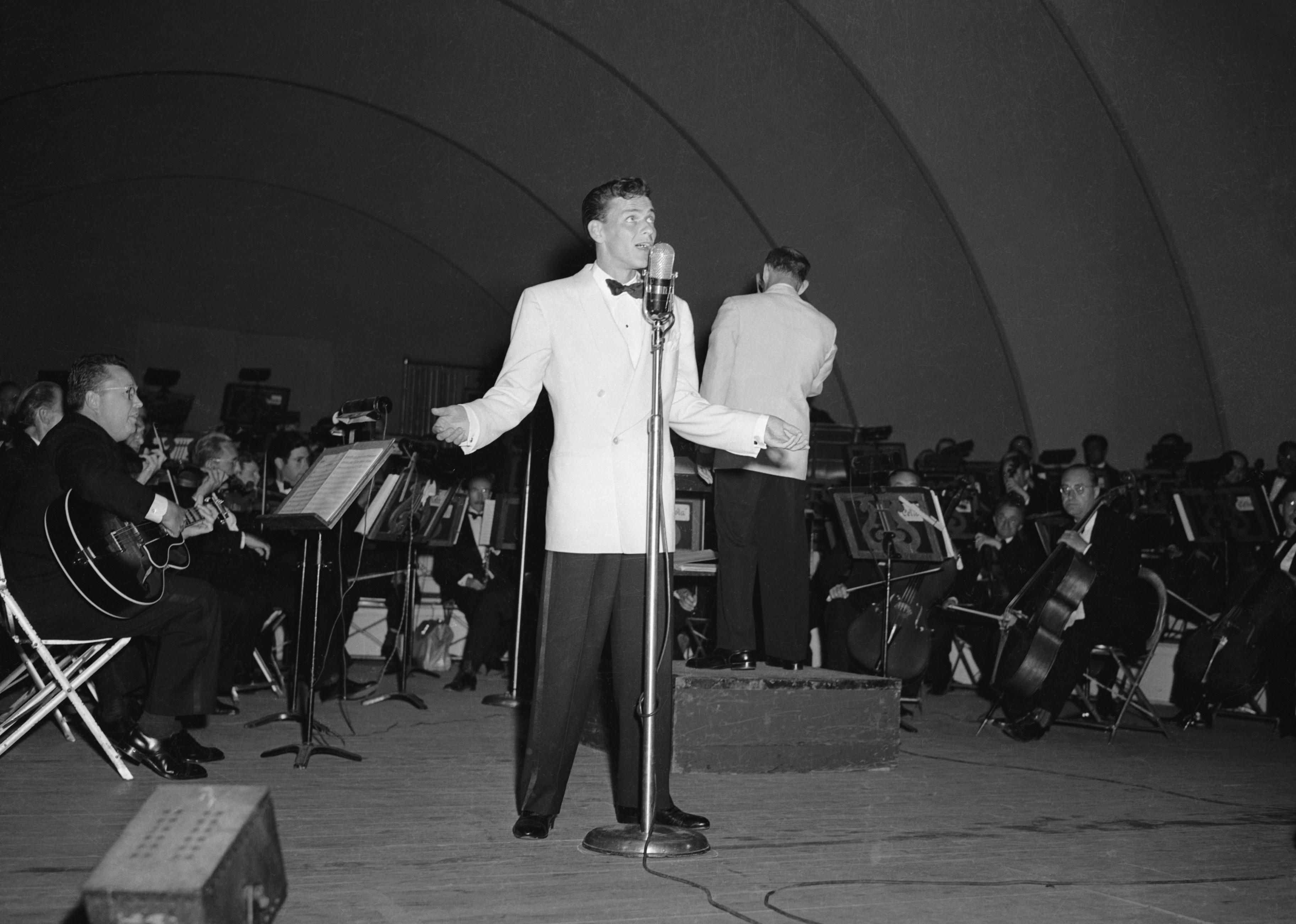 Bettmann // Getty Images
1942: Goes solo
Frank Sinatra performs at the Hollywood Bowl.
In 1942, after beginning to develop a following, Sinatra left Dorsey's band to strike out on his own. The split was not amicable—Dorsey reportedly told Sinatra, "I hope you fall on your a–"—and Sinatra was bound by a contract to Dorsey that stipulated he would receive over 40% of Sinatra's income for the next decade. Nevertheless, Sinatra was determined to create a career for himself in the style of Bing Crosby, and he insisted on departing the band.
---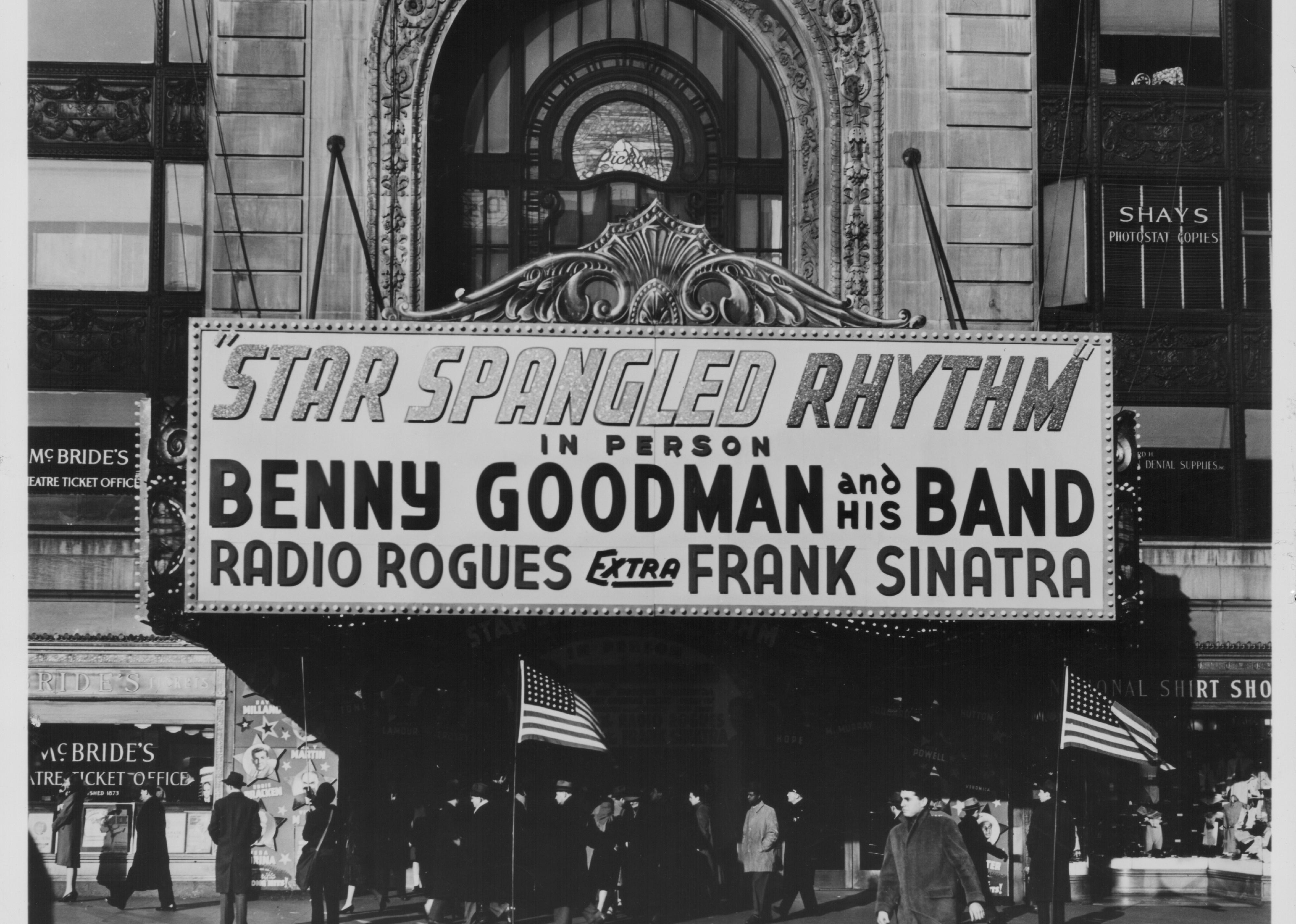 Archive Photos // Getty Images
1942: Paramount Theater performance sparks record deal and 'Sinatramania'
An advertisement awning outside a theater featuring Benny Goodman and Frank Sinatra.
In 1942, Benny Goodman was set to play a few performances at New York's popular big band venue, the Paramount Theater. The theater's manager asked Goodman if Sinatra could sing with them, and he agreed despite not knowing who Sinatra was.
The night of the show, 5,000 people were crammed into the theater, and the room exploded when Sinatra, then 27, came onstage. The screams of audience members were reportedly so enthusiastic that Benny Goodman and Sinatra himself were stunned, and the mania over their appearance made headlines, a harbinger of the massive fan enthusiasm that Elvis and the Beatles would later invoke.
That night would be Sinatra's big break, as he was signed to Columbia Records, scored a movie contract with R.K.O. Pictures, and even got a radio contract.
---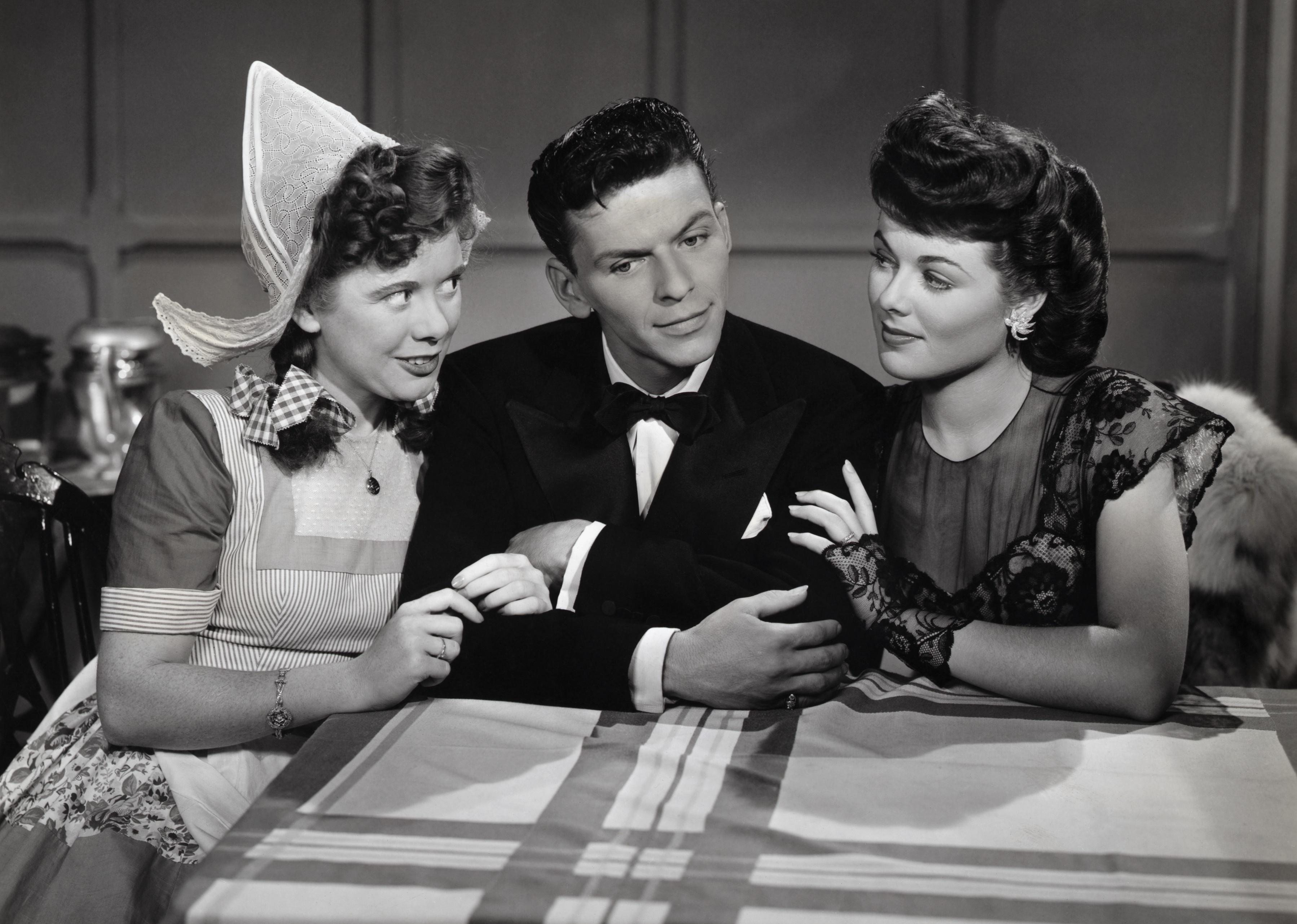 Bettmann // Getty Images
1943: Hollywood acting debut
Frank Sinatra in Movie Still from Higher and Higher.
Sinatra took on his first acting role in a Hollywood picture in 1943 with the film "Higher and Higher" and began appearing in at least one film every year for several years afterward. He soon began working on MGM films, frequently playing roles in which he won the hearts of women while remaining ignorant of his allure.
In 1945, as part of an effort to fight antisemitism at the end of World War II, he starred in a short film called "The House I Live In," in which he played himself coming to the aid of a young Jewish boy being bullied. In the film, he teaches kids to practice religious tolerance (although, in the process, he uses slurs prejudicial toward Japanese and Japanese American people). The film won a special Academy Award.
---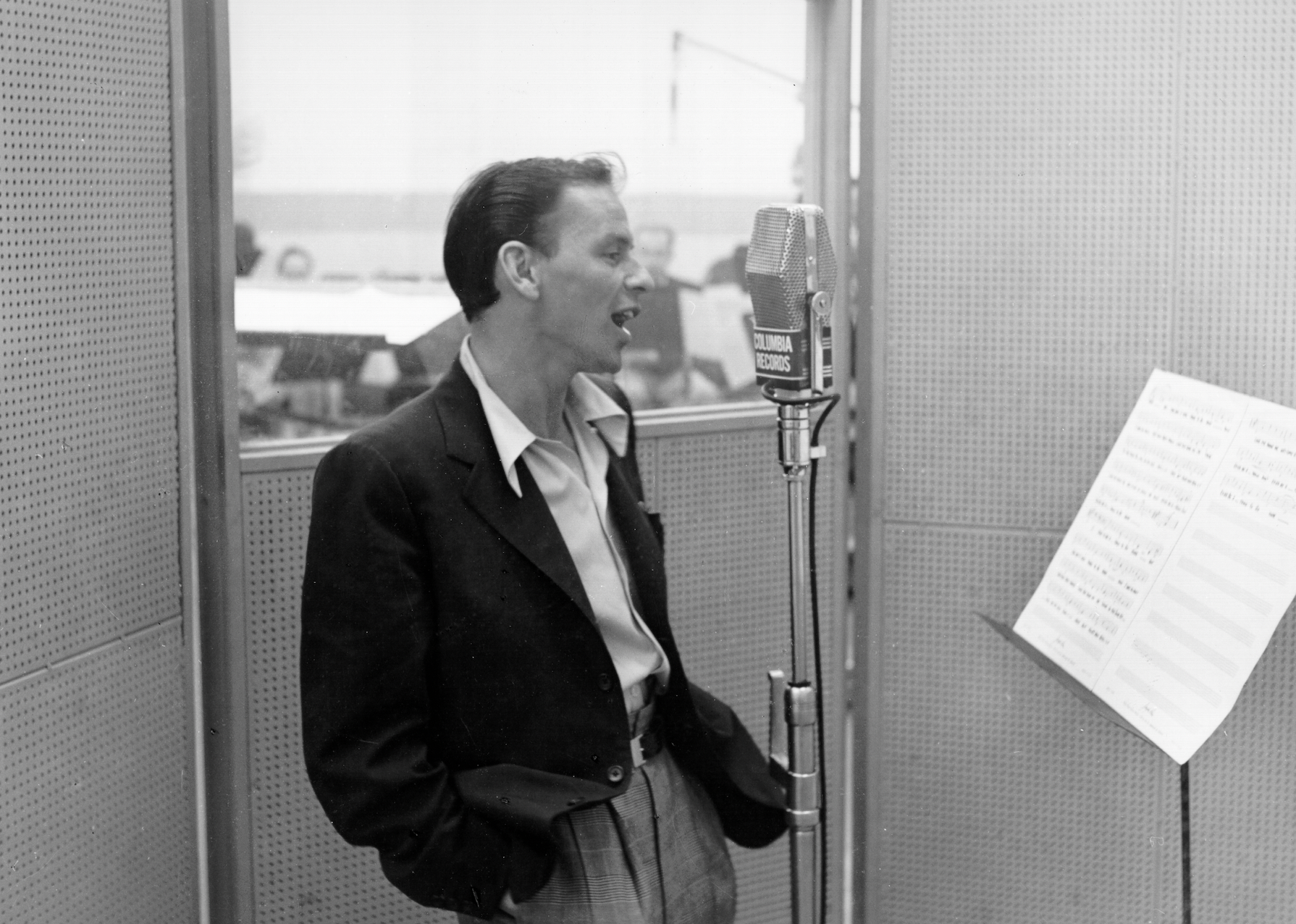 Michael Ochs Archives // Getty Images
1943: A string of hits
Frank Sinatra records in the studio at a Columbia Records microphone.
The year 1943 also marked the beginning of Sinatra's successful career as a recording and performing singer. With Columbia, he recorded several hits, including "These Foolish Things," "Someone to Watch Over Me," "Put Your Dreams Away," "I'll Never Smile Again," "Nancy (With the Laughing Face)," and "That Old Black Magic." By the mid-'40s, Sinatra was so popular that he was invited to the White House by President Franklin Roosevelt, whose fourth presidential term he began campaigning for.
---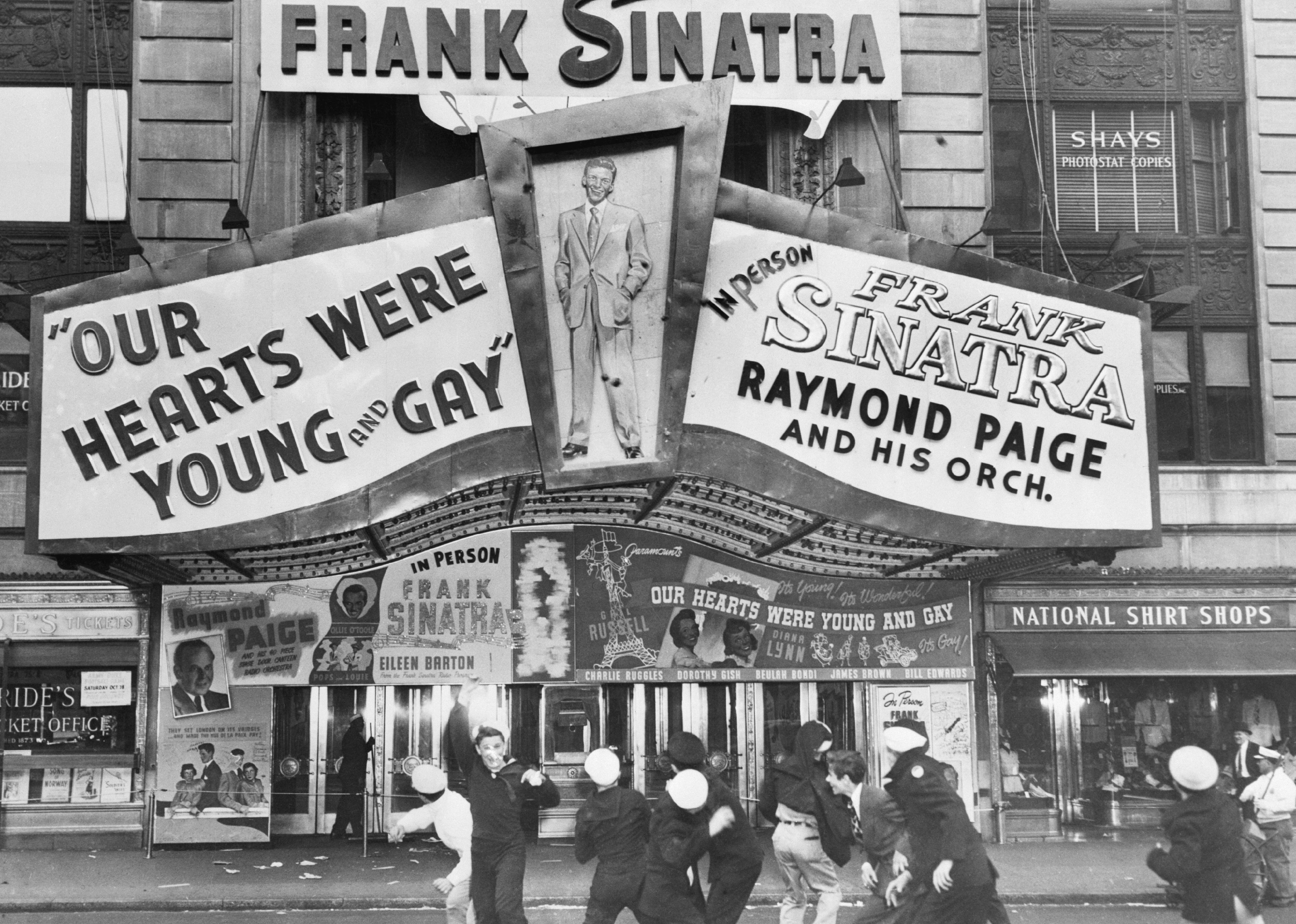 Bettmann // Getty Images
1946: Peak Sinatra and the beginning of a decline
People Throwing Tomatoes at a Theater with Frank Sinatra sign.
"Sinatramania" peaked in the middle of the decade. In 1944, two years after his original performance, he returned to the Paramount Theater, drawing crowds of roughly 35,000 that resulted in riots outside between fans competing for entry.
In 1946, he had 15 hit singles, but that year also marked the beginning of a slide into an era of unpopularity many thought he would not recover from. Between acting in a string of unsuccessful films, damaging his vocal cords (and roughening his normally velvety sound), and becoming the subject of rumored ties to the mob, Sinatra had fallen, by many standards, from the position he had occupied in American pop culture.
---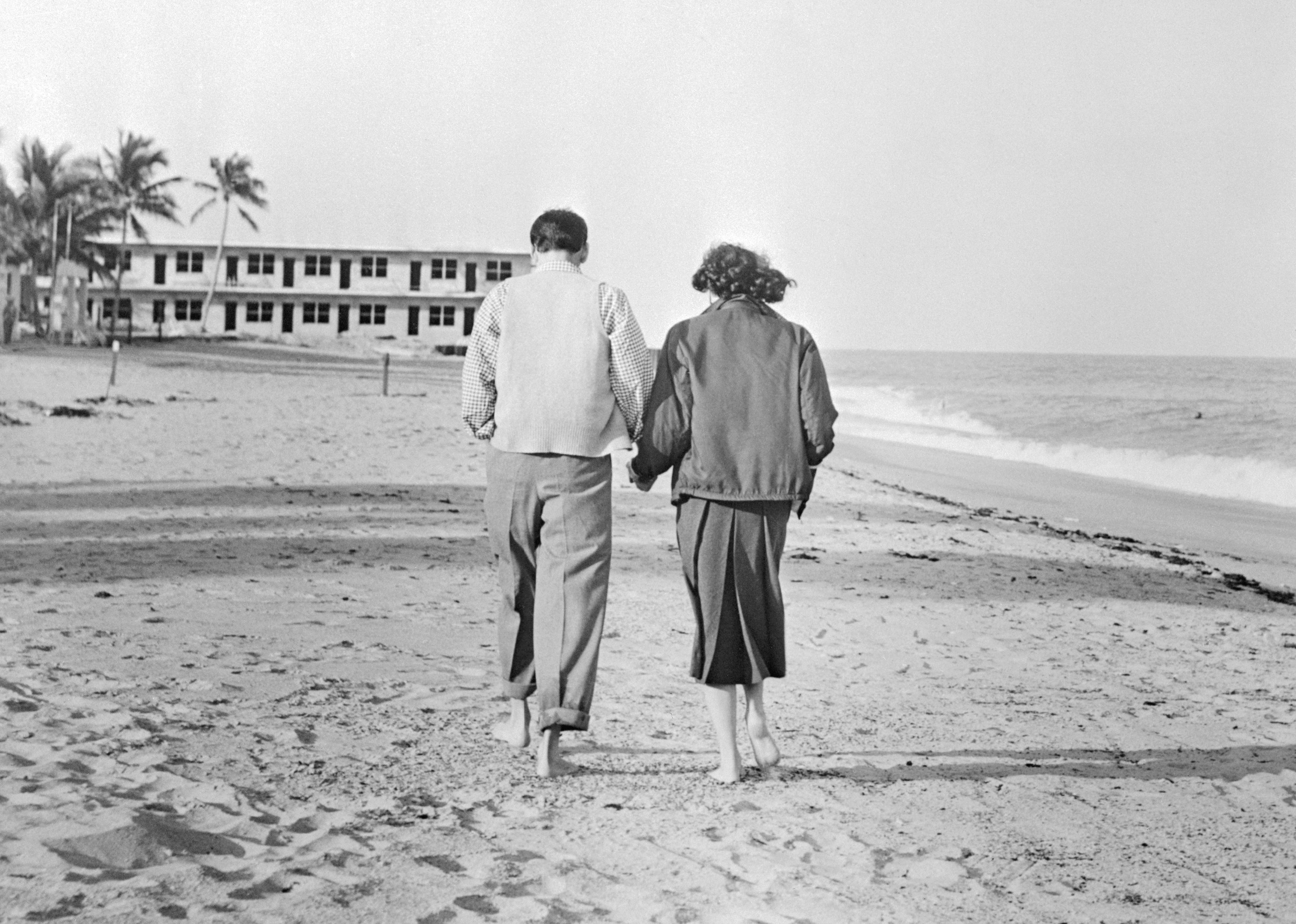 Bettmann // Getty Images
1949: Marriage troubles
Newlyweds Frank Sinatra and Ava Gardner stroll along a beach in Miami.
As Sinatra's career began to falter, his marriage, too, was suffering. The Sinatra family had relocated to California in the mid-1940s for Frank's career, bringing him into contact with Hollywood's beautiful, rich, and famous. At the end of the decade, he met Hollywood star Ava Gardner, and the two began a public affair that ultimately ended Sinatra's 12-year marriage to Nancy.
Though Frank and Nancy remained close friends and confidantes for the rest of their lives, the end of their marriage became ugly, with Frank becoming more shameless around his infidelity and Nancy refusing to accept a divorce for nearly two years. The two finally divorced in 1951, and Frank married Gardner within a week of its finalization.
---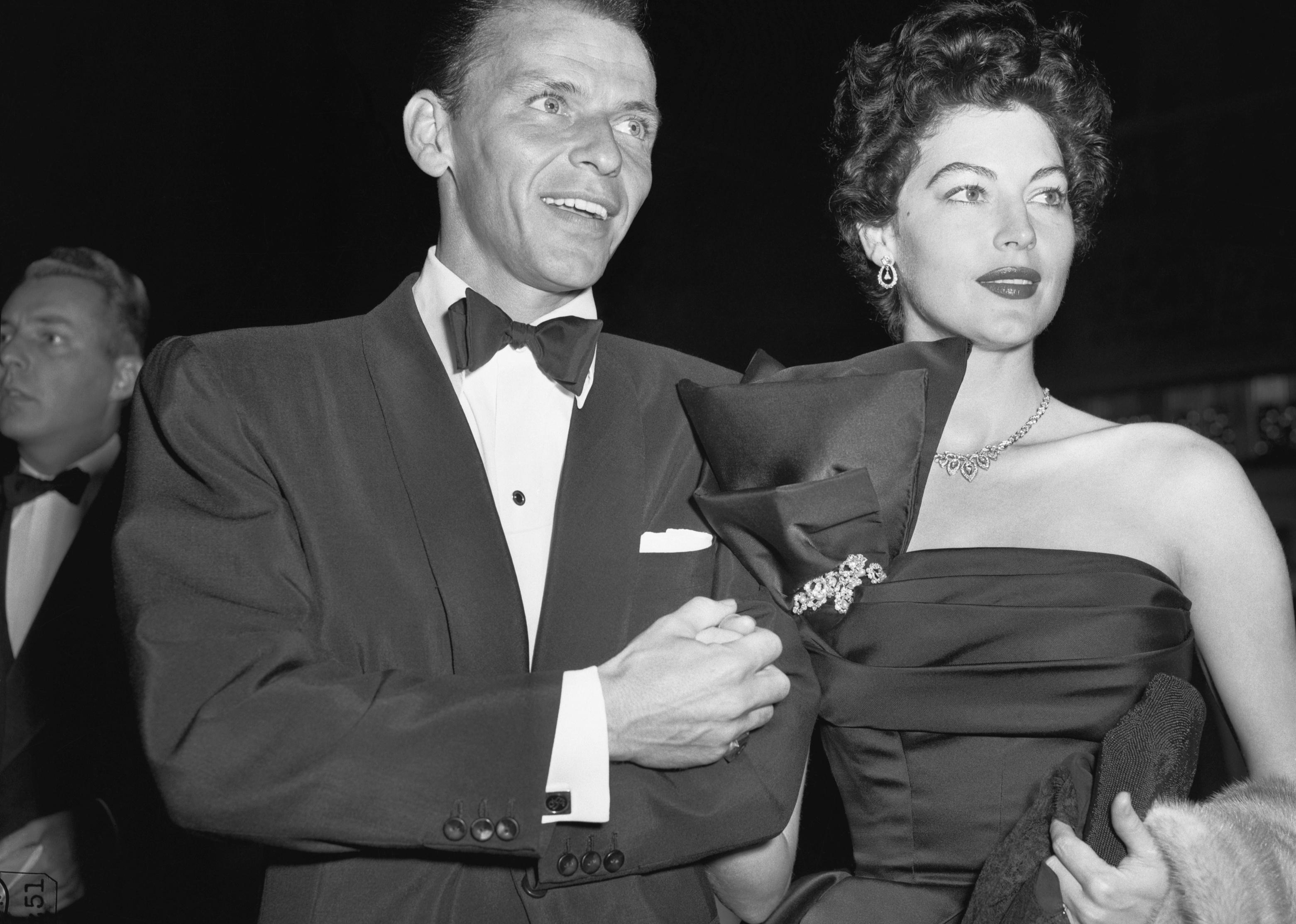 Bettmann // Getty Images
1951: Suicide attempts and dark days
Frank Sinatra Out With Ava Gardner.
Sinatra's career and public image continued to suffer into the early '50s, not aided by his affair with and subsequent marriage to Ava Gardner. Gardner's career, on the other hand, was on the upswing, with films like 1946's "The Killers" making her a star. Sinatra and Gardner's marriage was infamously tumultuous, characterized by intense fighting, jealousy, and possessiveness, on the part of Sinatra, and worsening mental health issues that resulted in Sinatra attempting suicide multiple times. Their marriage ended in 1953.
---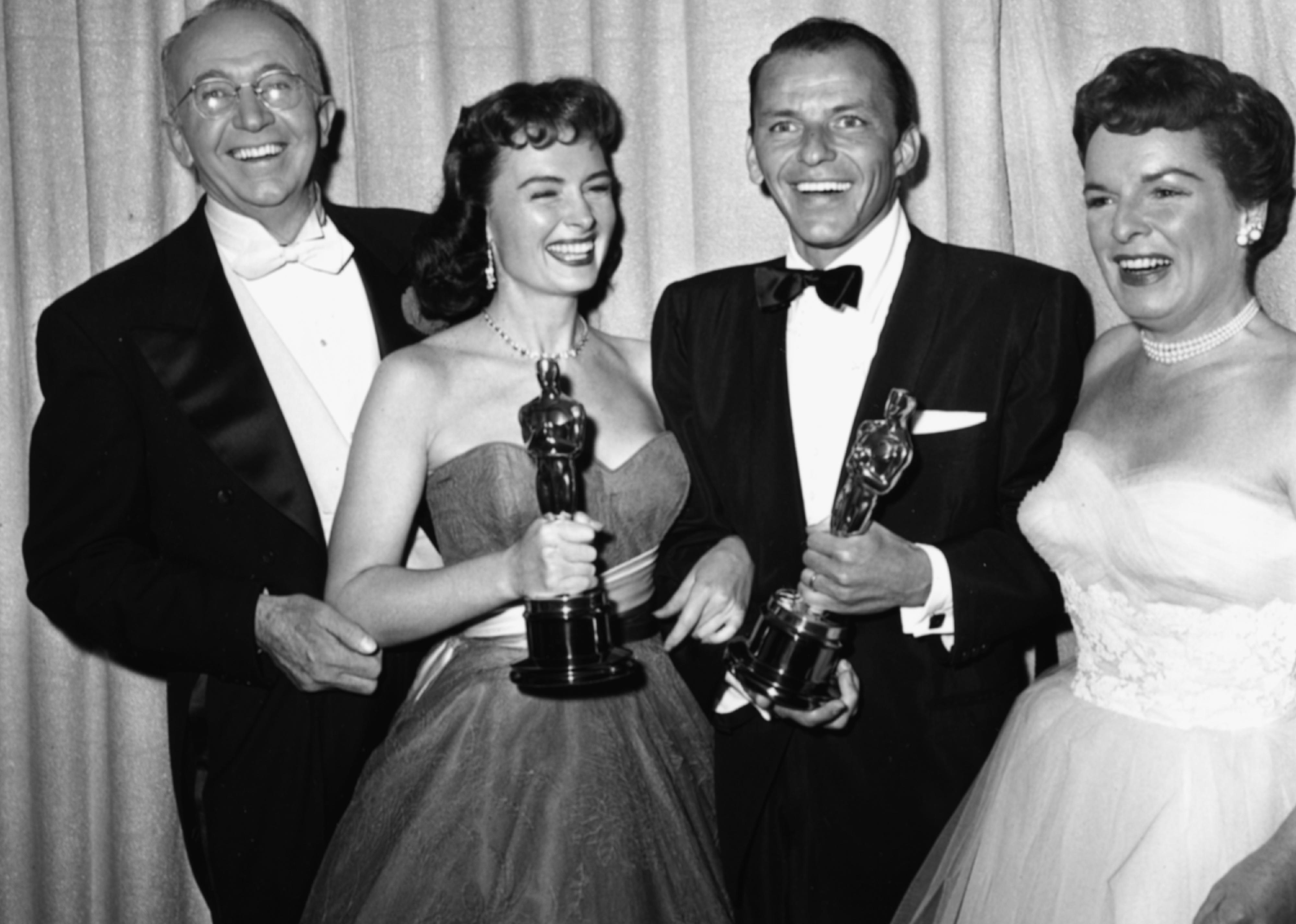 Archive Photos // Getty Images
1953: Career back on track
Frank Sinatra and Donna Reed holding their supporting actor Oscars.
In 1953, Sinatra began a comeback that launched him back into the spotlight. The first sign that his fortune was changing was being cast in the war drama "From Here to Eternity" alongside Montgomery Clift and Burt Lancaster. Sinatra won an Oscar and a Golden Globe for Best Supporting Actor for playing Maggio, an Italian American soldier.
His second stroke of luck happened that same year when Capitol Records signed him for a one-year contract. Once again able to sing—albeit with a slightly different, more mature voice—he released "In the Wee Small Hours," an album that returned him into the ears (and good graces) of the public.
---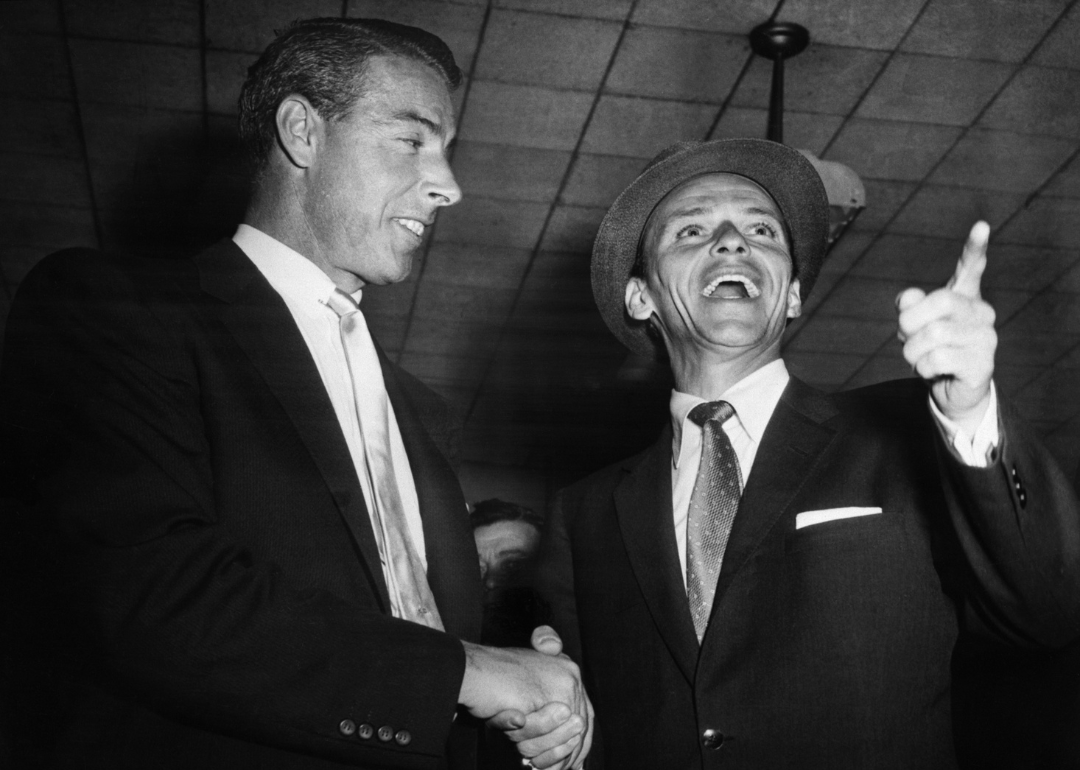 Bettmann // Getty Images
1954: The "Wrong-Door Raid"
Frank Sinatra is greeted by Joe DiMaggio on his arrival at Idlewild Airport.
In 1954, Sinatra and his friend, the famous Yankee Joe DiMaggio, were eating together when a report came from a private detective that Marilyn Monroe, DiMaggio's wife at the time, was with another man at an apartment nearby. Sinatra and DiMaggio abruptly left their dinner and kicked in the door to the apartment they thought Monroe was in, only to find they had broken into the wrong one, terrifying that apartment's resident.
DiMaggio and Monroe, whose short marriage had already been rocky, got a divorce shortly after, and Sinatra and DiMaggio were sued by the victim of their break-in. Later, when rumors surfaced that Monroe and Sinatra had started a romantic relationship, DiMaggio was furious and ultimately barred him from attending Monroe's funeral in 1962.
---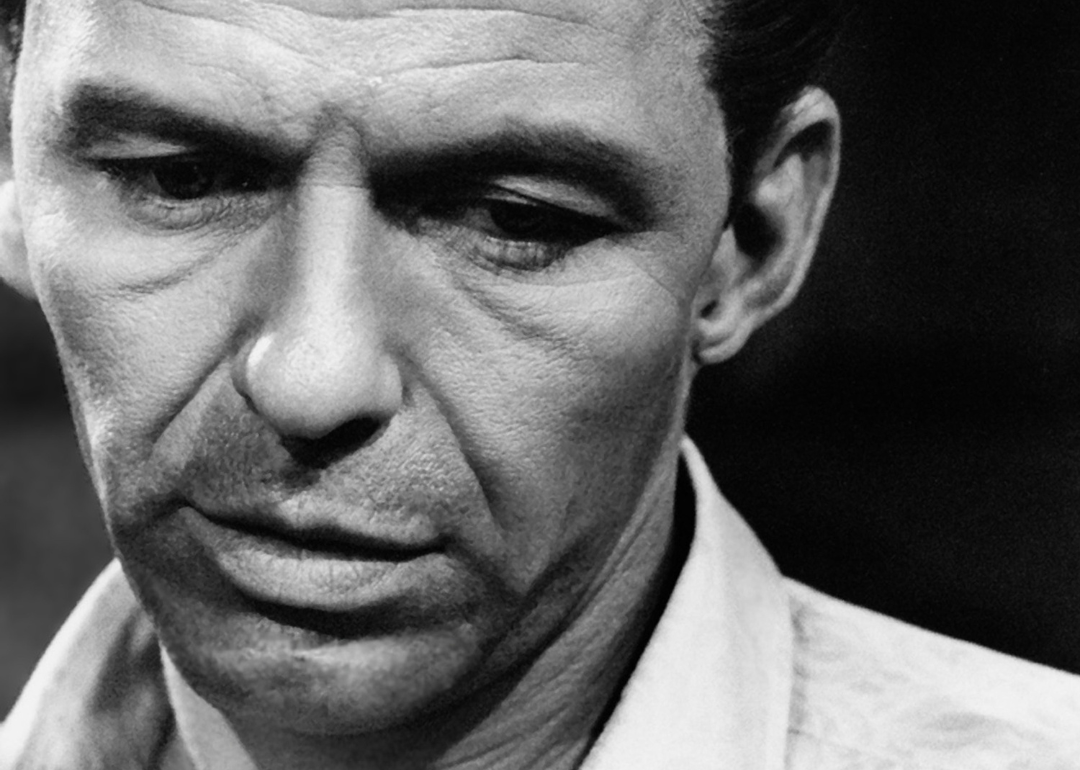 Silver Screen Collection // Getty Images
1955: Personal demons
Frank Sinatra as Frankie Machine in 'The Man With The Golden Arm'.
Despite hitting his stride as both a musical hitmaker and a successful actor in the mid-'50s, Sinatra's personal life was tumultuous and even became violent in this period. Stories have surfaced about his propensity for rage, often exacerbated by drunkenness and triggered by small slights or perceived disrespect.
He frequently lashed out at friends and romantic interests and inflicted violence—either personally or through one of his cronies—upon strangers he felt had insulted him. Sinatra also threatened and, in some cases, attacked and assaulted journalists who reported on his ties to organized crime or printed unflattering stories about him.
---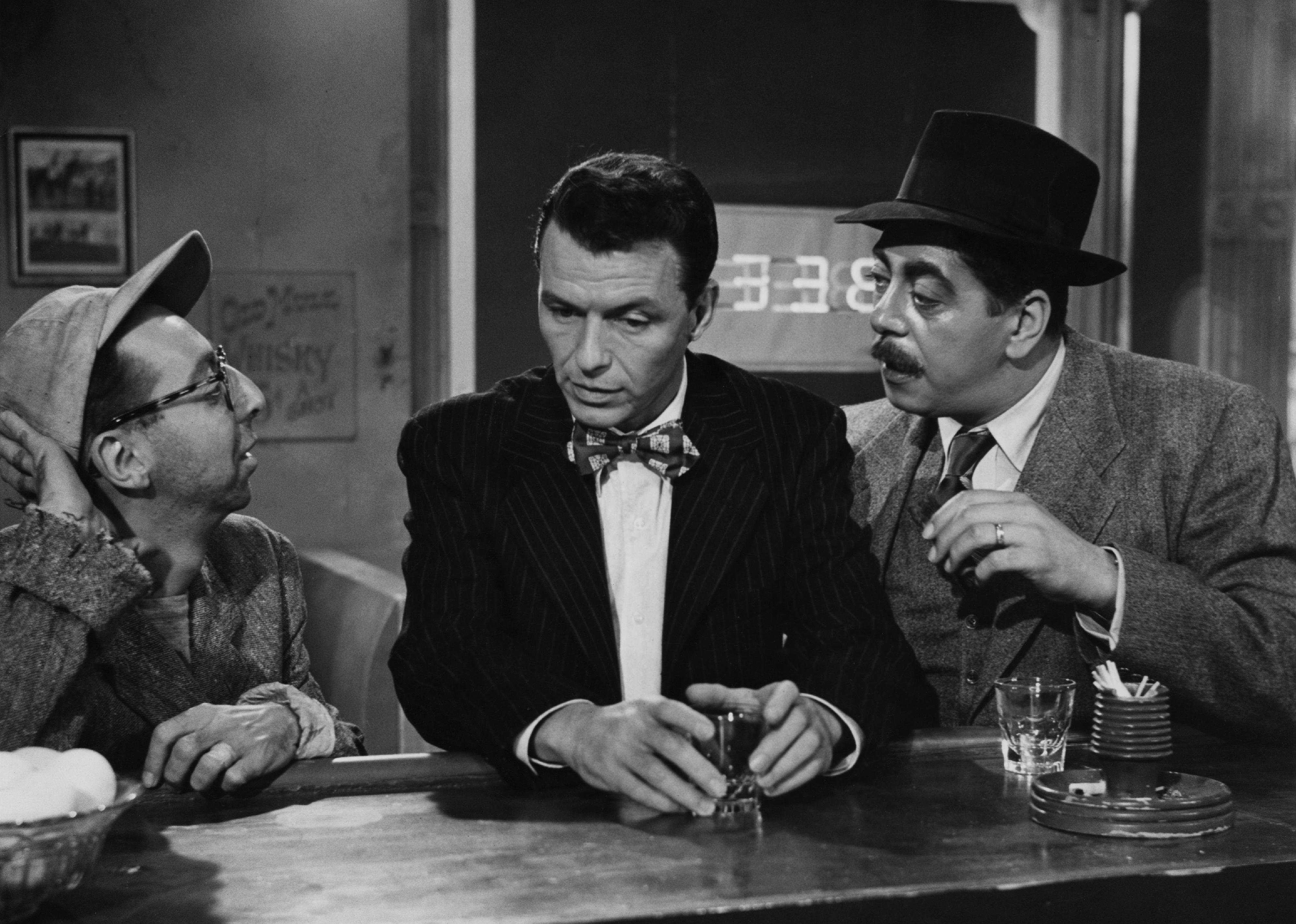 Archive Photos // Getty Images
1959: First Grammy wins
Frank Sinatra stars in the film 'The Man with the Golden Arm', 1955.
Sinatra scored his first Grammy wins at the second annual Grammy Awards in 1959: one for Album of the Year for "Come Dance with Me," another for Best Vocal Performance. "Come Dance with Me" was just one of several from the '50s that would become Sinatra classics, in addition to "Frank Sinatra Sings for Only the Lonely" and "Songs for Young Lovers." The decade was also packed with film performances following his success in "From Here to Eternity"—he appeared in "Guys and Dolls," "The Man with the Golden Arm" (for which he received an Academy Award nomination), "Suddenly," "Some Came Running," and more.
---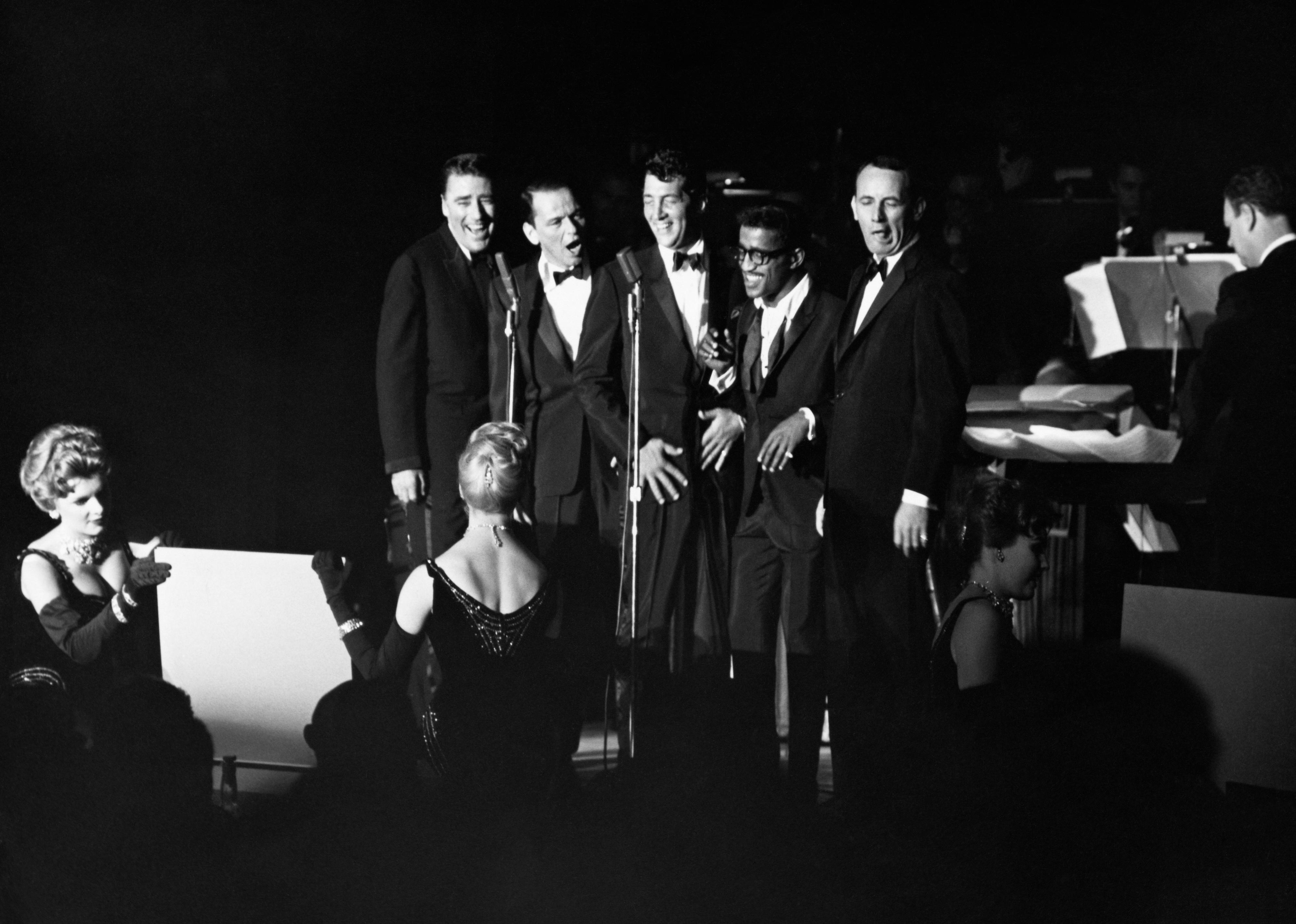 John Springer Collection // Getty Images
1960: Ties to the mob
Peter Lawford, Frank Sinatra, Dean Martin, Sammy Davis Jr., and Joey Bishop performing.
Throughout the '50s and into the early '60s, Sinatra headed up a celebrity posse comprised of fellow A-listers Dean Martin, Peter Lawford, Sammy Davis Jr., and Joey Bishop, among others. The Rat Pack, as the group was called, were famous for their Vegas exploits, various film appearances together, and high-profile connections. Among those connections was John F. Kennedy, Lawford's brother-in-law. Sinatra and fellow Rat Pack members joined forces in supporting Kennedy's presidential campaign in 1960.
In addition to lending his own fame to the campaign, he introduced Kennedy to Chicago mob boss Sam Giancana, a friend of Sinatra's, to secure union support for the soon-to-be-president. In 1963, Sinatra planned to host President Kennedy at his Palm Springs mansion, but Robert F. Kennedy intervened due to Sinatra's ties to mafiosos. Sinatra was reportedly so betrayed that he cut ties with the Kennedys, Lawford, and eventually, the Democratic Party as a whole.
---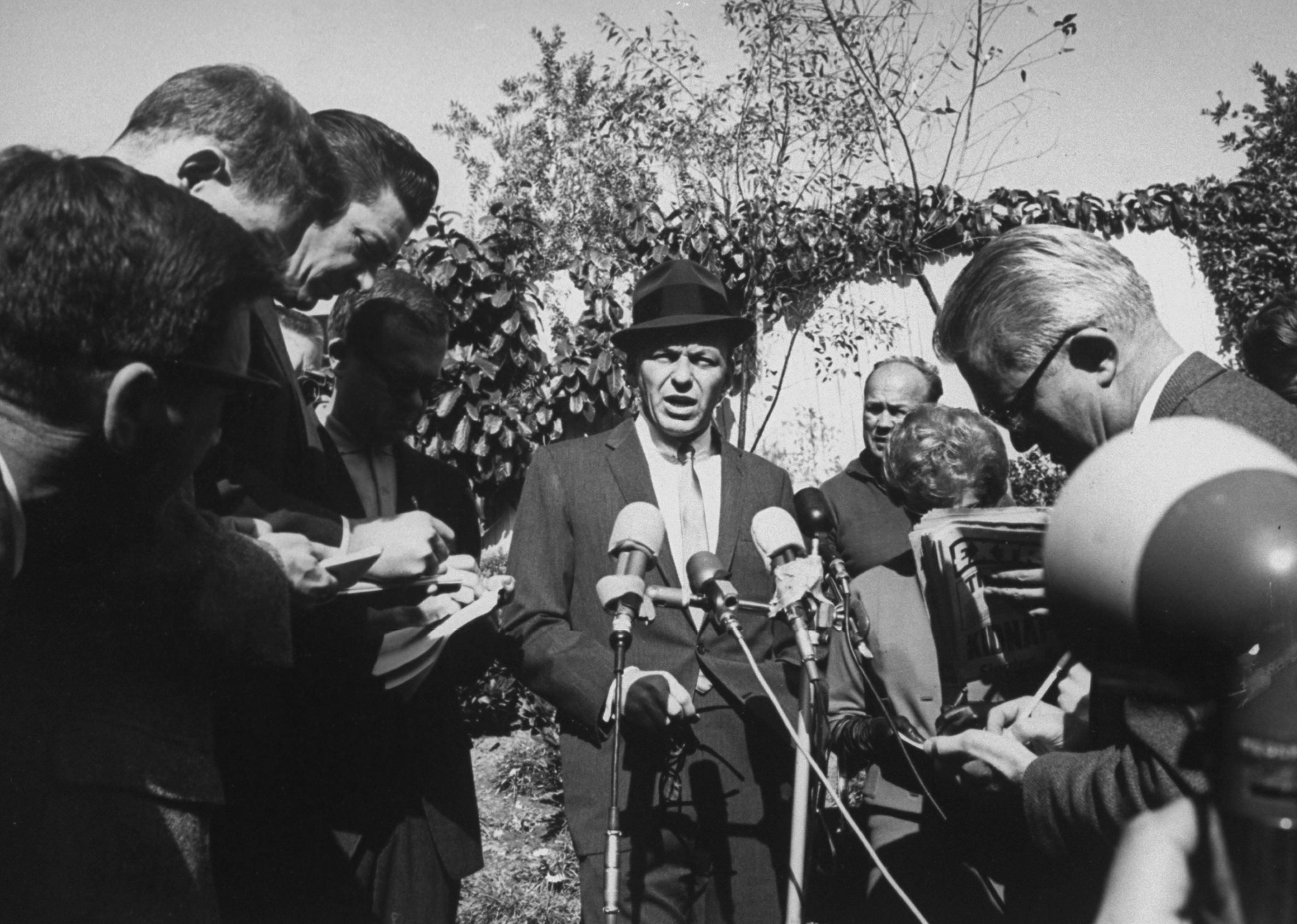 Don Cravens // Getty Images
1963: Frank Sinatra, Jr. kidnapped
Frank Sinatra giving press conference on the kidnapping of his son Frank Jr.
On Dec. 8, 1963, news broke that Frank Sinatra, Jr., Sinatra's 19-year-old son, had been kidnapped and held for ransom. The perpetrators were revealed to be Frank Jr.'s former high school classmates, who had concocted the scheme to make money off the senior Sinatra. In collaboration with the FBI, Sinatra Sr. cooperated with the kidnappers, who were holding his son in a hideout in a Los Angeles suburb, and paid them $240,000 in cash.
The kidnappers released Frank Jr., who was discovered by police in Bel Air walking back to his mother's house. The perpetrators were found by the FBI shortly after. During the subsequent trial, the defense attorney argued that Frank Jr. had concocted the plot himself to get publicity for his father, a narrative that did not work in court, but it did stick in the press.
---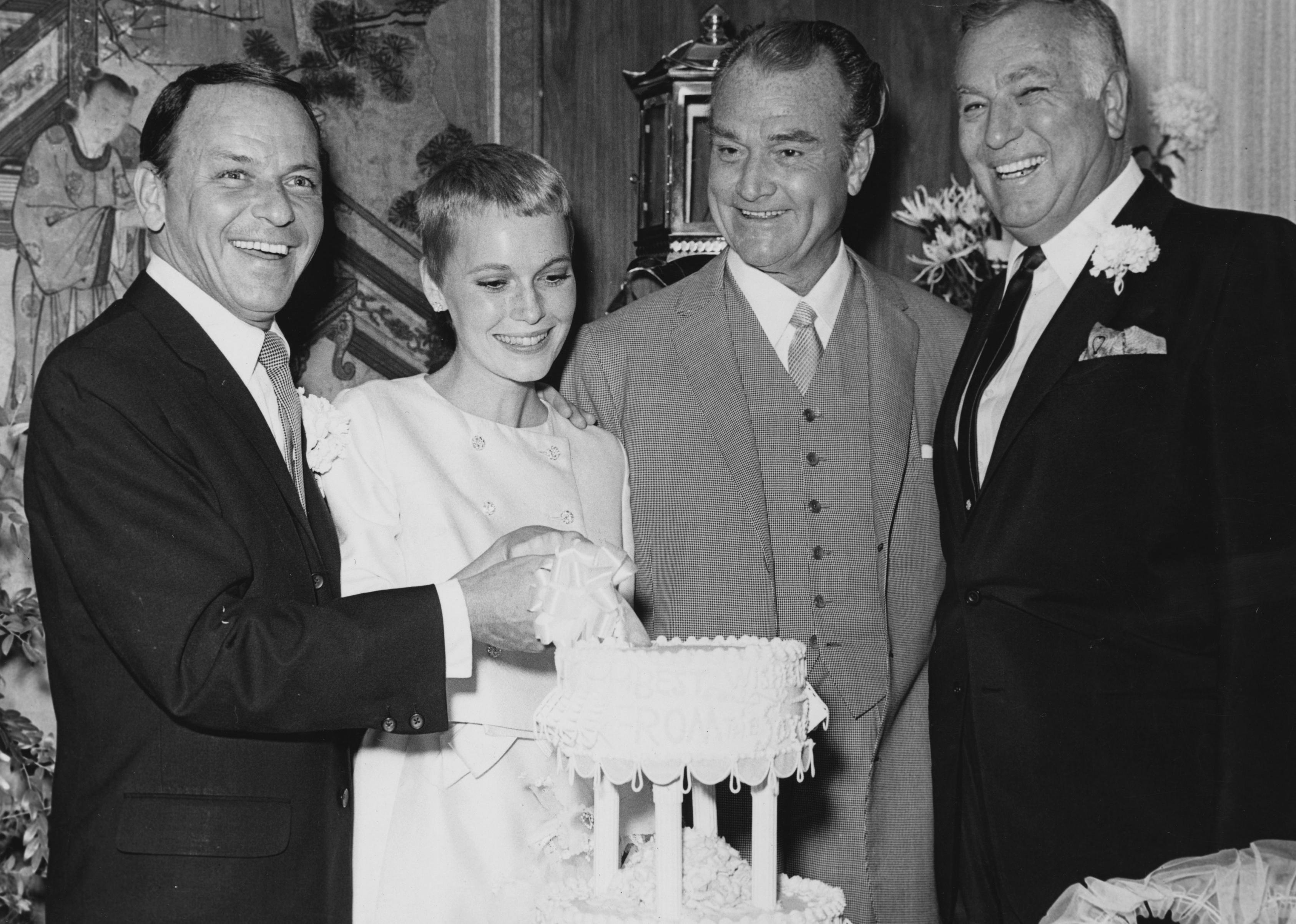 Avalon // Getty Images
1966: Marries Mia Farrow
Frank Sinatra with actress Mia Farrow on their wedding day at Las Vegas with Red Skelton.
Famously a womanizer, Sinatra married actor Mia Farrow when she was 21 and he was 50. The union was short-lived, lasting a mere 18 months. This marriage was not any less fraught or headline-making than his prior relationships due to their nearly 30-year age gap. Their marriage ended when Farrow opted to star in Roman Polanski's horror film "Rosemary's Baby" rather than a smaller role in a Sinatra film called "The Detective."
Farrow's role in "Rosemary's Baby" ended up being her big break, but Sinatra was reportedly so angry he served her with divorce papers while she was on set. Despite their dramatic breakup, the two remained close, and unsubstantiated rumors have circulated that Farrow's son Ronan, who was born during her later marriage to Woody Allen, could actually be Sinatra's.
---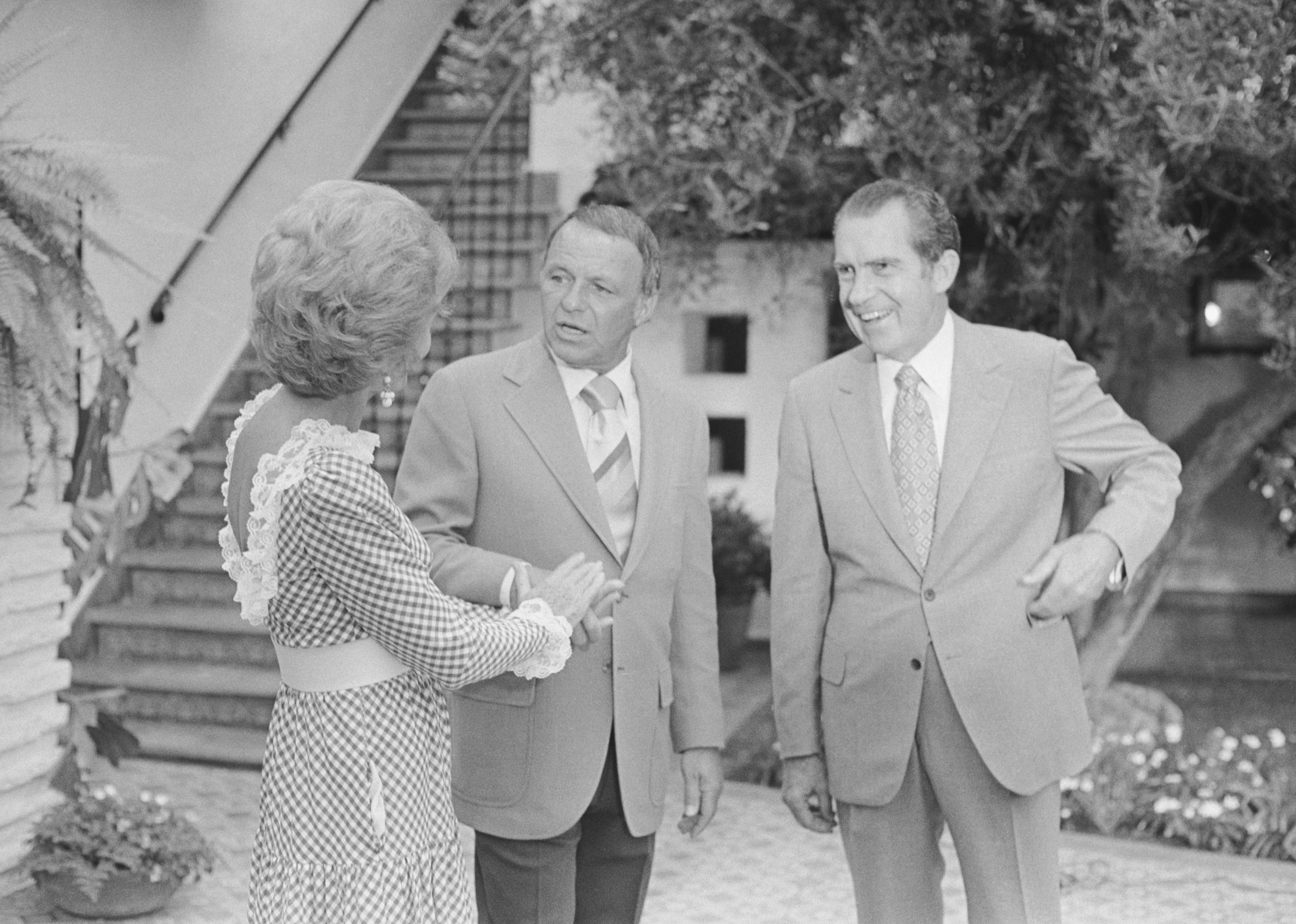 Bettmann // Getty Images
1971: Turns toward political conservatism
Frank Sinatra at Nixon's White House in California.
Throughout the '60s, as rock, folk, and other music genres took an increasingly strong hold of American sensibilities, Sinatra and the generation of music he represented experienced a period of un-fashionability. He attempted some covers of popular music of the time, including the Beatles and Joni Mitchell but wasn't ultimately very successful at adapting to changing tastes.
Sinatra went into a retirement phase in 1971, signaling other changes to come. As the youth culture of the late '60s rose to a fever pitch, Sinatra turned increasingly in the other direction—toward conservative politics. By the early '70s, he had befriended President Richard Nixon and helped with his reelection campaign.
---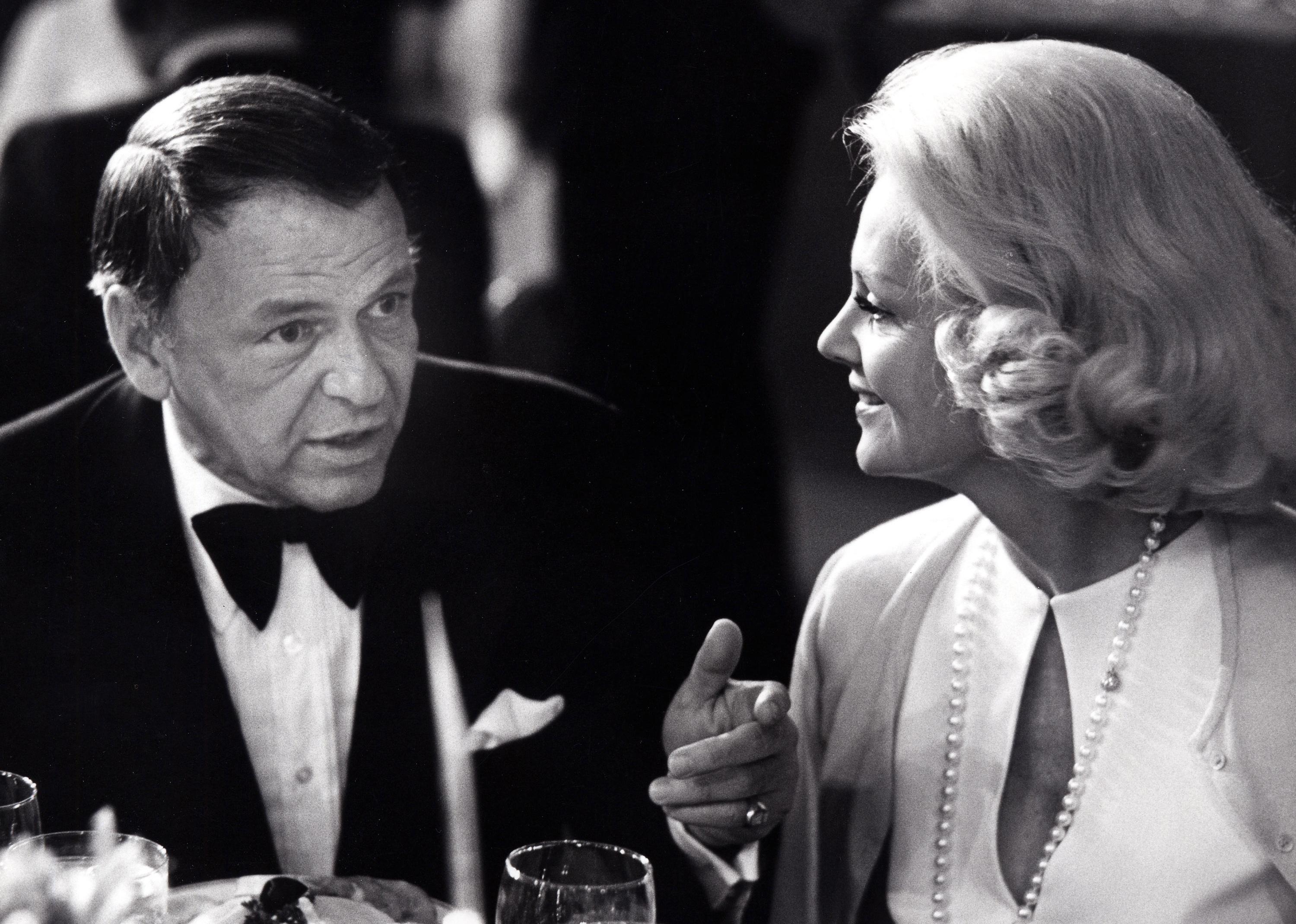 Ron Galella // Getty Images
1976: Marries Barbara Blakely Marx
Frank Sinatra and Barbara Marx at a dinner.
In 1976, Sinatra married Barbara Blakely Marx. The two had met decades before while Sinatra was married to Ava Gardner and Marx was married to Zeppo Marx, the youngest Marx Brother. After Zeppo and Barbara divorced in 1973, she and Sinatra kindled a relationship, resulting in a 22-year marriage that would last until Sinatra's death. By this time, Sinatra had released an album, "Ol' Blue Eyes is Back," which signaled his return from his short-lived retirement, though he was not recording or performing at the same frequency as he had before.
---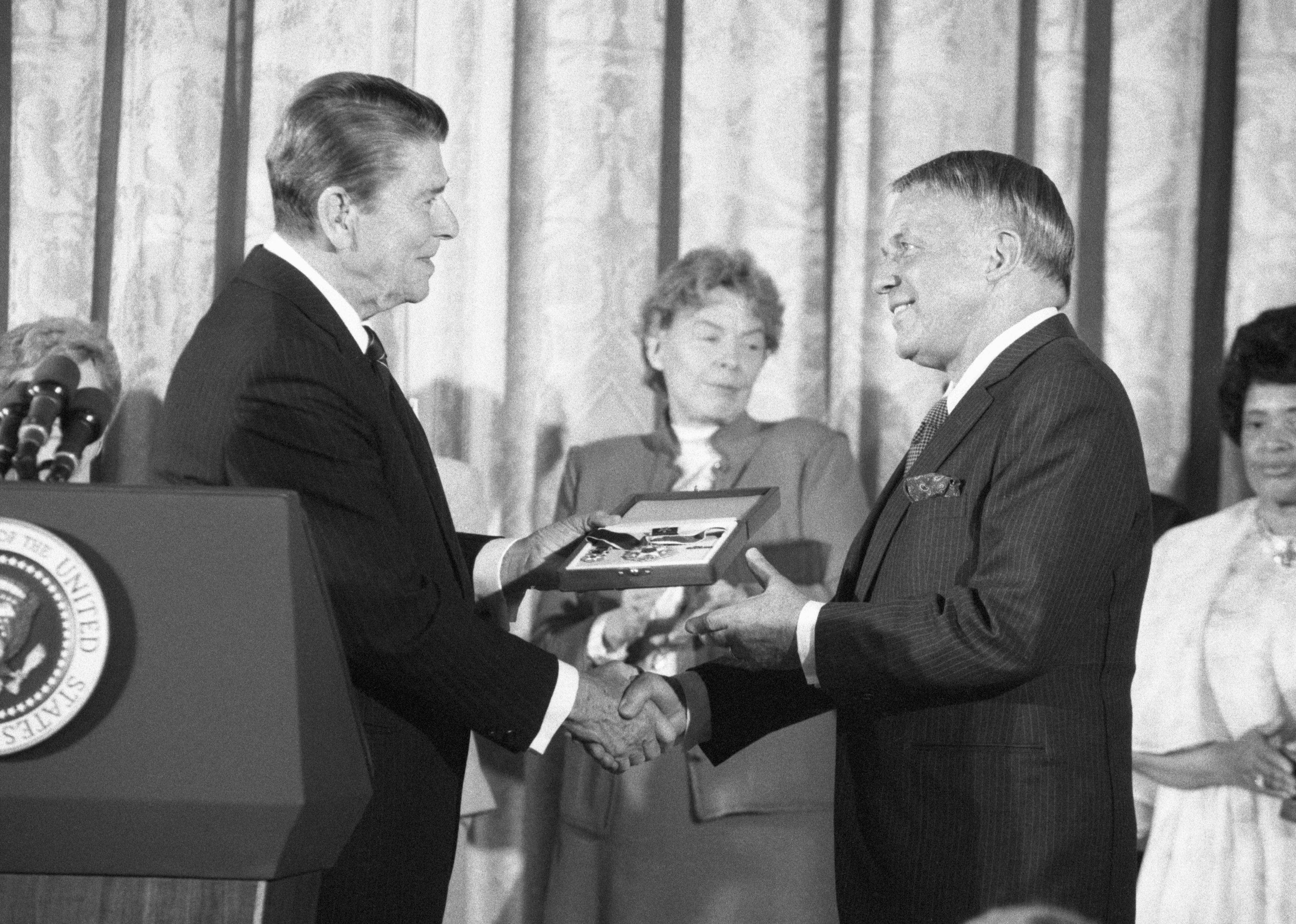 Bettmann // Getty Images
1981: The Reagan Era and the Presidential Medal of Freedom
President Ronald Reagan awards the Medal of Freedom to singer Frank Sinatra.
Now a Republican stalwart, Sinatra became close with Ronald Reagan as he rose to prominence in the late '70s. By the time Reagan became president, Sinatra was working closely with him. He organized Reagan's inaugural gala at the White House; in return, Reagan did favors for Sinatra, including being his reference when Sinatra sought re-entry into the Vegas gambling scene, access which was revoked back in 1963 due to allegations of mob ties. In 1985, Reagan presented Sinatra with the Presidential Medal of Freedom.
---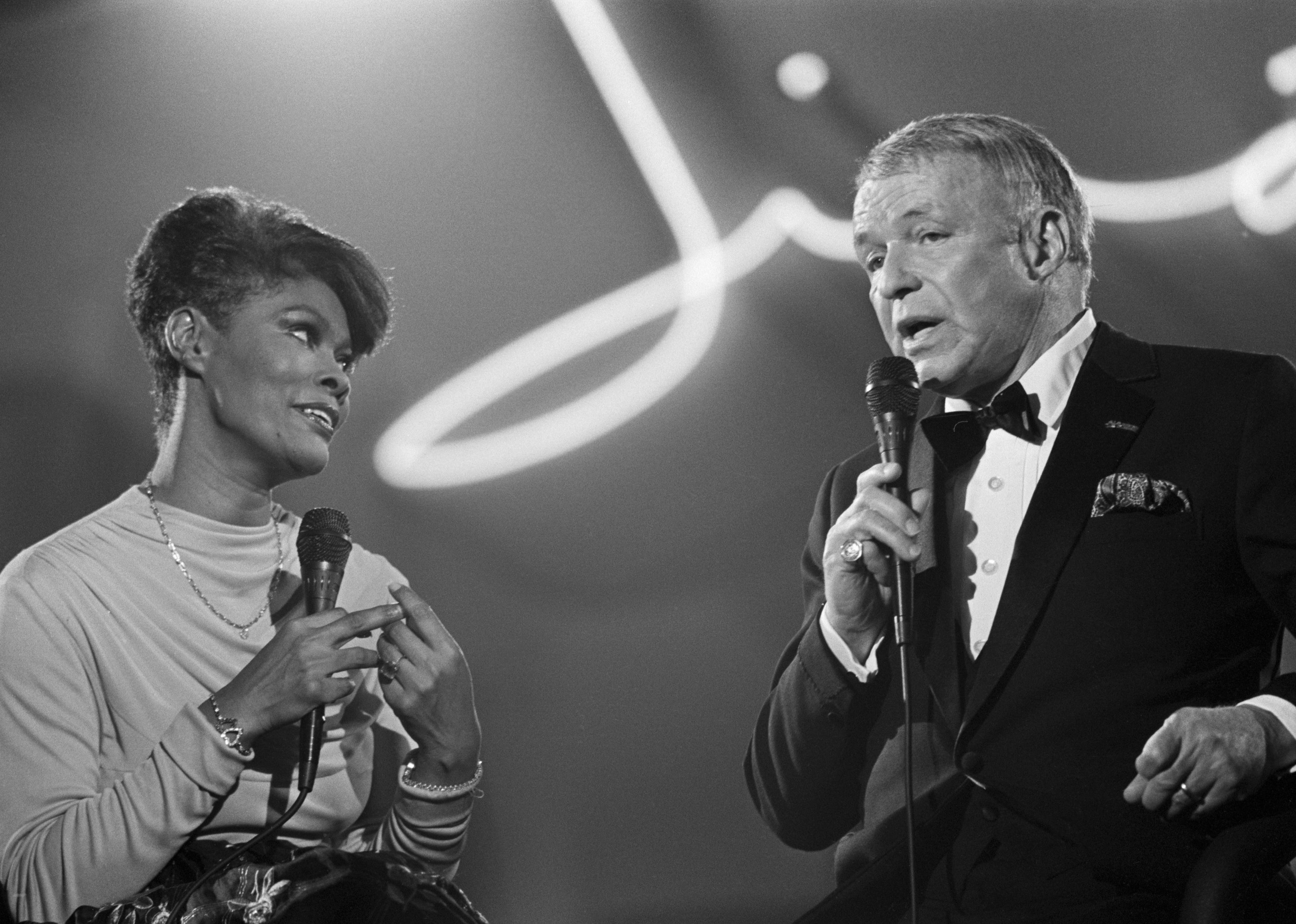 Bettmann // Getty Images
1993: A late-career comeback
Dionne Warwick and Sinatra Singing a duet.
In the late '80s, Sinatra began touring again, often joined by former Rat Pack member Sammy Davis Jr., as well as Liza Minnelli and Shirley MacLaine. In 1993, he made a comeback with his album "Duets," a series of duets featuring stars including Aretha Franklin, Tony Bennett, and Barbra Streisand. This comeback lasted a few years before health issues made it increasingly difficult to perform. His last concert was in 1995 in Palm Springs, California.
---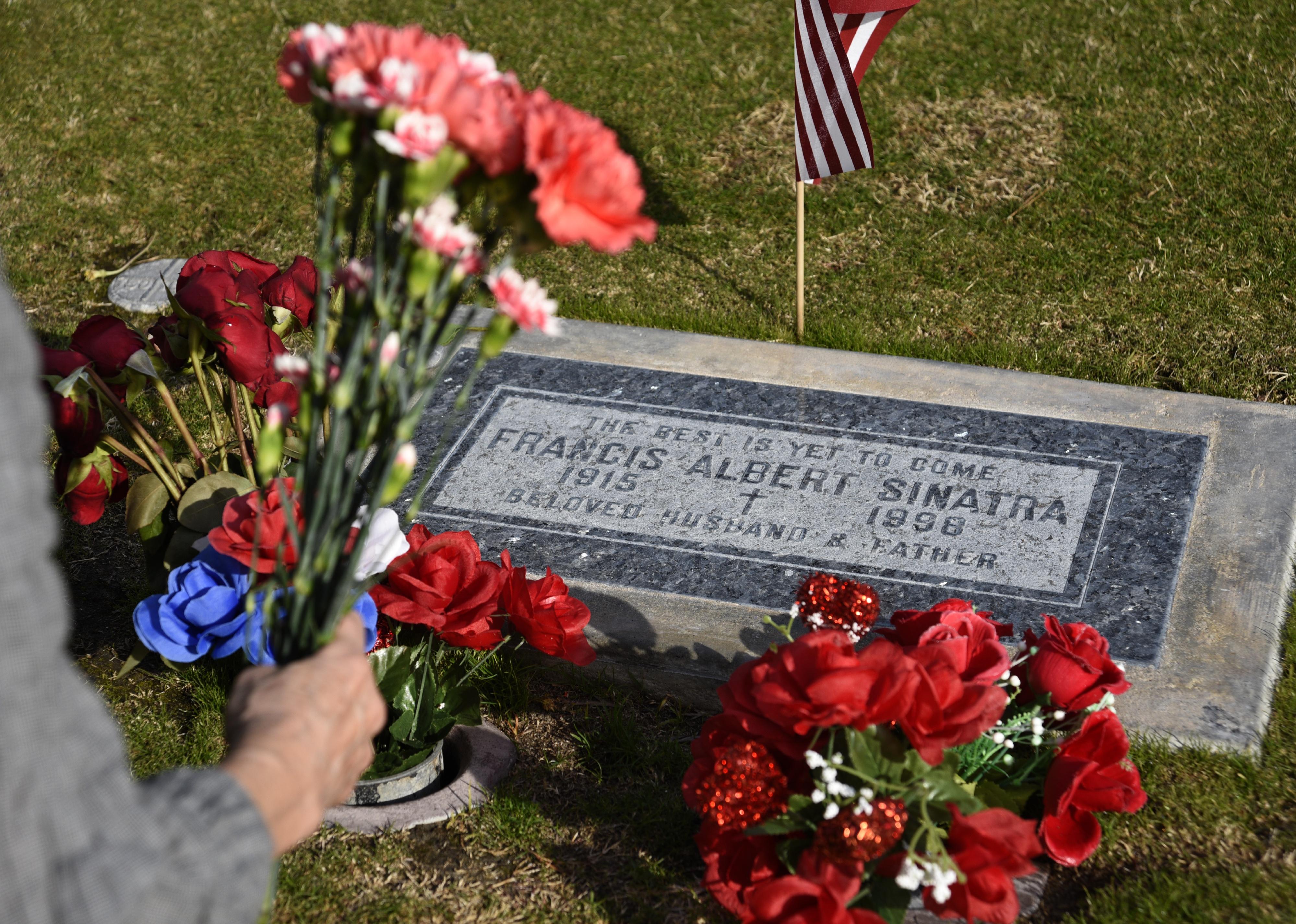 Robert Alexander // Getty Images
1998: Death
A woman places flowers on the grave of singer Frank Sinatra at Desert Memorial Park in Cathedral City.
Sinatra died of a heart attack on May 14, 1998, at age 82. In the company of his wife and his manager, his last words reportedly were, "I'm losing." He was buried with a bottle of Jack Daniel's, Camel cigarettes and a lighter, and candy. Sinatra's tombstone reads: "The Best is Yet to Come."
Story editing by Chris Compendio. Copy editing by Paris Close. Photo selection by Clarese Moller.
---