'The stakes are very high': Hospital housekeeper at El Paso's UMC details challenges of sanitizing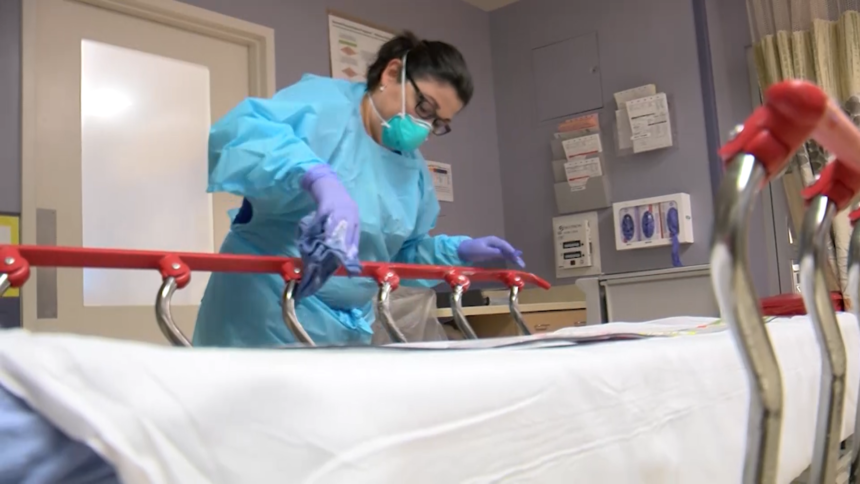 EL PASO, Texas (KVIA) -- Praise and attention has deservedly been garnered by doctors and nurses nationwide.
They're saving lives and putting their lives at risk during the coronavirus pandemic.
But, then there are the unsung heroes. Those sanitizing the front lines for them.
"The stakes are very high here, yes, because of what's going on with Covid-19," said Dolores Jacksics, a housekeeper at University Medical Center. "We have to make sure everything is always clean and sanitized."
Jacksics dons a gown, gloves, N-95 mask, and hospital-grade sanitizer as she cleans.
"We know what we're doing, so I'm not too worried about it," Jacksics said.
Still, since she doesn't have the luxury of being able to work from home -- she does all she can to make sure the effects of her work make their way too her home.
"We take off our shoes at the door so we won't take nothing into our house," she said. "We also change our clothes, our uniforms and put on house clothes, so we could leave our uniforms in a bag. As soon as we get home we just wash them in hot water."
Jacksics was working on the day of the Walmart mass shooting. She witnessed unspeakable things, but did her job anyway. She cleaned and prepared rooms in the ER so that more victims could receive treatment.
She said that experience prepared her mentally for the pandemic.
"It was eye-opening because i never thought that I would see something like that," Jacksics said. "I've never seen people coming in, wounded the way they were. Here [during the pandemic] it's bad, but I don't think it's as bad."
Jacksics is proud of the work she does and is thankful for her role in helping keep the community safe.
"We like to hear that they appreciate us. Some people don't realize that our job is very important," she said.