What is the average credit score in the US?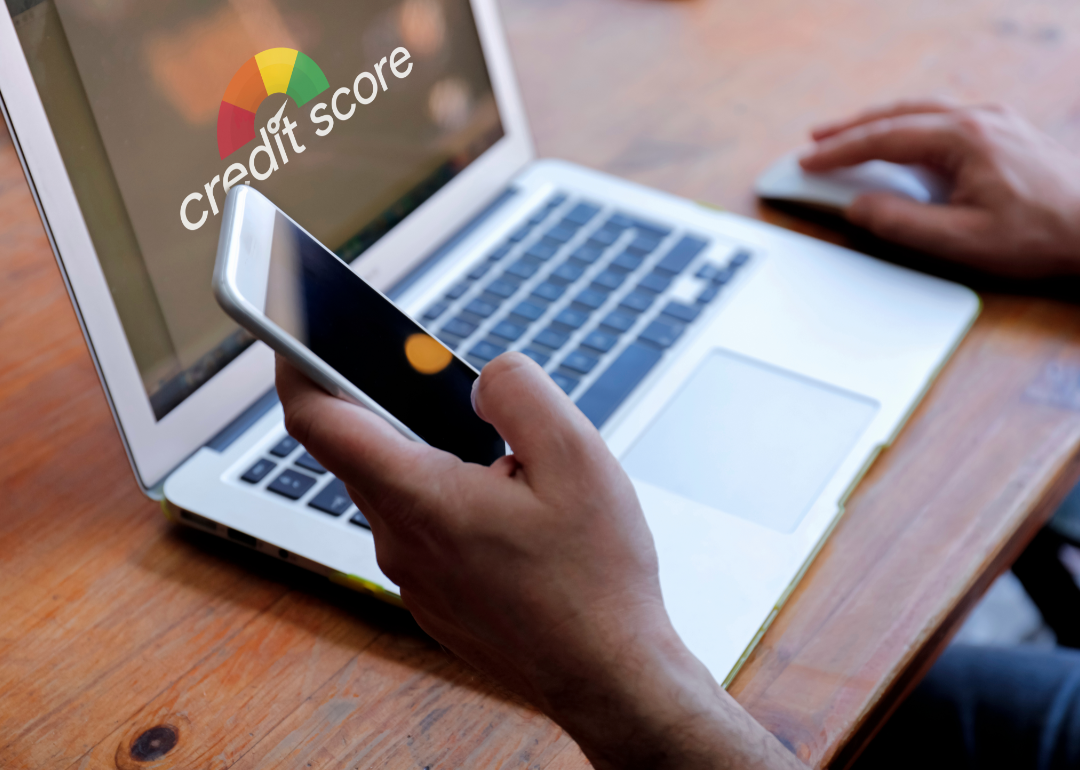 Canva
What is the average credit score in the US?
Two hands operating a laptop and smartphone.
The average FICO Score in the U.S. was 714 in 2022, according to Experian data. The data suggests that consumers, collectively, continued to effectively manage their credit despite economic shifts in 2022.
As one might expect from circumstantial evidence, it doesn't mean it was a quiet year for nearly any economic participant in 2022:
Lingering shortages have caused prices to rise for consumer goods and services small and large—from quick-service restaurant purchases to vehicles and homes. And while some of those shortages have started to subside, others, such as housing in much of the nation, may continue to persist.
In addition, recent interest rate hikes mean consumers are paying more to carry balances on their credit cards. As the Federal Reserve increases its federal funds target rate, the interest rate of variable-rate credit cards climbs in turn. (Changes to the Fed rate typically cause banks and credit card issuers to adjust their prime rate, which serves as a starting point for nearly all credit card APRs.)
The unemployment rate remains near record lows, suggesting that while consumers may have had to cope with some price increases, they by and large still have the means to manage their mortgages, car loans and credit card balances.
In this analysis, we'll examine the effects economic forces have on Americans' credit scores.
---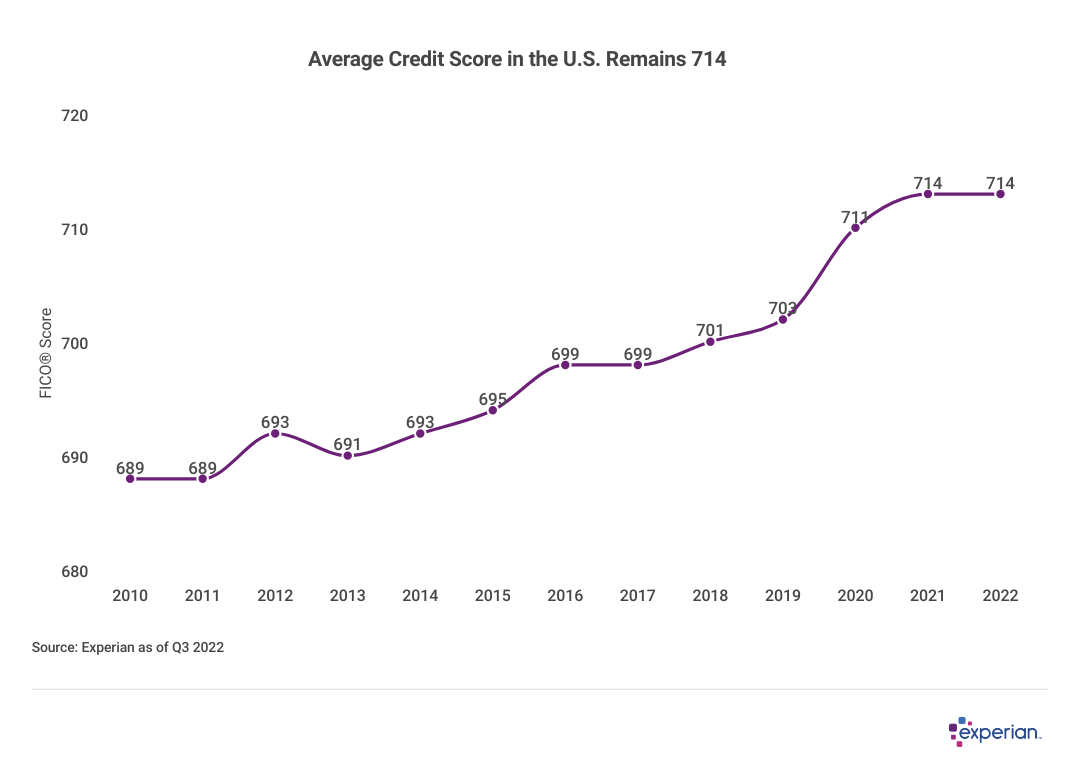 Experian
Average FICO score remained steady across the country
A chart showing how the average credit score has mostly increased between 2010 and 2022, with the average credit score most recently being 714.
The average FICO Score is unchanged from the September 2021 average of 714, but that stability belies the broad economic indicators over that time, which showed that markets and economic conditions were anything but steady through 2022. A credit score of 714 is generally considered good by lenders.
Average FICO score nearly unchanged among all generations
Taking a look at scores split out by generation, average credit scores changed little, if at all, for consumers both young and old. The larger cohorts—baby boomers, Generation X and millennials—each saw slight increases in their average FICO Score, while the less-populous Silent Generation and Generation Z saw no change in average credit scores in 2022. 
Average FICO score by generation, 2022
Silent Generation (77+): 760
Baby boomers (58-76): 742
Generation X (42-57): 706
Millennials (26-41): 687
Generation Z (18-25): 679
(Ages as of 2022)
---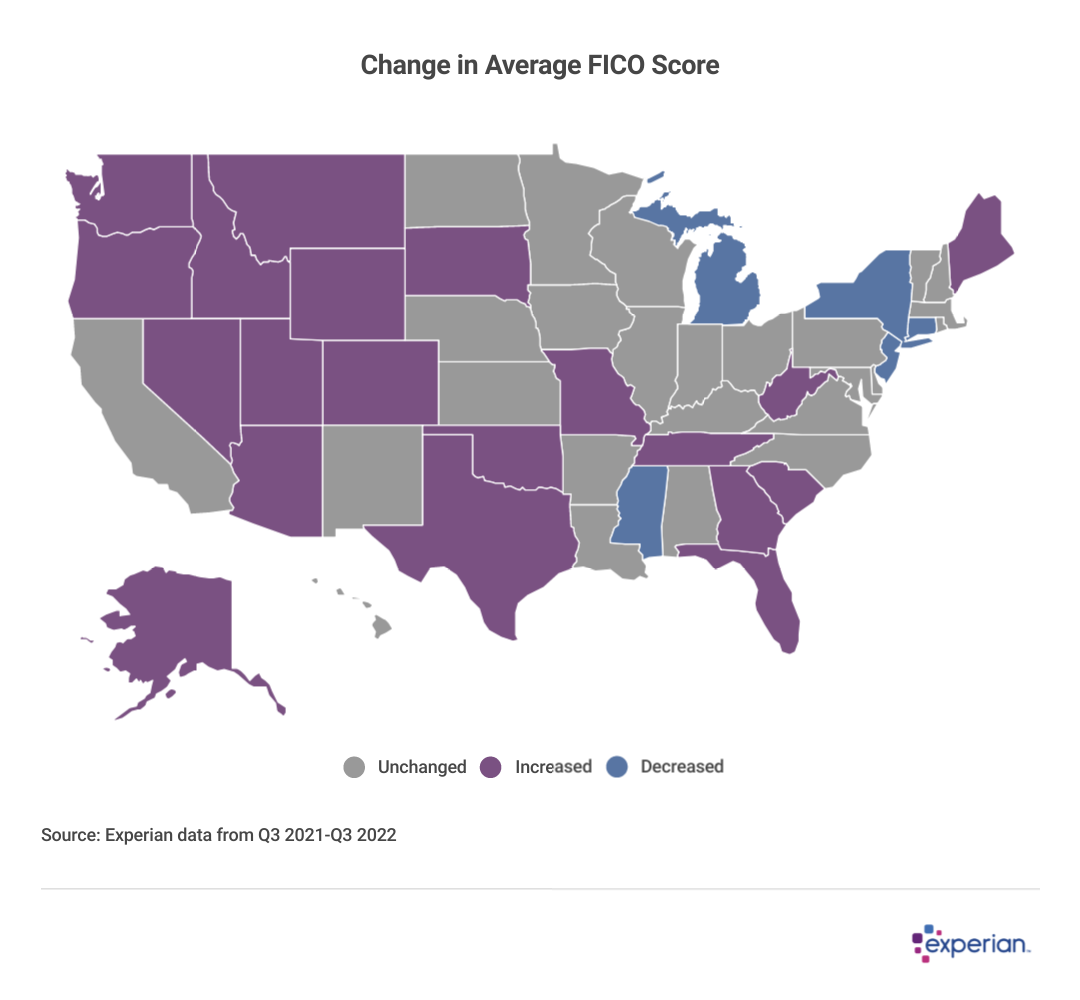 Experian
Average FICO Score unchanged in 21 states
A U.S. map that shows the states where the average FICO score remained unchanged, increased, or decreased from Q3 of 2021 to Q3 of 2022.
FICO Scores in most states remained unchanged from 2021 despite economic headwinds faced by both producers and consumers throughout the year. 
Among the few notable outliers were sparsely populated Alaska, which saw FICO Scores increase by six points in the past year, and South Carolina, which notched a three-point gain in average FICO Score.
Only five states, and the nation's capital, saw declines in 2022: Four states and Washington, D.C., saw average FICO Scores decline one point last year while Connecticut fell three points in 2022.
---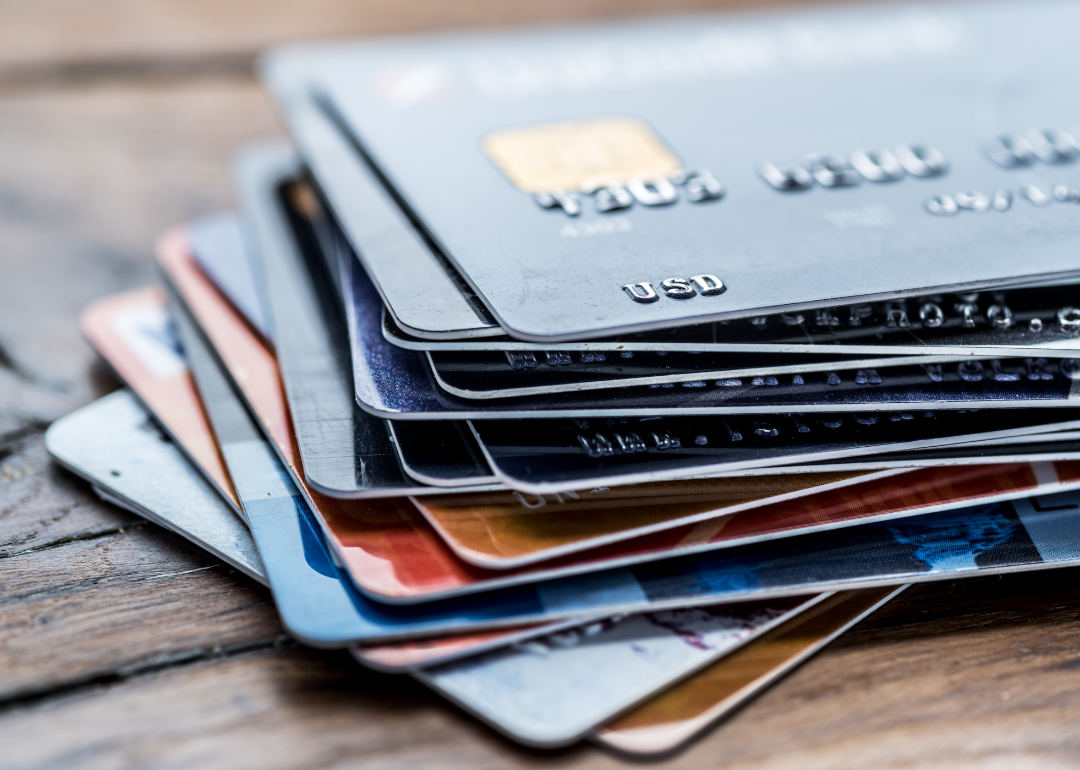 Canva
Credit card utilization ticks up on pent-up consumer demand, inflationary pressure
A stack of multiple credit cards on a wooden surface.
Credit utilization, which measures how a consumer's credit card balances compare with their credit limits (typically expressed as a percentage), increased from 26% in September 2021 to 28% a year later. Inflation and higher interest rates are two factors that continue to drive up credit utilization rates, which has the potential to put downward pressure on FICO® Scores.
As one of the most impactful components of an individual's FICO Score, changes in a consumer's credit utilization ratio can cause their score to rise or fall. Generally, as an individual's credit utilization ratio decreases (or increases), scores improve (or decline). But economic forces can affect both the balances carried on credit cards and the credit limits these cardholders are granted by card issuers. Together, those two numbers comprise the credit utilization ratio. 
Average overall credit utilization ratio
Credit card balances, as you'll see in more detail in Experian's 2022 Consumer Credit Review, have increased by 13.2% in the 12 months ending in September 2022, and inflation, as measured by the consumer price index, was 8.2% over that same period.
The sharp increase in average card balances can be attributed to three factors: overall inflation, which made nearly every purchase more costly for consumers; increased spending on goods and services that weren't always available for purchase in 2021; and higher APRs, which increased the interest accruing on existing credit card balances.
Similarly, card limits extended to consumers by lenders are also subject to economic conditions facing lenders. And while the average amount of total credit extended to consumers did increase throughout 2022, at 4.2% it was easily outstripped by the 13.2% card balance increase. Lenders are being more selective about extending credit, according to recent surveys of loan officers conducted by the Federal Reserve.
---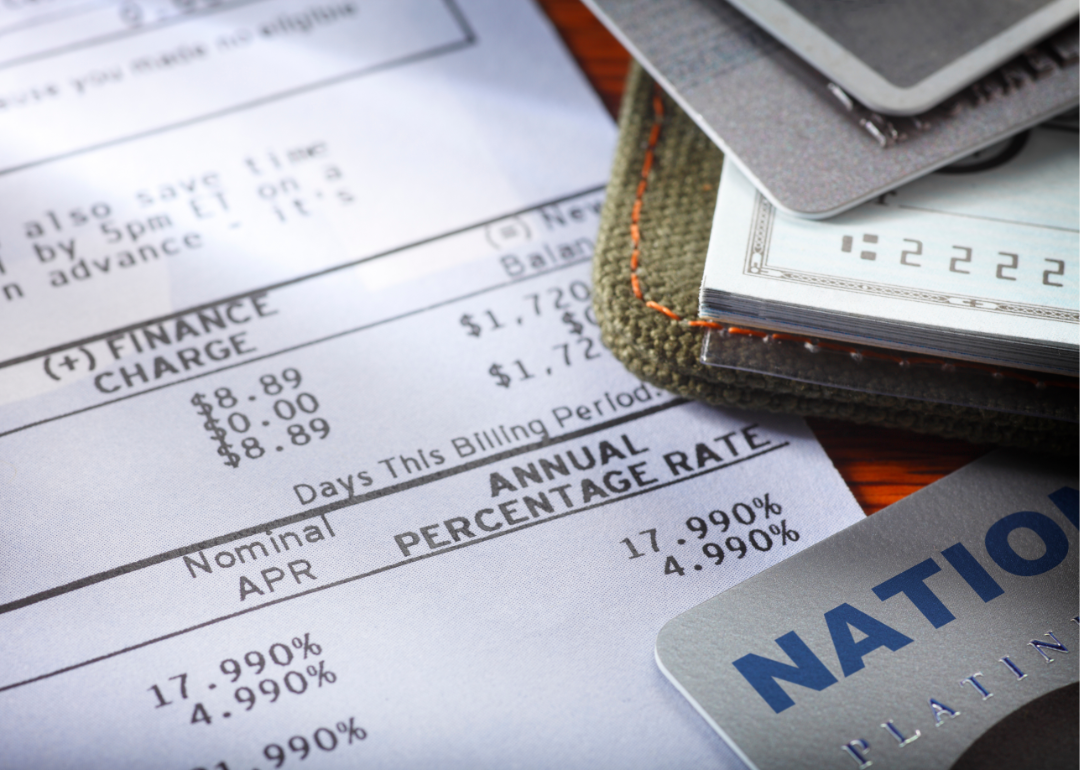 Canva
Delinquency rates returning to pre-pandemic levels
A credit card and checkbook lie atop a credit card bill.
The percentage of delinquent credit card accounts increased to 2.07% in September 2022, up from the prior year's near-record low of 1.23% delinquency rate. This increase brings delinquency rates back to pre-pandemic levels.
Percent of credit card accounts considered delinquent
2019: 2.04%
2020: 1.24%
2021: 1.23%
2022: 2.07%
While very little in the economy can be considered normal so far this decade, the resulting U-shaped curve does at least indicate we're exiting the pandemic economy, which slowed card purchases and swelled many bank accounts in 2020 and 2021. So while the increase from 2021 has been significant, delinquency rates remain consistent with the pre-pandemic average.
---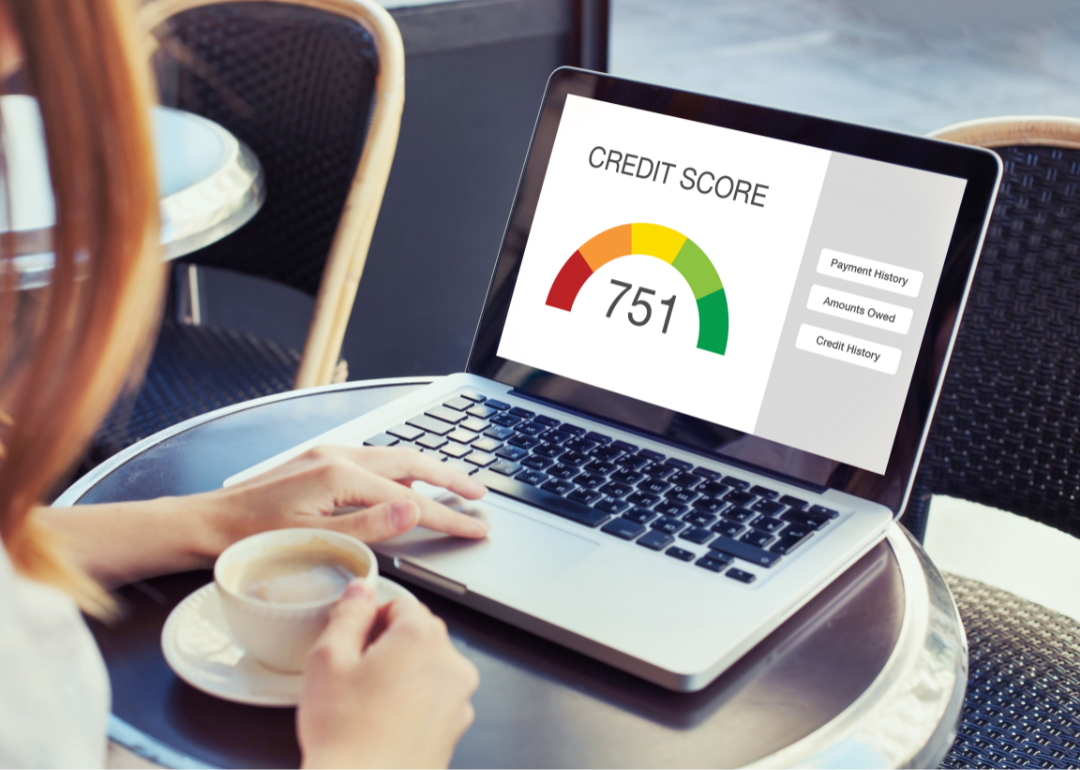 Canva
How to improve your credit score
A laptop displays a credit score of 751.
Improving your FICO Score can be helpful before applying for a new line of credit such as a credit card, mortgage or personal loan. A higher score can help you secure better terms and lower interest rates available. Here are some actions that can help improve your credit score.
Pay all of your bills on time. This will help ensure your payment history remains unblemished and shows lenders that you have a history of managing credit responsibly. If you have any past due accounts, bringing them current as soon as possible can help your scores begin to recover.
Pay down credit card balances. Keeping balances on your credit cards low will help keep your credit utilization ratio at a good level.
Apply for credit only when you really need it. A credit application will typically result in a hard inquiry being added to your credit report. This can have a short-lived negative effect on your credit score. While the impact of one inquiry is typically minimal, the effect of multiple inquiries can compound if you submit frequent credit applications. Taking on a lot of new credit also reduces your average age of credit accounts, which can impact your score.
Understanding your credit profile can help you understand what lenders see when they look at your credit report. Getting your free credit score and credit report can show you where you are and what steps you may be able to take to improve your score.
Methodology: The analysis results provided are based on an Experian-created statistically relevant aggregate sampling of our consumer credit database that may include use of the FICO Score 8 version. Different sampling parameters may generate different findings compared with other similar analyses. Analyzed credit data did not contain personal identification information. Metro areas group counties and cities into specific geographic areas for population censuses and compilations of related statistical data.
This story originally appeared on Experian and has been independently reviewed to meet journalistic standards.
---