Trump backs away from enforced virus quarantine for NY, has CDC issue a 'strong travel advisory'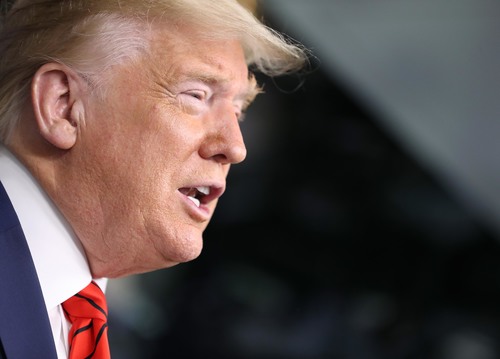 WASHINGTON, DC -- After threatening it earlier in the day, President Donald Trump on Saturday evening said he would not be using an "enforceable quarantine" in the New York, New Jersey and Connecticut areas.
"A quarantine will not be necessary," the president said of the idea he had floated.
Instead, Trump asked the U.S. Centers for Disease Control and Prevention to issue a "strong travel advisory to be administered by the Governors, in consultation with the Federal Government."
The CDC announced the new travel advisory late Saturday night, urging people in those states to "refrain from non-essential domestic travel" for the next 14 days.
The governors of each of the three states had reacted strongly against the proposed quarantine measure.
"That is not a quarantine, that is a lockdown," New York Gov. Andrew Cuomo said in an interview on CNN, likening the restriction to Wuhan, China. "I don't believe it would be legal. I believe it would be illegal."
Earlier Saturday, Trump had told reporters on the South Lawn of the White House: "We're thinking about certain things. Some people would like to see New York quarantined because it's a hotspot... We might not have to do it, but there's a possibility that sometime today we'll do a quarantine, short-term, two weeks on New York. Probably New Jersey, certain parts of Connecticut."
The president had threatened to restrict travel from those areas because "they're having problems down in Florida, a lot of New Yorkers going down, we don't want that."
Trump had suggested the quarantine while Cuomo was holding a separate news conference. Cuomo said he had not spoken to the president about such a measure and said "it would be chaos and mayhem."
"It's totally opposite everything he's been saying. I don't think it is plausible. I don't think it is legal," Cuomo said, adding that it would be a "federal declaration of war."
There are now 52,318 confirmed cases in New York, after 7,681 new cases were reported in the last 24 hours, Cuomo said at his press conference.
The deaths in the state were up to 728 from 519.
Cuomo did say there was a bit of good news: new hospitalizations and new ICU admissions went down in the last 24-hour period. He cautioned that one day does not prove a trend and the situation certainly could go the other way.
There were 372 people admitted in to an intensive care unit on Friday and 172 admitted on Saturday. For new hospitalizations, the number Friday was 1,154 and 847 for Saturday.
"The overall line is still up," Cuomo said. "This is good news on a one day number."
The governor also announced he was postponing the presidential primary in the state from April 28 to June 23, the date of the state's down ballot primary elections.