Trump says federal assistance to go to 13,000 health centers in African American & Hispanic communities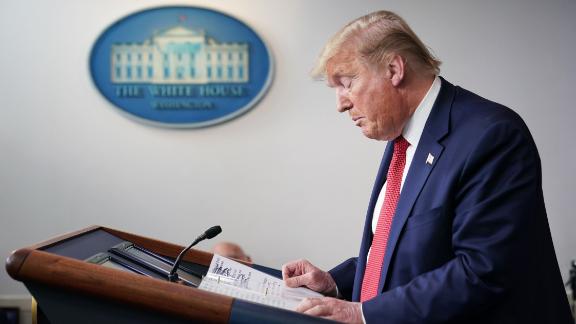 WASHINGTON, DC -- President Donald Trump said Saturday at his daily White House briefing that the government will be providing assistance to 13,000 community health sites and mobile medical stations that will give testing in medically under-served regions with "many African American and Hispanic communities."
Trump said his administration is conducting "big studies" on how Covid-19 is affecting African American and Hispanic communities.
"We're taking care of them, and it's so important because you've all been reading about the disproportionate numbers on African American, and you're reading a little bit less about Hispanic, but, likewise, Hispanic communities," Trump said. "The numbers are disproportionate."
He did not elaborate on the studies.
The president also urged lawmakers to replenish the small business relief fund.
"The Paycheck Protection Program funding is now fully drained. It's out. It's gone," Trump said of the $350 billion relief fund.
He called on Democrats to get "on board," and said lawmakers "must stop blocking these funds."
Trump also said Saturday that he believes "some of the governors have gotten carried away" with social distancing measures, when asked about protests against social-distancing measures taking place across the nation.
He said that "a lot of people don't have to be told to do what they are doing," in following social distancing measures. His comments came as protests against coronavirus-related restrictions continue in various states across the country.