20 celebrities who became politicians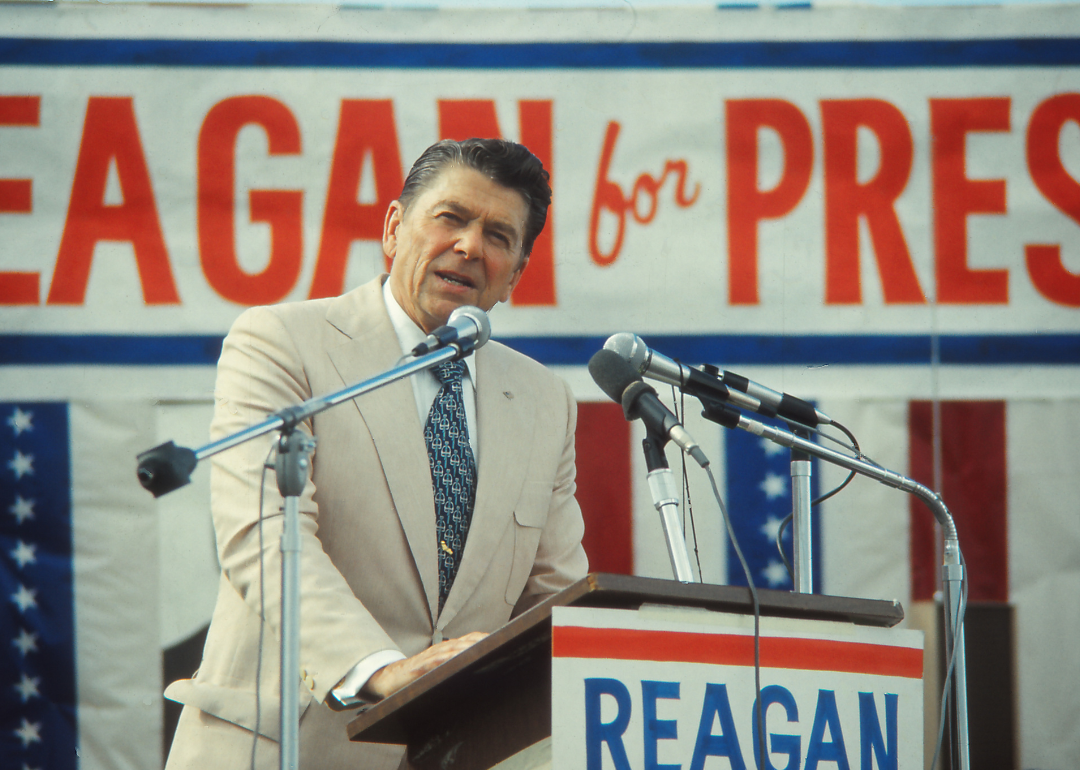 Owen Franken // Getty Images
20 celebrities who became politicians
Ronald Reagan during his campaign for President.
The celebrity-to-politician pipeline has become an accepted and even expected phenomenon in American—and increasingly, global—culture. Within the past several years, celebrities as disparate as Ye (formerly Kanye West) and Dr. Oz have launched (unsuccessful) political bids, while household names like Donald Trump and Ukrainian President Volodymyr Zelensky, who once played a president on TV, have risen to the highest offices of their respective nations.
While the number of stars seeking political office has seemingly increased in the past decade, celebrities involving themselves in U.S. politics is far from a new occurrence. Fame has buoyed people ranging from early 20th-century country singers to former child stars to Washington. Popularity, name recognition, and a sense of relatability have accounted for many celebrities' pivot to politics, in many cases, regardless of experience or qualifications.
Yet celebrity does not guarantee a successful political career. Across centuries and regions in the U.S., most celebrities elected into office have shared certain characteristics: They're mostly white, straight, politically conservative men. This phenomenon mirrors the demographic makeup of Congress—white politicians comprise 3 in 4 members of Congress, while women make up only 29%—but is far from representative of the overall race and gender demographics of the country's population.
Meanwhile, celebrities who are women, members of the LGBTQ+ community, or people of color have historically had less success moving into politics. These disparities in political representation point to narrow perceptions of who Americans deem electable and who has the resources and access to run successful political campaigns.
To explore the history of celebrities in politics, Stacker compiled a list of 20 famous actors, athletes, and musicians who became politicians by being elected into office. Celebrities who made unsuccessful political bids were not included.
---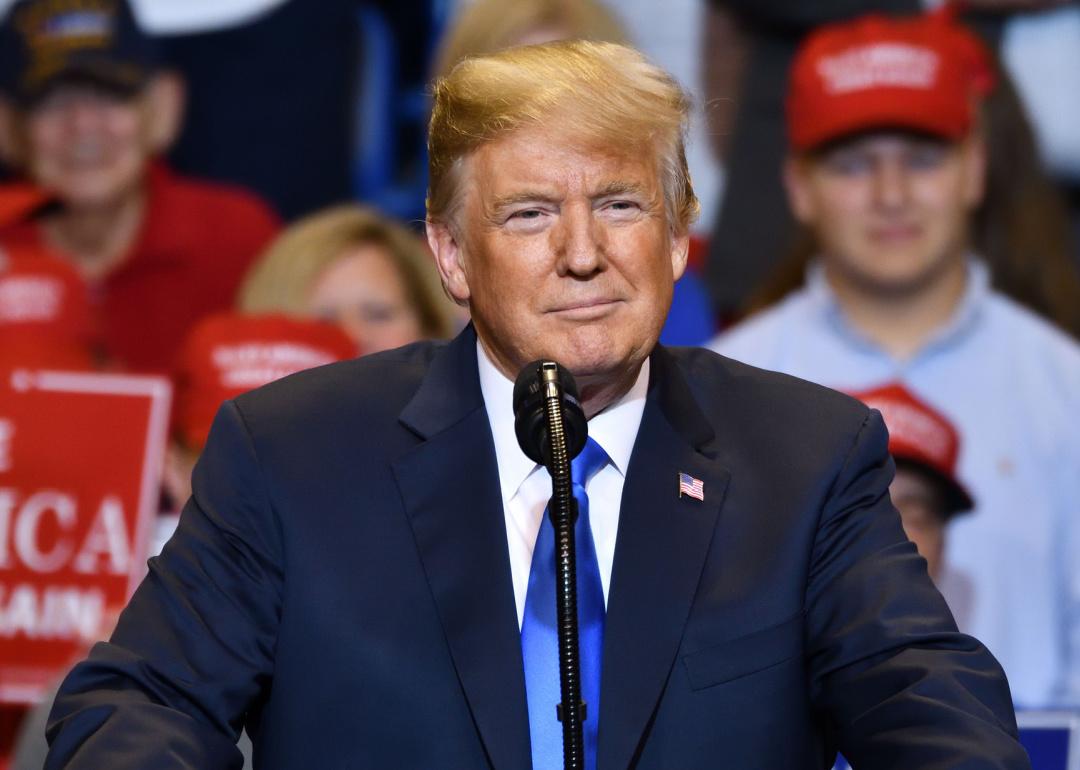 Evan El-Amin // Shutterstock
Donald Trump
President Donald Trump at a campaign rally.
Son of real estate mogul Fred Trump, Donald Trump inherited the family business and began expensive developments in Manhattan. He also developed hotels and casinos, which resulted in multiple bankruptcy filings.
His most high-profile role, however, was hosting the reality television show "The Apprentice" from 2004 until 2015, when he decided to enter the political fray as a Republican presidential candidate. His participation on the show was his salvation, providing him with millions of dollars in related deals and a national platform, paving the way for his candidacy.
Trump based his platform on nationalist and anti-immigrant policies that resonated with intensely loyal white nationalist groups. He subsequently scored the Republican party's nomination, despite multiple sexual assault allegations, and eventually won the presidential race against Hillary Clinton.
He is the first president to have never held office or served in the military. During his controversial term as president, he was impeached twice and subsequently denied the results of the 2020 election, in which Joe Biden was elected. On Jan. 6, 2021, he was accused of inciting an insurrection at the Capitol, which left four people dead.
---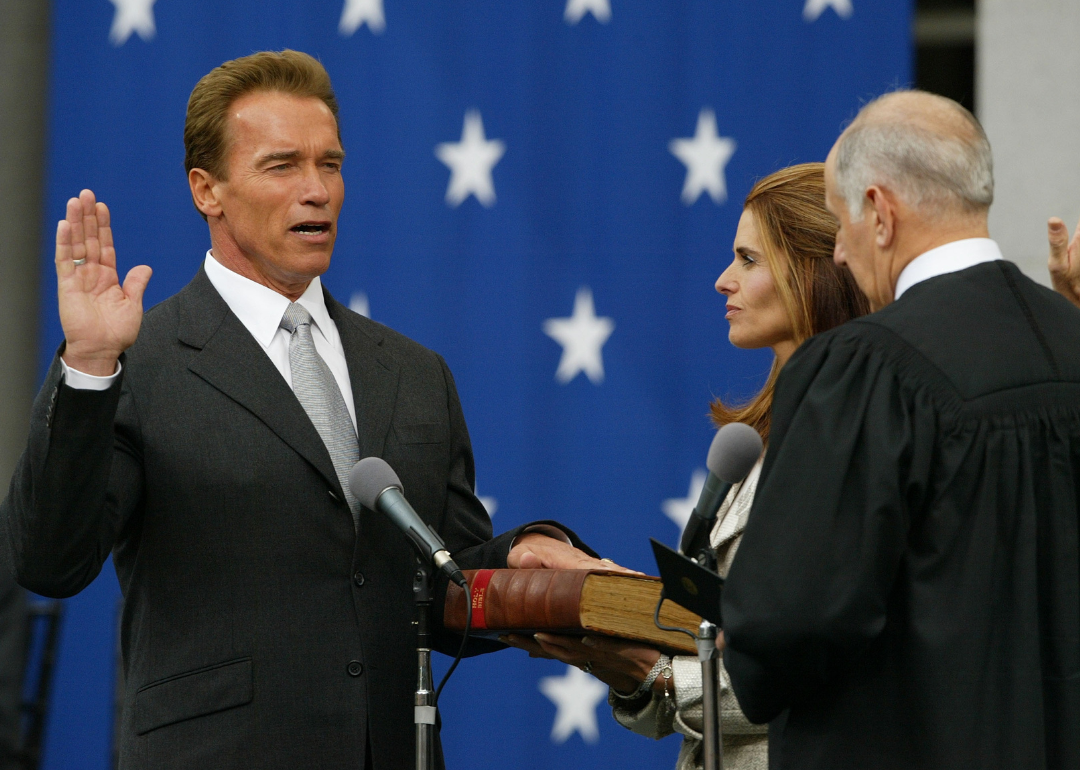 Justin Sullivan // Getty Images
Arnold Schwarzenegger
Arnold Schwarzenegger is sworn in as the 38th governor of California.
Arnold Schwarzenegger went through several high-profile career changes before becoming a politician. Born in Austria, he got into bodybuilding by age 14 and pursued it professionally, going on to win the prestigious Mr. Universe title in 1967 and becoming the youngest person to do so. A year later, at age 21, Schwarzenegger moved to the U.S., got a degree from the University of Wisconsin-Superior, and soon transitioned to acting. His big Hollywood break came when he landed the starring role in the 1982 action film "Conan the Barbarian" and won subsequent leads in the "Terminator" franchise.
In 1986, Schwarzenegger married Maria Shriver, a niece of John F. Kennedy, and began moving into politics in 1990, when George H. W. Bush appointed him to chair the President's Council on Physical Fitness and Sports. In 2003, he ran as a Republican and was elected governor of California in a recall of then-Gov. Gray Davis.
Around the time of his election, it was revealed that his father had been a member of the Nazi party in Austria. He was reelected for a second term in 2006 and has since remained politically active. Despite his allegiance to the Republican party, Schwarzenegger's politics have often evaded partisanship—his most famous policy decisions include lowering greenhouse gas emissions and raising the state's minimum wage. He is also an outspoken critic of Donald Trump.
---

LUKE FRAZZA/AFP via Getty Images
Jesse Ventura
Minnesota Governor Jesse Ventura speaks to reporters.
Born in Minneapolis, Jesse Ventura served in the Navy for six years before going into professional wrestling. His highly popular 11-year stint as the villainous wrestler "The Body" wielded an action figure in his likeness and name recognition, paving the way for his next career venture: acting.
Playing roles alongside Arnold Schwarzenegger in action films including "Predator" and "Running Man," Ventura acted through the '80s and entered politics when he was elected mayor of Brooklyn Park, Minnesota, in 1991.
In 1998, he was elected governor of the state in a shocking upset, becoming the first Reform Party candidate ever to win the position. Running mainly on a platform that championed public education and legalizing marijuana, Ventura has been an outspoken proponent of libertarianism since his tenure as governor. He has spoken about a possible presidential run in 2024.
---

Cindy Ord // Getty Images for SiriusXM
Al Franken
Senator Al Franken discusses politics at a SiriusXM Town Hall.
Al Franken grew up in Minneapolis and became famous for his role as a writer and cast member on "Saturday Night Live." After working on the show for 15 seasons and winning five Emmys for this work, he had a short stint as a radio host before running for Senate in 2008 as a progressive.
Franken won the race and served for a decade, becoming known for taking on issues including net neutrality and Russian election interference. When he was accused of sexual misconduct by eight women in 2018, at the height of the #MeToo movement's cultural reckoning, he quickly resigned from the Senate.
After a few years mostly out of the public eye, Franken reemerged in the comedy scene in early 2023 as temporary host of "The Daily Show," replacing Trevor Noah as the network sought a more permanent host.
---

Emma McIntyre // Getty Images for Foundation for the AIDS Monument
Sheila Kuehl
Los Angeles County Supervisor Sheila Kuehl at AIDS Monument Groundbreaking.
Sheila Kuehl started her acting career as a child, winning a role on a radio series before age 10 and eventually transitioning to television. She acted on "The Stu Erwin Show" before landing her most famous role, Zelda, on the sitcom "The Many Loves of Dobie Gillis." When Kuehl was outed as a lesbian, however, her acting work dried up. "I knew that if they found out, it would end my TV career, and they did find out, and it did end my TV career," Kuehl told the Harvard Crimson.
She attended Harvard Law School and transitioned to politics, becoming the first openly gay person elected to the California State Assembly in 1994. In interviews, Kuehl cited her time playing Zelda as a major factor in gaining enough public support to be elected as an out gay person.
After serving three terms, she was elected to the California State Senate, where she authored legislation that would grant LGBTQ+ Californians the right to marriage and protection from hate crimes and discrimination based on sexual orientation. In 2014, Kuehl was elected to the Los Angeles County Board of Supervisors and served two terms. She retired in 2022 at age 81.
---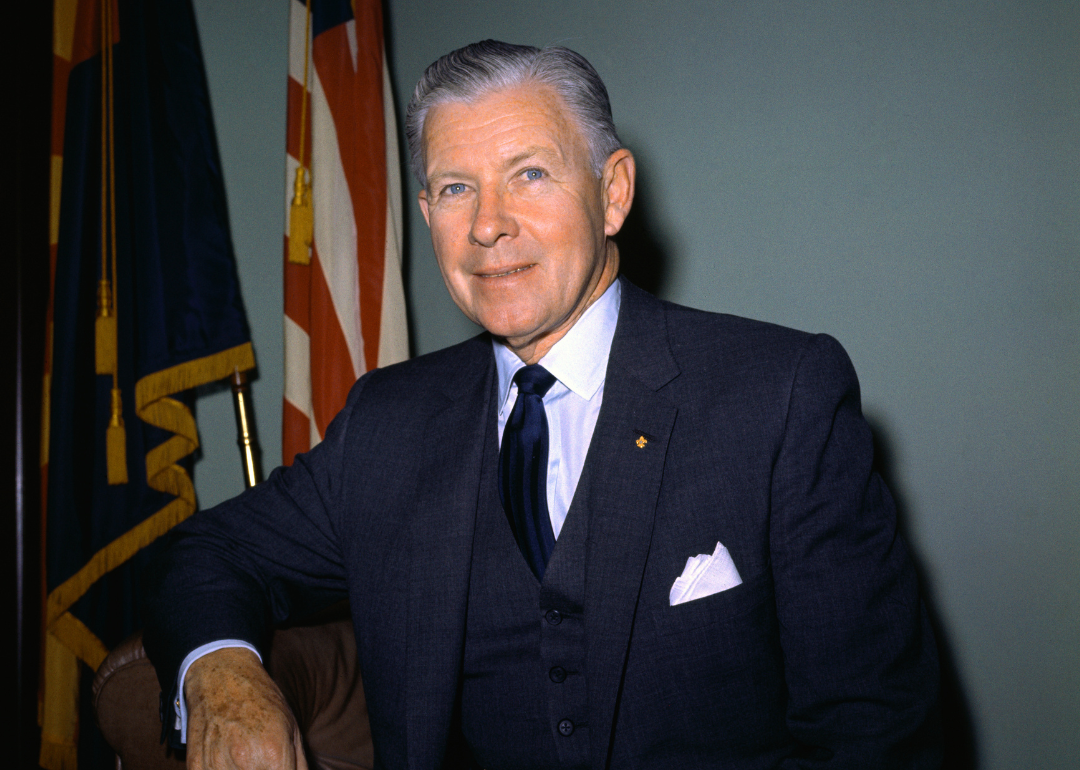 Bettmann // Getty Images
George Murphy
Sen. George Murphy in his Washington office.
Born in 1902, George Murphy got his start as a dancer and nightclub performer before breaking into the Broadway scene. In the '30s, he began acting in movies as Hollywood transitioned from silent films to talkies, and he eventually became president of the Screen Actors Guild in 1944, preceding Ronald Reagan in that post.
In 1953, Murphy pivoted to politics and made himself a prominent figure in the Republican party. He directed entertainment for President Dwight D. Eisenhower's two inaugurations and was chair of the state central committee in the California Republican Party from 1953 to 1954.
In 1965, he was elected to the Senate, where he served for one term. Only a year into his term, he was diagnosed with throat cancer and underwent surgery, leaving him with a whisper-quiet voice.
While his speaking voice certainly didn't help his reelection bid in 1970, he was further hindered by his anti-communist stance, which led him to support the Vietnam War effort at a time when it was controversial. It was also revealed that Murphy continued receiving consulting fees with Technicolor while in the Senate, a clear conflict of interest. Murphy left behind a legacy defined by his anti-communist stance and as a Hollywood actor who paved the way for Reagan's entrance into politics shortly after.
---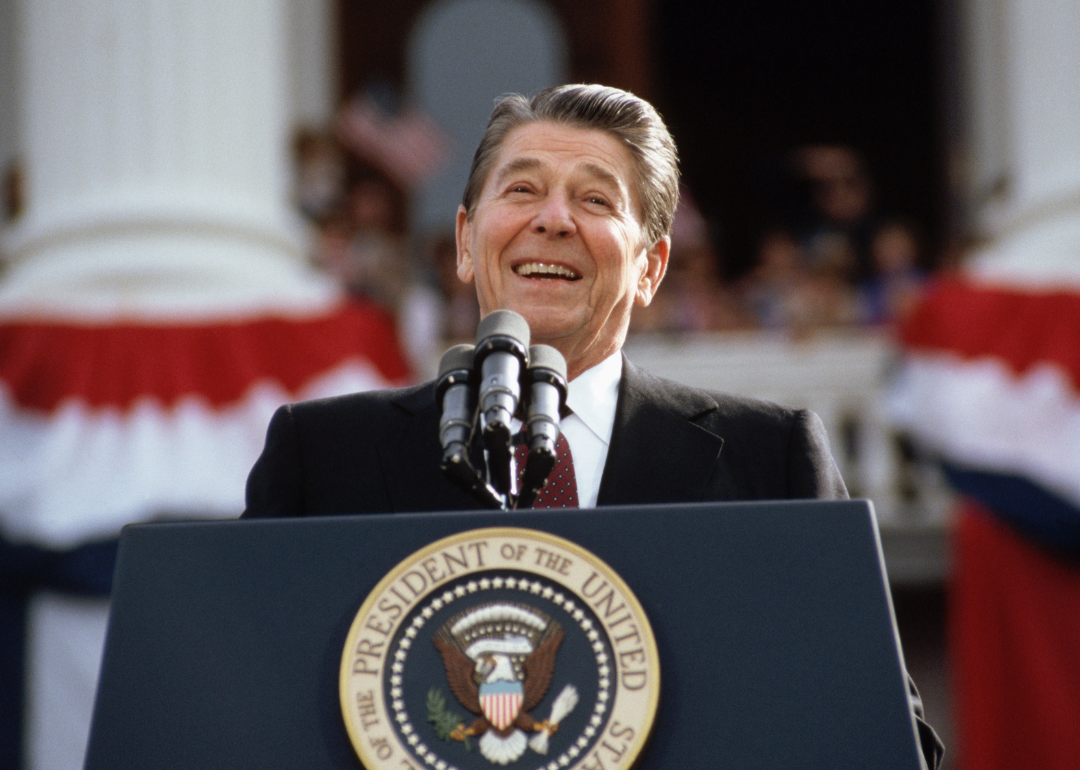 Wally McNamee/CORBIS/Corbis via Getty Images
Ronald Reagan
President Ronald Reagan smiles during a rally speech.
Ronald Reagan grew up in Illinois and graduated from college amid the Great Depression. His first foray into the spotlight was as a sportscaster at an Iowa radio station, a role which, several years later, took him to Hollywood under contract with Warner Bros. He started getting acting roles and married actor Jane Wyman in 1940.
He soon left to join the First Motion Picture Unit, Army Air Forces, where he starred in inspirational films and training videos for American troops joining World War II. From there, he served as president of the Screen Actors Guild, where anti-communism efforts were already underway; divorced Wyman in 1949; and remarried a few years later to Nancy Davis, another actor, in 1952.
Reagan's official pivot to politics came in the '60s, when he became an active member of the Republican party and spoke at a public event for Barry Goldwater. He ran for governor of California in 1966 and was elected for two terms, campaigning on a platform of lowered taxes and quelling unrest on California's college campuses.
After an unsuccessful presidential bid in 1976, he was able to parlay his political popularity on the state level into the national spotlight, winning the 1980 presidential election and serving two terms. His conservative economic and social policies have had lasting impacts on American economic structures and culture.
---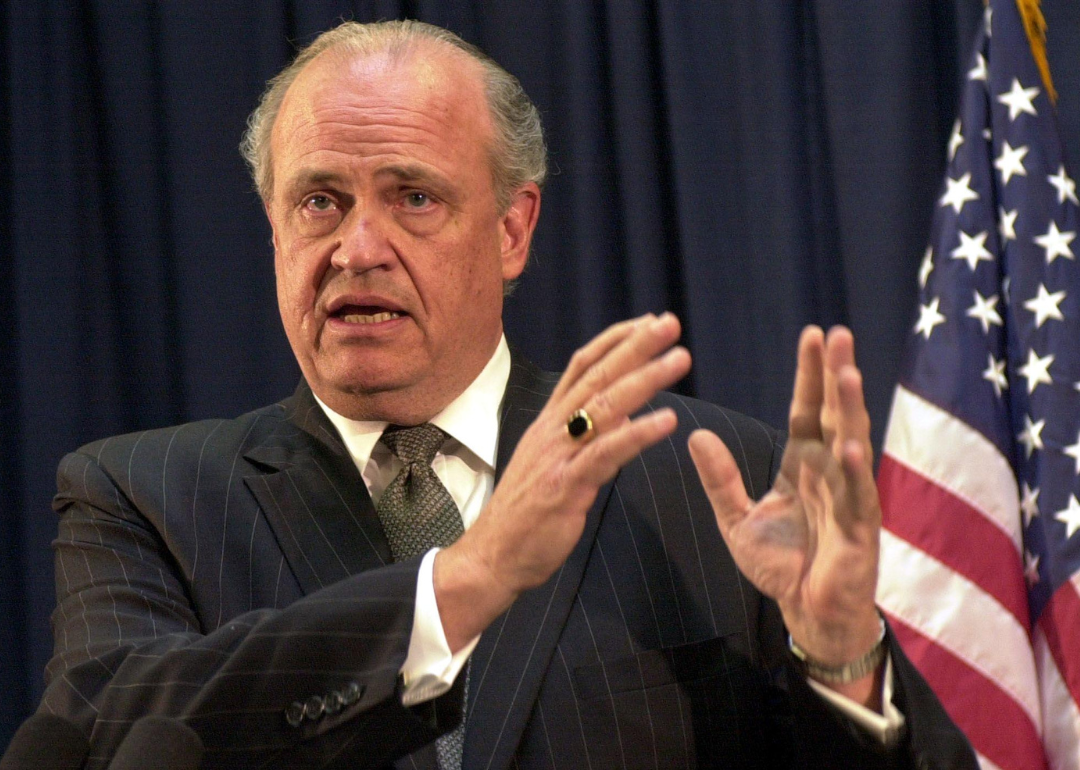 JEFF KOWALSKY/AFP via Getty Images
Fred Thompson
US Sen. Fred Thompson talking to reporters at a news conference
Fred Thompson wore many hats, bouncing from law to acting to politics and back. Born in Alabama and raised in Tennessee, he began as a lawyer and was chosen to serve as Republican counsel on the Senate Watergate Committee when he was 30, ultimately assisting in the investigation that would end in Richard Nixon's resignation.
His initial foray into acting was seemingly unintentional—he played himself in a 1985 film called "Marie," based on a real-life case he was involved in as a lawyer. From there, he landed roles in films including "The Hunt for Red October," "Die Hard 2," "No Way Out," and "Days of Thunder."
In 1994, he took a break from acting and solidified his transition to politics when he ran for Al Gore's vacated Senate seat and won. He served the remainder of Gore's term and was reelected for a full term.
Thompson didn't stay in politics consistently, however, choosing to leave Washington in 2002 for a role as a lawyer on "Law & Order" before returning to make a failed bid for the Republican presidential nomination in 2008. He died in 2015.
---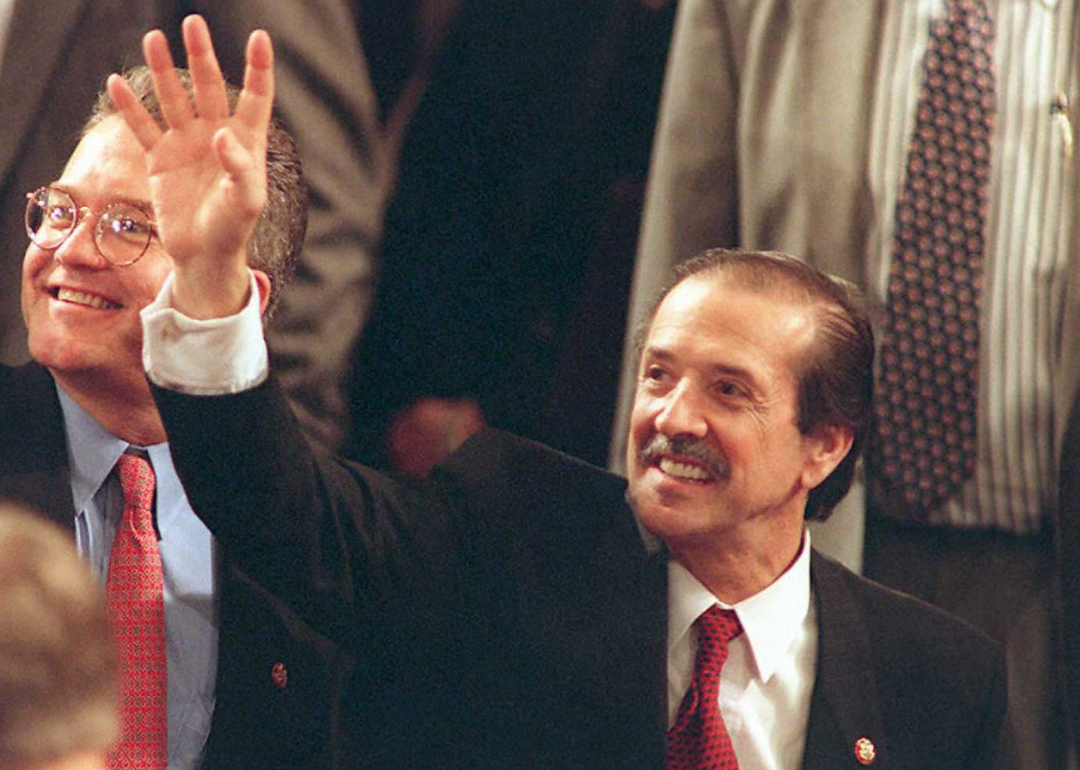 J. DAVID AKE/AFP via Getty Images
Sonny Bono
Freshman congressman Sonny Bono waves to the gallery around the US House chamber/
Sonny Bono grew up in poverty as the son of Sicilian immigrants. He dropped out of high school and worked odd jobs while writing music until he managed to find a job as a singer and songwriter at Specialty Records in his 20s.
After working on music there with musicians like Sam Cooke and Little Richard, he met Cher, and the two teamed up both romantically and creatively. Their big break came with Sonny and Cher's hit "I Got You Babe." The couple had a child and eventually married.
Next, they headlined their own TV show, "The Sonny & Cher Comedy Hour," for several years until they divorced in a firestorm of tabloid headlines over extramarital affairs.
Bono had long retired from the entertainment business, shifting into restaurant ownership by the time his political career began. He was elected mayor of Palm Springs, California, in 1988 after frustration with the city council's red tape inspired him to run. He then became a Republican congressman in 1994, known for his conservative politics. He died in 1998.
---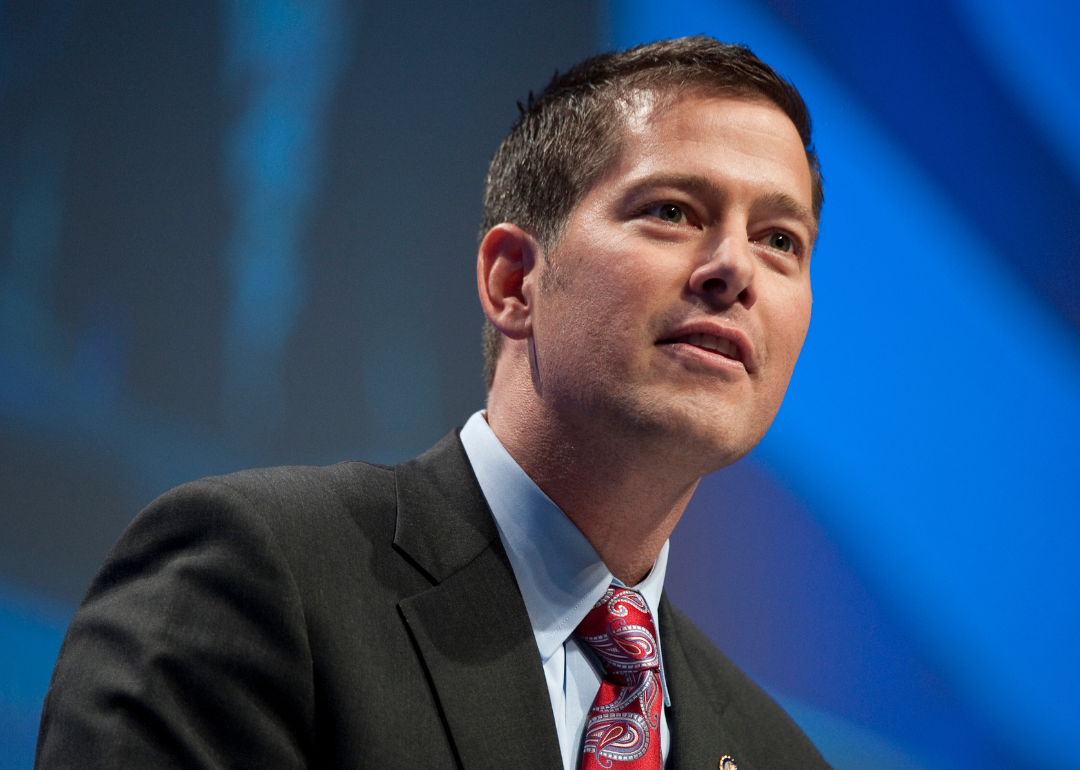 Bill Clark/Roll Call // Getty Images
Sean Duffy
Rep. Sean Duffy speaking at CPAC Conference.
Sean Duffy got his law degree just after going on the Boston season of the MTV reality show "The Real World." In addition to his reality show role, he was a pro lumberjack, an ESPN commentator, and the district attorney of Ashland County, Wisconsin, before entering politics.
He was elected to Congress in 2010 as a Republican and became known as an outspoken supporter of Donald Trump.
In 2019, he resigned from Congress to spend more time with his wife and nine children but has remained in politics more informally as a lobbyist and as co-host of the Fox News show "The Bottom Line."
---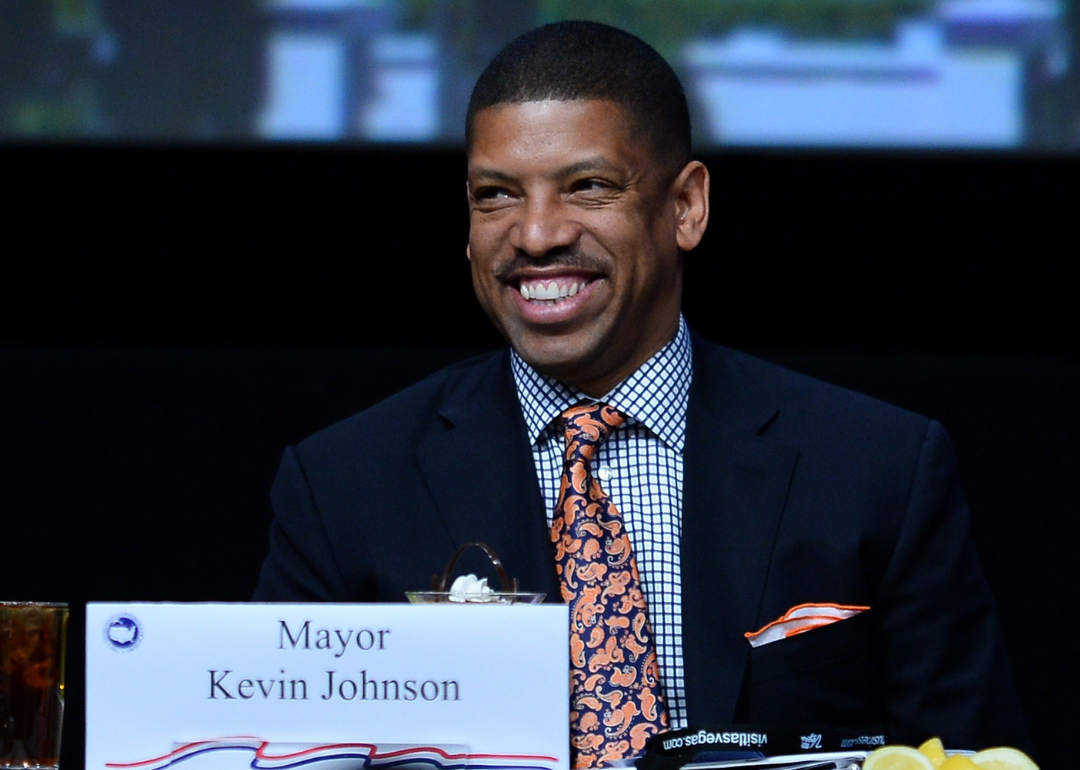 Ethan Miller // Getty Images
Kevin Johnson
Sacramento Mayor Kevin Johnson smiles at the 81st annual U.S. Conference of Mayors.
Kevin Johnson grew up in Sacramento, California, and was drafted into the NBA after playing basketball at the University of California, Berkeley, first joining the Cleveland Cavaliers before moving to the Phoenix Suns as a point guard.
In 1989, he founded the nonprofit St. Hope, which put money into his hometown's community and public schools. In 2000, he retired from basketball and moved back to Sacramento.
Johnson ran for mayor in 2008 and was elected, becoming Sacramento's first Black mayor. He was reelected in 2012, but his second term was rocked by allegations of sexual assault, misuse of federal funds, and workplace sexual harrassment.
After his term, Johnson entered the restaurant and real estate businesses, opening a soul food restaurant in Sacramento; Los Angeles; and Tulsa, Oklahoma.
---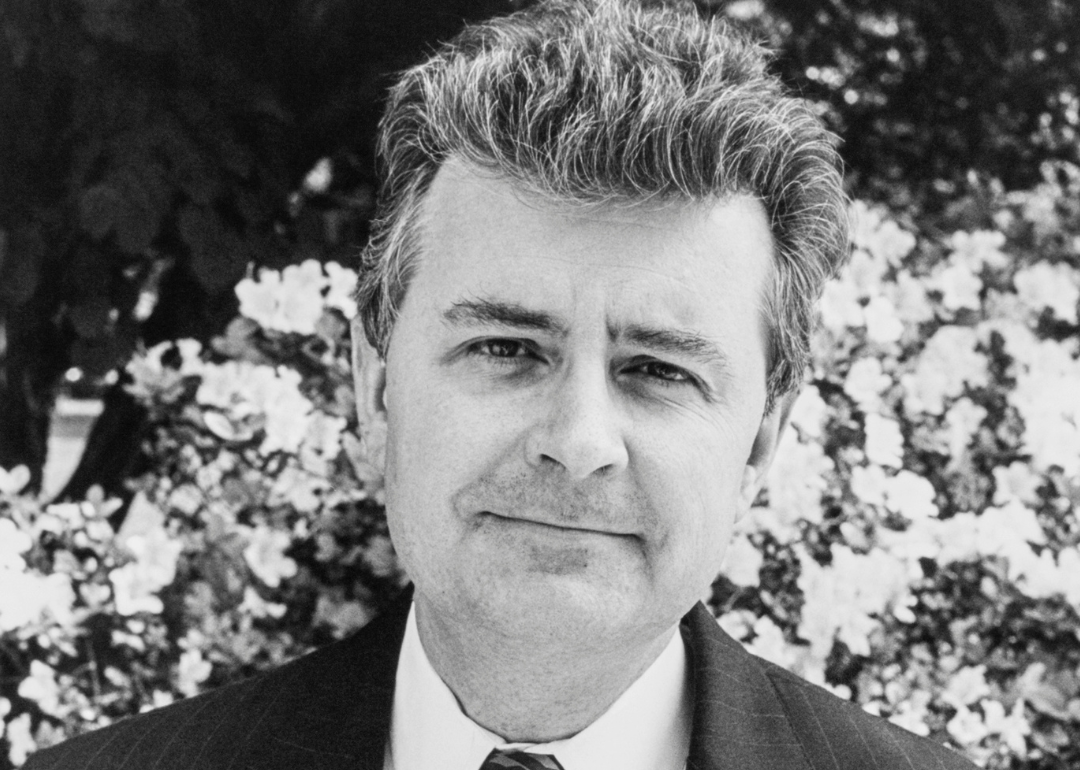 Chris Martin/CQ Roll Call via Getty Images
Fred Grandy
Portrait of Rep. Fred Grandy.
Fred Grandy got his start in acting in the '70s with appearances on "The Mary Tyler Moore Show," "Maude," and "Love, American Style." His big break came when he landed a role on "The Love Boat" as Gopher, the ship's purser.
After becoming disillusioned with show business, he moved to politics and launched a congressional campaign, winning a seat as a Republican in 1987. He served in Congress for four terms.
He ultimately gave up his seat to run for governor of Iowa, a bid he narrowly lost.
He served as president and CEO of Goodwill and then returned to the limelight as a political commentator. He came under fire in 2011 for his anti-Islamic comments.
---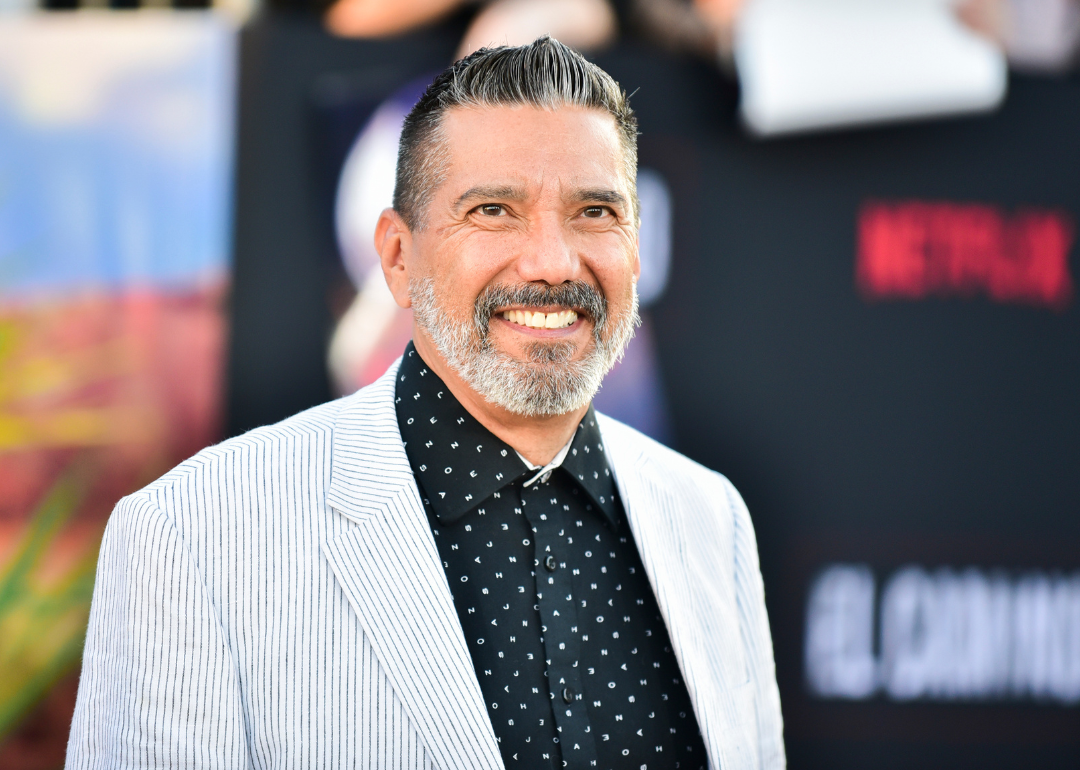 Rodin Eckenroth/FilmMagic // Getty Images
Steven Michael Quezada
Steven Michael Quezada attends premiere.
Known for playing Drug Enforcement Administration agent Steven Gomez on the show "Breaking Bad" and the spinoff series "Better Call Saul," Steven Michael Quezada started as a comedian, theater performer, and playwright in a community theater.
His first major television role came in 2008 with "Breaking Bad," and he remained a cast member for the show's entirety.
After his tenure on the show ended, he transitioned to local politics, getting elected to Albuquerque's school board in 2013. He then successfully ran for Bernalillo County's commissioner as a Democrat, beginning the role in 2017. He was elected for a second term in 2020.
---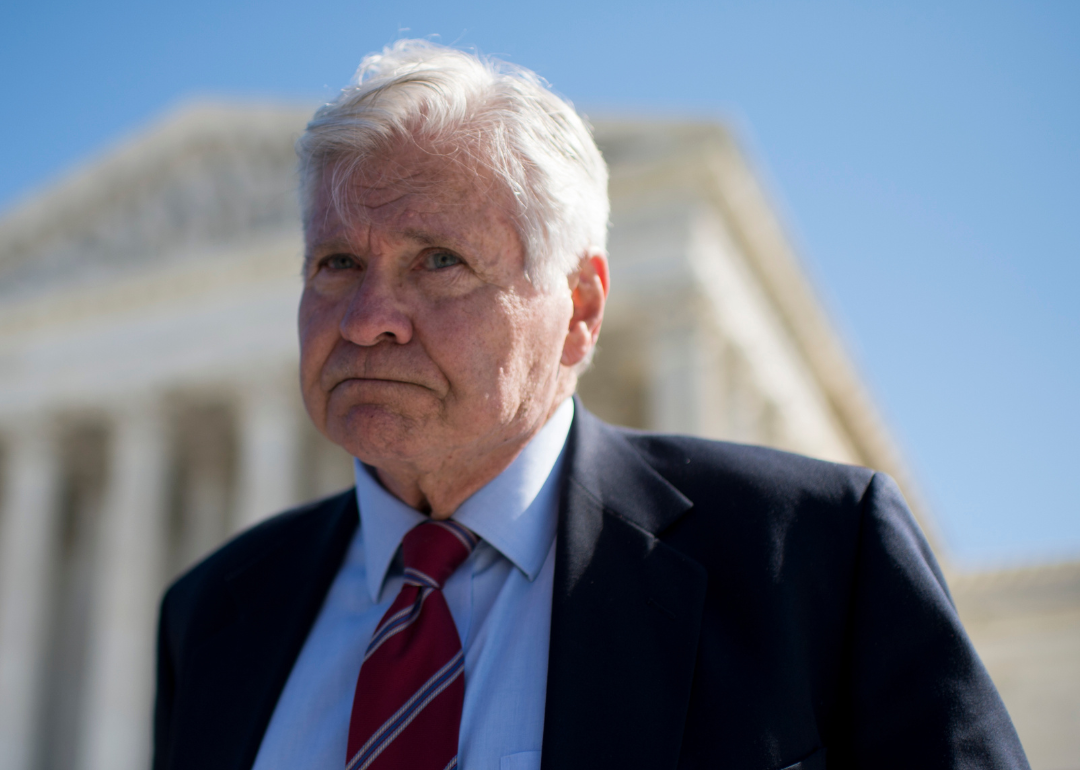 Bill Clark/Roll Call // Getty Images
Ben Jones
Former Rep. Ben Jones speaks with reporters outside of the U.S. Supreme Court.
Ben Jones is best known for playing Cooter on "The Dukes of Hazzard" between 1979 and 1985. Before landing the role, he had small parts in movies including "Smokey and the Bandit."
Shortly after his time on the show ended, he launched his political career, running for Congress as a Georgia Democrat. Though he lost in his first race, he came close to unseating the Republican opponent; he won the race in 1988.
He served for two terms before being defeated by Don Johnson Jr. in 1992. In 2015, Jones came under fire for defending the use of the Confederate flag after he wrote in a Facebook post that the flag symbolized "the values of courage and family and good times."
---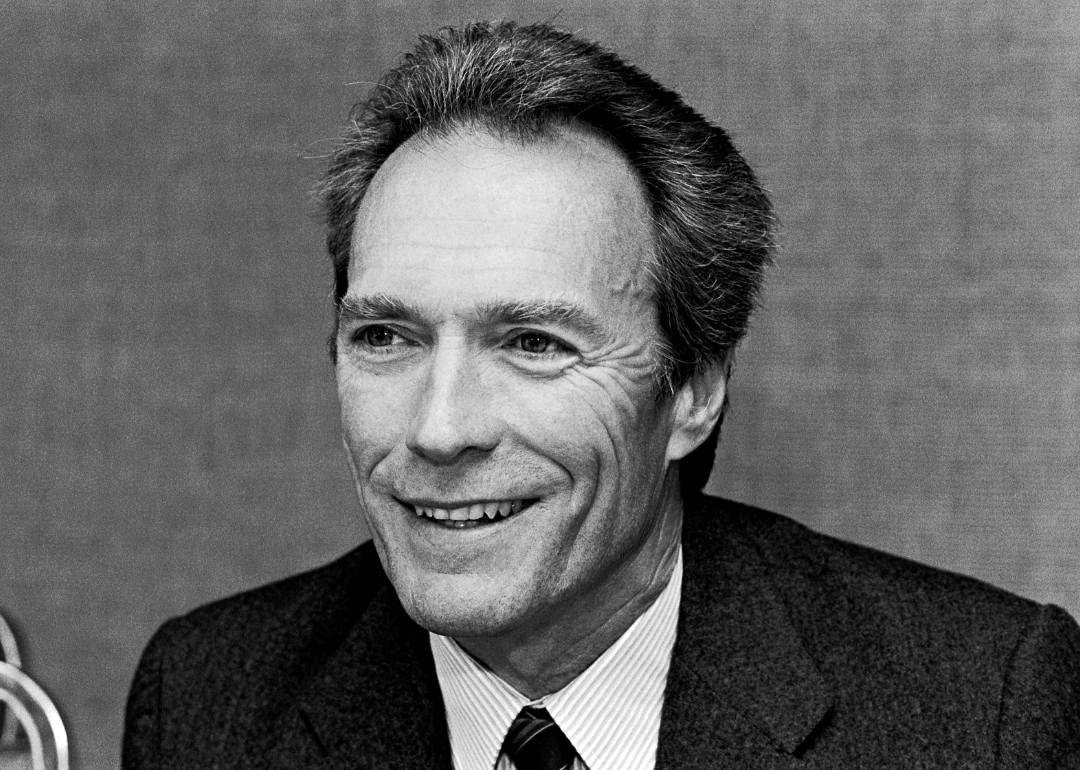 Bryn Colton // Getty Images
Clint Eastwood
Clint Eastwood attends an event while campaigning for Mayor of Carmel.
Born in Depression-era San Francisco, Clint Eastwood moved to Hollywood and played small parts while on contract with Universal Studios, where he played bit roles.
His big break came after being dropped by Universal when he was cast as Rowdy Yates on the Western television show "Rawhide," which steadily boosted television ratings and turned him into a small-screen star.
Eastwood's entry to the big screen came with being cast in Sergio Leone's spaghetti Western "A Fistful of Dollars." This began a trilogy of roles, and by the last film ("The Good, the Bad and the Ugly"), Eastwood would cement his place in cinema history.
After playing many more lead Hollywood roles, he formed his own production company and eventually made his directorial debut with 1971's "Play Misty for Me." The movie's success proved the actor's prowess behind the camera and started his directorial career.
In 1986, Eastwood decided at the last minute to run for mayor of Carmel-by-the-Sea, California, winning in a landslide. He served in the position for two years, all the while making movies, before returning to Hollywood full-time.
He is known for his conservative politics through his outspoken endorsement of the Republican party (though he is falsely attributed as writing two separate, but identical, Facebook posts criticizing President Joe Biden and former President Barack Obama).
---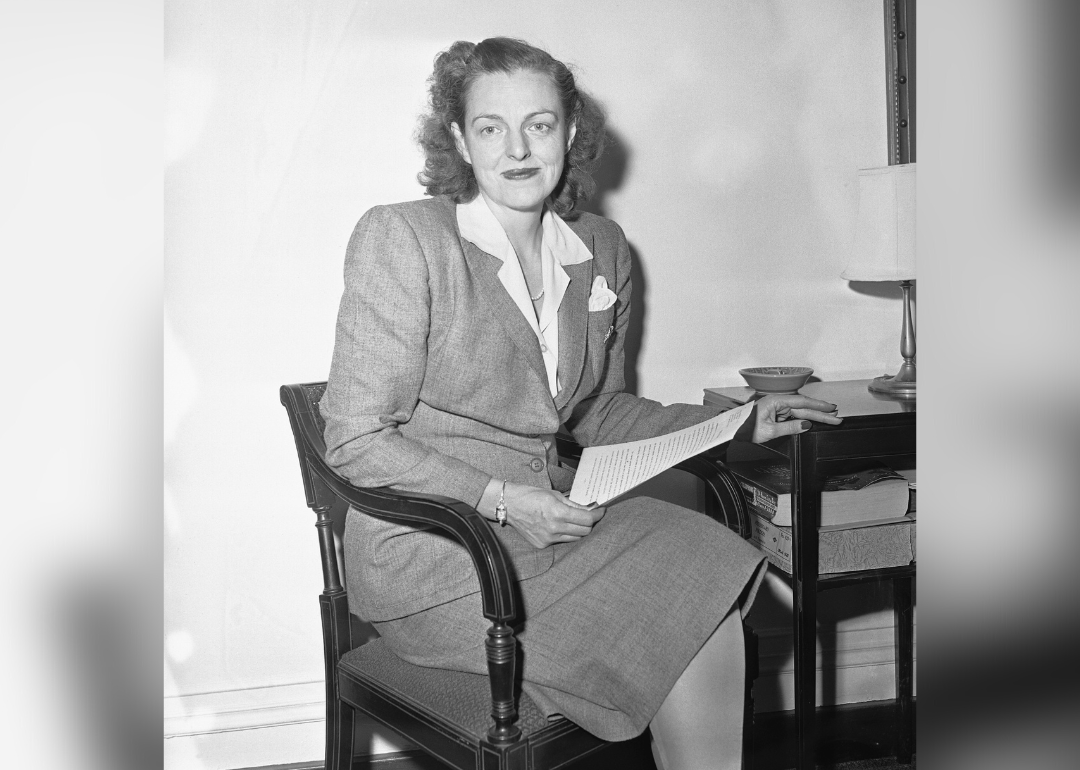 Bettmann // Getty Images
Helen Gahagan Douglas
Congresswoman Helen Gahagan Douglas at a press conference.
Born in New York City, Helen Gahagan Douglas grew up in Brooklyn and quickly found success as a Broadway star. After marrying the actor Melvyn Douglas in 1931, the two moved to California to pursue careers in Hollywood.
During a work trip to Europe in the late '30s, she witnessed the rise of fascism and returned to the States as an anti-fascist activist, beginning her interest in politics. Gahagan Douglas joined the Hollywood Anti-Nazi League and an activist group supporting migrant workers in California.
In 1939, she and her husband were introduced to Franklin and Eleanor Roosevelt. They developed a strong friendship, which saw Douglas volunteering for a presidential reelection campaign and being appointed to head the women's division of the Democratic Party in California.
In 1943, she ran for Congress and won despite the misogyny that kept most women out of Washington at the time. She served three terms and ultimately decided to run for Senate. Her progressive politics did not mesh with the widespread anti-communist politics of the '50s, and eventually, she was defeated in a congressional race by then-Sen. Richard Nixon.
---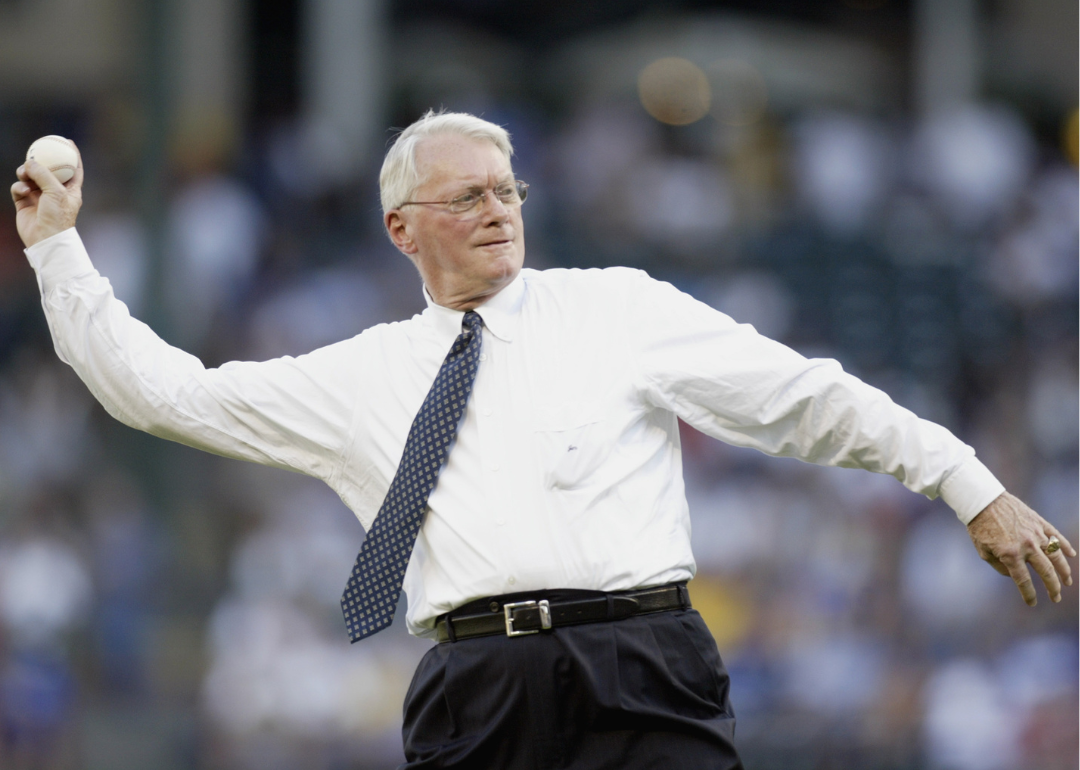 Ronald Martinez // Getty Images
Jim Bunning
Senator Jim Bunning of Kentucky delivers the opening pitch in MLB game.
Jim Bunning grew up in Kentucky and quickly developed a passion for baseball. Scouted during his first year of college, he joined the Detroit Tigers as a pitcher, where he stayed for nearly a decade before being traded to the Philadelphia Phillies.
His baseball career lasted from 1955 to 1971, and he was ultimately inducted into the Baseball Hall of Fame in 1996.
After retiring from the sport, he transitioned to politics, first getting elected to the city council of Fort Thomas, Kentucky; then moving up to Congress; and finally getting elected to the Senate as a Republican.
In Washington, he developed a reputation for being brusque, at times aggressive, and not always getting along with members of his own party.
---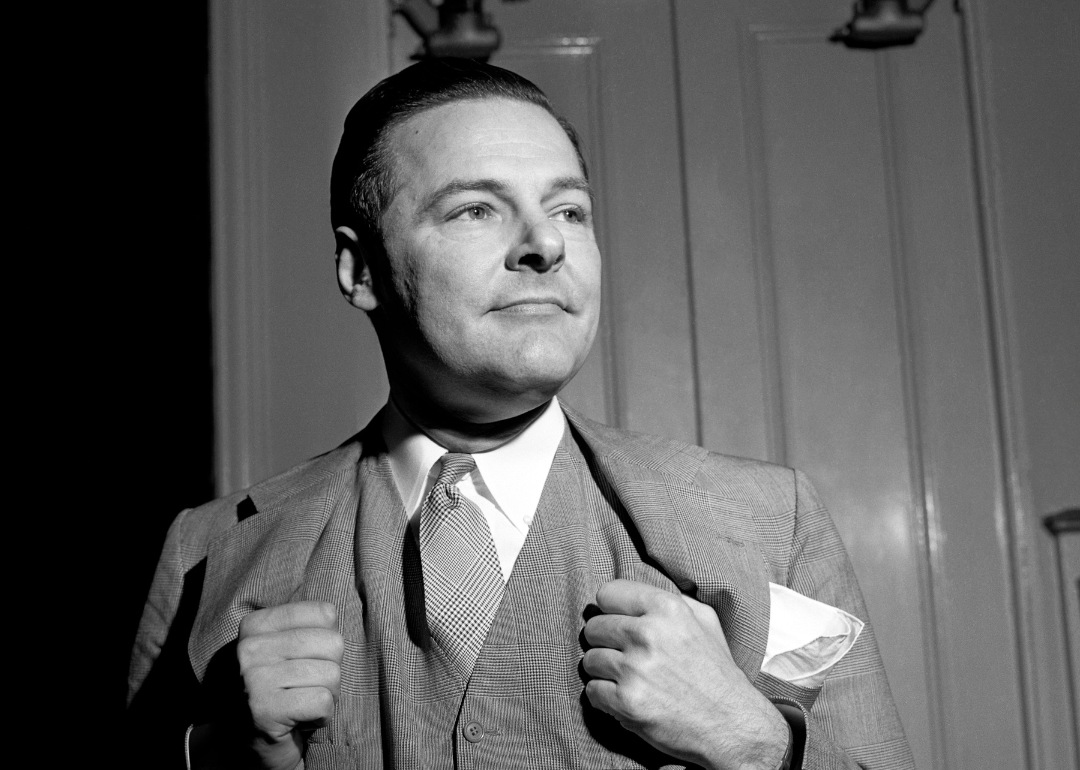 Irving Haberman/IH Images // Getty Images
John Davis Lodge
John Davis Lodge poses for a portrait.
Born in 1903, John Davis Lodge first became a lawyer before gaining celebrity as an actor both on Broadway as well as in American, British, French, and Italian films, including the Marlene Dietrich-led movie "The Scarlet Empress."
After serving as a Navy captain in World War II, he took on politics and was elected to Congress as a Republican representative of Connecticut in 1946. Lodge served two terms as a congressman before running for governor of Connecticut, where he served for four years.
Later in his career, he was appointed by several presidents to ambassador positions in countries including Spain, Argentina, and Switzerland.
---

Bill Clark/CQ Roll Call // Getty Images
Bill Bradley
Former Sen. Bill Bradleyattends Senate Finance Committee hearing.
Bill Bradley attended Princeton and made waves on the basketball team, playing on the American team at the 1964 Tokyo Olympics and bringing home a gold medal. In 1965, the New York Knicks drafted him into the NBA. However, he delayed joining the team for two years; instead, he attended Oxford University while a Rhodes scholar. He served in the Air Force Reserves for six months before finally joining the Knicks from 1967 to 1977 and winning two championship titles.
He ultimately retired and, two years later, was elected to the Senate as a Democrat from New Jersey, where he served for nearly 20 years.
In 2000, he threw his hat in the ring for the Democratic presidential nomination, but Al Gore defeated him. Since retiring from politics, Bradley has taken up acting and investment banking.
---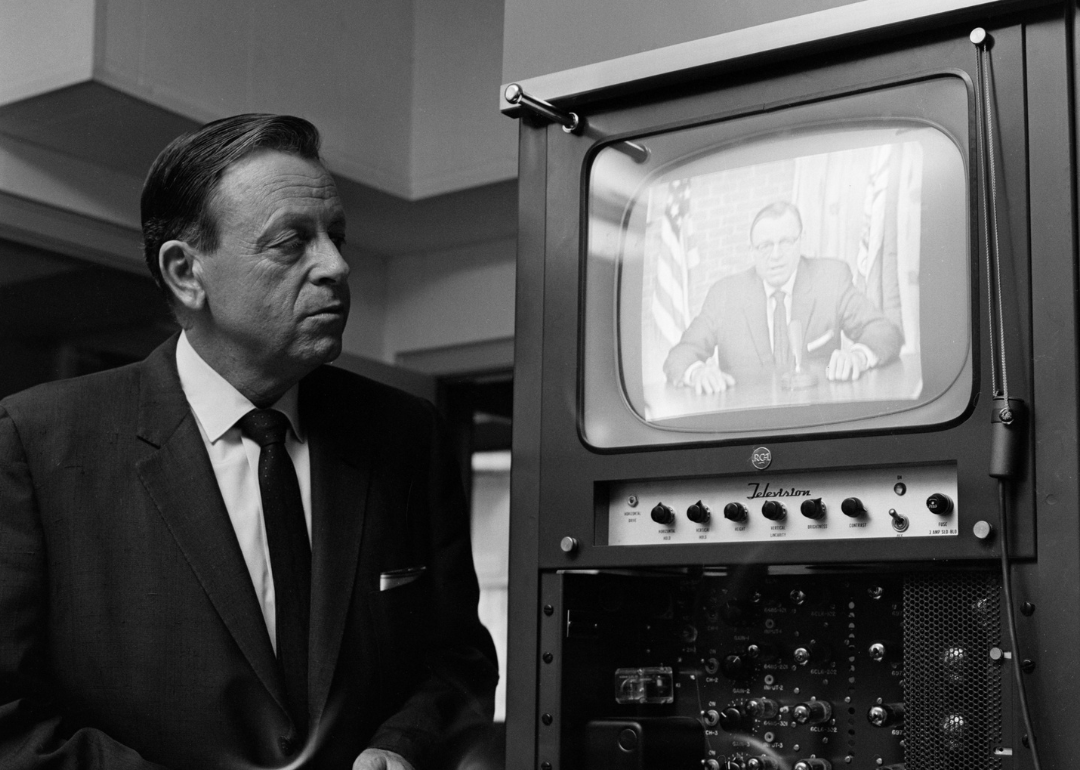 Bettmann // Getty Images
Jimmie Davis
Gov. Jimmie H. Davis watching video taped speech.
Born at the turn of the 20th century in Louisiana, Jimmie Davis was a Southern country singer famous for "You Are My Sunshine" and "Nobody's Darlin' But Mine." His music made him regionally and nationally famous, and he used that fame to propel him into politics.
Davis' politics were defined by his Southern Baptist beliefs and pro-segregation sentiment, which he put into action when he was elected Louisiana's governor in 1944. Davis served a second term as governor in the early '60s, focusing on building infrastructure and lowering taxes, but worked to prevent the Supreme Court's decision to integrate Louisiana schools.
Story editing by Carren Jao. Copy editing by Paris Close.
---