LCPS drive-thru celebration for high school seniors to be 'remembered forever'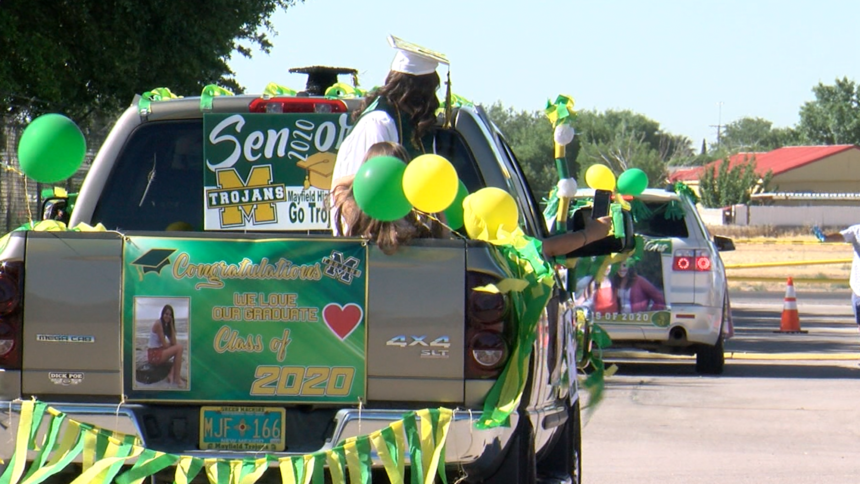 LAS CRUCES, New Mexico -- A unique celebration for high school seniors across Las Cruces during an unprecedented time. Las Cruces Public Schools kicked off their "Senior Celebration" Thursday at the Field of Dreams.
Mayfield High School was the first school to participate in the drive-thru celebration. Like a traditional ceremony, seniors were dressed in their cap and gowns. They even decked out their cars with colorful decorations and signs as they drove with their families from the east end of the parking lot to the west to receive a special certificate and even get their picture taken.
LCPS is calling it a "senior celebration" and not a graduation as the district has plans to hopefully host a traditional commencement ceremony in the near future.
"Its difficult to imagine what must be going through their minds," said LCPS Superintendent Karen Trujillo. "Hopefully they're excited and take advantage of this opportunity it will go down in history."
Several family and friends even waived from a nearby sidewalk as cars exited the stadium's parking lot.
Mayfield senior Anahi Armasca told ABC-7 she thought the celebration was "really cool." They found a way to make it special for us with everything going on," Armasca said. "It's definitely something that will be remembered forever we had the most unique graduation I think."
Arrowhead Early College High School and Las Cruces High School also participated in the event Thursday.
The "Senior Celebration" continues Friday at Field of Dreams and on the LCPS Facebook Live and LCPS YouTube Channel:
Centennial High School: 9 a.m. on Friday, May 22.
Rio Grande Prep High School: 1 p.m. on Friday, May 22.
Oñate High School: 6 p.m. on Friday, May 22.