Most lopsided season openers in NFL history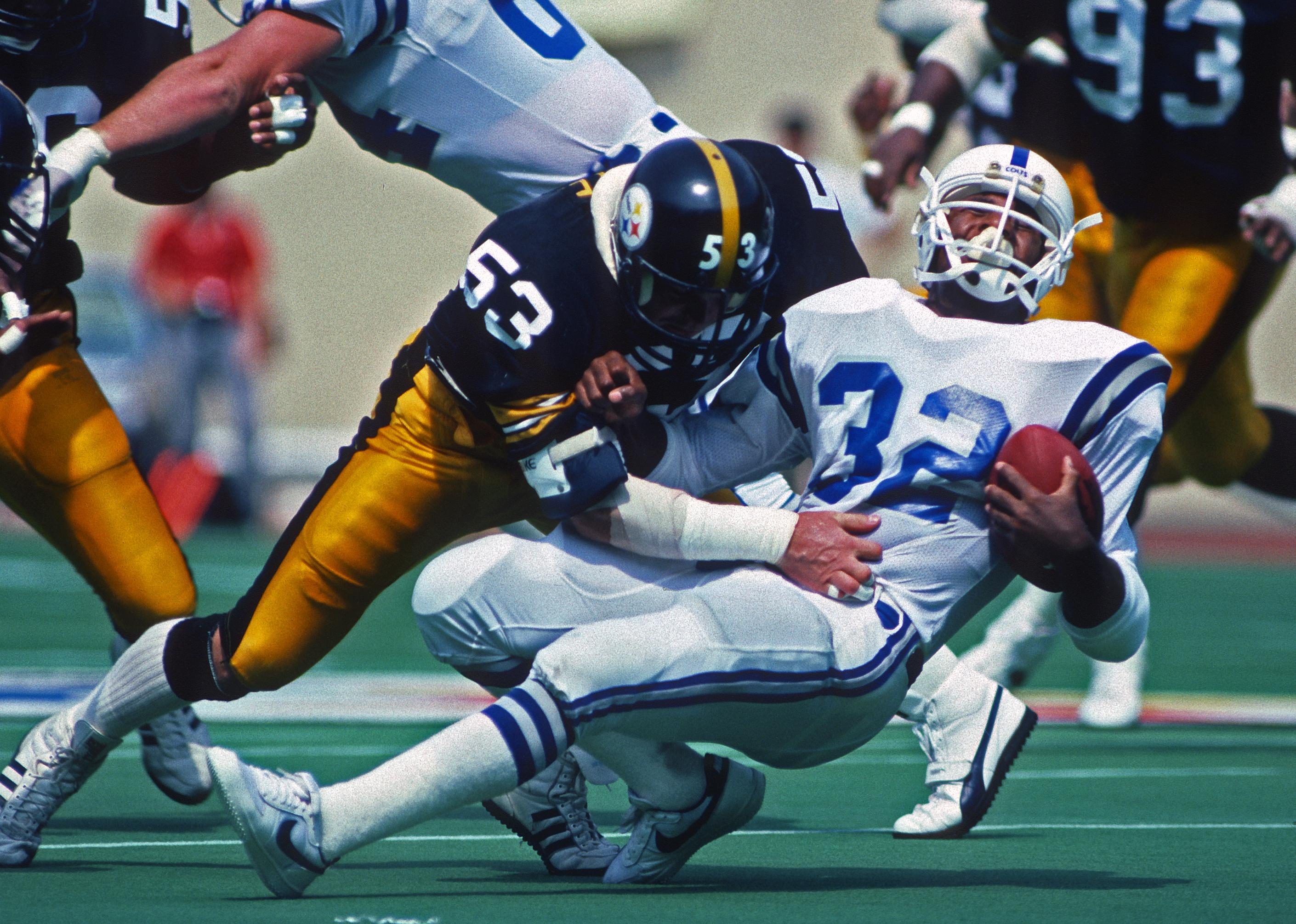 George Gojkovich // Getty Images
Most lopsided season openers in NFL history
Linebacker Bryan Hinkle of the Pittsburgh Steelers tackles running back Randy McMillan of the Indianapolis Colts.
Every year, fans and teams alike eagerly anticipate the NFL's opening week, as the first game often sets the tone for the rest of the season. Depending on the results of the first matchup, a team might come out looking like it's headed to the playoffs or lose so badly that all hope for a winning season evaporates right away.
Throughout NFL history, Week 1 has unveiled many surprises, including some massive blowouts that had fans cheering—or storming out of the stadium.
The Game Day compiled a ranking of the 10 most lopsided season openers in NFL history using data from Pro Football Reference. Games that occurred before the American Football League and NFL merged in 1970 were not considered. Rankings were determined by the final margin of victory. Ties were broken using the largest point total from the winning team. Sometimes—but not always—the season openers on this list were indicative of a team's performance that year.
Per tradition, the season's first matchup features the defending Super Bowl championship team in a Thursday night home game. For 2023, that means the Detroit Lions will travel to Kansas City on Sept. 7 to face last season's champs, the Chiefs. Will it be a tight match, or will this game replace one on this list? While no win is ever guaranteed, history favors the reigning champs. In the 21st century alone, the winning Super Bowl teams have won the following season's kickoff game 18 times, compared to just four losses.
---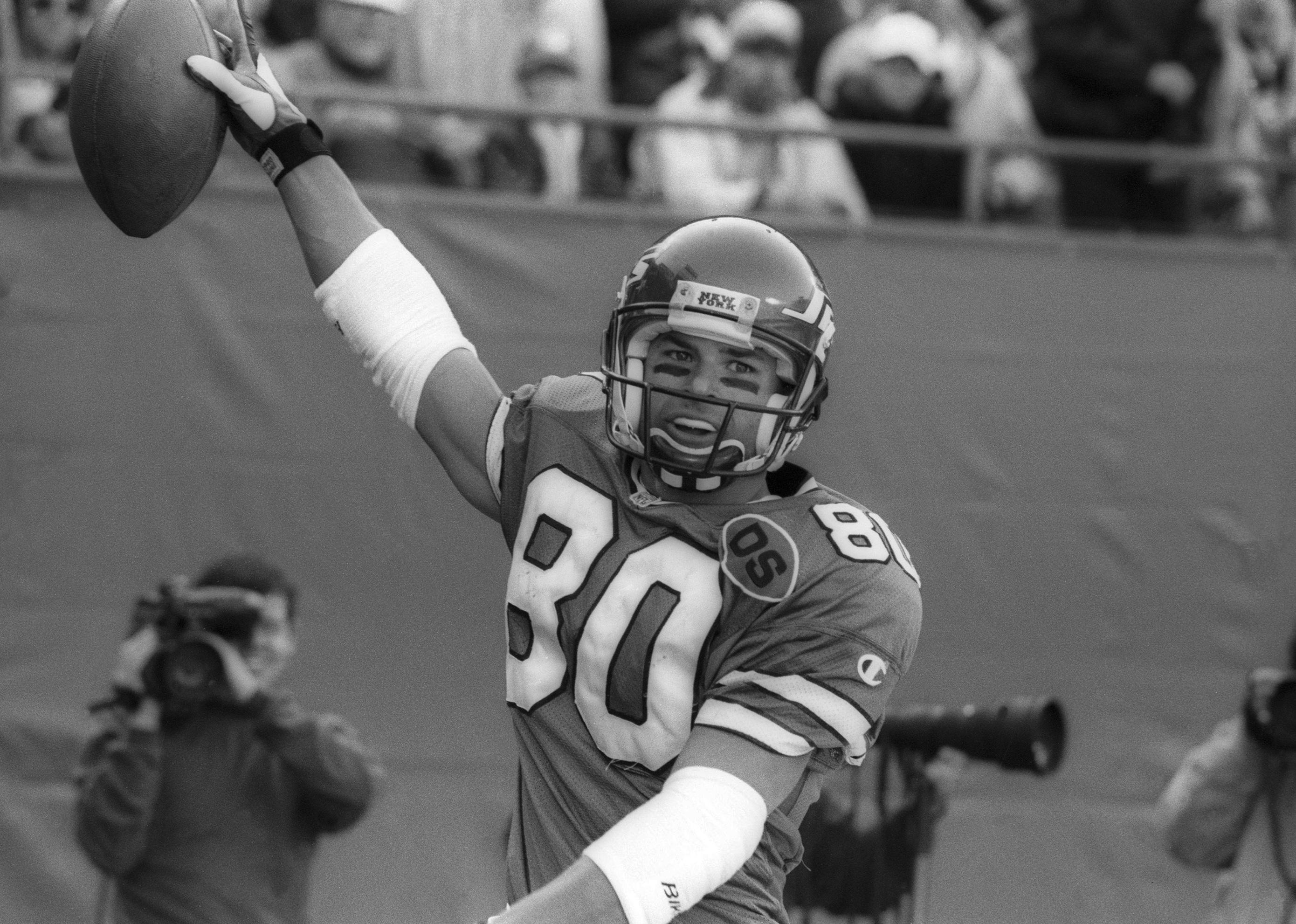 Michael Ochs Archives // Getty Images
#10. Miami Dolphins beat New York Jets, 1995
Wide receiver Wayne Chrebet of the New York Jets celebrates a touchdown.
– Date: Sept. 3, 1995
– Score: 52-14
– Margin of victory: 38 points
Hall of Fame Coach Don Shula started the last season of his career with an impressive win over the Jets. The game started evenly matched, with a scoreless first quarter and the Dolphins leading 21-14 at the half.
The second half was all Dolphins, who scored 31 points, including defensive back Troy Vincent's 69-yard interception return. On their next scoring drive, Miami quarterback Dan Marino landed a 50-yard touchdown pass to wide receiver Irving Fryar.
The Dolphins went on to have a middling 9-7 season, and their playoff run ended quickly with a loss to Buffalo in the wild card game. The Jets, meanwhile, finished at the bottom of their division with a 3-13 record.
---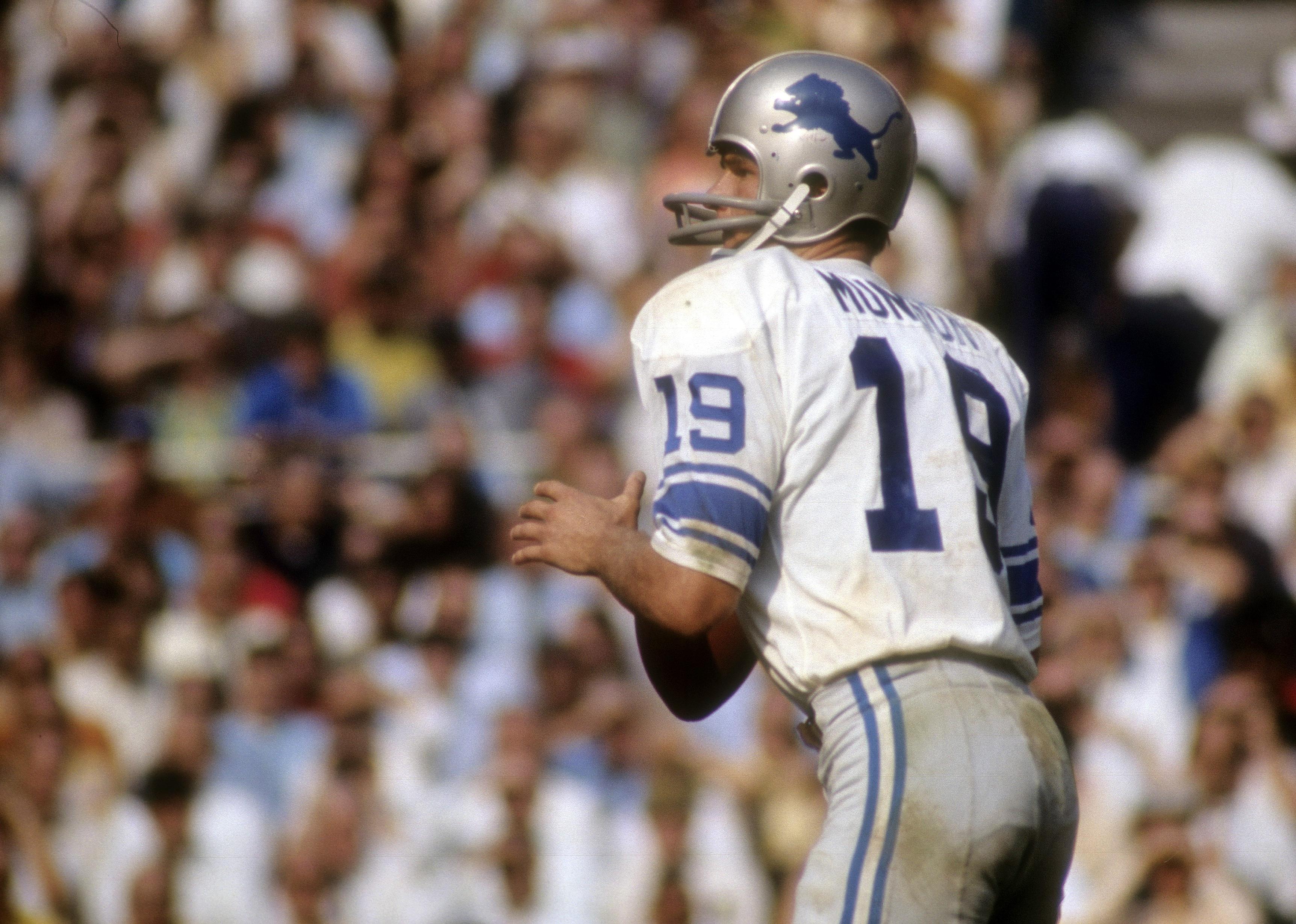 Focus on Sport // Getty Images
#9. Detroit Lions beat Green Bay Packers, 1970
Quarterback Bill Munson of the Detroit Lions drops back to pass.
– Date: Sept. 20, 1970
– Score: 40-0
– Margin of victory: 40 points
The Lions embarrassed the Packers at Lambeau Field in what would be Green Bay coach Phil Bengtson's last season with the team. At halftime, the Packers were only down by 13 points, but their offense couldn't convert, held to just five first downs the entire game. Lions kicker Errol Mann had four field goals on the day, including two in the second half from 43 and 47 yards out, respectively.
The play that put the final nail in the Packers' coffin came near the end of the fourth quarter on a called quarterback sneak by Lions backup quarterback Greg Landry. A hole opened up in the Packers' defense, allowing Landry to rush 76 yards from the Lions' 13-yard line to the Packers' 11-yard line, setting up a touchdown for running back Bill Triplett. Landry's run made him the second-leading rusher of the NFC that week.
---

George Gojkovich // Getty Images
#8. Pittsburgh Steelers beat Indianapolis Colts, 1985
Cornerback Dwayne Woodruff #49 of the Pittsburgh Steelers returns an interception.
– Date: Sept. 8, 1985
– Score: 45-3
– Margin of victory: 42 points
While Steelers quarterback Mark Malone isn't typically considered one of the greatest quarterbacks in the franchise's history, in this game he tied Terry Bradshaw's then-record for most touchdown passes in a game with five (Ben Roethlisberger is the only other Pittsburgh quarterback to have thrown more).
Throughout the game, Malone connected with wide receiver Louis Lipps, who at the time had the best game of his career, catching nine passes for 154 yards and three touchdowns. Indianapolis managed just 159 yards on offense compared to the Steelers' 445.
Colts quarterback Art Schlichter had two interceptions and went out in the fourth quarter with a knee injury. Later in the season, he would be released by the Colts and years later go on to serve prison time for fraud charges related to gambling addiction.
This game was one of the few highlights of the Steelers' 1985 season, as they ended up with a 7-9 record and did not make the playoffs.
---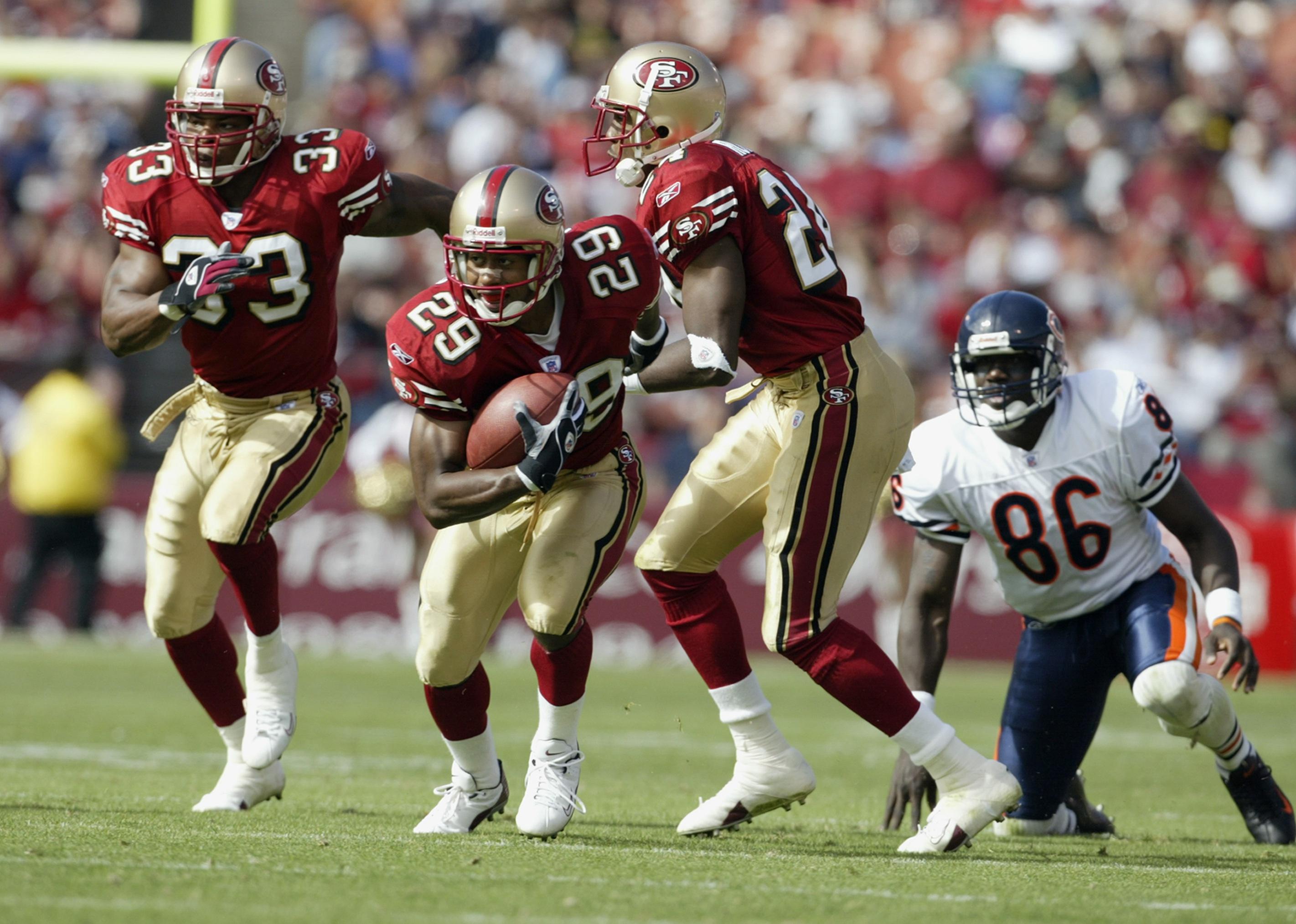 Jed Jacobsohn // Getty Images
#7. San Francisco 49ers beat Chicago Bears, 2003
Ahmed Plummer #29 of the San Francisco 49ers intercepts a ball.
– Date: Sept. 7, 2003
– Score: 49-7
– Margin of victory: 42 points
Bears quarterback Kordell Stewart played only one season in Chicago, and this opening week game was a sign that his time in the Windy City would be short. Stewart managed just one touchdown throw to Desmond Clark, which put the Bears within three points of San Francisco before the 49ers turned up the heat, scoring 39 unanswered points.
San Francisco's defense starred in this matchup, forcing five turnovers and holding the Bears to just 127 yards. Defensive back Ahmed Plummer was one of the game's stars, with two interceptions, one of which was a 68-yard pick-six at the end of the second quarter. With five field goals, 49ers kicker Jeff Chandler scored more points than the entire Bears offense.
---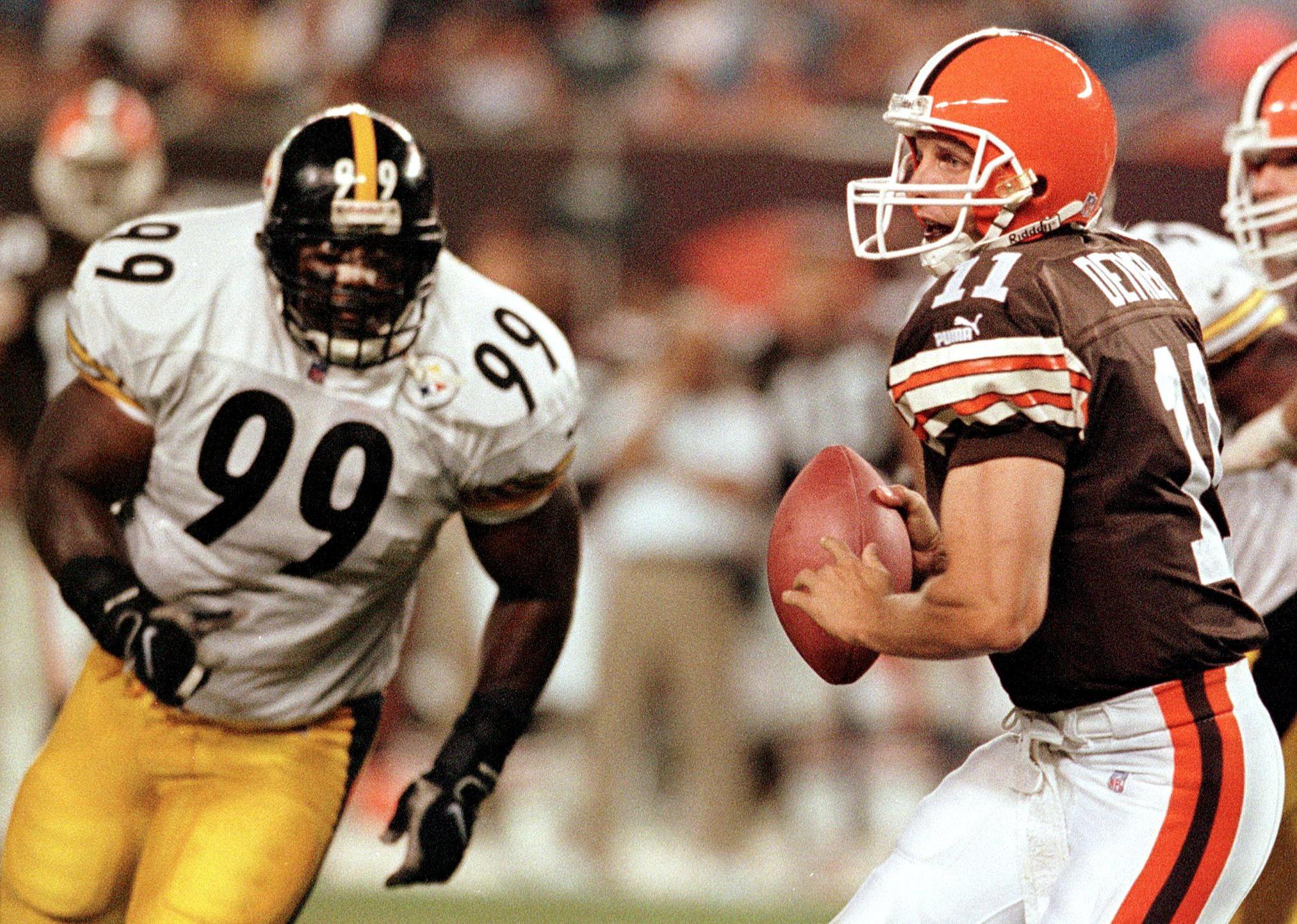 DAVID MAXWELL/AFP // Getty Images
#6. Pittsburgh Steelers beat Cleveland Browns, 1999
Cleveland Browns quarterback Ty Detmer looks for an open receiver.
– Date: Sept. 12, 1999
– Score: 43-0
– Margin of victory: 43 points
September 1999 marked the return of the Browns to Cleveland after owner Art Modell moved the franchise to Baltimore in 1996. Unfortunately for the Browns, their new era didn't get off to a great start, as the Steelers dominated them both offensively and defensively in the season opener.
Running back Richard Huntley scored three of the Steelers' five touchdowns, and kicker Kris Brown added three field goals. The Steelers defense caused four turnovers and held the Browns to just 40 yards and two first downs.
Cleveland hasn't fared much better in Week 1 games since then—in the team's new era, they've gone 2-21-1, with those wins coming in 2004 and 2022.
---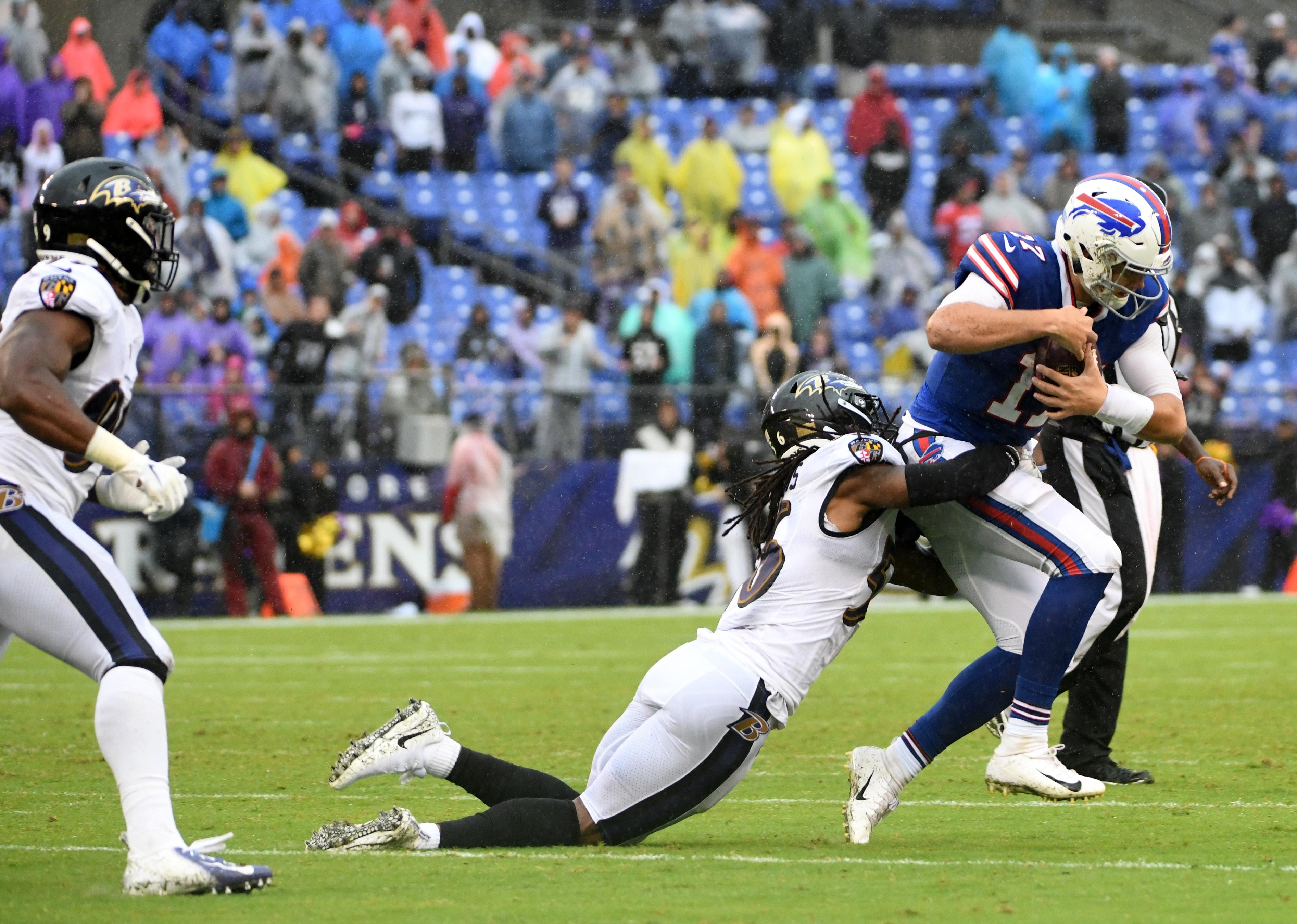 Icon Sportswire // Getty Images
#5. Baltimore Ravens beat Buffalo Bills, 2018
Buffalo Bills quarterback Josh Allen is sacked by Baltimore Ravens linebacker Tim Williams.
– Date: Sept. 9, 2018
– Score: 47-3
– Margin of victory: 44 points
The Bills lost this game on all fronts—offense, defense, and special teams. Buffalo was unable to get a first down in the first half and got just 10 first downs the entire game. Bills starting quarterback Nathan Peterman completed just five of 18 passes, threw two interceptions, and was sacked three times. Backup quarterback Josh Allen relieved him midway through the third quarter but didn't fare much better, as he was also sacked three times.
Buffalo's defense was also ineffective, allowing Ravens' veteran quarterback Joe Flacco to complete 25 of 34 pass attempts and throw three touchdowns. On special teams, Baltimore rookie Janarion Grant had a 51-yard punt return in the second quarter that set up a Justin Tucker 41-yard field goal.
---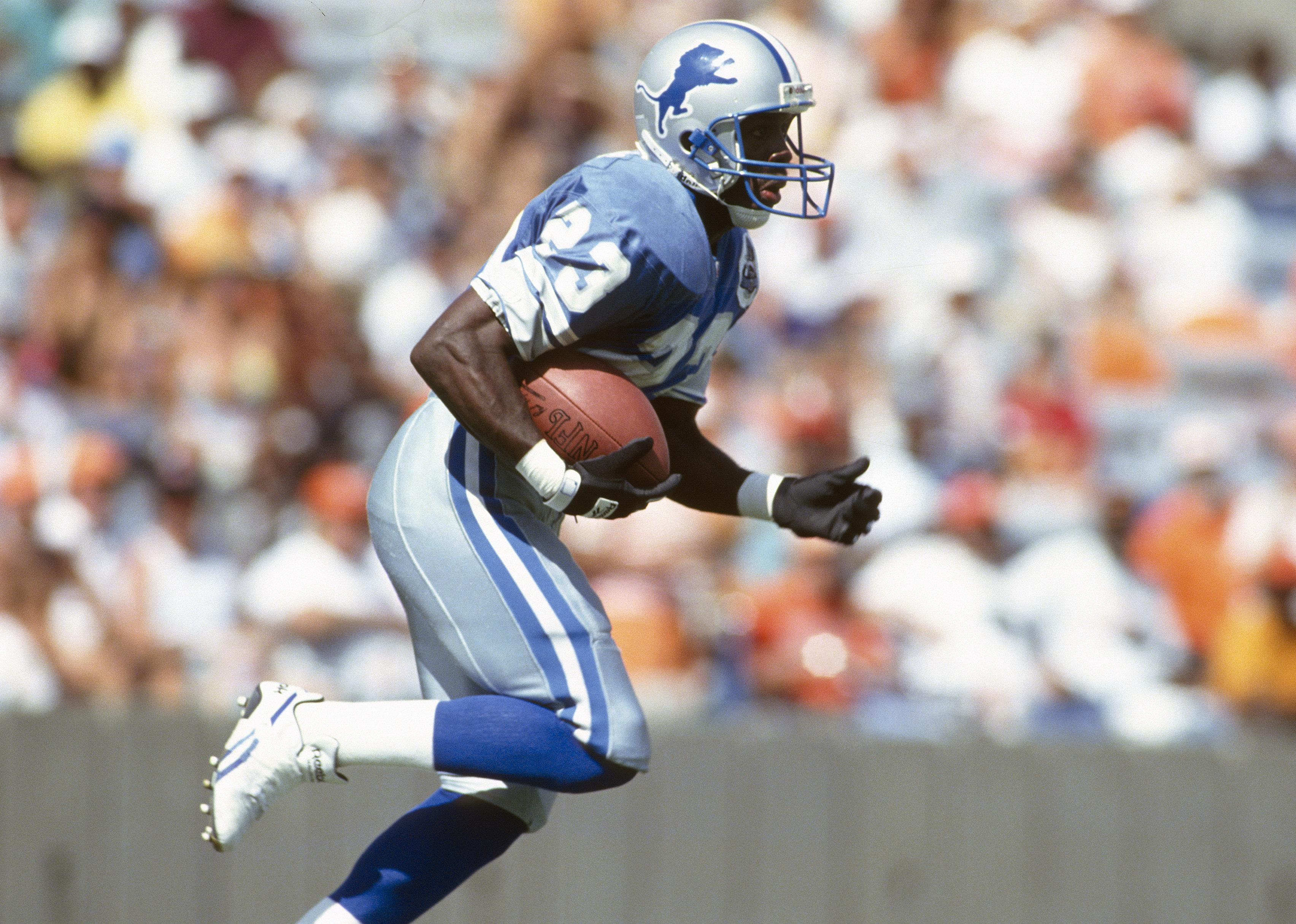 Focus on Sport // Getty Images
#4. Washington Redskins beat Detroit Lions, 1991
Mel Gray of the Detroit Lions runs with the ball.
– Date: Sept. 1, 1991
– Score: 45-0
– Margin of victory: 45 points
Washington (now the Washington Commanders) kicked off their Super Bowl-winning season with a victory over the Lions, winning by the largest margin yet in team history.
The Lions were without star running back Barry Sanders, who strained his already injured ribs during pre-game warmups and sat out. That left the Lions offense in a bind, and it showed—they were held to just 93 yards rushing and 154 yards overall.
Detroit quarterback Rodney Peete was sacked three times and threw three interceptions. Comparatively, Washington had 392 total yards on the day. Washington quarterback Mark Rypien had just one interception on the day and threw two touchdowns. Running back Earnest Byner also got in on the passing game with an 18-yard pass to Ricky Sanders in the second quarter. Byner's 6-yard rush for a touchdown later that quarter gave Washington a commanding 35-0 lead by the end of the first half.
---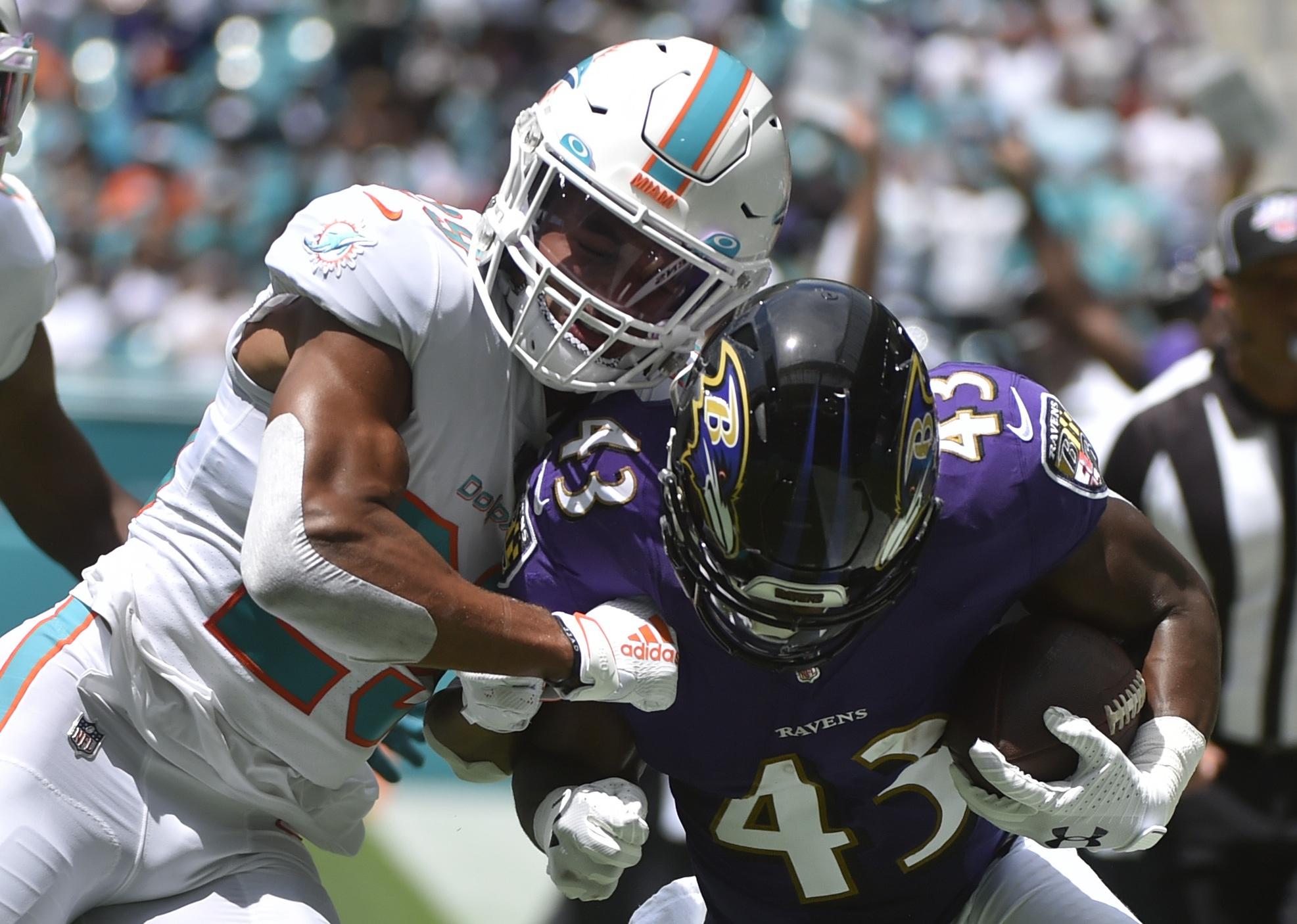 Eric Espada // Getty Images
#3. Baltimore Ravens beat Miami Dolphins, 2019
Minkah Fitzpatrick of the Miami Dolphins knocks Justice Hill of the Baltimore Ravens out of bounds.
– Date: Sept. 8, 2019
– Score: 59-10
– Margin of victory: 49 points
From the start of this game, Baltimore showed they were ready to play. Their first scoring drive started with a 49-yard rush by running back Mark Ingram, which he later carried into the end zone for a touchdown.
Baltimore's offense wasn't off the field long—the Ravens possessed the ball for just over 40 minutes of game time—and completely dominated the Dolphins. In doing so, they set several franchise records—most points in the first half, most points overall, and total yards (643)—and broke the NFL record for most points in the first half of a season opener.
Ravens quarterback Lamar Jackson threw five touchdowns—four in the first half alone—and he didn't even play in the fourth quarter. The offense wasn't all about Jackson though. Up 35-3 in the first half, the Ravens faked a punt on fourth down, and safety Anthony Levine caught a short pass and ran it 60 yards, which put the ball on the Miami 10-yard line and set up another touchdown.
---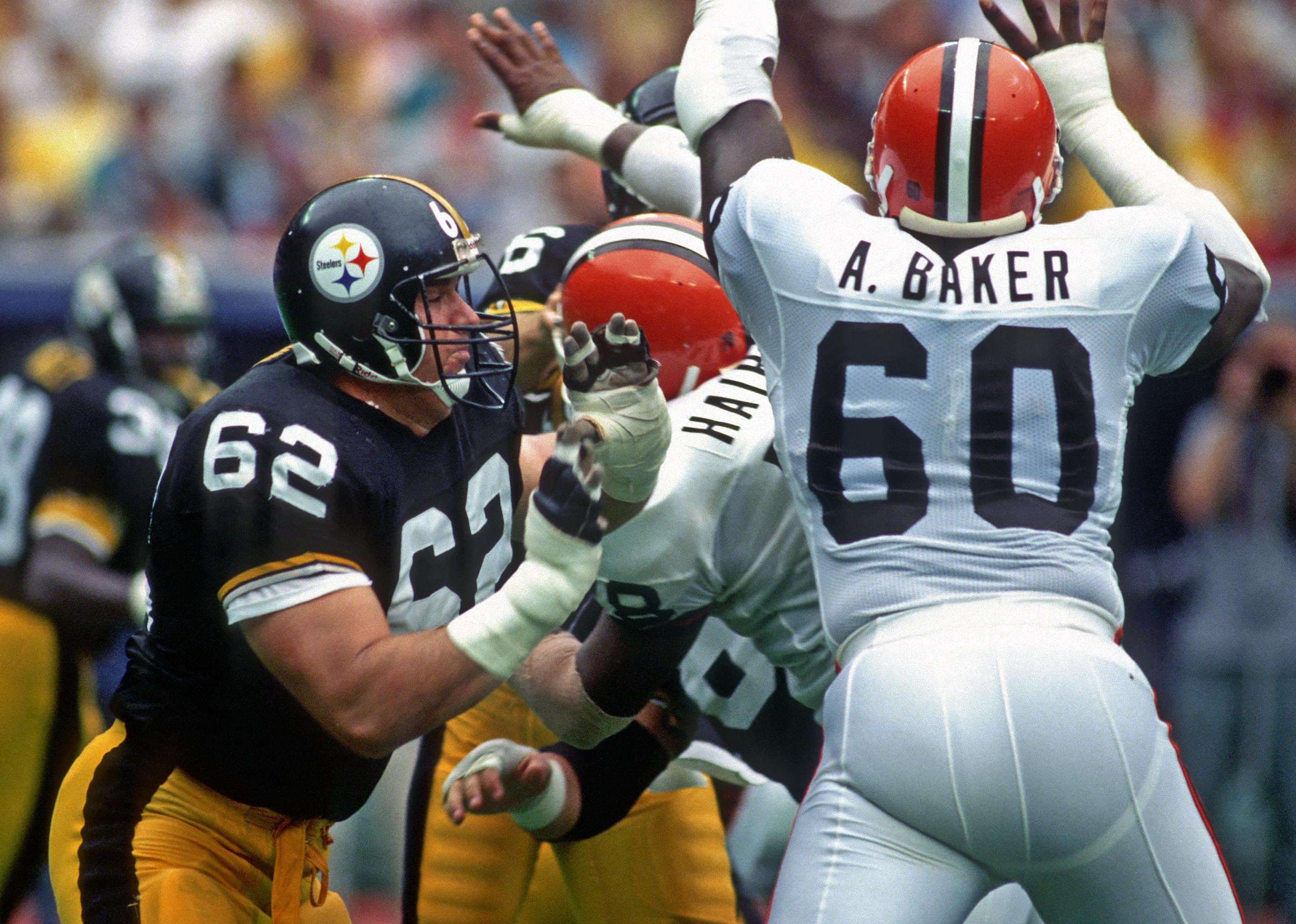 George Gojkovich // Getty Images
#2. Cleveland Browns beat Pittsburgh Steelers, 1989
Offensive lineman Tunch Ilkin of the Pittsburgh Steelers blocks defensive lineman Al Baker #60 of the Cleveland Browns.
– Date: Sept. 10, 1989
– Score: 51-0
– Margin of victory: 51 points
Cleveland's defense had a field day handing the Steelers its worst loss in franchise history, scoring three of the Browns' six touchdowns. Linebacker Clay Matthews kicked off the scoring with a 3-yard fumble return, and fellow linebacker David Grayson scored on a 28-yard fumble return and a 14-yard interception return.
In total, Cleveland's defense forced eight turnovers and sacked Steelers quarterback Bubby Brister six times. Browns quarterback Bernie Kosar threw for 207 yards on the day, but none of those were for touchdowns. Tim Manoa ran in two touchdowns, and Mike Oliphant capped off the game in the fourth quarter with a 21-yard touchdown run.
For Cleveland head coach Bud Carson—former defensive coach at Pittsburgh—it was a great start to what would be a short-lived tenure. Although he led the Browns to the playoffs in 1989, he was fired midseason the next year after a 2-7 start.
---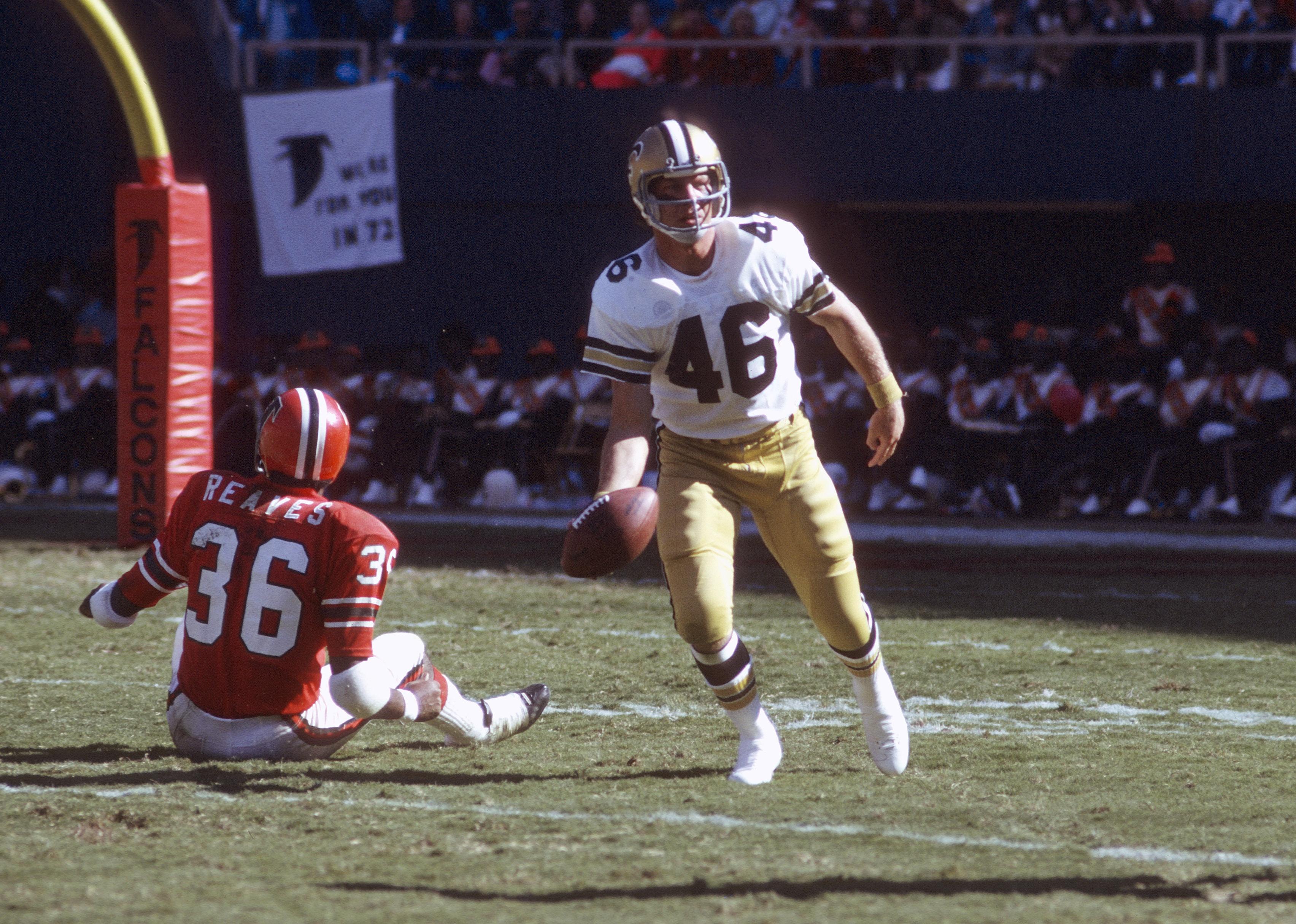 Focus on Sport // Getty Images
#1. Atlanta Falcons beat New Orleans Saints, 1973
Danny Abramowicz #46 of the New Orleans Saints in action against the Atlanta Falcons.
– Date: Sept. 16, 1973
– Score: 62-7
– Margin of victory: 55 points
In this chapter of the storied rivalry between the Falcons and the Saints, it was all about Atlanta. The Falcons scored 31 points before New Orleans could even get on the board.
Falcons quarterbacks Dick Shiner and Bob Lee teamed up for four of the Falcons' eight touchdowns, connecting with wide receiver Ken Burrow twice. Running back Dave Hampton contributed 104 rushing yards on the day. In total, Atlanta's offense steamrolled the Saints' defense for 496 yards, compared to the Saints' 187.
On the other side of the field, Saints quarterback Archie Manning completed just five passes on the day and threw five interceptions, including one that resulted in a 65-yard pick-six by Tom Hayes.
Data reporting by Karim Noorani. Story editing by Carren Jao. Copy editing by Tim Bruns. Photo selection by Clarese Moller.
This story originally appeared on The Game Day and was produced and
distributed in partnership with Stacker Studio.
---